today is newton challenge 30km race. everything jus didnt seem right for me. when i woke up, i didnt feel "good". it didnt feel like its a race day. when i put on my racers, it just didnt feel correct. and so, i changed to my mizunos and this is the first race i ever attended without my adizero.
the race is held at east coast park and i had a really hard time finding a carpark lot this morning! hai..
lucky for us, we managed to find a lot after 15 minutes of hunting and we walked a good 2km to the starting pen.
i tried my new power gel and it was giving me a little trouble. probably the caffeine content caused me to have stomach upset and i had to endure the sensation for 20km..
on the whole, i did an alright timing of 2:30H. hopefully i can shave off another 10 mins when i go for my tokyo marathon!
so heres some photos i took today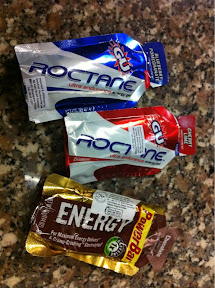 my surfing friend told me her personal favourite is the red GU gel (chocolate raspberry) and that was no doubt my least favourite today! i literally went "eerk" while running!! haha..
putting on my new EQ power band!!
the confusing route markers along the race.
a self-portrait after my race
all my baggage after the race. too tired to organise my stuff properly..
the one and only taping left on me after the race.
"born to run". im born to slack man. lol
one of my running buddies finishin up the last 4km of the race!
my impromptu icing station
the amount of pocari sweat litter during the race! ahem* yes. guilty as charge. i like to anyhow throw my litter during my race. hahaha!!
my wish for all the pain.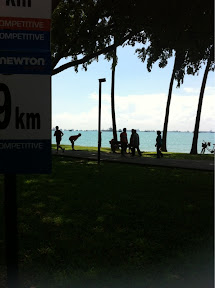 beautiful scenery as i am walking back to the car. alone.
recovery food from bukit timah market!! yum yum yum!! and yes. i eat ALOT. thats definitely something tt im glad running gave me-high metabolism rate. ho ho ho!!!
gonna wear my under armor recovery pants for today! hopefully "no damage done"! haha..
i saw a wife carry her child waiting for her husband near the finishing line. the husband stopped and kiss both her and their baby. its a really touching moment. i will find myself a partner that will support and cheer me on at the finishing line! someone tt will be proud of me for who i am.
Zac Leow
peace
😀