Many of my friends told me that they don't really remember a lot of things from their childhood, not even the times when they were in primary school. But surprisingly, I do. I remember little snippets from way back before I even started attending kindergarten — from the clothes I was wearing, what exactly happened, and the exact thoughts and feelings that ran through my head.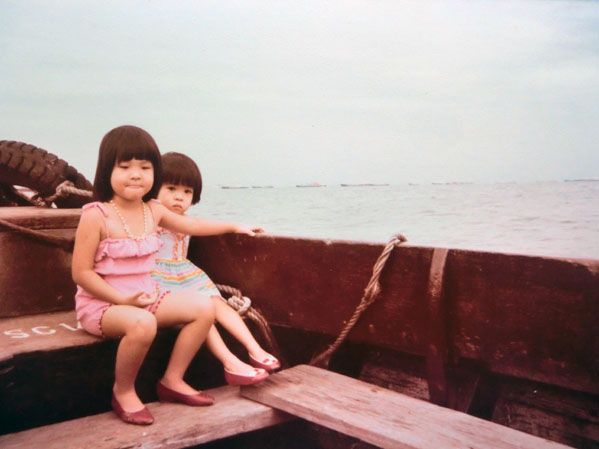 One of my earliest memories: I must have been 3 or 4 years old and we were on a trip to Kusu island. My sister, although only one year older, was super protective of me and feared that I will drop into the sea, and hence used her hands to protect me.
We all started attending kindergarten at 5 years old and by then, children are way past their childhood amnesia and have the ability to retain memories. So here are some of the things I remember from my kindergarten years. Most are either silly or funny, well, I mean, What do you expect from a 5 or 6 year-old child right? Heh.
1. First day in kindergarten
I wore a pale yellow dress on my first day to school and after witnessing my elder sister (1 year my senior) crying on her first day in school a year ago, I told myself not to cry. I was sitting on the floor right at the back of the class, and being a shortie, I was kneeling on my knees to hear what the teacher was saying, and looking at my father who was watching me from the window outside the class.
2. My morning beverage is not milk
I stopped drinking milk in the morning once I started schooling because my father would bring my sister and I down to the coffee shop to have breakfast before we go for our kindergarten classes. Since then, my sister and I drank kopi gao for breakfast. I can only say that my father is just too damn cool. Can't really blame me for being addicted to coffee now.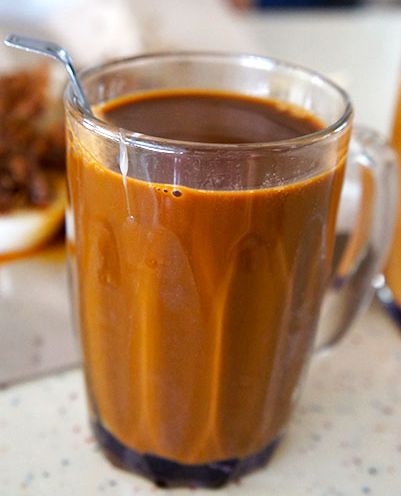 Credit: Aroma Cookery
3. That dance class
My sister, who was in K2, was in the dance class which took place every Saturday at 9 am. So knowing that we were siblings, my English teacher asked my father to see if I was keen to join too. I nodded and said yes and so my father brought the both of us to the dance class on Saturday. On the following Monday, my father brought me to see my English teacher and told her that I was going to quit the dance class (like, after one lesson). When my teacher asked why, my father sheepishly replied, "She said that she wants to sleep on Saturday."
Gosh, I didn't change a single bit from my childhood days. My friends would know better than to wake me up early on weekends. HAHAHA.
4. The smart boy I secretly compete in studies with
The boy who sat directly opposite me was a little nerdy, but very smart. He has got a big head, me too.
5. "English Teacher"
My English teacher was very pretty but I never knew her name. I always called her "English Teacher".
6. That difficult Chinese word
My Chinese teacher taught us the word "飘" (Seriously, why were we learning such a difficult word in kindergarten?). I was writing the word on my little blackboard thinking that they were two words because I cut them up in the middle.
7. The impatient and gutsy mini me
I have no concept of what an exam was. So at the end of K1 when I was having an exam, I have got no idea what I was doing, and neither did I inform my parents beforehand. I just completed the paper as I was told to. I was very fast at work and lost patience waiting for the other children to finish and I was wondering why were they taking so long.
I kept telling my teacher that I've completed the paper and sensing my impatience, my teacher actually collected my paper and asked if my father was waiting for me outside. Apparently, the parents can pick up their children earlier since it was exam day, but silly me didn't tell anyone (i don't remember that there was any circular either hahaha) about it. I didn't know what time it was and assumed that my father was waiting for me outside just like every other day during dismissal and my teacher released me early. (Years back nobody said anything, if this happened now, I think the teacher jialat hahaha)
Lo and behold, there was no one there. I didn't know what to do and neither would I have the capacity to weigh the pros and cons, or the dangers of walking home myself (I was really mini size). I searched around for my father and he wasn't there, and impatient me just walked across 8 blocks of flats and crossed all the roads myself and reached home. TO THE HORROR OF MY MOTHER.
Yup, my father got a scolding and I got a session of "you are not old enough to walk back yourself" talking session from my mother. My father was, of course, very innocent. LOL.
Did I mention that I came in top 3 for the exams for both years? Heheh I think I was a smart child.
8. The sotong prize recipient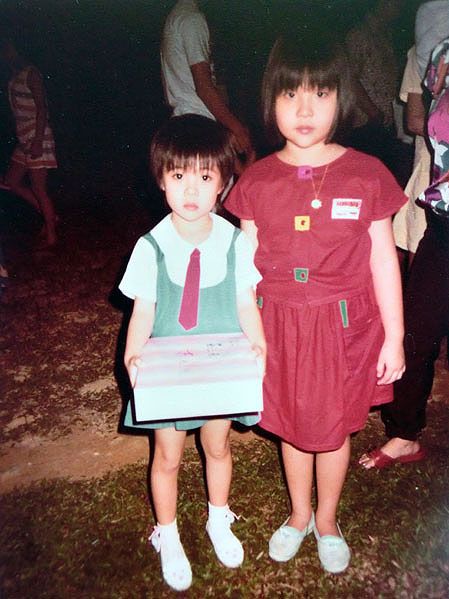 I came in third in class for K1, and second in class for K2. And when that happened, there will be a prize-giving ceremony that we need to attend. It was night time, and I remembered that there was a stage erected in the middle of a field, and some MP were giving out the prizes to all the mini people like me. Of course, I had no idea what I was doing. The teacher lined us up at the right side of the stage and I guessed she was giving instructions, but I wasn't listening. Till today, I don't even remember if she said anything or not, oops. I don't know why I wasn't listening, but I guess as a kid I was overwhelmed by the huge crowd and the lights.
So every kid walked up the steps, went to the centre of the stage and shook hands with the MP, received the prize, walked straight ahead and went down from the left side of the stage. Came my turn and I did the same, except that I turned backwards and walked back down to where I came from. Haiz.
My parents who were proudly waiting for me on the left side got a shock and had to run to the right side to pick up their sotong daughter.
9. U beat me I hit back
There was a very naughty girl in my class and she used a chalk to draw on my head. And in my memories, that was the very very first time I got angry with my classmate in my life. Being the very quiet chilli padi, I turned and attacked her the same way. Nope, I didn't tell my parents.
10. The girl who hated socks
I hated wearing socks back then and I always went to school without socks. Not surprisingly, I didn't tell my parents that there will be a graduation photo shoot since I thought it wasn't important and my mum didn't dress me up at all. So on that fateful day, I still went to school without socks.
When my K2 graduation photo came back, my mum was exclaiming how ugly it was that I wasn't wearing socks in the photo after she compared mine to my sister's. I wasn't affected by what she said and had a good time admiring my sockless photo. Damn, I can only say that I was such a fashion rebel even at 5.
Now, please admire my sockless photo with me.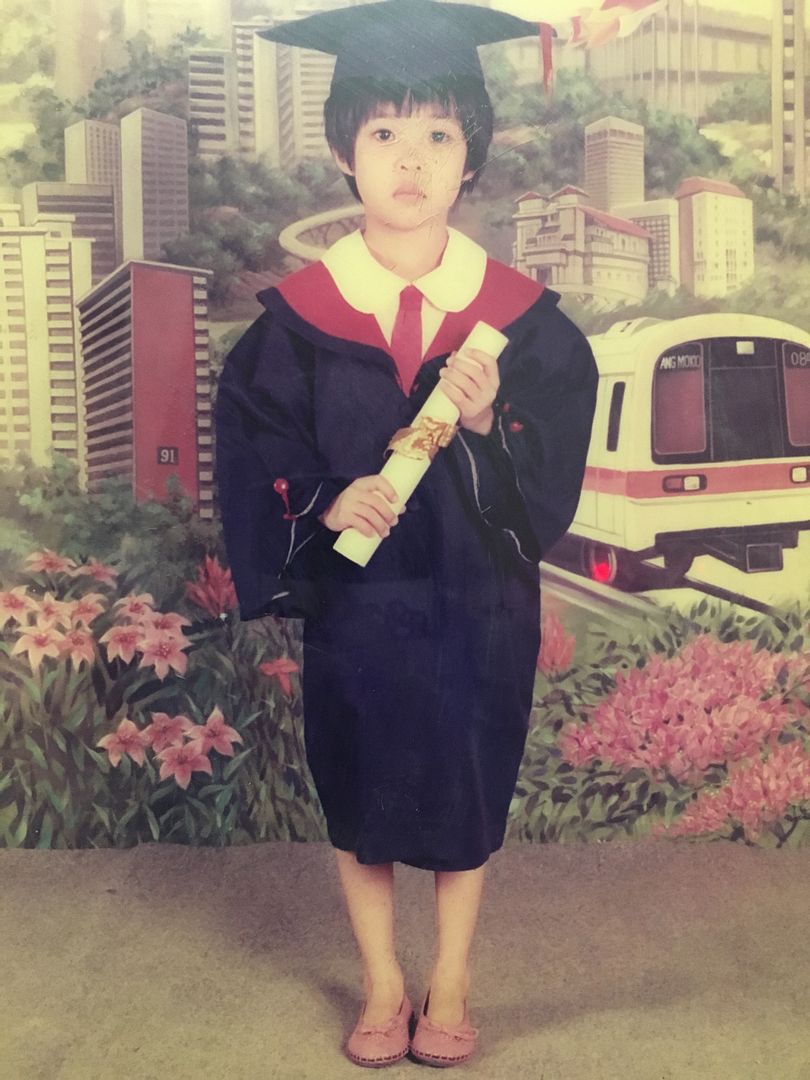 11. That thief who stole my gold chain
I can't remember if it was in K1 or K2, but it was just another day that my father sent me to class and went off. In the past, adults are free to walk in and out of the classes and no security guard or teacher will stop you.
So I was happily sitting there reading my kiddy book when an auntie with shoulder length curly hair walked in and asked me to go to the basin to wash my hands. Although I had my doubts, I followed the adult's instruction since I was so young. After that, she brought me back to my seat and left the class, and I was just sitting there feeling duh.
I remember my mum sitting at the door area and I was there playing and she suddenly stopped me and asked me where my gold chain was. I paused and I said I don't know. After further questioning, I told her about the strange auntie and we were sure that she stole it.
Nope, we didn't manage to find that strange auntie but I still don't understand why my parents would let a 5-year-old little girl wear a $500 gold chain to school.
All these precious memories of silly little mini me. I finished this post and re-read it to check for errors, and all the memories brought a smile to my face.
Comments
comments