SPONSORED
We can take selfies of ourselves easily but have you ever secretly hope that we can take full-length shots of ourselves, by ourselves? I definitely did. It is not everyday that my hubby has the time to take my OOTDs for me, and I didn't want to trouble my friends either. Furthermore, sometimes, your friends just can't capture the angle that you wanted and you are too shy to ask them to take another photo for you, right?
Thank you Casio for the EXILIM EX-FR100L! Mine is a cute pink one!
I attended the media launch of Casio EXILIM EX-FR100L last Saturday at Amara Sanctuary and I was stoked when I found out that FR100L was designed for OOTD shots, and we can now take an OOTD BY OURSELVES easily.
Taking your own full-length photo a.k.a OOTD

The camera can be adjusted and "fixed" in 3 different styles for different purposes. The self-portrait (selfie) style and camera style is pretty self explanatory. The unique feature of FR100L is the Remote style and that is the one that allows you to take your own OOTD, without anyone's help.
How?
Step 1: Set the camera unit (the round one) on the tripod (sold as one of its accessories), but hold the controller unit (the rectangular one) in you hand.
Step 2: Frame your photo by looking into the LED screen on the controller unit.
Step 3: Click the shutter button. Done!
Tip: Keep changing poses and take a few more and pick your favourite out of the lot!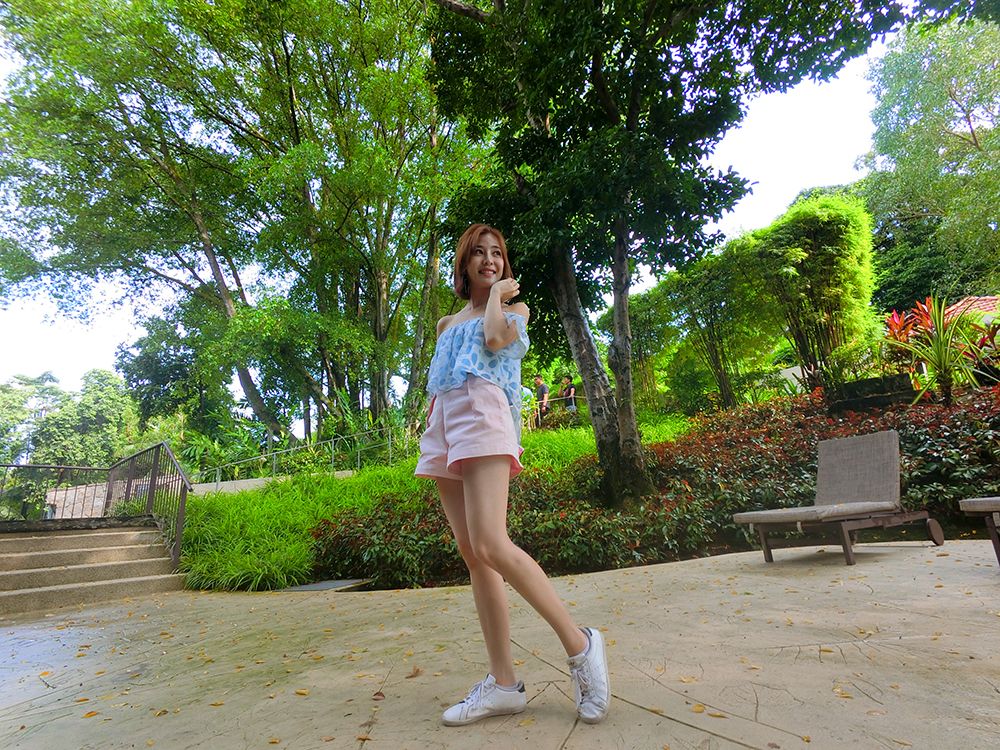 I'm holding the controller unit in my right hand.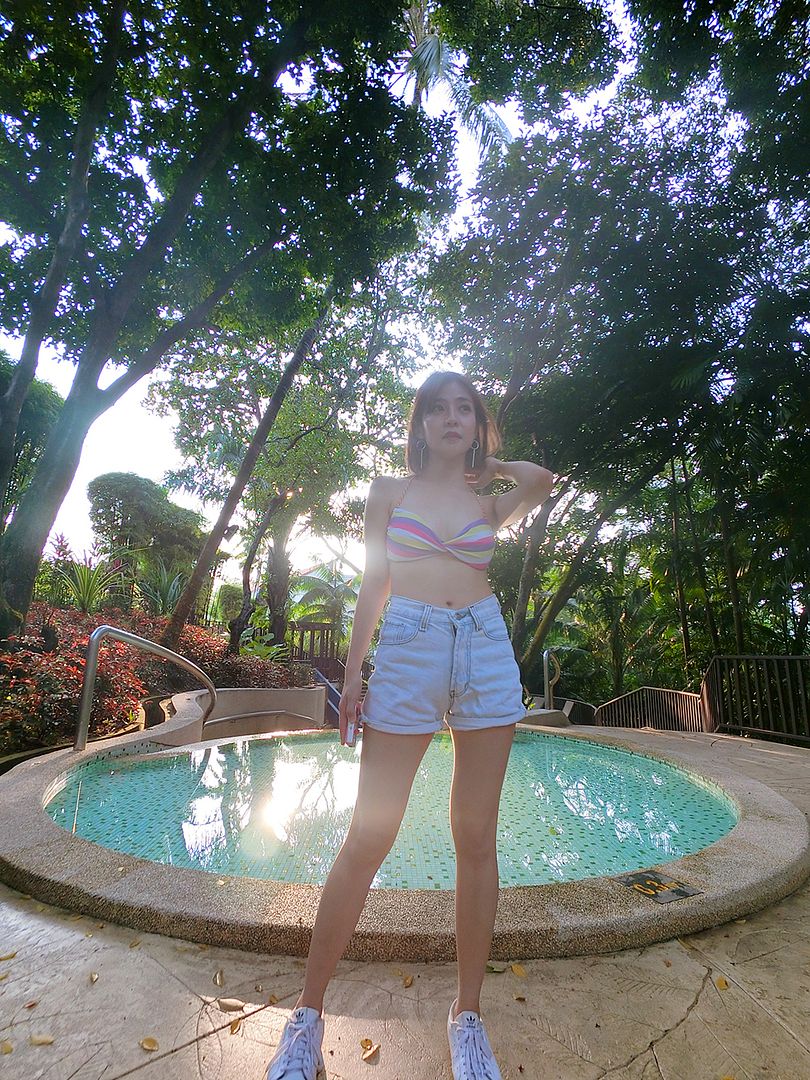 Look like a supermodel with Casio EXILIM EX-FR100L Long Legs guide
Don't want to look short and stout in photos? Choose from 2 modes – Long Legs Standing or Long Legs Sitting in FR100L, follow the coloured guide on the screen and ta-da! You are now a 1.8m supermodel. I'm serious.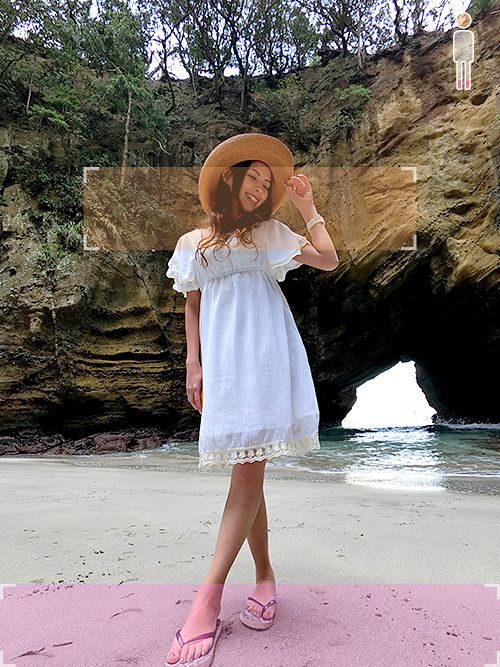 Position your face in the yellow grid and feet in the pink grid for the long legs effect.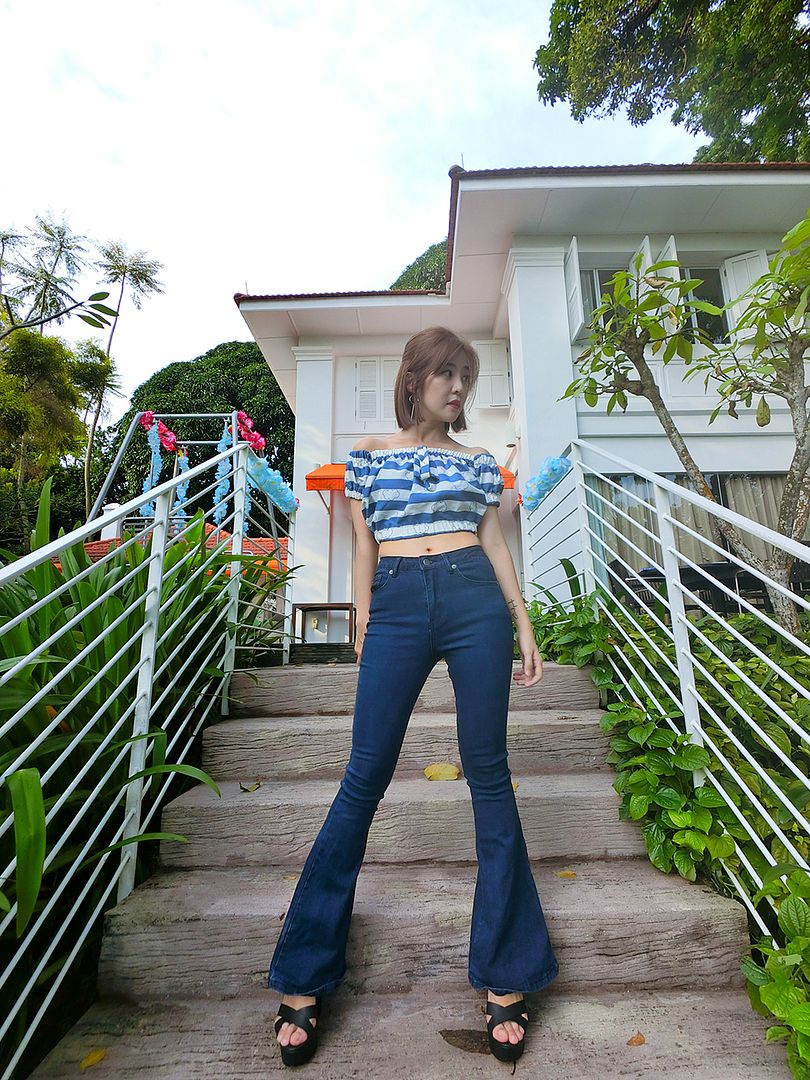 Me using Long Legs Standing.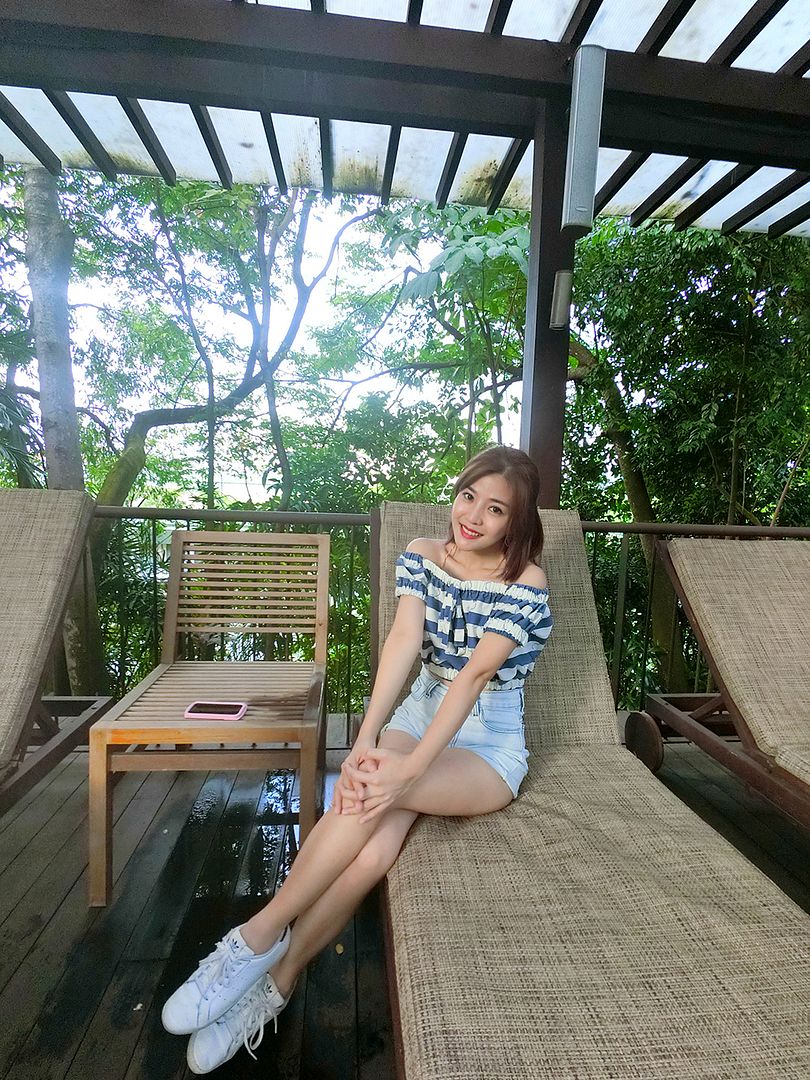 And another one here but with Long Legs Sitting mode.
Both your background and your face will look equally good with the new Make-up Art function
There are some great cameras with beauty modes that give you a beautiful complexion, and there are some that bring up the whole background and scenery colours. However, it is rare to come across a camera that does both at the same time. That is, until I tried FR100L. The new Make-up Art function highlights the user's beauty while enhancing the surrounding scenery at the same time.

The EX-FR100L offers two modes, the Make-up Vivid and the Make-up HDR, under the Make-up Art function. Both modes adjust skin smoothness while increasing the colour saturation and contrast of the background in an image.
The Make-up Vivid mode boosts colour saturation and background contrast to produce vivid colours for a pop-art dimension, while the Make-up HDR mode emphasises contours to produce visually artistic images which look like paintings.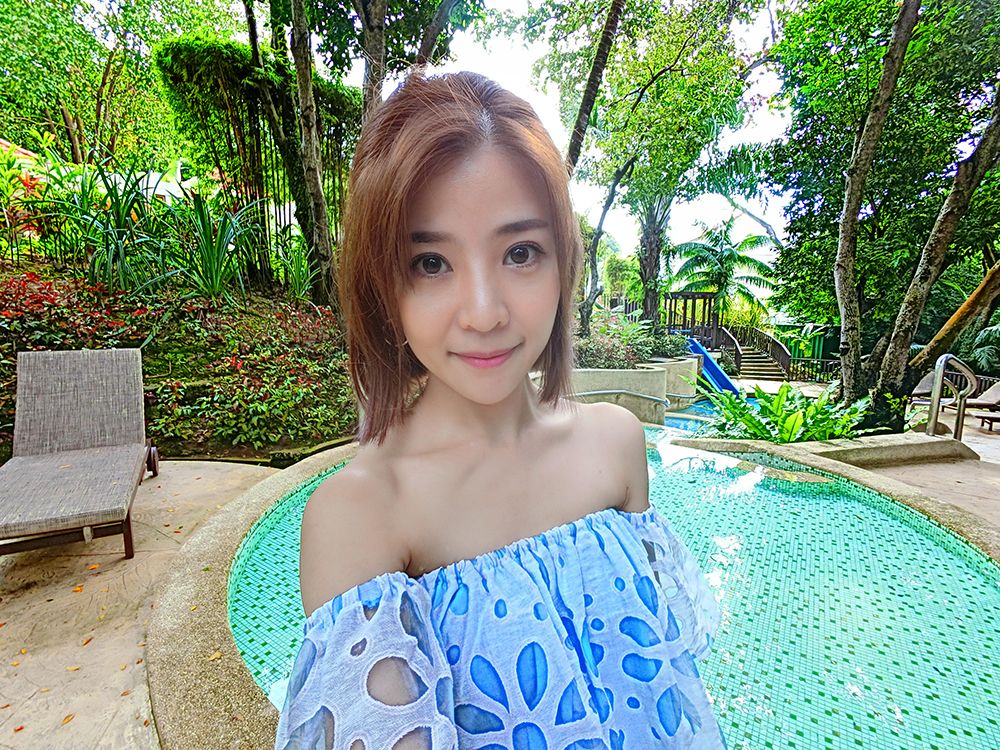 Make-up Vivid Mode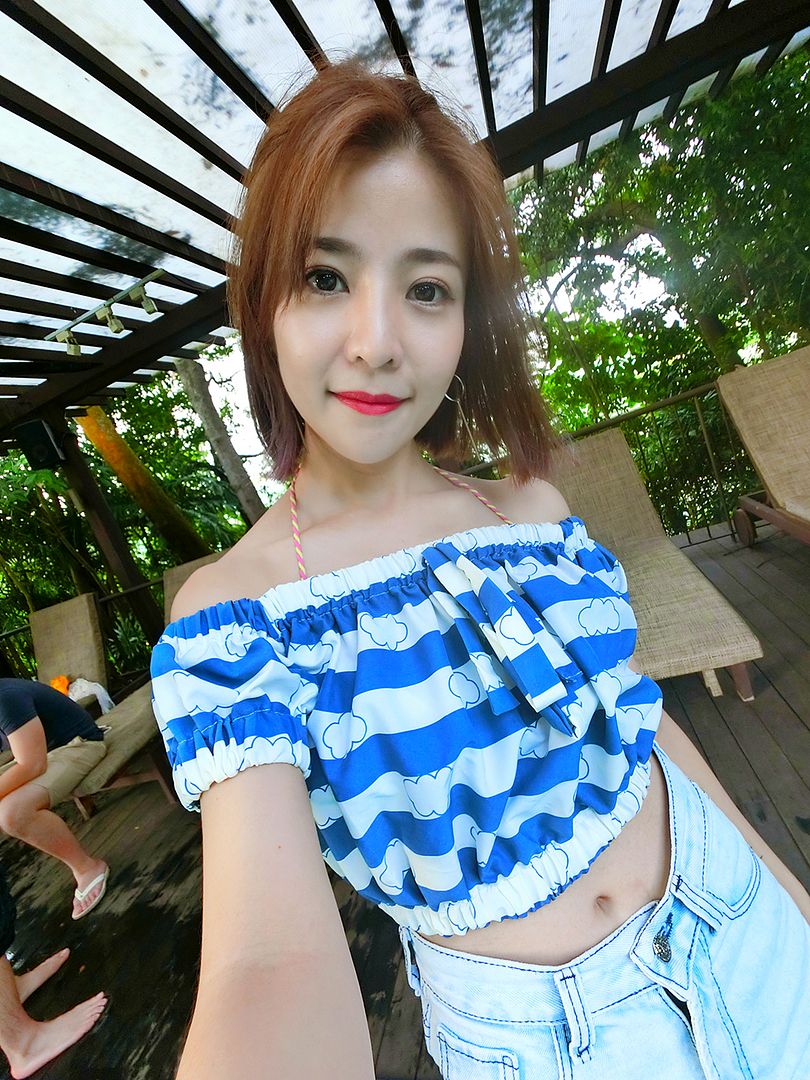 Make-up Vivid Mode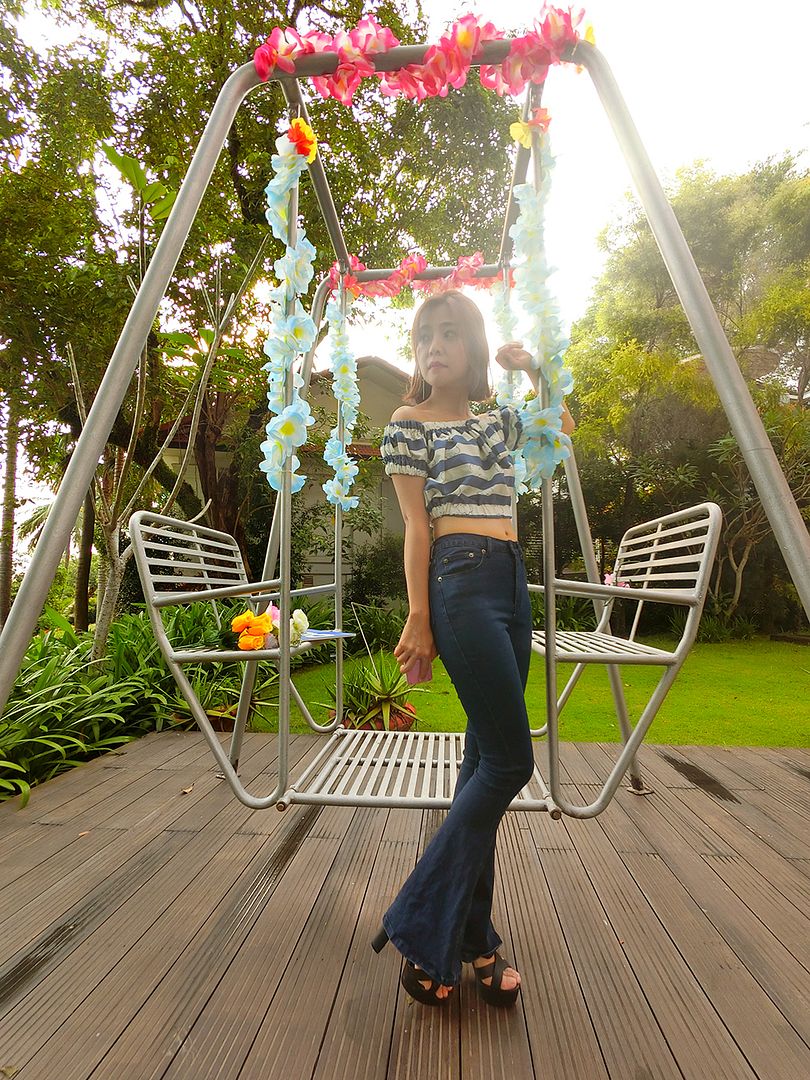 Make-up HDR Mode
Besides, users can adjust between twelve levels of skin smoothness and six levels of skin tone, and can brighten or darken the complexion as desired.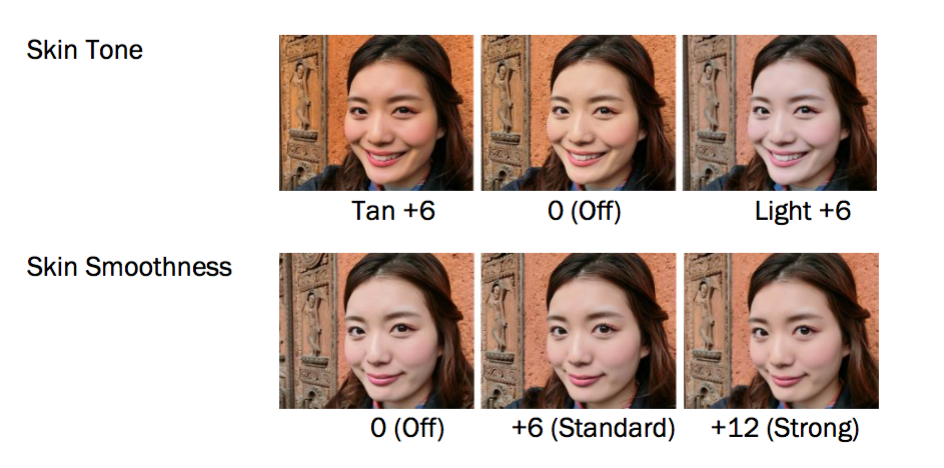 Waterproof and dustproof
I can't wait to bring my new Casio EXILIM EX-FR100L for my holidays because it is both waterproof and dustproof! I can now take my underwater photos without the need to purchase special waterproof casing for my camera (and did I mention that they are always so expensive?).
I didn't jump into the water to try the underwater photos but Leong did, and no casing was required! Check out Leong's underwater photo that was taken with FR100L last Saturday here.
Direct transfer to your phone for your social media postings
Just like the Casio TR and ZR series, FR100L connects to your smartphone with absolute ease for image sharing.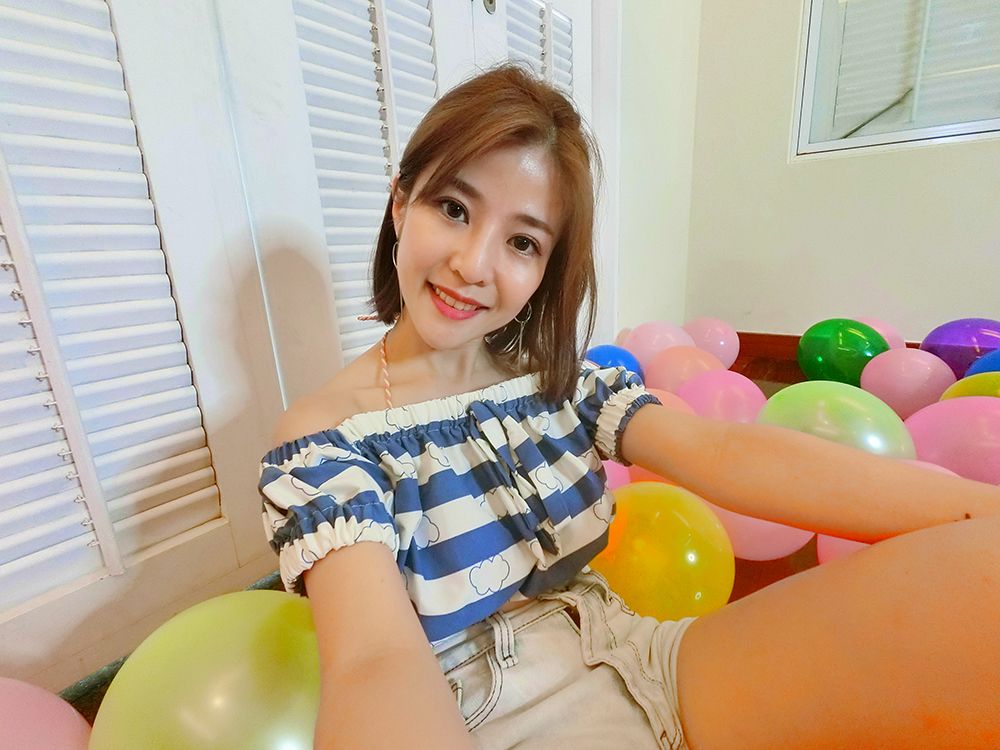 Make-up Vivid Mode
Pricing and Availability
The EXILIM EX-FR100L comes in pink and white models and retails at S$699.
The camera will launch in Singapore on 16 March 2017 exclusively at the IT Show 2017. Following the IT Show 2017, the EX-FR100L will be available at the Casio Concept Store in Tampines and authorised retailers.
Comments
comments