Fillers enhance our looks, and help us restore lost volume on our face, and regain our youthfulness. It is a quick and fuss-free procedure, and many OLs can walk into an aesthetic clinic over lunch time, get their fillers done, and head back to work with no down time.
Injecting fillers is easy. But few of us have heard about removing them. Can we remove fillers like how we erase a drawing on a paper? What if you aren't satisfied with a filler job? Or your fillers became uneven over time?
The answer is yes. We can say bye bye to our filler injections by going to an aesthetic doctor to dissolve them. But not all fillers can be dissolved. Only HA (Hyaluronic Acid) fillers can be completely dissolved with an enzyme called hyaluronidase.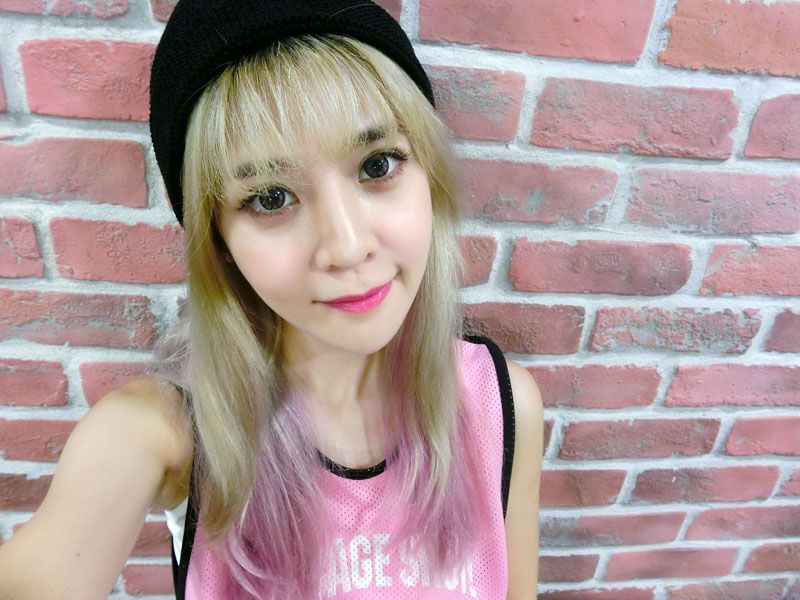 Photo taken on 6th Nov, 3 days after I removed my old fillers.
I already put on my foundation and my panda eyes were still showing through. I need a good concealer badly.
I visited EHA Clinic for fillers to lessen the look of my dark eye rings. I headed for a consultation at EHA Clinic, with the very established doctor, Dr. Elias Tam.
I was really surprised at how sharp his eyes were. He didn't even touch my face and he asked me if I had fillers done for my under eye area before, because he spotted uneven lumps at my under eye area. And just like what he said, there were some remaining old fillers under my right eye. Dr. Tam suggested that he will dissolve all my previous fillers before going on to give me new ones.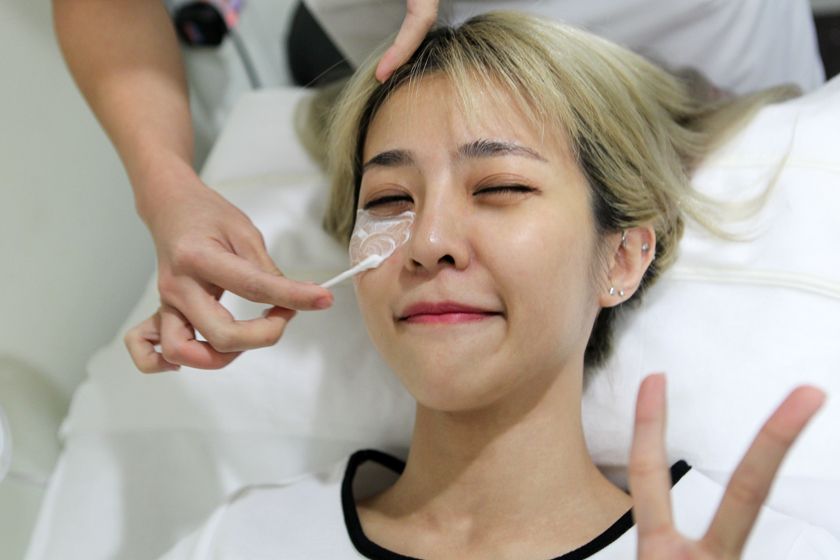 Removing all my makeup and applying numbing cream to my under eye area.
Numbing cream sat on my skin for around 20 mins for my skin to be really numbed before Dr. Tam went ahead to dissolve the old fillers.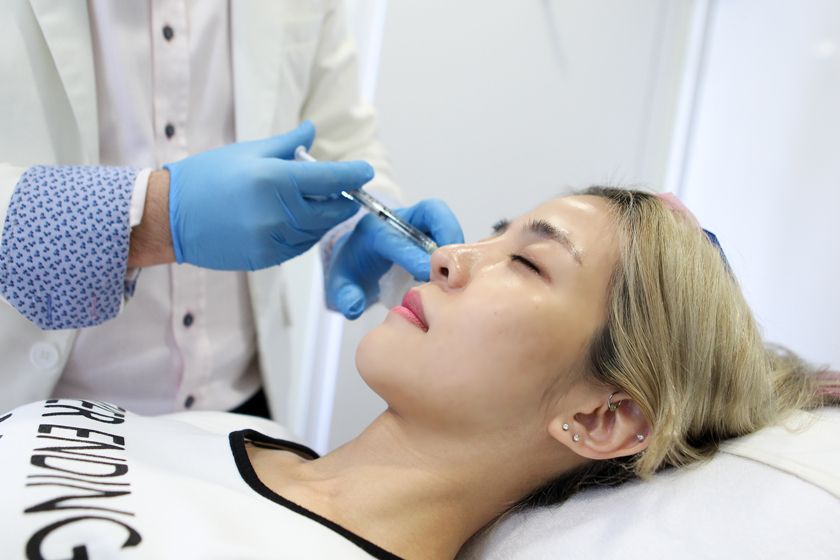 Dissolving the old fillers was just a simple injection. I was a little nervous but I realised that there was no pain at all.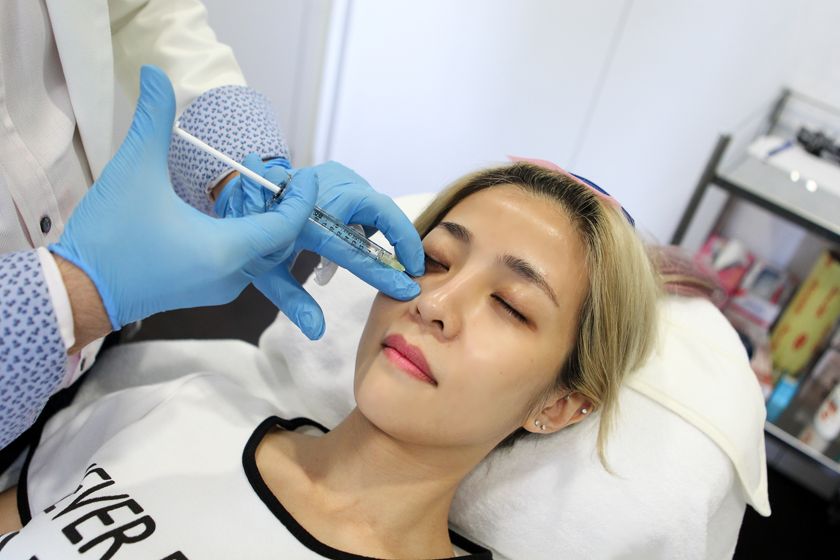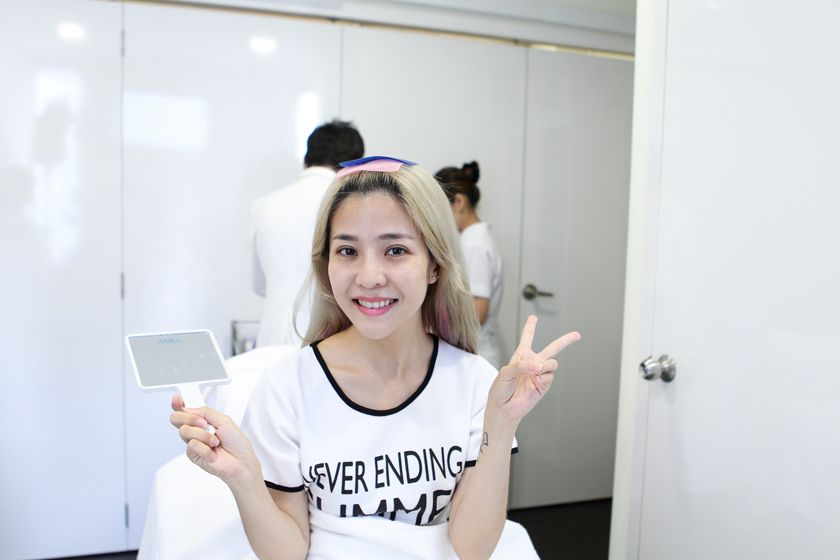 The effect was instantaneous. Dr. Tam passed me a mirror and let me touch my under eye area. Lo and behold my old fillers were totally gone!

Here's a closeup after the fillers were dissolved.
The two white arrows point to the two needle marks. And gosh… Hello panda eyes!
My dark eye rings are really bad. I sleep a lot and I had them since I was a kid, so I'm pretty sure they are genetic. Yes they can be hidden with concealer but on days when I go makeup free (and that's many days in a week…), my panda eyes look hideous, and I look tired all the time.
Dr. Tam told me to return after one week for my new fillers to lessen my dark eye rings and plump up the tear trough area. At this moment while I'm typing away, I've already got the fillers done and all I can say is I'm super satisfied and happy with the results. I'll share more details and photos with you in my next post!
EHA Clinic
1 Scotts Road #15-01 Shaw Centre, Singapore 228208
Tel: 6235 3025 or 8168 7235
For Bookings & General Enquiries
Email: email@ehaclinic.sg
Website: http://www.ehaclinic.sg
Facebook: https://www.facebook.com/EHAclinic.sg/
Opening Hours
Weekdays: 11am to 9pm
Saturdays: 10am to 8pm
Sundays & Public Holidays: Closed. By Appointment Only
Comments
comments