ADVERTORIAL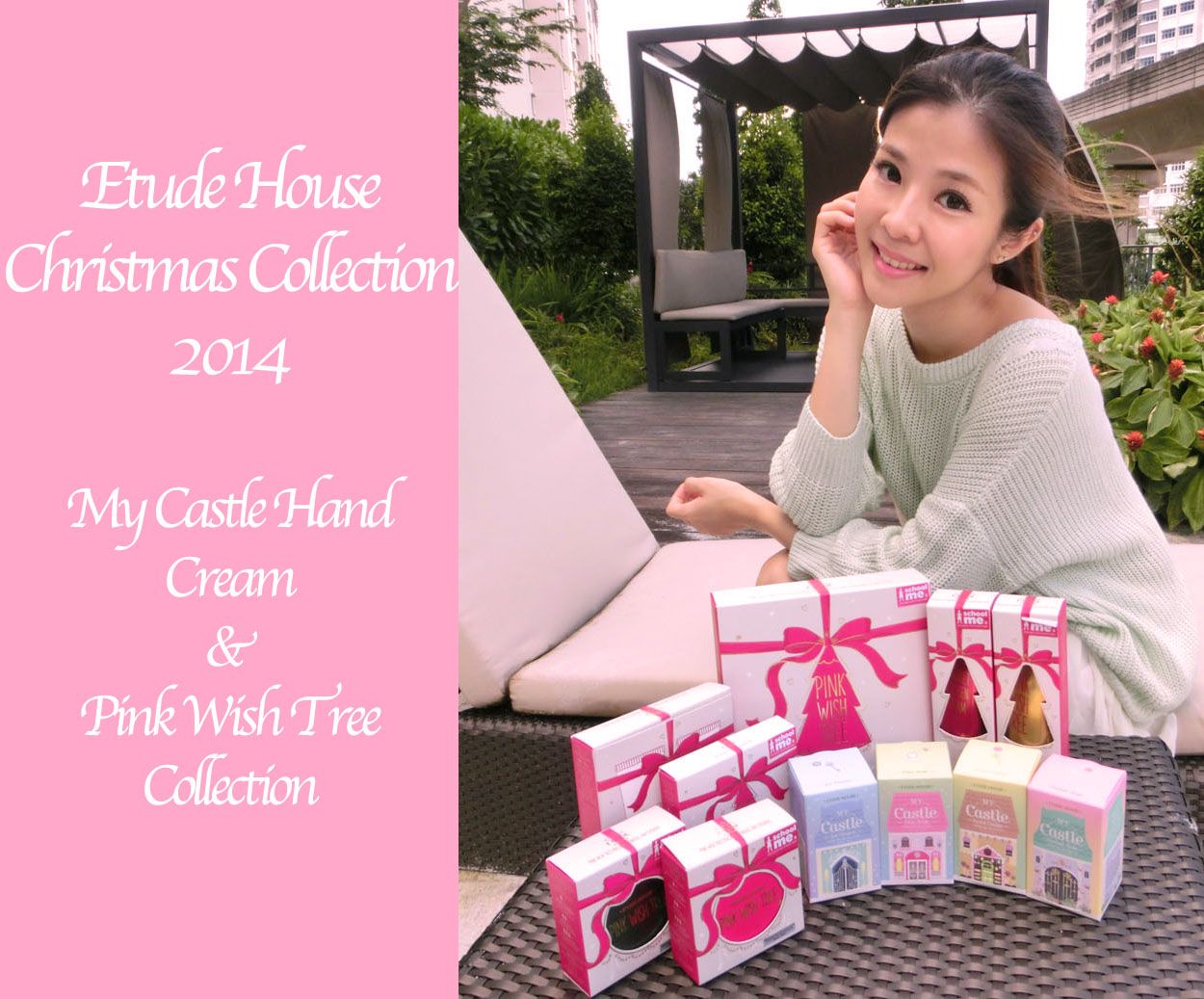 We know that Christmas is coming when you start hearing heart-warming Christmas songs in the malls and seeing Christmas decorations hung up. I love Christmas. It always makes me feel cosy and happy. It is also a time when I go shopping for Christmas gifts for my friends. I can't deny that sometimes I really do not know what I should get for them. I want to buy my friends gifts that they like, and something that is useful for them. I'm sure you too.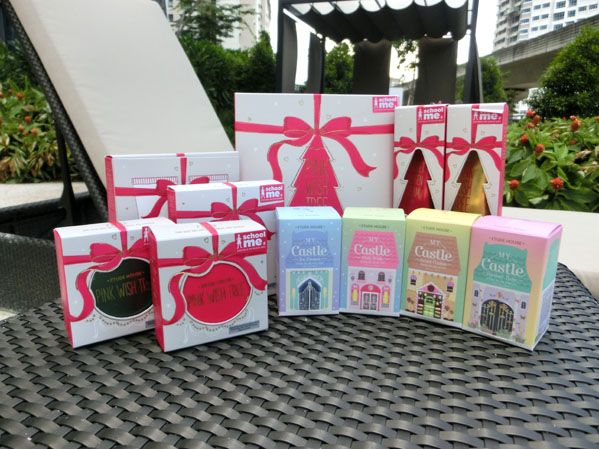 This Christmas Etude House launches My Castle Hand Cream and Pink Wish Tree Collection, which I thought are perfect Christmas gifts for my friends, both the gals and guys!

Here's the video on all the products!

My Castle Hand Cream ($9 each 30ml)
From left: Ice Frozen, Pink Wish, Magic Sweet, Forever Rose
Ice Frozen:
Imprinted with snowflake motifs, it exudes a refreshing floral scent. Keeps hands smooth and supple.
This one is my favourite because it comes in my favourite colour! 🙂
Pink Wish:
Carries a sweet fruity fragrance and looking totally princessy. Conditions and smoothens your hands.
Magic Sweet:
Filled with a delectable vanilla scent, it is designed to be like a candy mansion. Keeps your hands in a pristine condition.
Forever Rose:
It is designed based on the garden of Eden. Comes in a rose fragrance.

This set of hand cream are beautifully crafted into fairytale castle packaging. I super love the pretty packaging, too hard to resist! It is a lightweight and ultra-moisturing hand cream that will prevent dryness on your hands.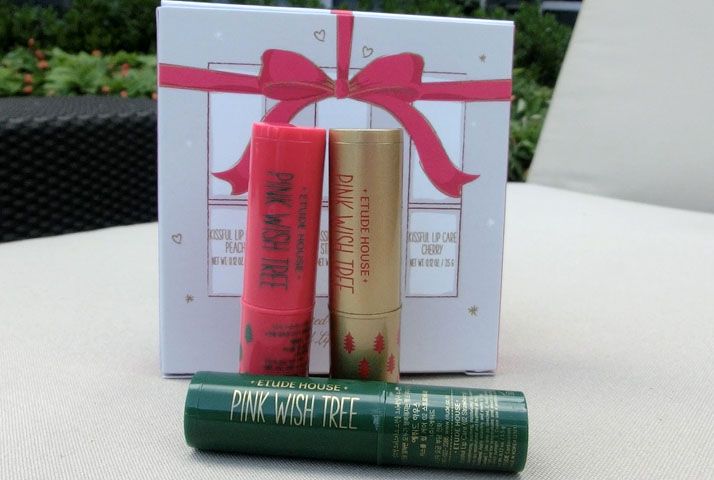 Kissful Lip Care Set ($18 3.5g x 3)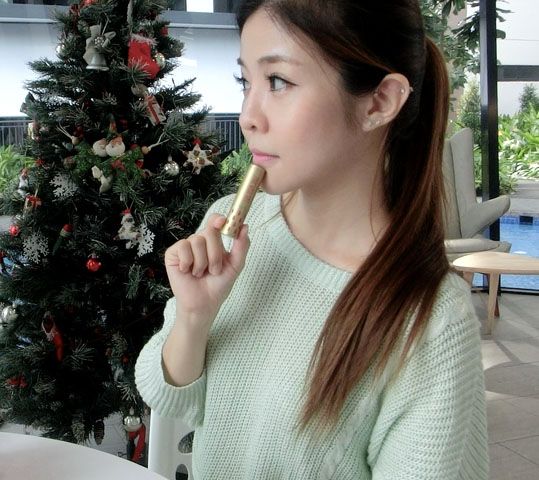 Comes in a box of three lip balms, in the three Christmas colours. Kissful Lip Care moisturises and keeps the lips hydrated all day. The three lip balms has got three different scent, so you could pick the one you like. The three scents includes: #1 Peach, #2 Strawberry and #3 Cherry.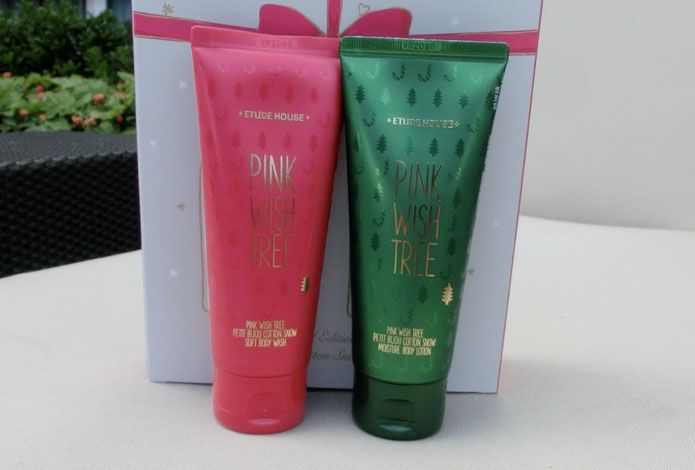 Petit Bijou Cotton Snow Body Set ($19.90 100ml x 2)
From left: Cotton Snow Body Wash, Cotton Snow Body Lotion
Cotton Snow Body Wash:
Helps to alleviate dry skin and prevent skin related outbreaks. It has a mild formula that is suitable for all skin types, including the most sensitive skin.
Cotton Snow Body Lotion:
Formulated with milk proteins, chamomile flower extract and aloe vera leaf extract, it helps to hydrate and soothe tired skin.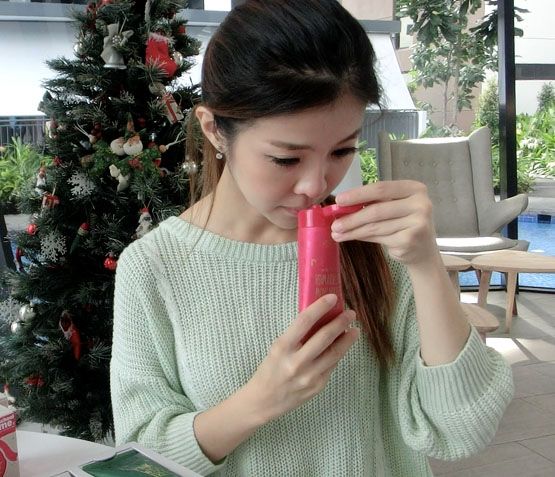 Petit Bijou Cotton Snow Body Set smells really nice too!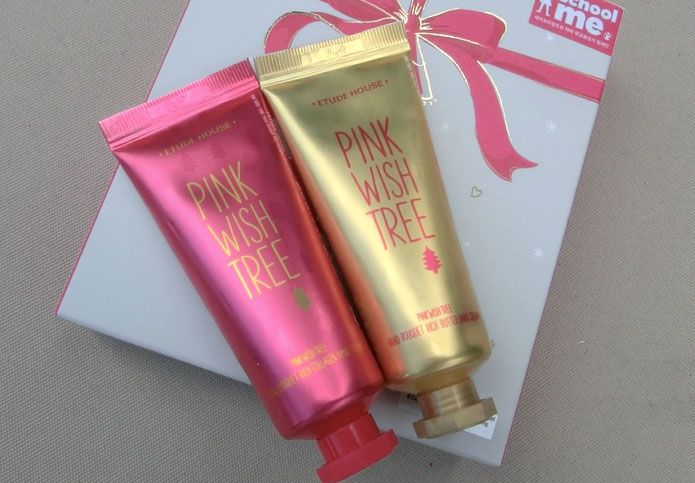 Hand Bouquet Hand Cream Mini Set ($8 25ml x 2)
From left: Hand Bouquet Rich Collagen Hand Cream, Hand Bouquet Rich Butter Hand Cream
Hand Bouquet Rich Collagen Hand Cream:
This is a preventive care, baby-powder scented hand cream. Helps to banish signs of ageing on our hands, keeping them firmer and younger looking.
Hand Bouquet Rich Butter Hand Cream:
A floral scented hand cream that melts into skin without leaving any greasy residue. Delivers long-lasting softness and smoothness.
Good news to those who likes their hand creams in big bottles or tubs, because these two hand creams are available in supersized jumbo versions too!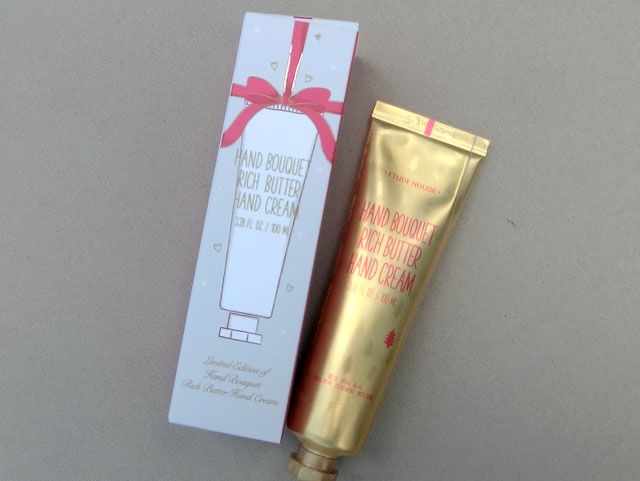 Hand Bouquet Rich Butter Hand Cream JUMBO ($12 100ml)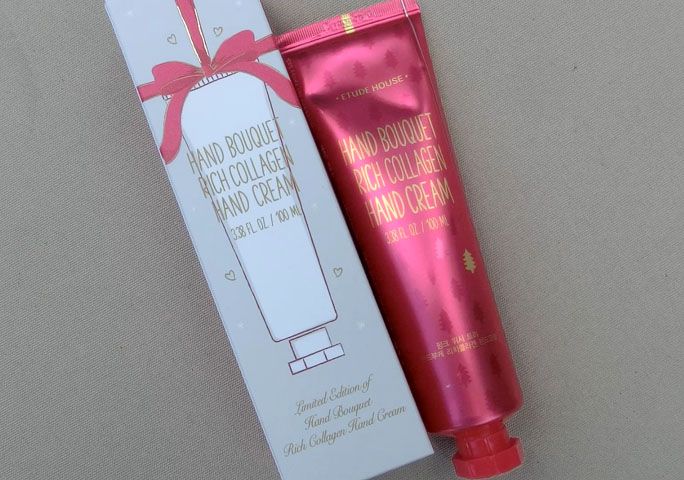 Hand Bouquet Rich Collagen Hand Cream JUMBO ($12 100ml)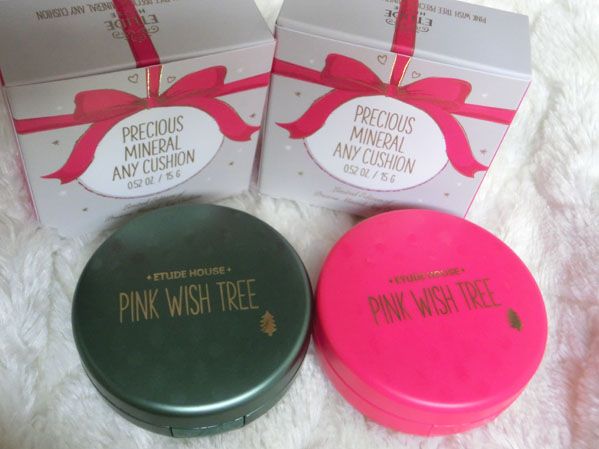 Precious Mineral Any Cushion SPF 50+/PA+++
Exclusive Christmas Edition
This has got to be my favourite cushion foundation and I have been using it for quite a while. One of my essentials in my makeup pouch! This December, Etude House launches it in their exclusive Christmas Edition, styled in whimsical festive prints and in Christmas colours!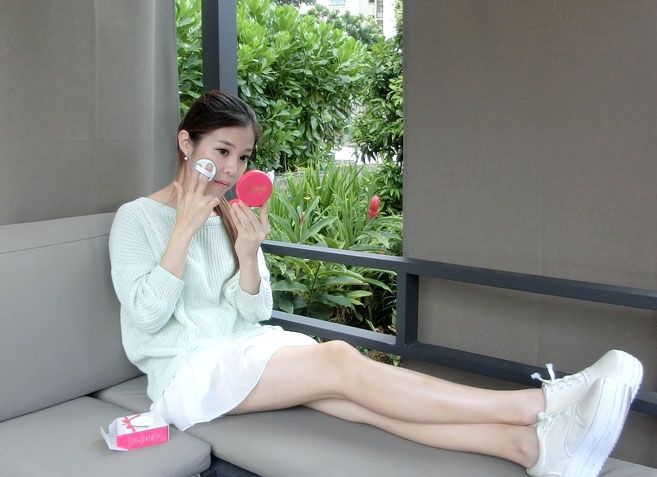 This highly popular Precious Mineral Any Cushion is a 6-in-1 cushion foundation that is very easily to apply. It blends into your skin and leaves a dewy and flawless finish. I really don't like the powdery and cakey foundation finishes because it will age anyone instantly. The air puff that comes together with it deserves a mention too. It picks up an appropriate amount of product and spreads it easily on the face. One tip: Pat the foundation on for a natural finish.
Benefits of Precious Mineral Any Cushion:
-sebum control
-whitening
-sun protection
-moisturizing
-foundation coverage
-skin cooling properties
Available in two shades, N02 (Light Beige) and W13 (Natural Beige).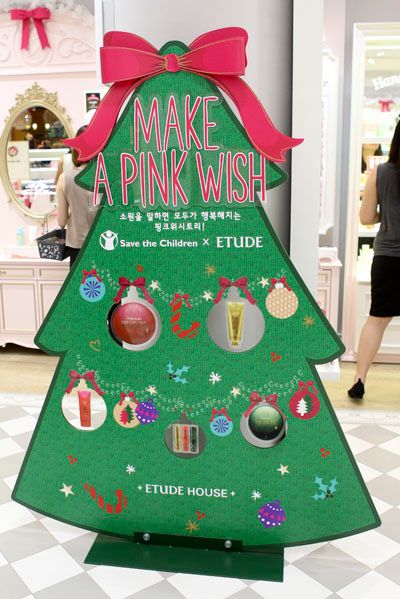 This year, Etude House introduces the Pink Wish Tree Collection as shown above to support School Me Campaign by Save the Children, which provides educational opportunities for African girls in Sierra Leone, Liberia, the Republic of Cote d'lvire and Uganda. The No. 1 K-Beauty Makeup Brand will donate 100 Won for every Pink Wish Tree item purchased to the non-profit organisation. Additional 100 Won will be contributed by Etude House if shoppers endorse the Pink Wish Card which comes along with every Pink Wish Tree product.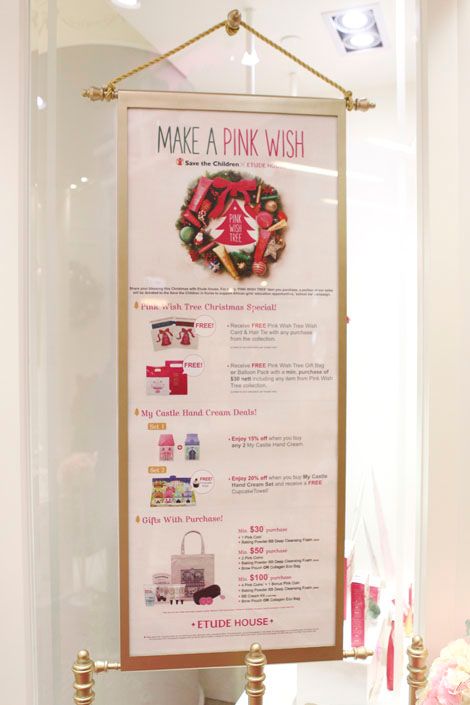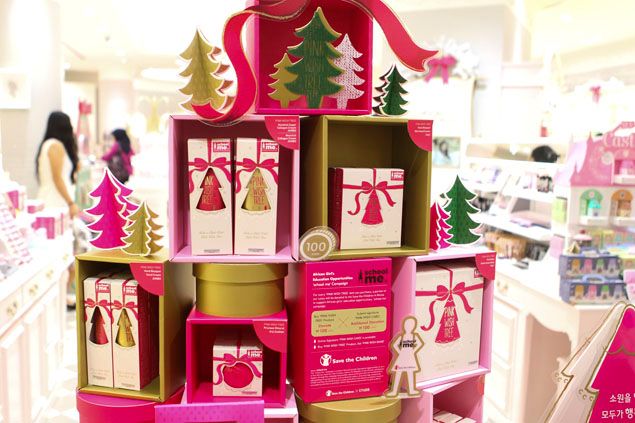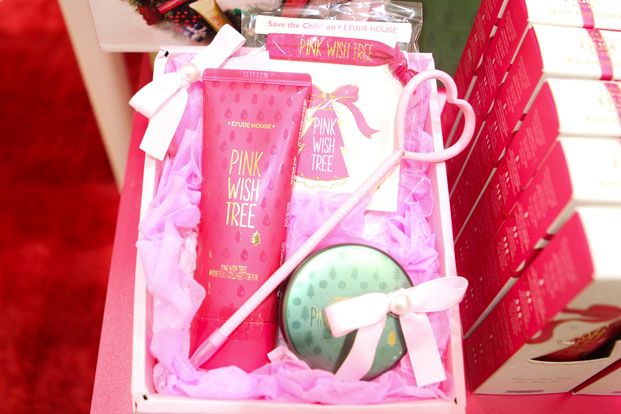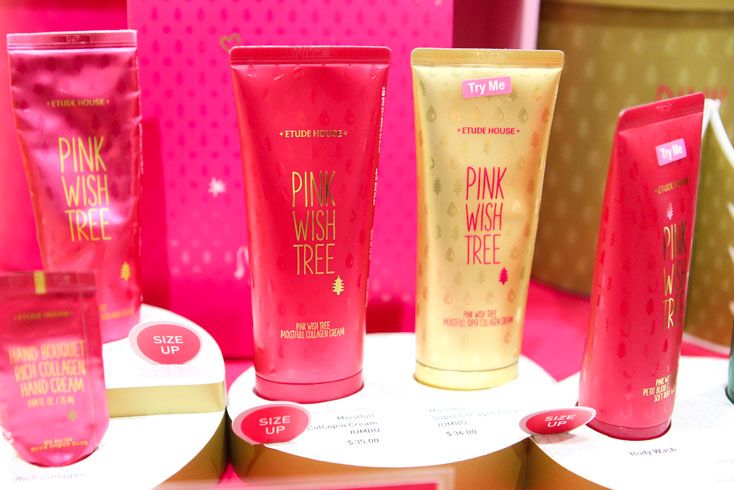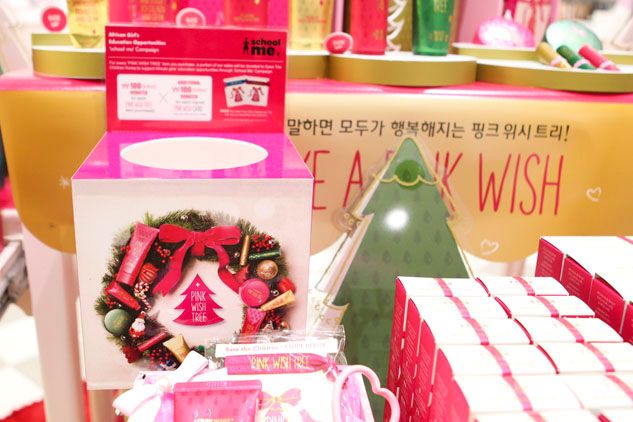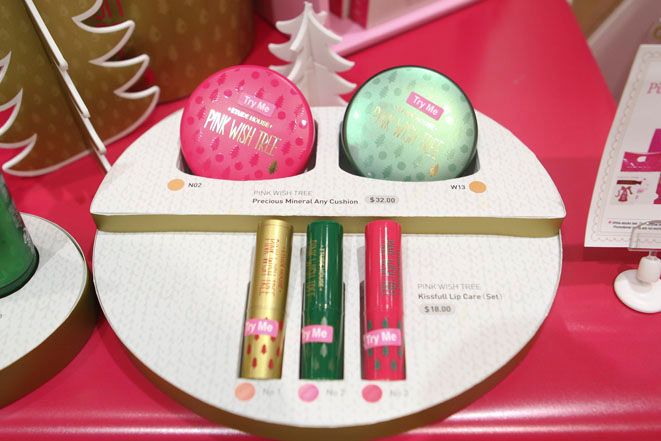 Spread the love and joy this season!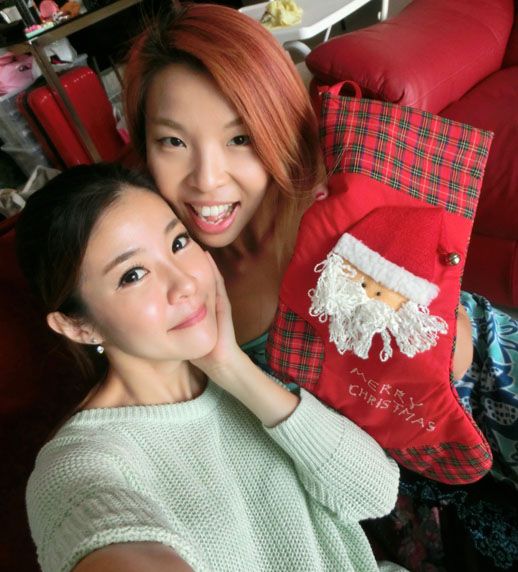 I already filled up my sister's Christmas stocking already! Going to get more as gifts for my friends!
Comments
comments