ADVERTORIAL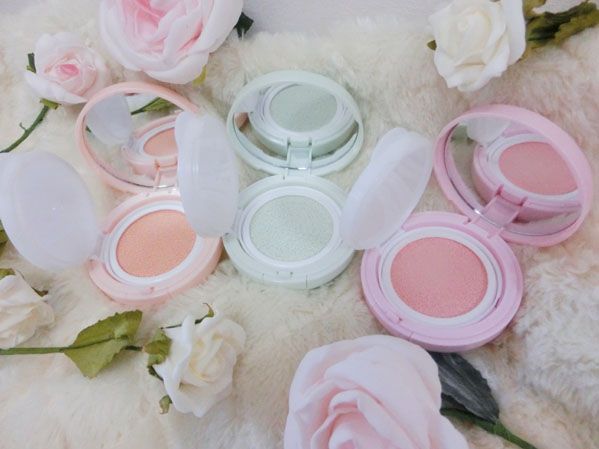 Etude House Precious Mineral Magic Any Cushion is a 6-in-1 make-up and sun care cushion product with SPF 34 PA++, whitening, wrinkle care, moisturising, sheer coverage and skin-cooling properties.
But what do we use it for? It is meant to be use before foundation like a makeup primer/base. It comes in 3 colours Magic Peach, Magic Mint and Magic Pink for colour correction.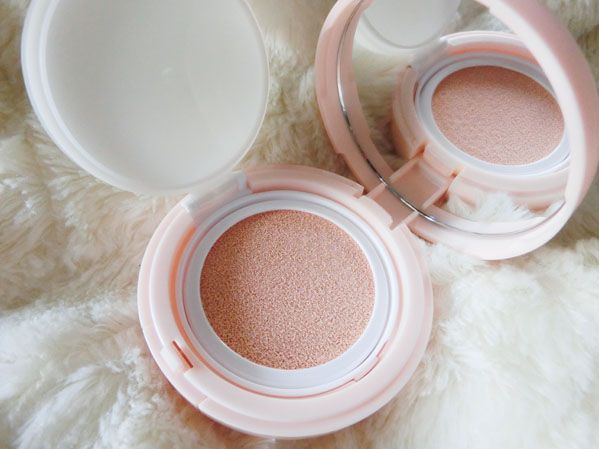 Magic Peach covers uneven skin tone and brightens up the dull skin for a natural refined look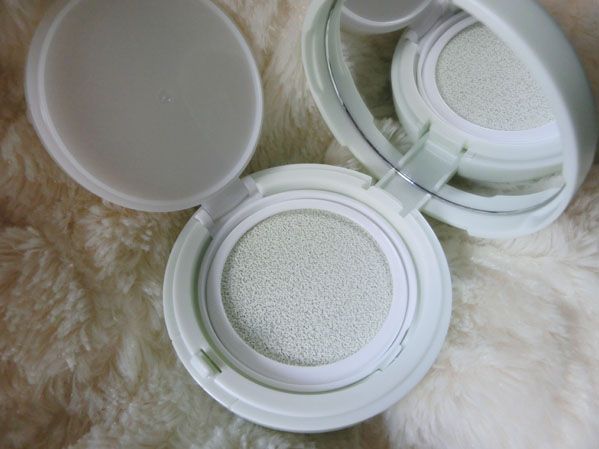 Magic Mint conceals blemishes and neutralises redness of the skin to attain the perfect skin condition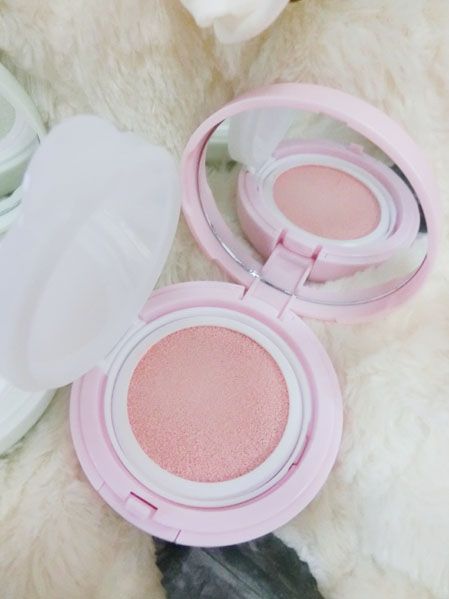 Magic Pink restores instant radiance to pale skin complexion for a healthy glow
How to use:
1. Gently press the pink air puff on Precious Mineral Magic Any Cushion to pick up adequate amount of makeup base.
2. Spread the makeup base from the outer to the centre of the face in the order of cheeks – forehead – chin for a sheer coverage.
3. Highlight the forehead and cheeks by dabbing on one more layer.
4. For touching-up, apply gently by tapping around the face.
I love the air puff that comes with it. The puff helps pick up an adequate amount of makeup base for the face and minimizes product wastage and helps blend perfectly and easily into the skin, leaving it hydrated with a fresh and cooling sensation.
Formulated with whitening ingredients, such as Mother-of-Pearl extract and Arbutin, Etude House Precious Mineral Magic Any Cushion can help to reduce the appearance of age or sun spots, blemishes and even out skin tone, making one's skin fairer and brighter.
In addition, the incorporation of 'Ultra-fine Dispersion Technique' (an AmorePacific Patent Technology in which the ultra-fine pigments are dispersed in water instead of oil) instantly smoothes over fine lines and rough patches, which sets a luminous even-toned visage, just by dabbing on the face.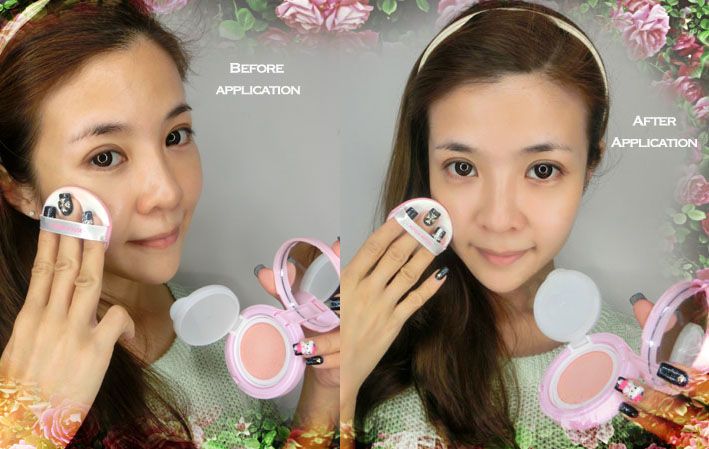 Left: Before application
Right: After application
I'm using Magic Pink to to give my skin a healthy glow and to add some radiance! See the difference between the before and after photo.
I'm going to now create a Korean makeup look using Etude House Precious Mineral Magic Any Cushion and Precious Mineral Any Cushion!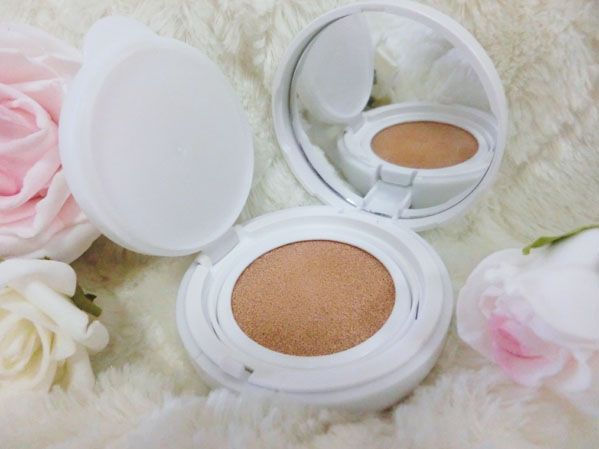 After using the Magic Pink Precious Mineral Magic Any Cushion, use Precious Mineral Any Cushion for coverage.
It is a 6 in 1 foundation that offers sun protection and contains moisturizing, whitening, wrinkle care, and oil control properties.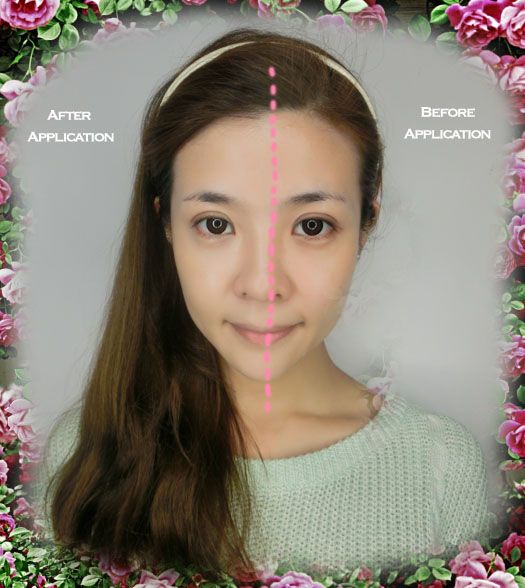 Comparison: Before and after Precious Mineral Any Cushion for coverage.
It is my current favourite foundation because it gives a translucent and velvety finish.
Use concealer to cover dark eye rings and dust some powder with a powder brush over your T-zone to set your makeup after that.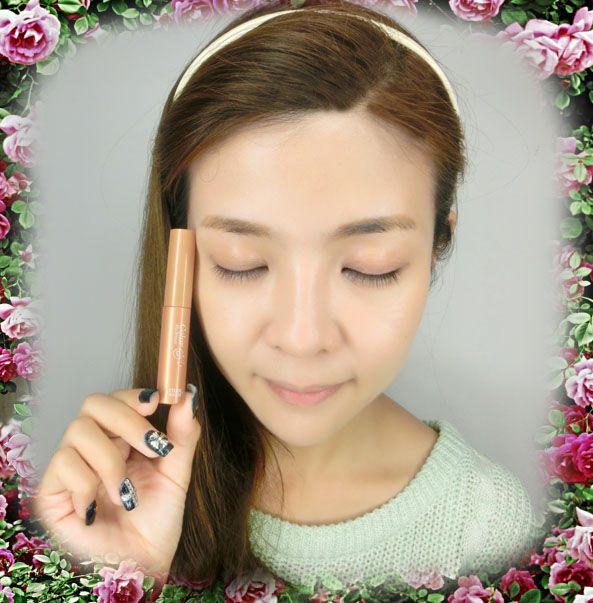 To create a Korean makeup look, straight eyebrows are essential. Straight and thick brows is the trend for these few years to create a more youthful and innocent look. To match my eyebrows with my hair colour, I used Etude House Color My Brows eyebrow mascara in No. 2 to lighten my eyebrows.
See the difference in my eyebrow colour. Left, after applying Color My brows. Right, before.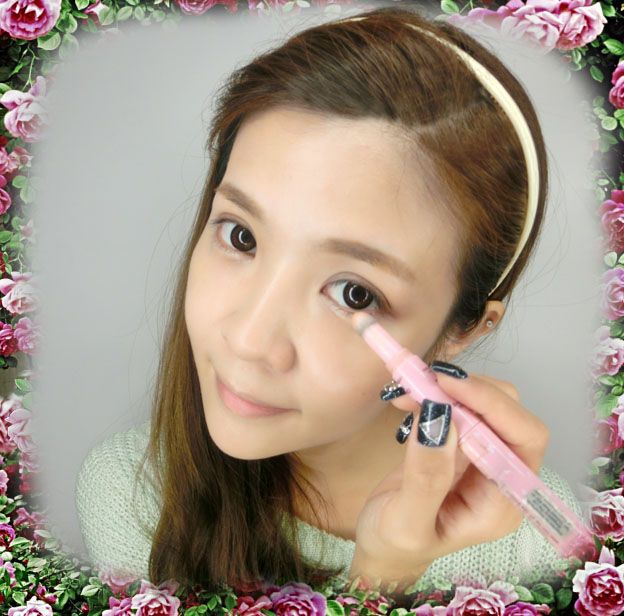 Want a Korean makeup look? Do not neglect highlighting your smile bands (aegyol sal). I'm using the Etude House Cute Eye Maker to create a more obvious aegyol sal.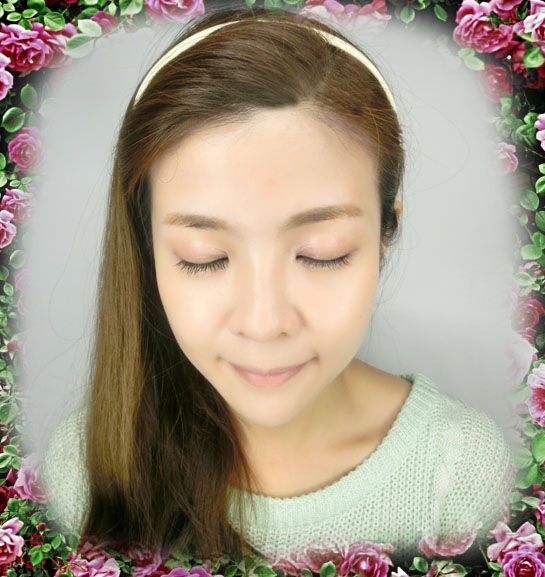 Dust some very natural eyeshadow in pinkish brown, and apply mascara on top and bottom lashes to open up eyes.
I'm keeping my eyeshadow very neutral and simple to achieve a very natural day look.

Add falsies.
I chose a very very natural pair for this look. It is perfectly ok to skip falsies too!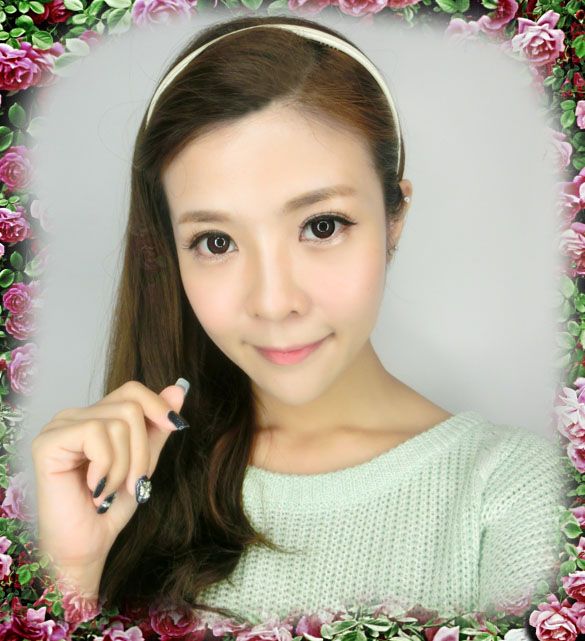 Add eyeliner and blusher after that.
Remember that Etude House Precious Mineral Magic Any Cushion can be used as a highlighter too? I used it as a highlighter highlighting my nose bridge and forehead.
Last but not least, lip colour. I picked a bright orange lipstick (Because the Korean Drama "You Who Came from The Stars" female lead made the orange/coral lip colour so super popular in Korea!) and created a gradient lip effect with it.
1) Dab some Precious Mineral Any Cushion foundation to neutralize lip colour
2) Apply lip colour only on the inside of the top and bottom lips and bond it outwards for the gradient lips effect.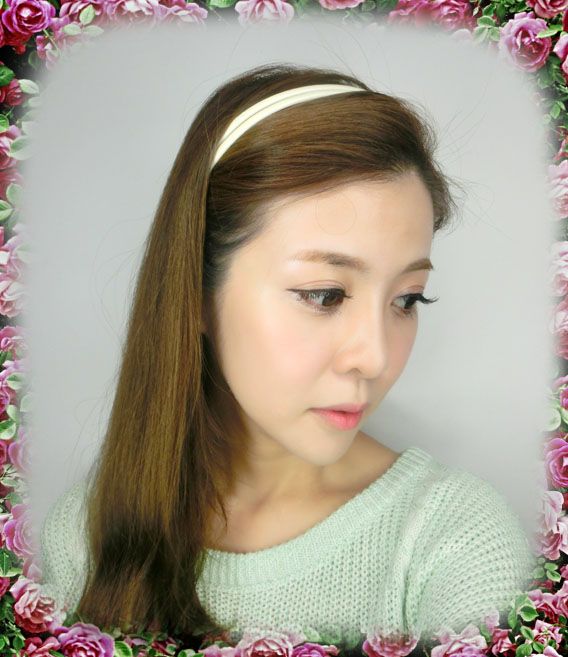 Remember to extend your eyeliner a little!
After completing your makeup, styling is important too!
Time to change and style my hair!
Final look…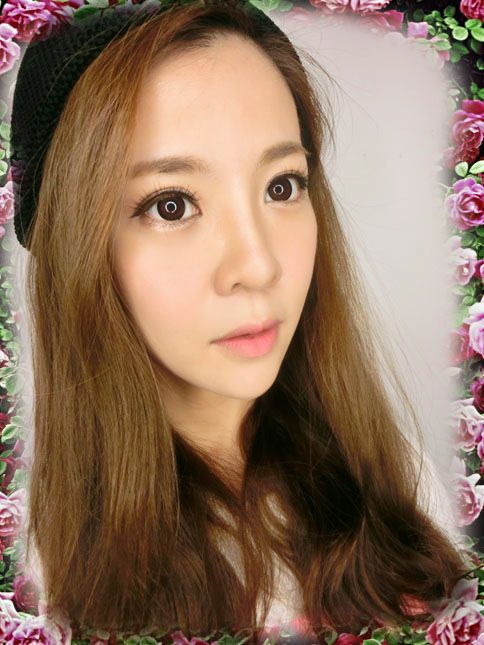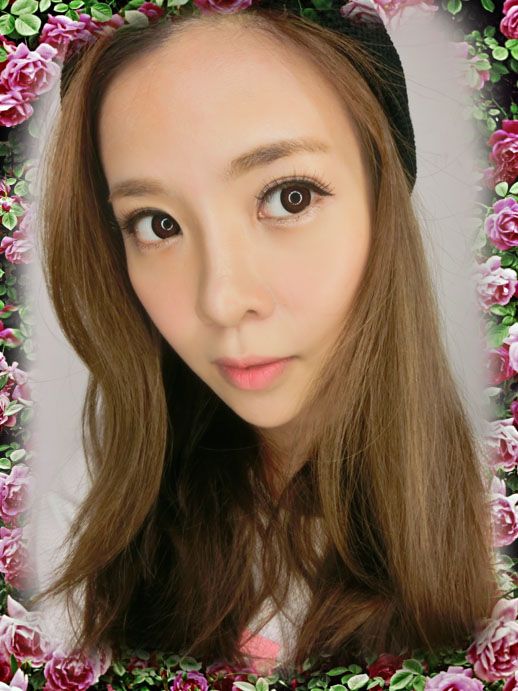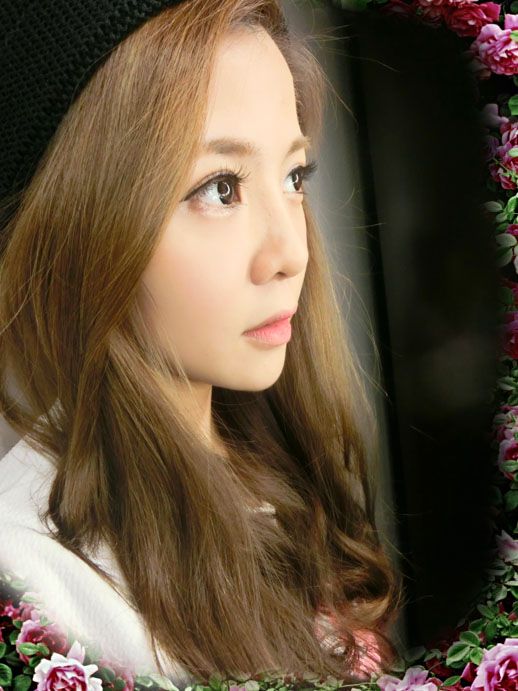 Whether it is to be used on its own or as a makeup base to prep the skin for foundation application, every busy woman can now 'magically' achieve her desired toned up and dewy-looking skin with this new multi-functional and fuss-free Etude House Precious Mineral Magic Any Cushion!
Retailing at $29, The Precious Mineral Magic Any Cushion is available at all ETUDE HOUSE Singapore stores from May 01, 2014.
ETUDE HOUSE Singapore Store Locations:
1. 313@Somerset #B2-30
2. Bedok Mall #01-87/88
3. Bugis Junction #01-62
4. Causeway Point #B1-K02
5. Chinatown Point #01-12
6. Clementi Mall #03-34
7. JEM #02-44
8. Junction 8 #01-48
9. Jurong Point #01-57/58 10. Lot One #01-19
11. NEX #01-63
12. Parkway Parade #01-23B 13. Plaza Singapura #B1-26 14. Tampines 1 #01-15
15. Vivocity #01-K3
Comments
comments