My BRAND'S Essence of Chicken Story
I think I have been drinking BRAND'S® Essence of Chicken for the longest time. My mum used to give it to me in the morning every time I am having my examinations in my entire schooling life. Many other little children seem to hate the taste, but I totally love the unique favour. I loved it so much that I will take little sips to finish it, instead of gulping it down in one big mouthful. I got to admit that sometimes I drink it just for the taste, hahaha. But it doesn't matter right? Since it has a lot of benefits to my health anyway!
For more than 175 years, generations have trusted BRAND'S® Essence of Chicken for its goodness. I am no longer taking exams like a student but BRAND'S® Essence of Chicken is still very much a part of my life. I get tired and feel fatigue very easily. I don't know if it is because of my weak constitution, or that I am extremely busy. I always have at least a box of BRAND'S® Essence of Chicken at home and at work so that I will feel less tired and be able to focus on my passions!
Containing a uniquely formulated essence of chicken, BRAND'S has today combined this time-trusted formula with a myriad of brain-boosters such as American Ginseng, Tangkwei, Cordyceps and Lingzhi, empowering individuals to better their mental and physical well-being so they can reach their optimal performance every step of the way. Today, scientists at BRAND'S continue to push the boundaries of scientific research and development to uncover even more benefits of BRAND'S Essence of Chicken – such as reducing anxiety and hypertension, helping to relieve fatigue, increasing the body's metabolic rate and, sharpening your mental alertness and sharpness.
My way of drinking it:
I like all my drinks hot hot warm (A little less than tongue burning hot, and a little hotter than warm! Yes I am troublesome like that! Haha!)! I always warm it up by soaking it in some hot water in a bowl. It taste best like that!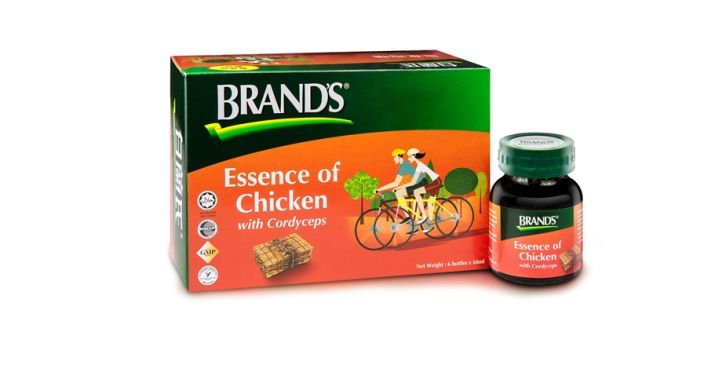 This is another flavour that I love!
Essence of Chicken with Cordyceps helps to increase the Qi, or vital energy, that flows through the body to promote stamina, overall well-being, and recovery from fatigue and illness. The combination of principal herbs – Cordyceps and Astraglus with Essence of Chicken strengthens the function of lungs, kidneys, liver and benefits the respiratory system.
– Ideal for busy working professionals who suffer from fatigue and illness
– Promotes stamina, overall well-being and benefits respiratory system by increasing vital energy
– Strengthens the function of lungs, kidneys and liver
One bottle of BRAND'S® Essence of Chicken everyday to enhance my mental and physical performance!
Comments
comments