"Moo Ka Ta", for the uninitiated, literally means "Pork Skillet" in Thai and refers to the special cooking apparatus created to enjoy both barbecue and hot pot at the same time. I never tried Mookata before and was quite excited to be invited to Moojaa for food tasting. It was a pleasant experience for me (and me stomach!)!
Address:
MooJaa, Mookata Thai BBQ Steamboat
25 Keong Saik Road
Singapore 089132
Tel: 6536 4780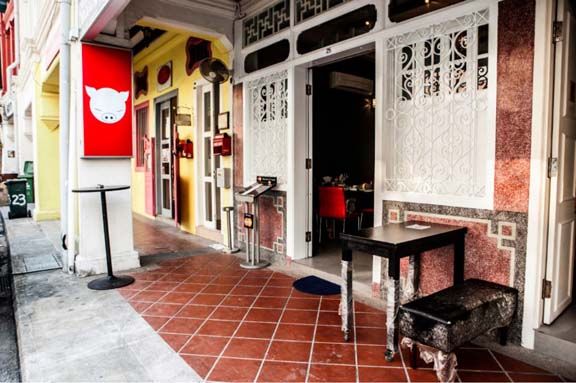 Walk along Keong Saik Road and look for the red poster with the cute pig on it. Can't miss!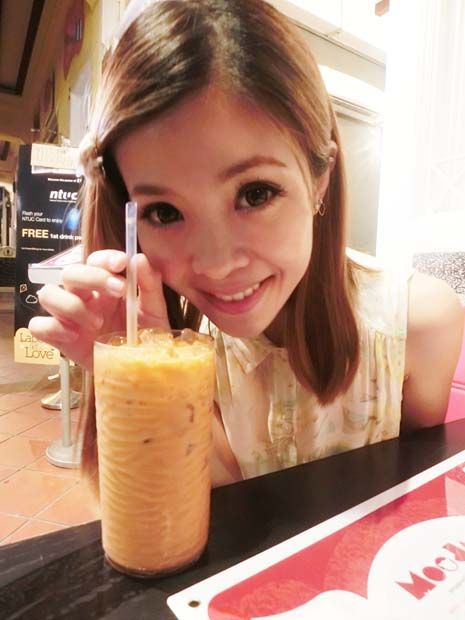 We were waiting outside for the staff to get our table ready. The very friendly boss gave us their signature Thai Ice Tea to sip on while waiting.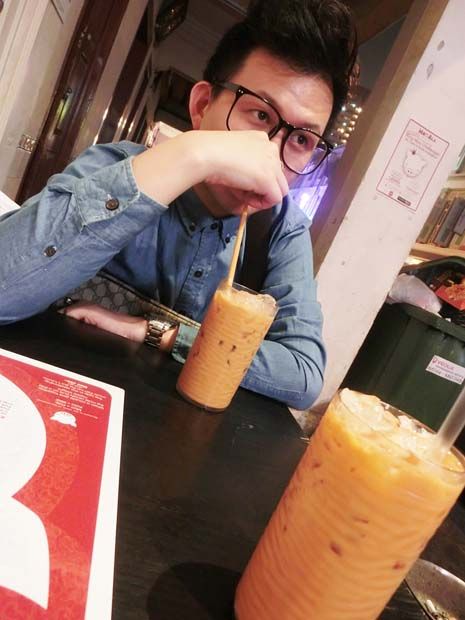 No wonder the boss asked us to try the tea. Taste great.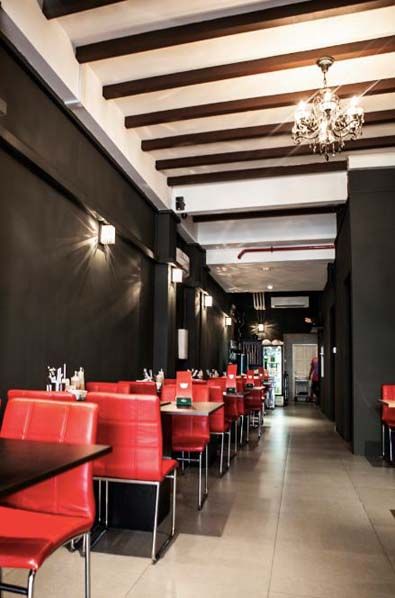 Pleasant atmosphere. (Note: This photo is from the press release. The place was full of people when we visited it that day during dinner time.)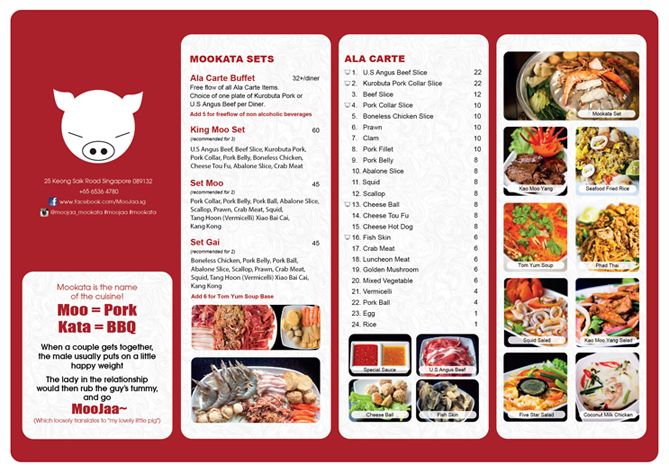 Menu Page 1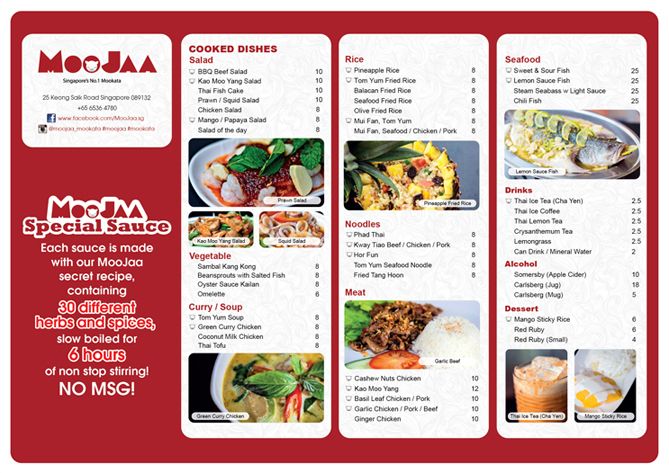 Menu Page 2
All prepared by Thai chefs!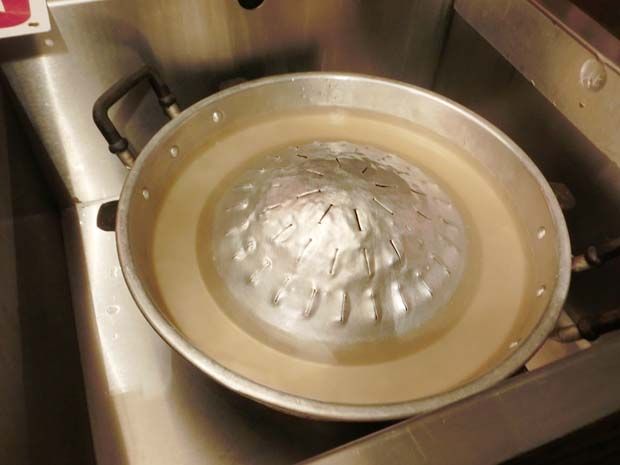 Chicken and pork broth that is cooked for 5 hours.
Curious me had many questions when I saw the white charcoal and the pot (mountain tortoise me! Heh!)
Q: Why is the charcoal white?
It is actually quality Binchotan Japanese charcoal. MooJaa's owners chose Japanese charcoal after initial tests with gas and locally-obtained generic black charcoal resulted in soot getting into the food and turning it acidic, which is commonly the case at other Moo Ka Ta restaurants.
Jon explained this to me in detail after that and I was pretty impressed by him. So I asked Jon, "Wa you know a lot leh.." He replied, "Because I read 《江太的寿司》and it was all in the comic." Hahahaha… He read that in his secondary school years. -_-""
Q: Why is the pot set in a "hole" and not like the other hotpots that I had before?
Boss told me this will prevent the soup from splattering on the customers. That's smart right? Good for clumsy people like me. Because I just went to eat chilli crabs on Saturday and my white t-shirt had spots of orange on it after that…sobs… Also, the in-table ventilation system draws the smoke away before it will even rise so that customers will not be smelling like walking BBQ after that…
Q: Why does the pot has a dome shape centre and wouldn't the food placed on top for BBQ fall into the soup?
A trough of soup sits on a crock of charcoal, and a dome shaped grill is placed on the trough. This allows the smoke from the charcoal to waft up to the grill, perfuming the meats with some seriously fragrant "wok hei" (wok's breath). The juice from all the BBQ meat will also drip into the soup and the soup will be very sweet and well-flavoured!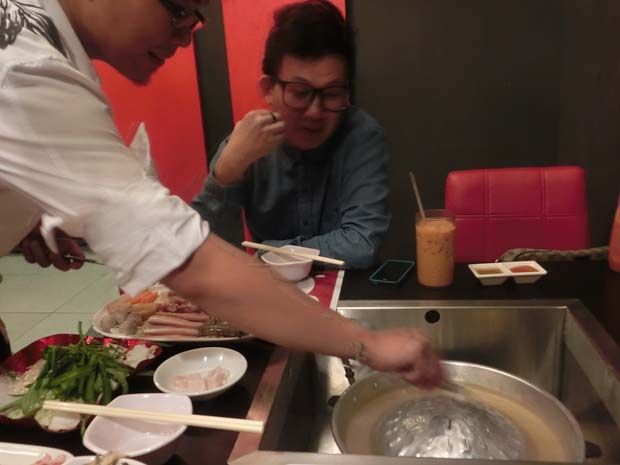 Thanks for helping us get started! If not I might have just laid the food on top straightaway.
A cube of pork lard is place at the top of the dome, and it melts into unctuous fatty goodness, adding a great fragrance and crisp to the meats barbecued on the dome.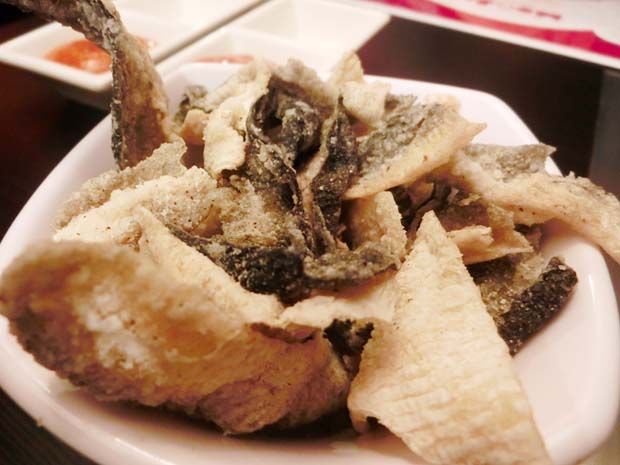 Starters: Fish Skin
I usually don't eat fish skin so I was skeptical. But I wanted to give everything a try. Dip it into the soup for a while, eat. In the end it was one of my favorites!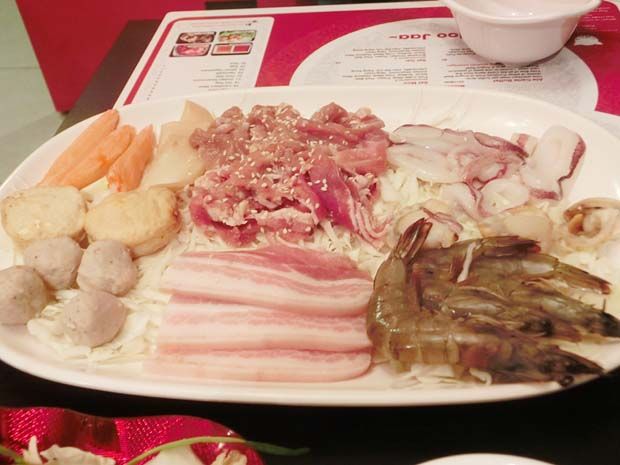 This is just the tip of the iceberg…
MooJaa's head chef personally handpicks the seafood and meat every morning and then marinates it herself in a secret marinade that is MSG free. The resulting meats are tender, juicy, and bursting with great Thai flavours. Which means guaranteed freshness right?! Also, no luncheon meat or cheap hot dogs. Instead, expect Hokkaido scallops and Surimi crab sticks.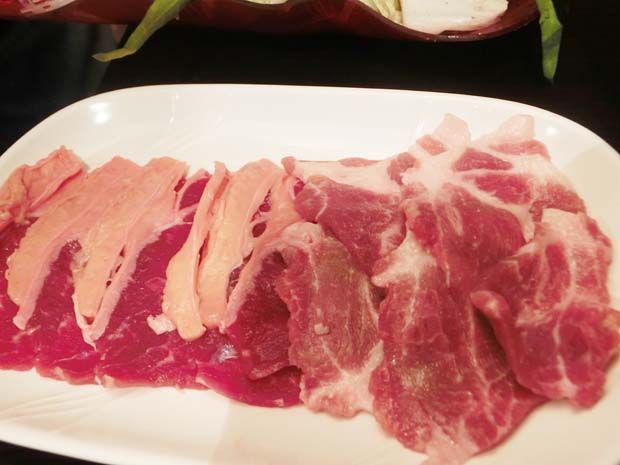 Upmarket options: Kurobuta Pork and Angus Beef

Waiting for the food to be cooked and we were all ready to eat to our hearts content.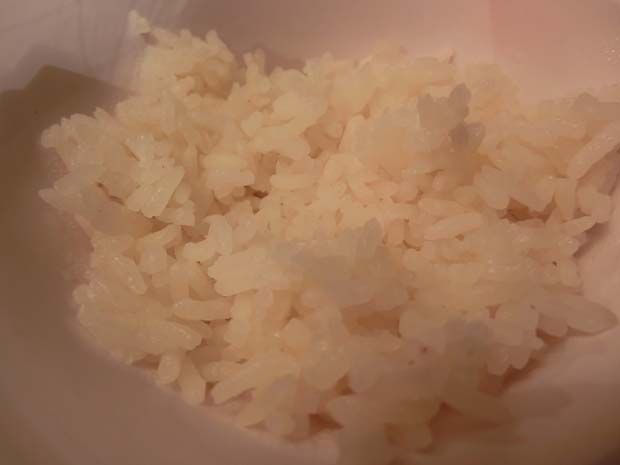 We were asked if we want any rice to go along but both of us rejected since we saw the huge amount of food on the table. Boss thinks that we should try the rice and I was thinking it's just white rice what can be so special about it. After eating a mouthful, i realized why. It wasn't plain white rice but rice cooked with chicken stock. Fragrant and great tasting. Do order some to go along with the soup and BBQ if you are there.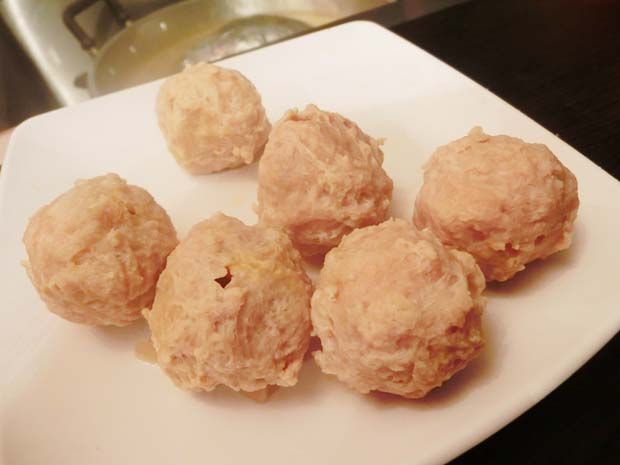 Cheese Meatballs. Apparently there was a lady who single-handedly cleared 7 plates of it!!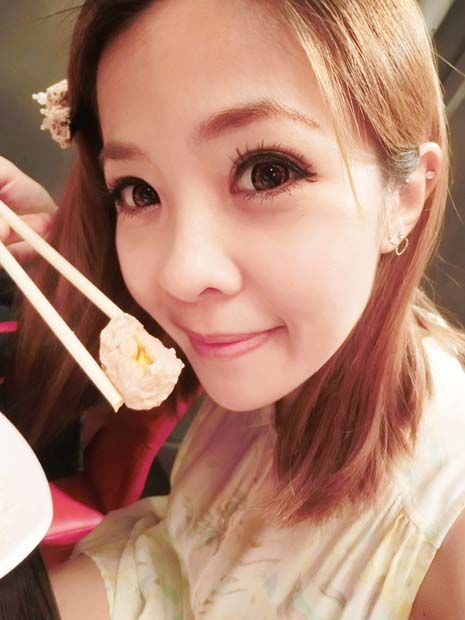 It is really good!!! No wonder the lady can finish 7 plates! Can you see the cheesy goodness inside the handmade balls?

Jon love the food and the place and he was already suggesting that we bring our family here the next round!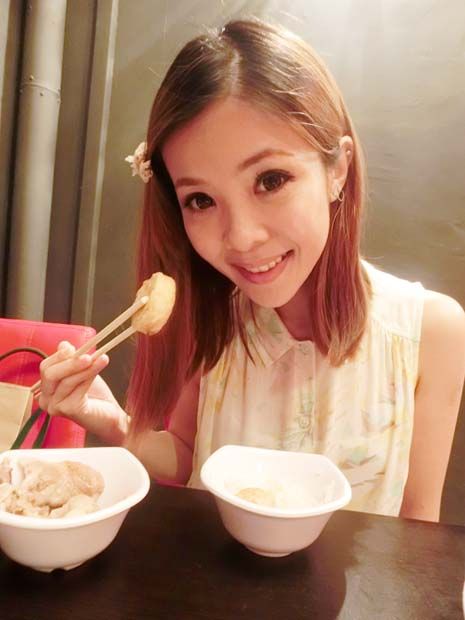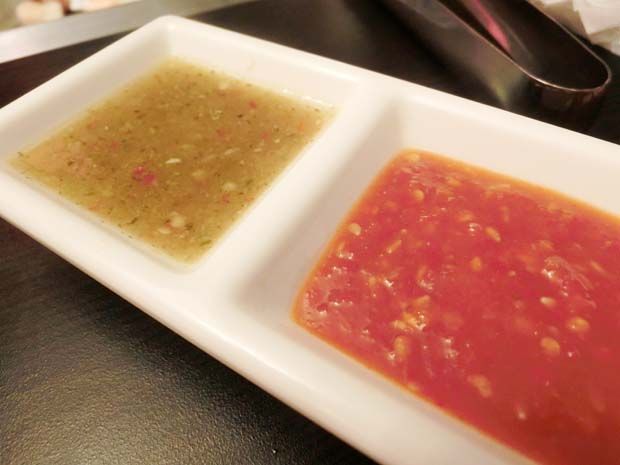 No hotpot or BBQ is complete without some good sauces. These sauces were made in house and not ordered from some factory.
These two popular dipping sauces are prepared from scratch with 30 different ingredients. The sauce involved six straight hours of non-stop stirring so that it doesn't char or burn, and it's made fresh weekly in small batches so it never goes stale. The Spicy BBQ and Sweet Sour Seafood Sauce are full of tangy, umami flavours that enhance the good quality meat.
Trivia to note: "If you're there with your boyfriend, poke him in the belly, call him "MooJaa" – and only tell him what it means after you are done eating. MooJaa is a popular slang word meaning "My lovely pig!" and commonly used by couples who have put on a little of that "happy weight" during their relationship!"
So cute! I love my Moojaa! Hahahaha….
What makes a customer return to a restaurant? I always think that apart from the many many factors, quality food is the most important one. I would love to return to Moojaa again because the food is really awesome. The service is good and the environment is nice too. Fully airconditioned restaurant and they have private rooms too. Love the place!
You can find out more about Moojaa Mookata at their Facebook Page https://www.facebook.com/MooJaa.sg
Comments
comments