I got my first pair of Levi's® jeans when I was 14 and has subsequently gotten myself so many pairs of them. From denim jeans to denim skirts and jackets, Levi's® apparels have accompanied me through my growing up years and I still have a couple of pieces in my wardrobe now! Levi's® denims are so durable and versatile, I find it so hard to throw them out when I do my wardrobe spring cleaning.

To celebrate 140 years of Levi's®, Levi's® has come up with "501 Interpretation" for individuals to showcase their unique personal styling with the iconic 501 jeans. "A symbol of individuality and universality – the 501® jeans is the ultimate expression of personal style."



View the 501 Interpretation gallery here: http://www.levis501.com.sg/featured-entries.html

And now it is my turn to showcase my Levi's 501 Interpretation!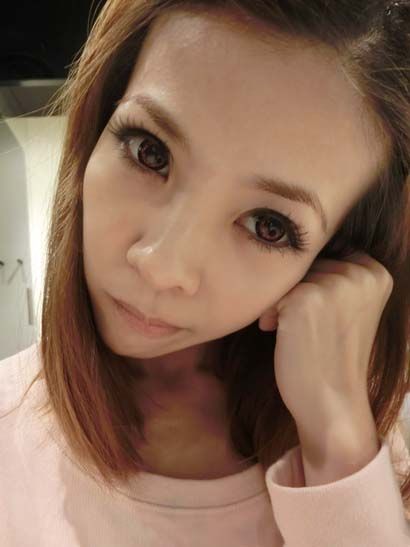 But I ran into a problem….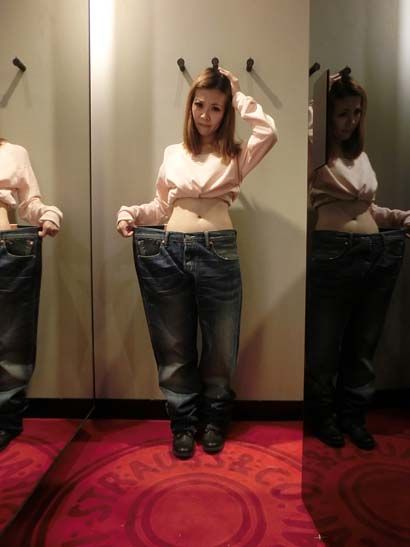 The local stores do not carry the 501 ladies. Singapore only has the men's 501 jeans! *boo-hoo~~~~*
And being a UK size 4/6, even the smallest size 501 will still be too big. 🙁
(I'm wearing size 34 in the photo above for photo effect, not size 28! I'm not so small! Hahaha…)

Since Levi's® only carry men's 501 jeans, Jon, who always wears jeans will be doing the Levi's 501 Interpretation for me instead! I shall be the stylist for the day and style my dear in 3 outfits!

Showcasing my…

MONOCHROME X CASUAL


First Look: Smart Casual in Black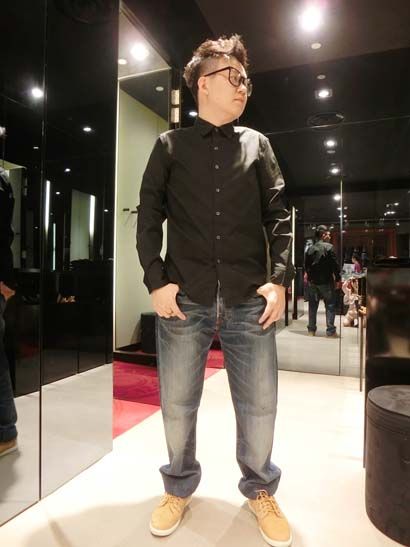 I love men who wear black. It is classy and smart. However Jon is a ultra, super, colorful person. There is only 1 black shirt in his entire wardrobe that he bought for an event. So I decided to pick a black shirt to go with the 501 jeans to give him a different look from his usual self.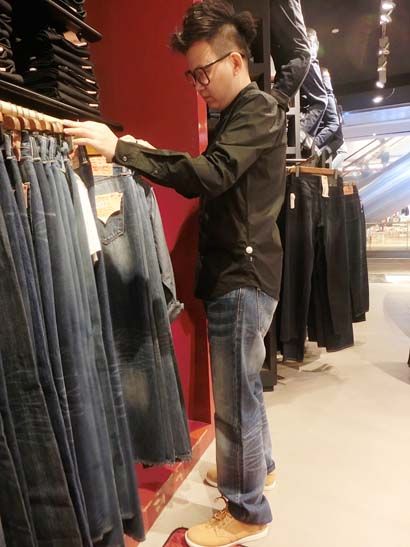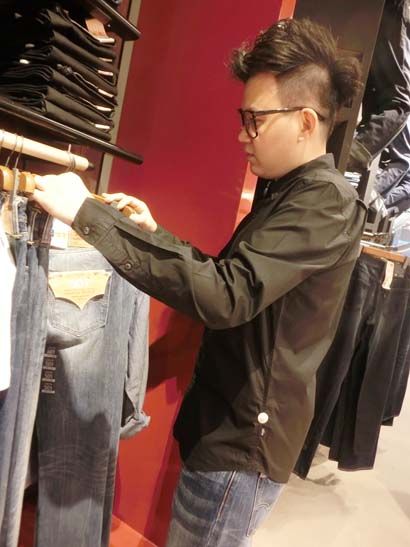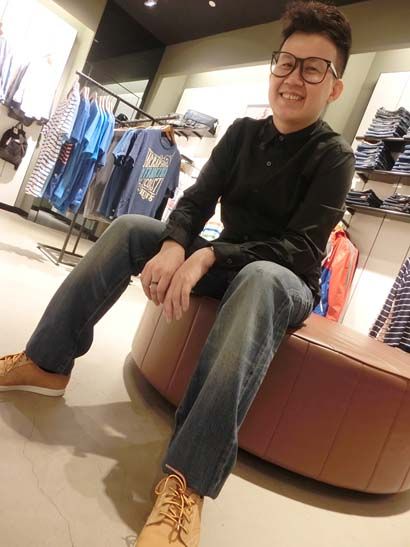 Jon is looking good isn't he! #selfpraisemyownboyfriend



The signature copper rivet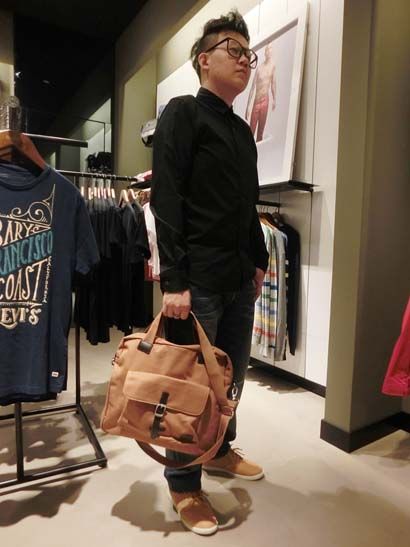 Got Jon to carry a Levi's bag for added style. Rather carry your stuff around in style.





Second Look: Stylish in White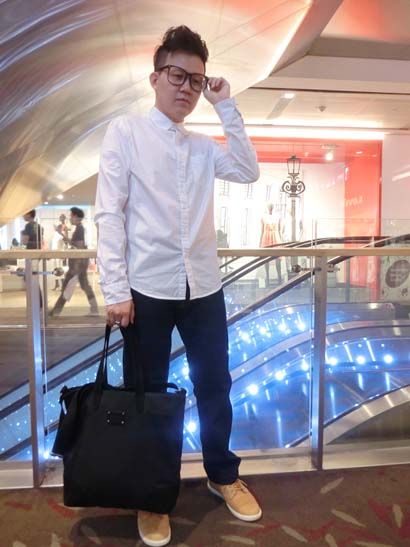 Nothing beats a crisp, white shirt on a confident man. A classic white and blue combination and I love the simplicity this look depicts. I was deciding between a pair of dark blue or light blue 501. Decided on the dark blue in the end, because of the contrast it has with the white shirt.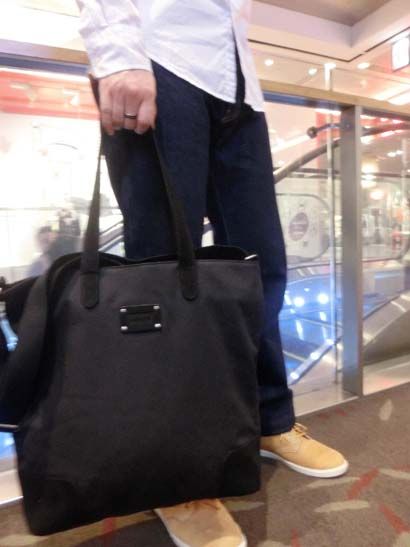 With Levi's® black bag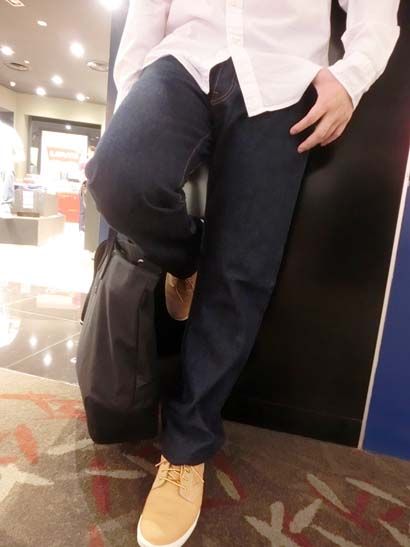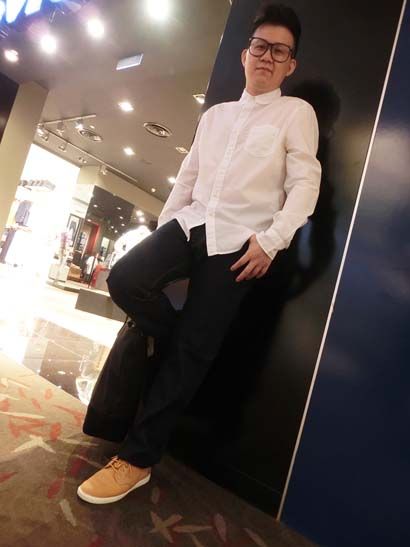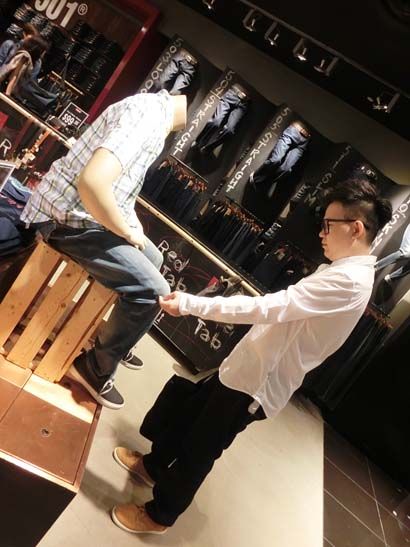 Third Look: Casual Day Out




Something different for this look. Do you know that Levi's® 501 jeans has got shorter versions too?

Since the first 2 looks are both smart casual styles, I decided to do a casual one this time.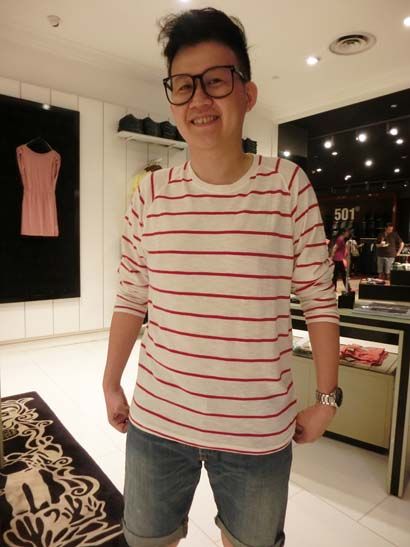 I picked a long sleeve off white tee with red stripes for Jon to match. I thought that this is a simple and fun look! It doesn't meant that you can only go town to do shopping or head down to the clubs when you are wearing a pair of 501 jeans, there are more casual ways to style a pair of 501 when you just want a leisure weekend or visit a friend! It is super warm in Singapore!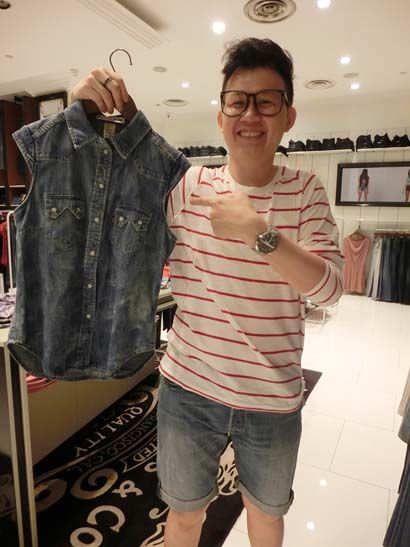 Ask Jon to model for me and then he decided to shop in my place! He really knows me well. Picked a top that I thought is nice!

Hope you like my Levi's® 501 Interpretation!


And I want to also show you Levi's 501 Spring/Summer 2013 Collection! Levi's® broke their tradition and introduced a non-denim Levi's® 501® collection for the first time ever. The 501 series is now available is 3 Spring/Summer colours true chino, chalk blue and mineral red.
(Picture credits to http://www.menshealth.pl/)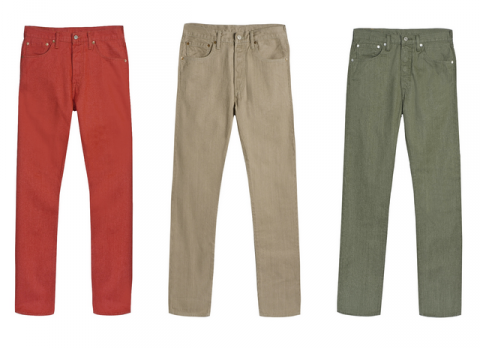 And what's new with the 501 series? They have evolved and adapted over more than hundred years and they have now adapted to our modern style and lifetstyle. The new Levi's® 501® jeans and non-denim pants are more fitting with more comfort around the waist area. They have also made the pockets bigger to fit our smart phones! This is good news to many of us I guess! I'm using a Samsung Note 2 and I totally understand the pain of trying to slip my phone into my jean's back pocket without it dropping out. That's not all, the yoke is now shallower and they also feature stronger stitching and reinforced belt loops, inseams, buttonholes and cuffs.


Do visit Levi's here for more information!
1) Official Singapore Website www.levi.com.sg
2) Levi's 501 Interpretation Website: www.levis501.com.sg
3) Facebook: www.facebook.com/levis


I've announced on my Twitter and Facebook that I'm one of the finalist for Singapore Blog Awards this year but I haven't announced it on my blog! Do support me by voting for me here ok?
http://sgblogawards.omy.sg/2013/category/?cat=501
Vote for me ok? Thank you so much!!!

Comments
comments