I finally went to put up my full braces last Tuesday! It should had been a week earlier but I was down with stomach flu so I had no choice but to shift my appointment to a later date.
I thought that I would post the details of my orthodontist and the cost of the procedure since I've got many enquiries on it. I went to Dr. Alfred Cheng's Orthodontic Clinic which is located at Mount Elizabeth Hospital, #03-03. He's a very nice orthodontist, but he doesn't talk very much, except to tell me all I need to know and how to take care of my teeth after my braces were up. So do ask him questions when in doubt. I did the colourful metal braces and it cost $3800 in total. But Dr. Cheng doesn't collect the amount in full it seems. I paid $530 plus for each visit for the first 3 visits. Subsequently, I'll just need to pay $100 plus each time. Quite affordable I would say.
So I headed to the clinic and waited for about ten minutes before it was my turn. The waiting time there is always very minimal. I like that! I really hate waiting!!! Dr. Cheng started work immediately and it was quite painless. I get to choose what colour I want on my braces and I chose my favourite blue!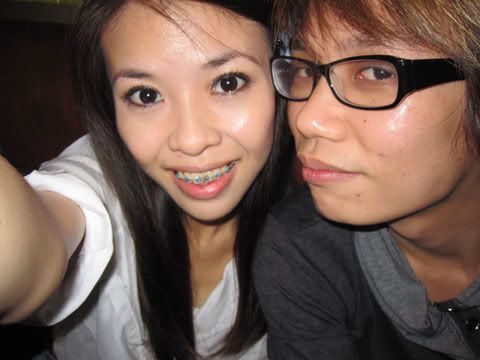 Blue colour braces! took this yesterday when I went KTV with Dear and friends!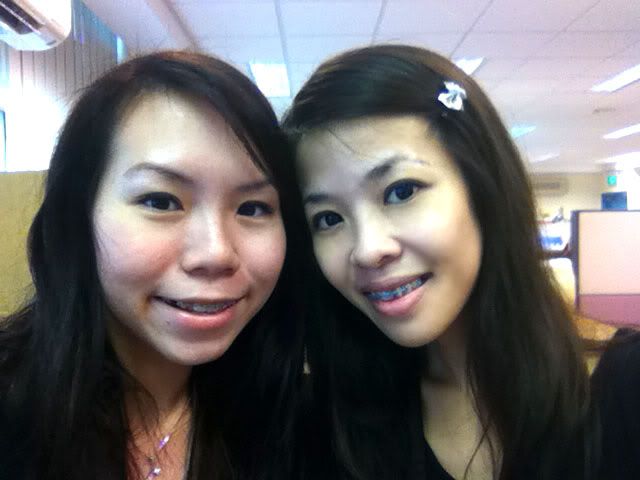 My braces partner, Fiona! She chose white colour!
Actually white looks kind of "invisible"!
Fiona was telling me that she like that soreness and the pain in her gums.. Hahahah….because it proves that the teeth are moving! Errmm… a little sadist… but so true!!! She so cute one loh!
Pain Factor and Eating
The pain and soreness in my mouth set in only a few hours later. I felt the effects of the wires pulling my teeth. I couldn't eat normal food for the first 2 days, but I resumed eating my normal food after that (I ate a huge chicken drumstick yesterday! hehehe…). However, I need to cut up my food into small pieces to consume. I can't bite or cut food with my upper and lower front teeth. I tried biting into a banana and biscuits today but ermm, still not very good. I'll try biting again a few days later to try! So for those who are worried that eating may be torturous, I think its ok la…. Just need to get use to it!
Oral Hygiene
With the braces on, it means that food gets stuck easily on the metal brackets and wires and the coloured parts in front. But nothing a rinse can't solve. I make sure I rinse after every food intake (very unglam if you talk or smile and show the other party a huge vege stuck on your braces right?! hahaha…) and I even bought 2 small toothbrush (one for home and one to bring along with me everywhere!) with soft bristles for brushing. Why soft bristles? Because I brush pretty frequently now (which means I kept eating and snacking all the time…and initially I thought many will lose weight during the time they had braces on!!?), I don't wanna hurt my gums by using a firm bristle toothbrush.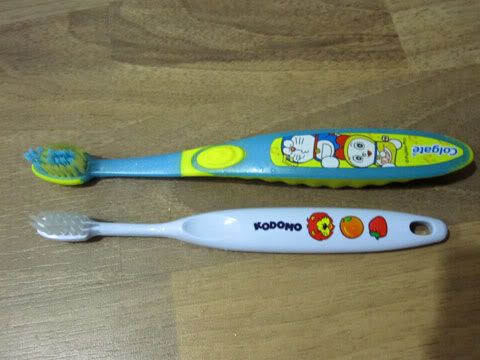 My two cutesy toothbrush!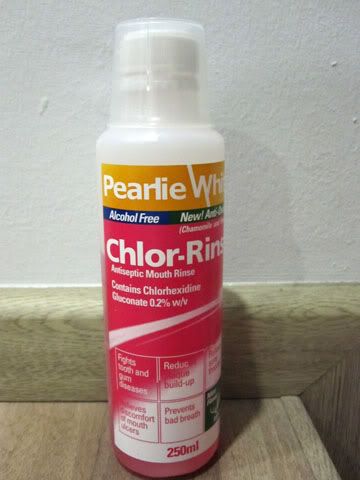 bought this for my mouth wash!
Speech
To me… this is the worse part, because I'm so so so suay….. 🙁 I'm on e of the unlucky ones who needs stoppers when wearing braces!! Sigh….. I've got 2 stoppers on my top right and top left molars. Its a half ball-like thing attached onto my upper molars to prevent me from biting onto the lower brackets. Wa… I really dislike these 2 stoppers. With them in between my upper and lower teeth, my upper and lower teeth can't meet at all!!!! Eating is still ok ( I actually bite with my stoppers.. hahaha… no issues with that…), but now when I talk, I talk like a….how do I describe…. 大舌头…. I can't pronounce my "s", "sh" etc properly….. God….
Its so embarrassing talking now… And I need to talk a lot at work…. sigh…. I'm getting more use to it now but I still can't stand it. I'm going to call Dr Cheng tomorrow to see if I can't continue my braces treatment without the stoppers. Sigh…. ( And imagine I went KTV yesterday… My diction is worst than Mr J….. Hahahaha….)
And i feel so ugly….. 🙁
Related Post:
Comments
comments