Sponsored Review
All ready to put on your pretty pretty makeup when you looked into the mirror and spot a zit? Even worse, a few more zits? Sigh…. This happens to me at least once a month. Although my skin is quite alright, I always get the "before the period" outbreak.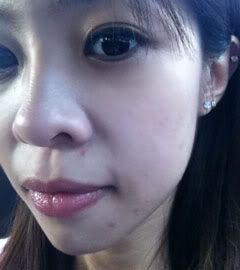 Took this in the cab with my iphone to capture the scars with the natural lighting!
See the pimple scars? Haiya… I've got itchy fingers too…. I love to touch and try to poke and squeeze my zits….
I don't want more and more scars littered across my face and so luckily I was sponsored Eucerin's Dermo Purifyer Range of products suitable for acne prone or the occasionally blemished skin!
The products:
1) Eucerin Dermo Purifyer Cleanser
2) Eucerin Dermo Purifyer Scrub
3) Eucerin Dermo Purifyer Cream Gel
Thanks Eucerin!! 🙂
Eucerin Dermo Purifyer contains skin natural Lactic Acid to help eradicate acne, pimples, whiteheads and blackheads to give a clearer and healthier looking skin. It has an optimal 2% Lactic Acid formulation that gets to the root of our skin problems.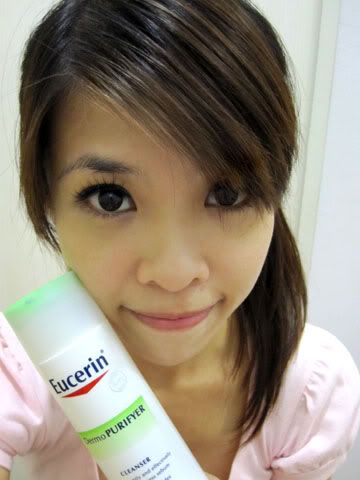 Eucerin Dermo Purifyer Cleanser
This light oil-free cleanser is clinically proven to treat effectively and gently by reducing excess sebum while it gently cleanses. Retails at $21.20.
This cleanser is light and watery and has a very fresh and light smell. Initially I was expecting a squeaky and tight feeling on my face after washing, like most of the sebum-removing cleansers are. However, no! There was no tightness and it was still very moisturising. It was good to know that while sebum from my face is being removed, my face isn't stripped off the essential moisture and is still hydrated!
Eucerin Dermo Purifyer Scrub
This mild daily scrub comes with Lactic Acid beads for gentle, effective deep cleansing that removes blackheads and refines pores. Retails at $18.60.
Although its a scrub, its gentle enough for daily use and I really love to do my mask after a scrub so that my skin can absorb all the good stuff better! The beads aren't to rough and the regular scrubbing did clear up my face and removes the dead skin cells to expose the radiant skin beneath. Smell wise? Fresh and light like the Eucerin Dermo Purifyer Cleanser! Like!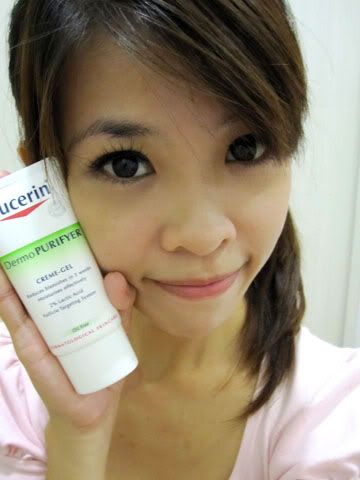 Eucerin Dermo Purifyer Cream Gel
Contrary to popular beliefs, moisturizing oily skin is key in regulating excess sebum production in the skin. This water-based cream gel helps to remove acne within 3 weeks while keeping skin hydrated and oil-free. Retails at $25.70.
I love this Eucerin Dermo Purifyer Cream Gel for my zits! I'll spread it over my entire face and it doesn't feel tight and drying at all. Unlike many acne or pimple products that contains drying ingredients like Salicylic Acid or Benzoyl Oxide, this cream gel doesn't, and hence there's not redness, flakiness or peeling. My pimples dried out fast and its really effective! Love love! 🙂
So….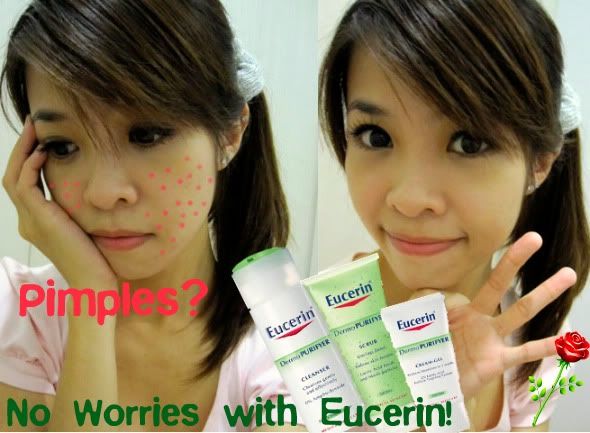 Heee!!!!
And here's the good stuff for you!
You can redeem the Eucerin DermoPurifyer Skincare Range for free just by clicking on the link!
Why wait? Grab yours now! 🙂
Tada babes! We love good skin!! 🙂
Comments
comments