Advertorial
A couple of days ago, I was invited to Body Wellness at Winsland House to enjoy a customized facial and I'll have to say that its a really pleasant experience!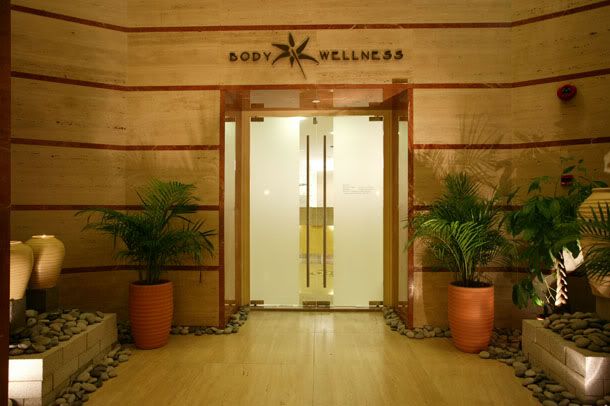 The entrance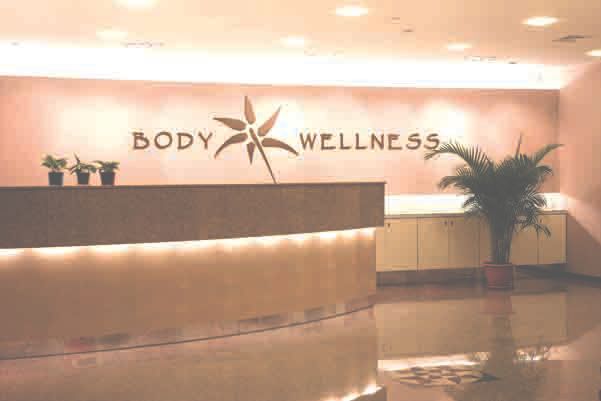 The reception area
A short introduction to Body Wellness first. Body Wellness is a well established company in Singapore and has been around since 1997. (Wow…14 years! You really don't have to worry about Body Wellness shutting down like other spas after you paid for your package. They've been around since you were a kid and that says something right!) One of the leaders in the local spa industry, they provide quality services, products and customer service at a fair and reasonable price. They have a couple of outlets in Singapore and the biggest being the one at Winsland House (Just next to Orchard Central, very convenient) with 40 over rooms inside.
I was shown around the place by Sifang, a very sweet lady who explained everything in detail to me. Wow, Im quite impressed by the facilities and services available there! Besides facial, they also offer services like bust-enhancements, relaxing massages, rejuvenating spa therapies and even slimming treatments! All-in-one… so convenient isn't it.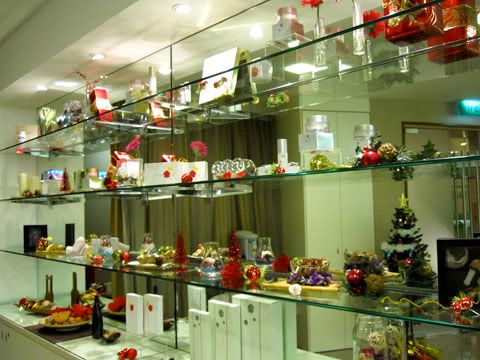 Their product display shelf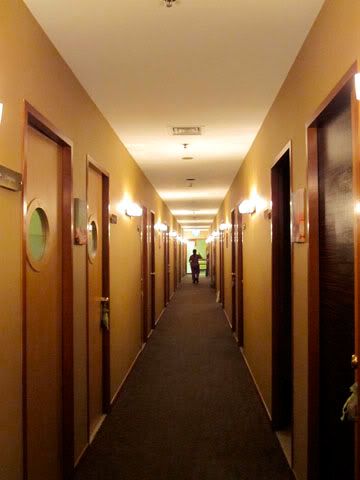 Heading right into the individual rooms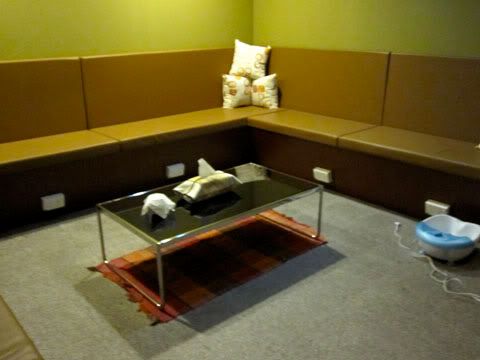 The Rest and Relax corner.
For customers to read or rest (or do whatever you like…) while waiting.
Can you see it? There's foot spa too!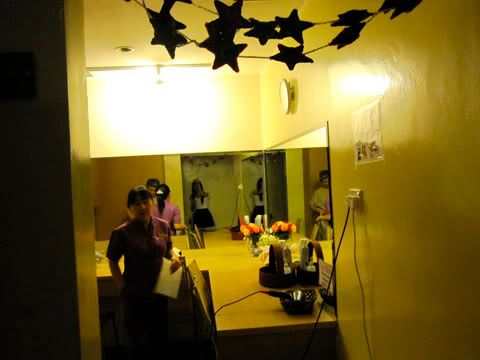 The Vanity Room
Sorry for this badly taken photo… 🙁
Anyway, this is an important room to have. Really.
After facial or spa treatments, your hair is flat, and you are makeup-less. But, you are not at home… you are still outside! Its really important that they offer a place for us ladies to touch up a little, comb our hair a little. There are even hair dryers and hair styling products available for us to use so that we won't be walking around town with flat flat hair!
There are also the Hydro Bath rooms and Spas but I didn't take any photos to protect the privacy of the ladies doing treatment there! 🙂
So Sifang introduced me to my very beautiful and friendly beautician, Peggy!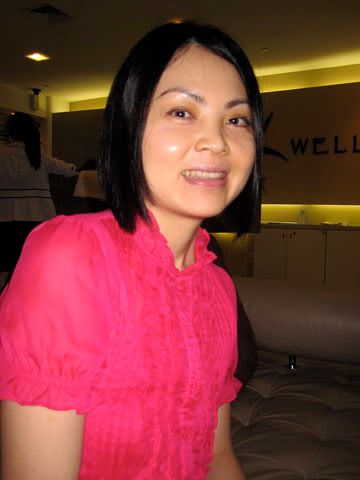 Peggy! She's really nice!
Olinda Facial
The treatment I was going to undergo is the Olinda Facial. This facial treatment is exclusively available at Body Wellness. Olinda Facial Treatment is all about intelligent skin care treatment where it supports the skin functions at optimum level and supplies necessary nutrients to where the skin need. Regular Olinda facial restores the skin's perfect condition by reducing fine lines and wrinkles, improving skin firmness, lightening complexion and diminishing unwanted marks.
But we'll ask, "Everyone has different needs and different kinds of skin, isn't it?"
To cater to our diverse differences, Olinda Facial can be FURTHER customised and your consultant will do a skin profiling and analysis for you before she starts on anything!
And so… here I go! Peggy looked at my skin condition and decided that its best for me to do a more hydrating treatment for dry skin.
The room I was in. Convenient. I can just put my belongings in the cabinet on the left side. I like the dim lights and the cozy atmosphere! Very relaxing!
First, I lay down and was made to relax further with aromatherapy and a light massage. I went straight after work and boy, I felt relaxed and at ease immediately. Peggy went on to do the full treatment for me and she was very detailed and explained every single thing she did for me. I especially love the massage! The shoulder massage was really good and relieving for my uber stressed up muscles. And Peggy has got such magical hands — The pressure is always just right, never too painful nor does it pull my skin. And needless to say, I fell deep asleep by the time I was on the last collagen mask….. Till I heard Peggy turning the door knob to enter. Did she hear me snoring away? hahahaha….
I headed straight to the ladies and the Vanity Room to touch up a little before heading out to the reception area. I was scrutinizing my face in mirror… Not bad! Less clogs, very hydrated and supple… goodbye dried, prune face! I'll show you the close-ups later.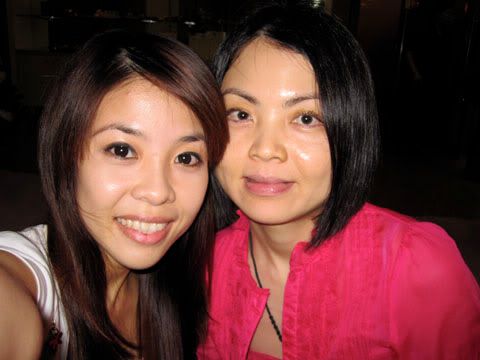 Before saying goodbye to the very patient Peggy! Hahah… I still look sleepy!
I had only a little BB powder and eyeliner on, no photoshop at all! clean and supple face!
After facial photos, ZERO photoshop ok…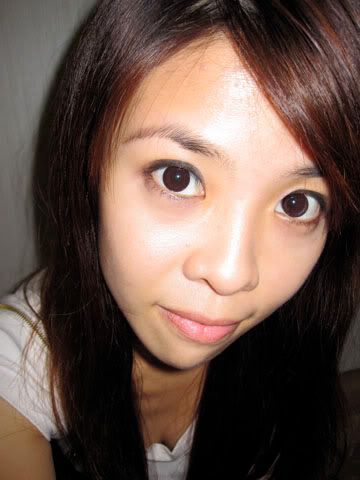 After facial. Notice there aren't any redness or blotchiness, and neither was my face dry and dull. It glows!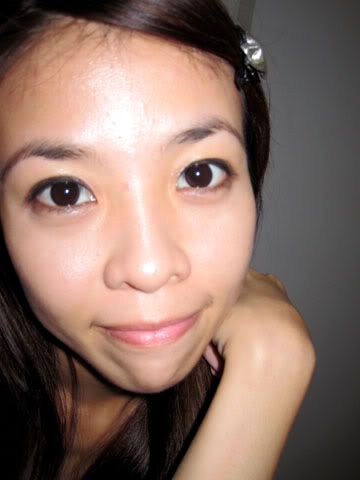 Fringe pinned up to show you my eyebrows.
Peggy shaped my eyebrows for me and she told me mine's really messy! Hahaha… I have to agree with her. I always do the shaping myself and I'm pretty bad at it. I think I should just leave it to the professionals next time.
The most important thing I want to show you in the above photos was my laugh lines. They are so so much diminished! I only discovered the tightening and lifting effect while I was taking these photos. Its really amazing!! Just the thing I need! Remember to tell your consultant your concerns when you head there and Im so sure they will be addressed! Just like mine!!!! Happy~~~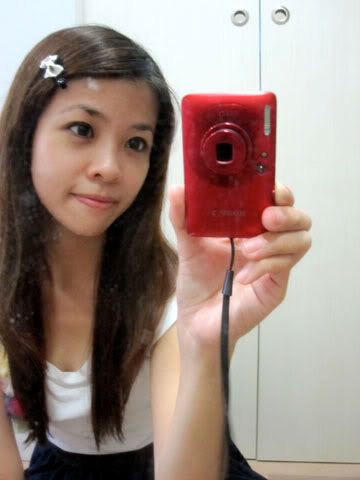 I so happy with the results of the Olinda Facial. Im so happy that Im willing to put up a pic that shows my dirty mirror… hahahahahaha….
Verdict: Highly Recommended. ***** (not that my words are censored…. it just meant 5 stars…)
And to thank you for finishing reading my post, I've got something for you!
Body Wellness offers and exclusive promotion for all my readers:
A session of customized Olinda Facial @ $28 only!! ( 60mins, Usual Price up to $228)
(Just tell the lady the code when you make the appointment.. :))
*T&Cs: Valid for first time Singaporean customer aged 21 and above, and by appointment only.
NRIC must be presented upon redemption at Body Wellness.
Its too good a deal to miss! So grab it quick! 🙂
Ta-da!
Comments
comments