With so many hair styling products up on the shelves in the shops, you are not sure which one to choose? Which one is suitable for your hairstyling needs? Curls? Straight? Not sure? Then you are facing the same problems like I did.
But not anymore…. Cos
Liese
came to my rescue with their full range of hairstyling and hair care products!
Hmm… So how do we pronounce "Liese"?
"Lies"?
"Li ser"?
Let's do it right this time…
Come… read it together with Miss Xiaoxin….."Lee-Zay"!!!
Its "Lee-Zay"! So you won't feel unsure, or embarrassed anymore when you are asking the sales person for it!
I'm going to introduce 2 of Liese's hair styling products in my post today and the first one is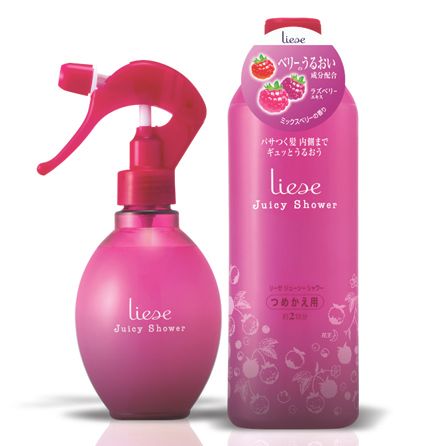 Liese Juicy Shower
Liese Juicy Shower gives hair a boost of moisture wherever, whenever. The hair mist is formulated with moisturizing raspberry extract to quench dry hair and smoothen out frizziness. The best thing? The light raspberry scent that it leaves in your hair.
I always like to go out with a neat mane of hair, rather than the messy hair that accompanies after a long, hard day at work. Whatever styling I did in the morning is gone, hair is out of shape, and the air-conditioner blasting in the office made my hair messy and frizzy again. Liese Juicy Shower is a convenient styling product to have on hand in this kind of situations. Spray it on for added moisture, restyle your hair, and viola! Nice, neat and most importantly…. I'm smelling nice and fresh like a raspberry, even after a long day at work!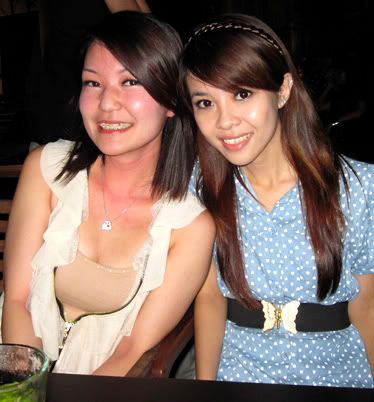 I took this photo on Friday evening at Dempsey. It was a girly gathering after work. Nice neat hair! I added a little Liese Clear Cube Wax 02 to define my fringe and a braided hairband to accessorize!
I've decided to keep a bottle of Liese Juicy Shower at home, and one in the office! 🙂
Next up….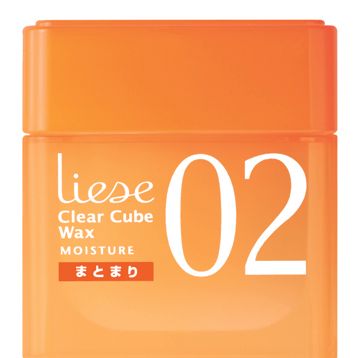 Liese Clear Cube Wax 02
Use Clear Cube Wax 02 if you are looking for non-sticky and manageable hair for a smooth and neat style. If you are looking for one with very strong styling and holding power, you should choose 05 or 06. You can refer to the website for the different styling power. I'll include the link below. 🙂
I chose 02 because a large majority of us have got straight hair, and sometimes, we do not know what to do with it. Clear Cube Wax 02 adds moisture, defines the lines of my hair and its very easy to use when you want a fuss-free day. Another plus point for me… Its non-sticky. After applying, my hair is still soft, not hard or sticky, no waxy smell too…. loves!!
How to use these 2 products? I've included a step by step hair tutorial for you with Liese Juicy Shower and Clear Cube Wax 02. A simple hairstyle that anyone (even me!) can achieve! So here goes!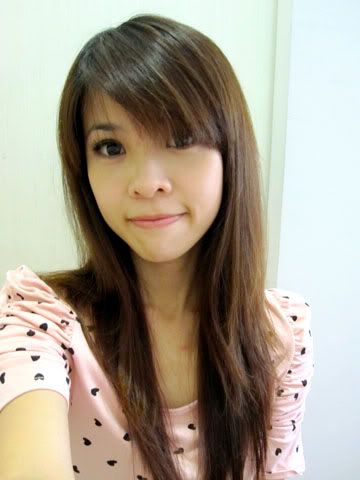 This is me with zero styling products on! Messy!!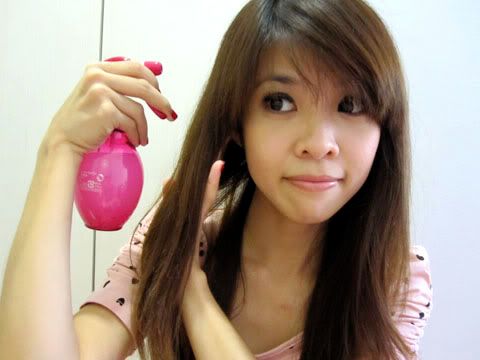 Step 1: Spray in Liese Juicy Shower on your entire crown of glory and smooth it onto your hair gently. Comb through hair gently with your fingers. Frizziness is reduced dramatically!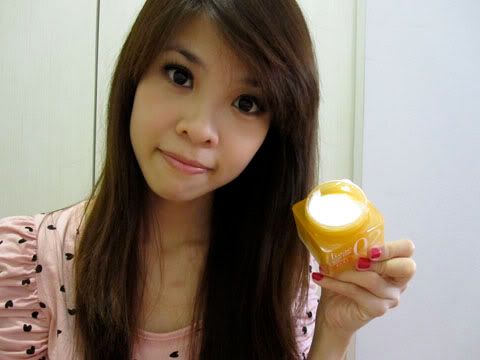 Step 2: Take a little bit of Clear Cube Wax 03 to apply to different sections of your hair that needs more definition.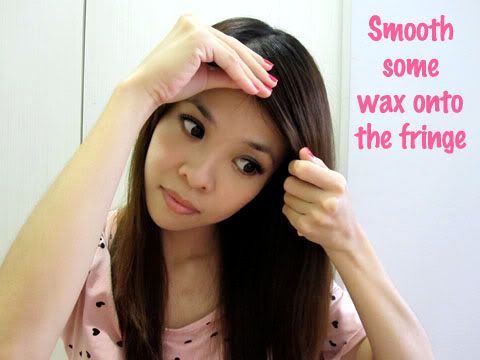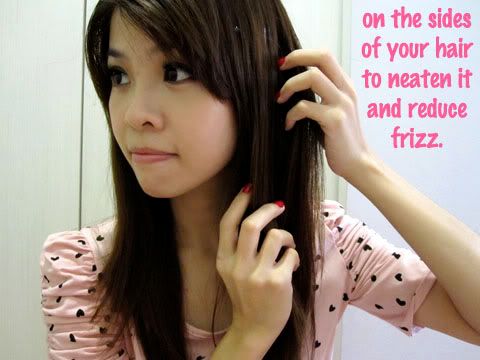 Ta-da! Compare this photo to the first photo! Both are straight hair but This is so much neater! The first one looked like a lion head!
But its not finished yet! Its quite boring to head out like that sometimes?
So Step 3: Add your favourite accessories!
Add a pretty hairband with big stones! Be loud!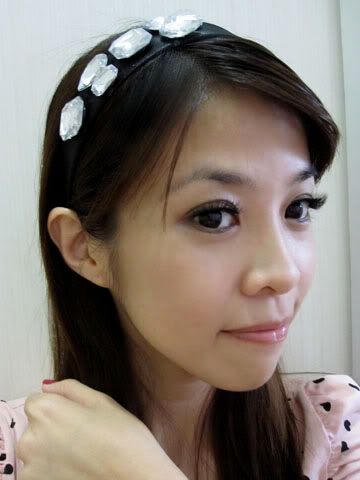 Hmm? Still a little frizzy on the hair ends? Smooth it down and define the lines with a little more of Clear Cube Wax 03.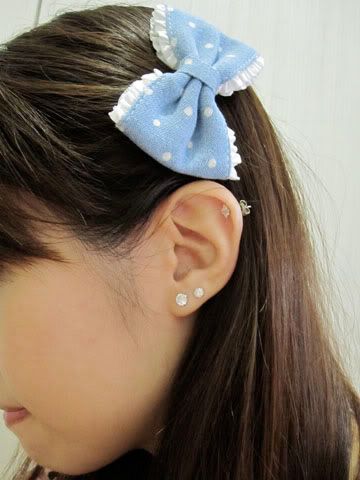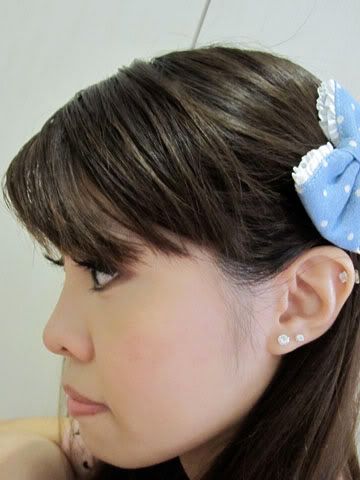 Prefer to be a little sweeter? Add a denim polka-dots bow clip!
Very very easy hairstyles to be achieve with styling products and hair accessories. So stop running around with messy hair already Xiaoxin!
Another one for you….
The easiest hairstyle for girls is the standard ponytail. But because I got very fine hair there tend to be a lot of hair breakage and hence when I tie up my hair, the short hair left behind after the breakage will be "standing up", poking out in sedia position. What to do?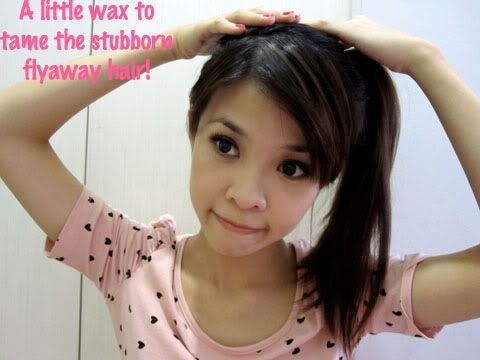 A side ponytail… a twist to the normal ones you have behind your head!
Smooth down the flyaways and sedia position little hair with some Clear Cube Wax too! Easy peasy!!!
Be creative even though you have stick straight hair. Take care of it, add texture and definitions and Liese's range of hair styling products! And don't forget to get creative with accessories!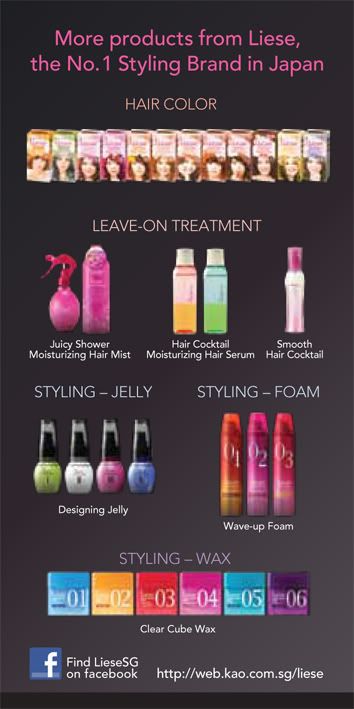 Here's the full range of Liese's hairstyling products!
You can get Liese products easily at Watsons, Guardian, selected Super and Hyper markets.
Comments
comments