Visiting Pangkor Laut Resort by YTL Hotels this month was literally like living out a page from a story about paradise. From the numerous hornbills and eagles flying around and nesting on the island to the gorgeous views of sunrise and sunset here…. and not forgetting the world class spa services here, I just couldn't wait to wake up each morning to experience life on the island resort during my stay.
Located approximately 4.8km off the west coast of Perak, Malaysia, this privately owned island spans across 300 acres and houses 140 villas and 8 estates where one can find that perfect luxury island escape.
You can see how from one side of the island you can catch the sunrise and a skip and hop away on the other side you'll be able to catch the gorgeous view of the sunset.
Getting There
We took the morning flight from Singapore to Ipoh via Scoot which lasted about 1 hr 15 mins and after a 1.5 hr drive from the airport to the jetty where we took a 15 mins speedboat ride to arrive at this island resort.
Total travel time: approximately 3 hrs
We arrived before lunch and received a very warm welcome from staff who waited for us at the private jetty and our luggage's were scooted off to reception while we leisurely walked towards the main lobby and took in the sights. I even saw a huge parrotfish having his meal around the jetty.
---
The Villas
There are different room options here at Pangkor Laut Resort and where I stayed at the Spa Villa, these bungalows on stilts are luxuriously fitted with an oversized bath with a ceiling mounted rain shower. It also has its own roomy balcony with a gorgeous view of the sunrise and overlooks the Straits of Malacca. I really enjoyed waking up early each morning to watch the sun peek out from the horizon here.
Nestled within the Spa Village, it does have more privacy and even its own lap pool overlooking the sea.
I could literally sit here all day. The pool is actually next to the bar and chilling with a cool refreshing juice here is bliss. I got to see eagles, hornbills, flying foxes and squirrels during my dip in the pool here, not to mention watching the colours of the sea change as the clouds drifted in the sky overhead.
One of the things that struck me about the room was the spaciousness of the bathroom, and the tub! I think my youngest daughter would've described it as a pool.
It actually looks more like a jacuzzi and I thoroughly enjoyed the generous space as well as the option to open the windows (look out for fishermen out at sea though! lol).
Strolling along the boardwalk which links the villas and different parts of the island, you can see a myriad of sea dwellers here including puffer fish, pike, parrot fish, sea urchins, sea cucumbers and so much more. As someone with a keen interest in wildlife and wanted to be a zoologist when I was little, I totally geeked out watching these critters and more.
There are various Villa options here at Pangkor Laut and each one of them has its own outdoor verandah or balcony with sun loungers:
Garden Villa
Hill Villa
Beach Villa
Sea Villa
Spa Villa
Suria and Purnama Suite
Pavarotti Suite
Whether you prefer your room to be nestled high above the hills and nestled among the greenery or out at sea and above the water on stilts while you listen to the sound of the waves lulling you to sleep, one of these options is sure to meet your preference. I just really appreciated having my bungalow above the water and being able to sit on the verandah to watch the sun rise in the mornings.
Dining Options
There are several restaurant options here on the private island and every meal here is infused with a little flavour from the history of the place.
Feast Village
The buffets at Feast Village never disappoint and I love how they even have gluten-free options available. This is where you can find a wider variety of food options for your meal and if you're lucky, you'll even see some curious hornbills while you're here! Yes there are several tourists who don't know better and feed the hornbills food from the table. It's not ideal and this is the reason why they date to venture so close to us humans. Within The Feast Village you will also find a patisserie, café, chef's table and even a wine cellar where guests can purchase wines of their choice.
Chapman's Bar
Chapman's Bar is named after a famous British Colonel who sought refuge here at Emerald Bay before he managed to escape via submarine in 1945. Facing a gorgeous white sandy beach, you can watch the sunset from there and even pick up some sand dollars if you look close enough!
Royal Bay Beach Club
Dining here at this terrace allows you to overlook the sea and the infinity pool at lunch or dinner as this restaurant only opens at 11am. The restaurant here serves up Asian and international fare and I highly recommend trying the chendol! it does remind me of a chubby bunny.
Uncle Lim's
Named after the chef who had been with the resort since its inception, this restaurant serves up Nonya and Hockchew Chinese-styled dishes and every dish we tried did not disappoint. Each item on the menu is inspired by the ingredients found locally and you get an amazing view of the sea while dining here.
I always enjoy listening to the sound of the waves and being able to see stars twinkling bright in the sky at night. Right here…. you get to do both.
Fisherman's Cove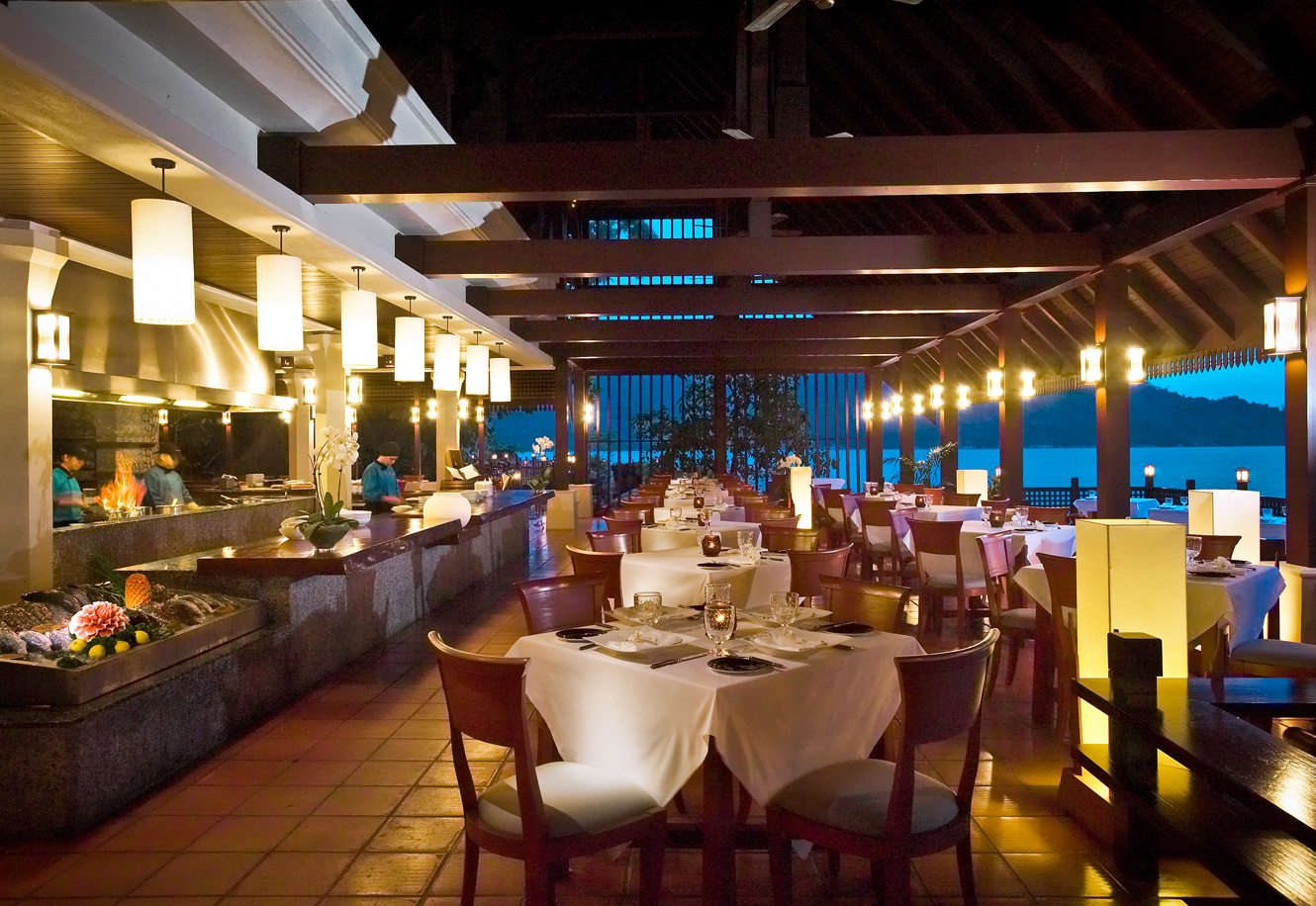 The unique menu comprising of seafood at this restaurant is created by chef Wai who focuses on sustainable fishing practises and uses the freshest ingredients when preparing the dishes.
Just a short walk away from Spa Village, there is a dress code required with shirt, full-length trousers and shoes for gentlemen and smart casual wear for ladies. This fancier dining option at the resort allows youngsters from age 16 and above to join the adults here.
Jamu Bar
Located within Spa Village, this restaurant is right next to the pool and you can just chill on the loungers while taking in the gorgeous view of the sea and Straits of Malacca. Jamu Bar offers healthy salads and speciality drinks and I always order the fresh juices from here to sip on when.
The Straits
Overlooking the Royal Bay, advanced booking and proper dressing is required for diners looking to have a meal here and experience a specially crafted meal catered to one's preferences. You'll get your own private dining booth and enjoy privacy but do note that only diners above 16 yrs are allowed.
The Spa Experience
There's no doubt that the spa here is of world-class standard. And I experienced one of the longest spa treatments during my visit here. All in all I spent over 3 hours here getting pampered from head to toe starting with the therapeutic foot-pounding, to the various bath houses (Balinese, Japanese, Malay and Chinese) followed by a luxurious massage that took me to Lala Land partway through. I highly recommend a visit to the spa while you're here and choose from the many treatments available from their spa menu here.
Wildlife on Pangkor Laut
One of the things that impresses me and makes this resort stand out is how they respect and care for the wildlife here on the island. Hornbills feel safe enough to reproduce here and you can even join in the nature walk and get to learn more from the resident naturalist about the native wildlife here.
I learnt about why the flying foxes here choose to roost on only on tree here on the island even though there are tonnes of the same tree scattered all around. We identified cinnamon trees, got to see the nests of the hornbills and much more.
I love the conservation efforts put into encouraging the hornbills to breed and increase their population, especially with the deforestation that's happening elsewhere in the region.
Plan your next visit there and find out more about their various rates via their website or check out their offers available here. I hope you'll get as much a fantastic experience like mine, if not better!
Address: Pangkor Laut Island, 32200 Lumut, Perak, Malaysia
Tel: +60 5 699 1100