I usually travel with friends or family but I have had to go solo on a number of trips for both work and leisure.
Is it safe for a lady to travel alone to a foreign land? Well, it really depends on where you choose to go, how you present yourself, how well-prepared you are, and your attitude when things don't go as planned.
Some smart travel tips can also be useful, but if you're thinking of going solo, here are a couple of tips from my personal experience that I hope you'll find useful!
1. Choose to stay in a relatively established hotel
Do some research online (e.g. Tripadvisor) and shortlist some hotels within your budget. I can't emphasise how important it is to err on the side of caution when you're traveling alone, which is why I prefer to avoid Airbnb until stricter regulations come into play. At the end of the day, hotels have a reputation to protect, but not all homeowners do.
2. Put that map away
Get a wireless router before you depart or buy a local SIM card upon arrival. Personally, I only use Google Maps or Baidu Maps (in China) on my mobile phone. Holding a map in your hand seems like the most sensible thing to do in a foreign country, but unfortunately, this only highlights to the rest of the world that you are a tourist. It only gets worse when you hold a map and look like you're completely lost, which brings me to my next point.
3. Always look like you know where you're going, even if you don't
I don't always have the best sense of direction but Google Maps definitely makes me feel like I know where I'm going ( make sure your phone is fully charged and bring along a portable charger). Double check the addresses and directions with your hotel concierge before heading out and if all fails, pop by a cafe or eatery to ask for directions.
Always look like you know what you're doing and where you're going, even if you don't. Look confident, remain calm, and never have fear or lost written all over your face or you'll risk being singled-out by scammers and pickpockets. If you do get approached by random strangers, just keep moving. Yup, now's the time to put on your "resting bitch" face.
4. Dress in neutral or dull colours
The whole idea is to be able to blend in with the crowd. The last thing we want is to attract unwanted attention when we are alone. Research the locations that you're traveling to and find out what the locals typically wear. If you obviously can't pass off as a local due to your race, at least try to pass off as an expatriate who has been living there for a long time.
5. Thoroughly research the locations you're traveling to
Always do your research and find out where the potential danger zones are located – e.g. dodgy neighbourhoods and certain modes of transport or transport companies that should be avoided. It is also important to find out where the nearest clinics/hospitals are, what the local police hotline is and where your country's embassy or consulate is located in case of emergencies.
I once booked an accommodation in a relatively unsafe neighbourhood (I found out only on hindsight) when traveling alone. Fortunately, nothing untoward happened but it was rather unnerving to have to live in fear, even if it was only for a few days.
6. Keep your valuables close to you at all times
Never place important documents like your passport, cash and credit cards or valuables like your laptop or iPad in your luggage. I always keep them close to me, preferably in a sling bag that comes with a zip. I also make it a point to keep a separate stash of cash in a hidden compartment in another bag. This will come in handy in the event that I do fall prey to pickpockets.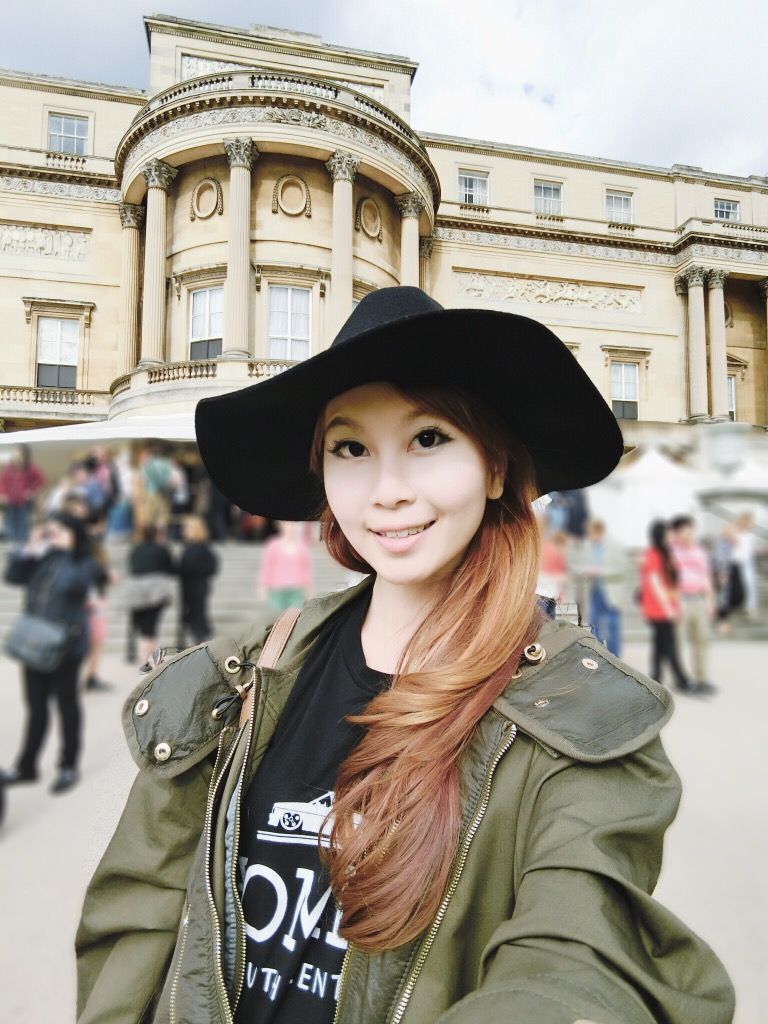 London – Exploring Buckingham Palace on my own
7. Never provide real-time updates on social media
Being a social media addict myself, I know how tempting and instantly gratifying it is to share real-time updates. To protect myself, I never ever reveal the name of my hotel when I'm traveling alone, and even when I do share pictures on my social media platforms, these are not real-time updates. With so much public information readily available these days, you'll never know who is trying to keep track of you.
8.  Keep in touch with friends and family back home
You may be miles apart, but letting your family and friends back home know where you are at every point of your journey is important when you're traveling alone. In the worst case scenario that you get into trouble, they'll have a better idea of how to reach you.
9. Don't be penny wise, pound foolish
Thriftiness is a virtue, but not when safety is compromised as a result. There are just some things that aren't worth scrimping on. Choosing to walk down an empty street late at night instead of forking out extra cash to take a cab puts you at a greater risk of getting into trouble. Whatever it is, we need to constantly remind ourselves that safety should always be our top priority.
10. Buy Travel Insurance
As I travel pretty frequently, I always make it a point to purchase annual travel insurance for peace of mind. Comprehensive travel insurance is relatively affordable these days and will adequately compensate you for loss of baggage, delayed baggage and medical expenses incurred overseas.
*****
These are just some general rules that I abide by when I travel and I find that they have worked well for me thus far. If you've any other travel tips that you'll like to share, do drop me an e-mail at regina.chow@gmail.com.
For more of my latest travel updates, follow me on instagram (@reginachow_sg) and Facebook (http://www.facebook.com/shoppingqueenshaven)
*****
This post was brought to you in collaboration with Hotels Combined.