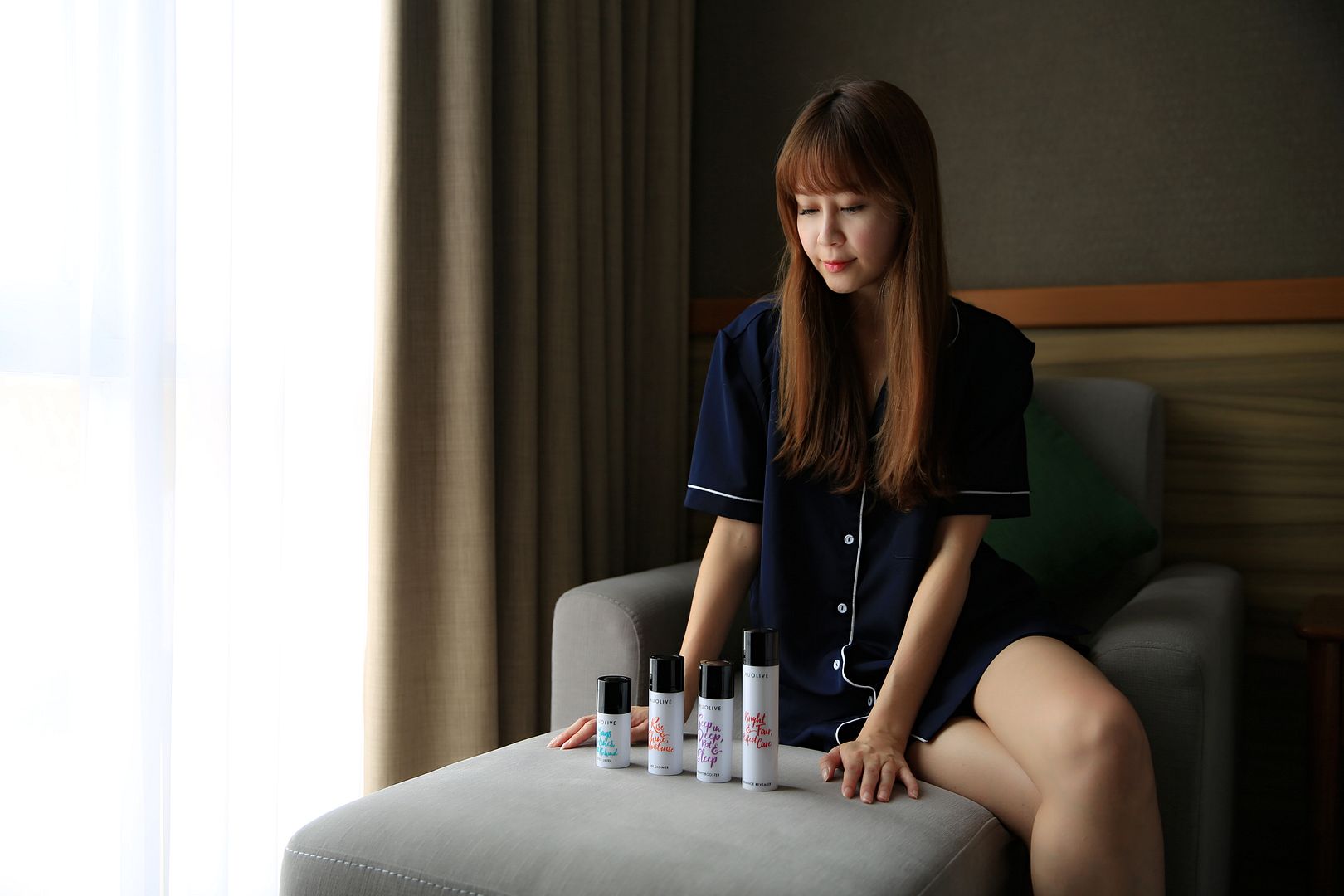 Have you ever been guilty of skipping your skincare routine because all you want to do is to jump into bed after a long day at work? Let's be honest. I know I have. I mean, I have to remove my makeup, cleanse and tone my skin before applying anti-aging serum, brightening essence, followed by moisturizer. Doesn't that sound laborious? Likewise, in the morning, imagine having to apply  like 3 items such as moisturizer, sunblock and primer before rushing off!  Fortunately, home-grown anti-aging skincare brand Auolive aims to change the mindset that "the more, the merrier" is necessary to achieve beautiful skin.
How is this even possible, you may ask? Well, every product is a multi-tasker and features natural active ingredients. You'll find out more about their amazing benefits as you read on.
Day Glower (S$118)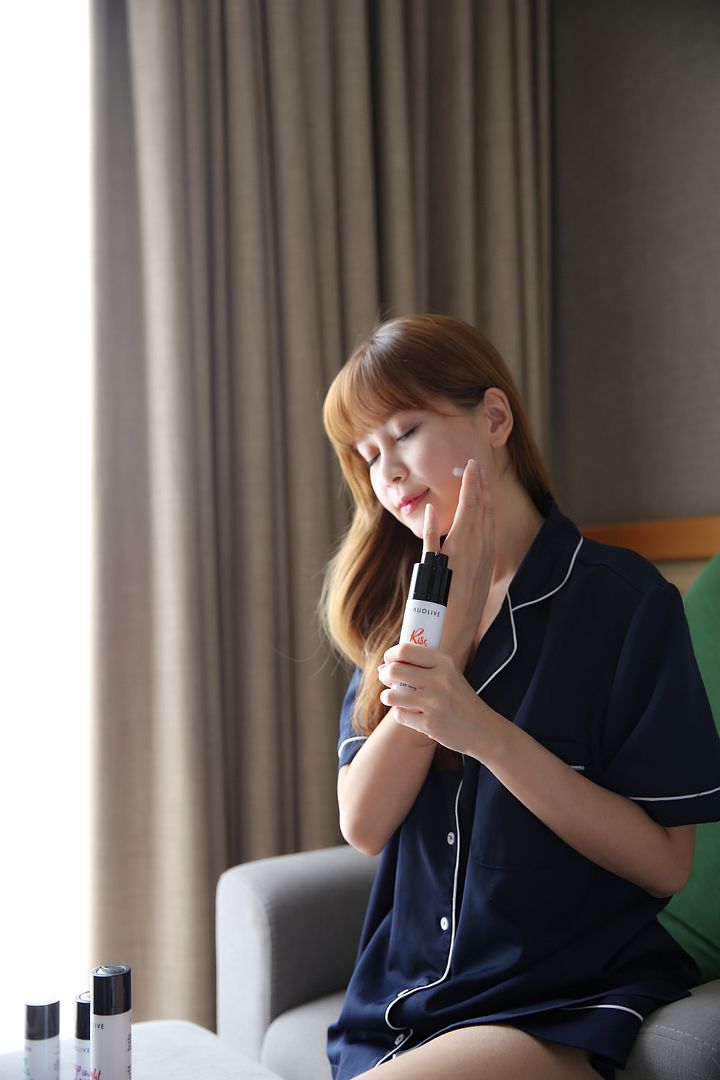 Take the Day Glower for instance. It is an anti-ageing moisturizer with brightening and hydrating properties that also doubles up as a sunscreen (SPF 30 with UVA & UVB protection) and primer.
Hydration – To ensure that your skin is adequately hydrated, the Day Glower is formulated with hyaluronic acid and squalene. Squalene is derived from olives and is able to penetrate deeply into your skin to replenish hydration and boost its innate ability to retain moisture for firm, supple skin.
Anti-aging – Another key ingredient is the Gingko Biloba Leaf Extract, a natural herb with high levels of quercetin,which is a powerful anti-oxidant with inflammatory properties. It boosts collagen production too. Vitamin E is also present as yet another anti-oxidant to protect and repair your skin.
Brightening – Ascorbyl Palmitate, a more stable and bioavailable form of Vitamin C is used to prevent cellular ageing. It also strengthens the skin's defence against sun exposure and softens the appearance of fine lines and wrinkles
Multiple UV filters – Aside from Titanium Dioxide, a physical UVA and UVB sun filter, multiple UV filters are also included to fortify your skin's defence against the harmful rays of the sun.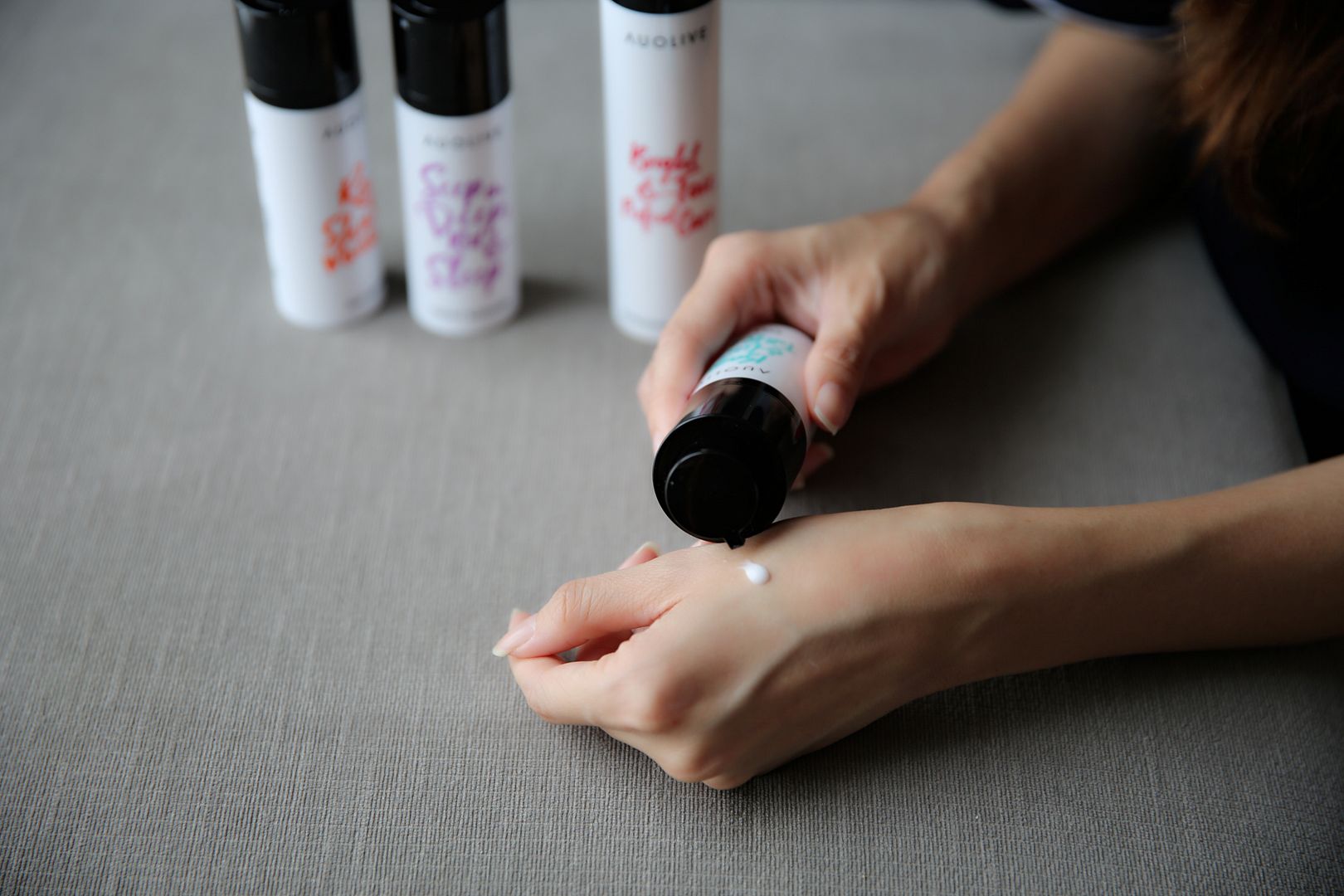 I love the lightweight and non-greasy texture, which glides on beautifully and absorbs readily into your skin. Despite our humid climate, my face does not feel oily when I am outdoors. As anti-ageing ingredients tend to age quickly in a normal jar or bottle, Auolive adopted the Korean Airless Pump Bottle technology to prevent ingredients from getting exposed to the air for optimal results. It prevents contamination as well as wastage and spills too! Perfect for travelers!
Night Booster (S$138)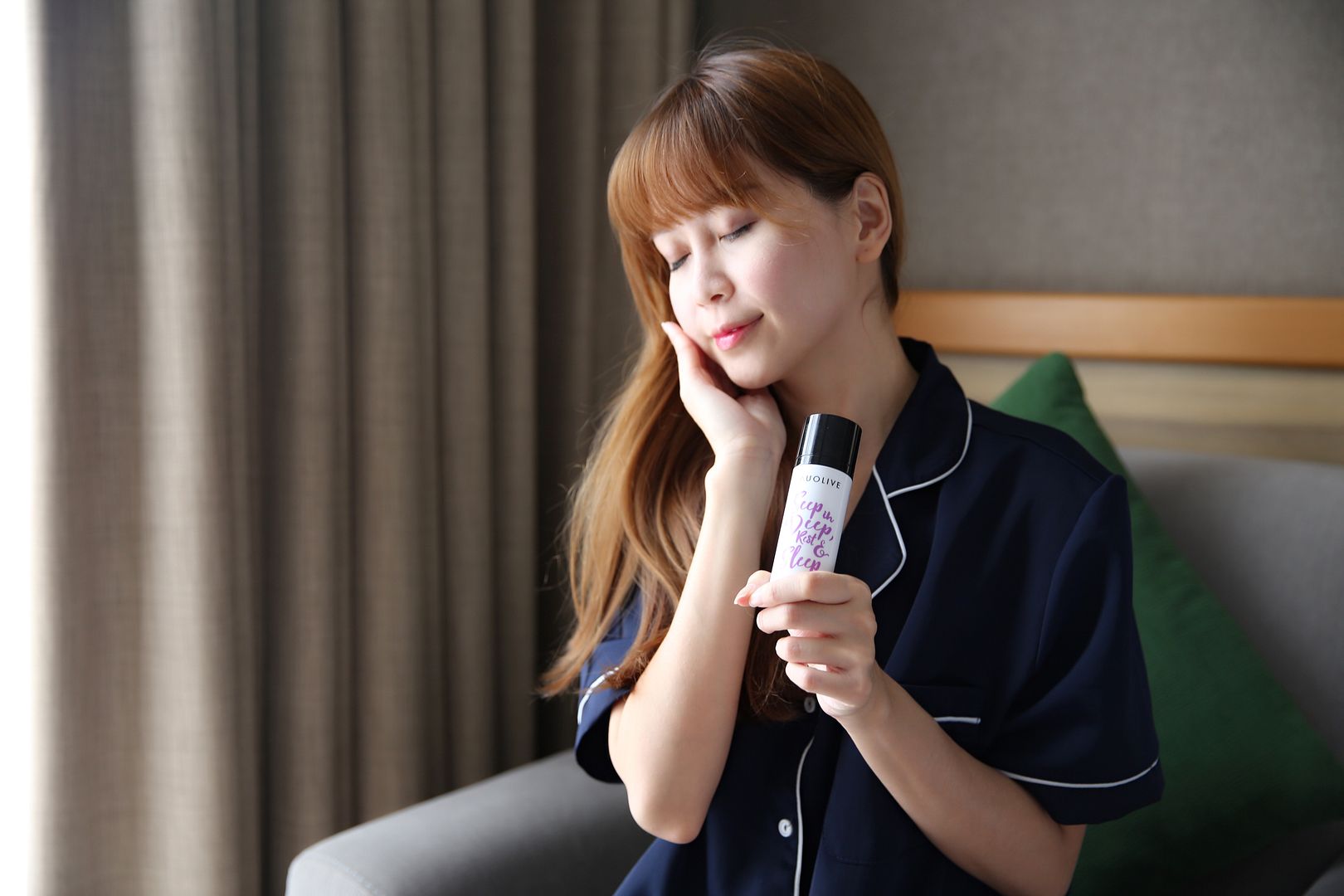 The first question that crossed my mind when I was first introduced to this product was why does it cost so much more than the typical moisturizer or night cream found in drugstores?
Now here's the reason why. Auolive's Night Booster contains 80% Marine Collagen, unlike most skincare which only contain less than 1% to about 5% active ingredients. It also contains Hydrogenated Lecithin, a powerful emollient that softens and soothes your skin.
Only marine collagen that is in a highly purified state and of low molecular weight is used as it is easier to penetrate deep into the skin to stimulate collagen production more effectively.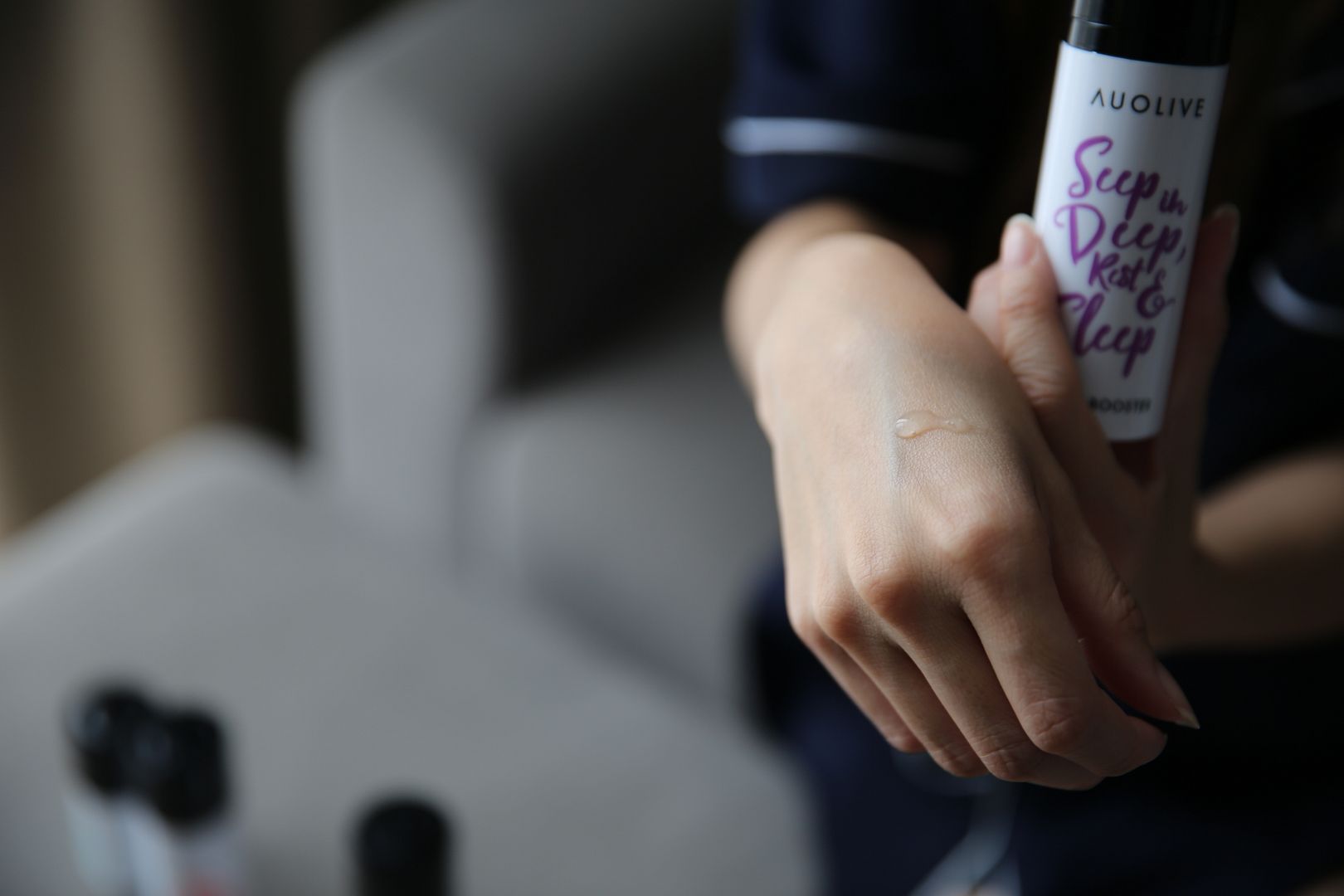 On the anti-ageing front, you'll be happy to know that Auolive's Night Booster boasts a unique self-remodelling feature which creates an elastic and tightening veil, filling up the skin's surface lines and promoting a lifted and more defined facial contour. You'll come to realise that your skin looks visibly more youthful, radiant, firm and supple. Most importantly, it feels as light as a serum yet hydrates your skin adequately. Despite sleeping with the air-conditioner on every night, I find myself waking up to soft, dewy skin every morning.
Eyes Lifter (S$128)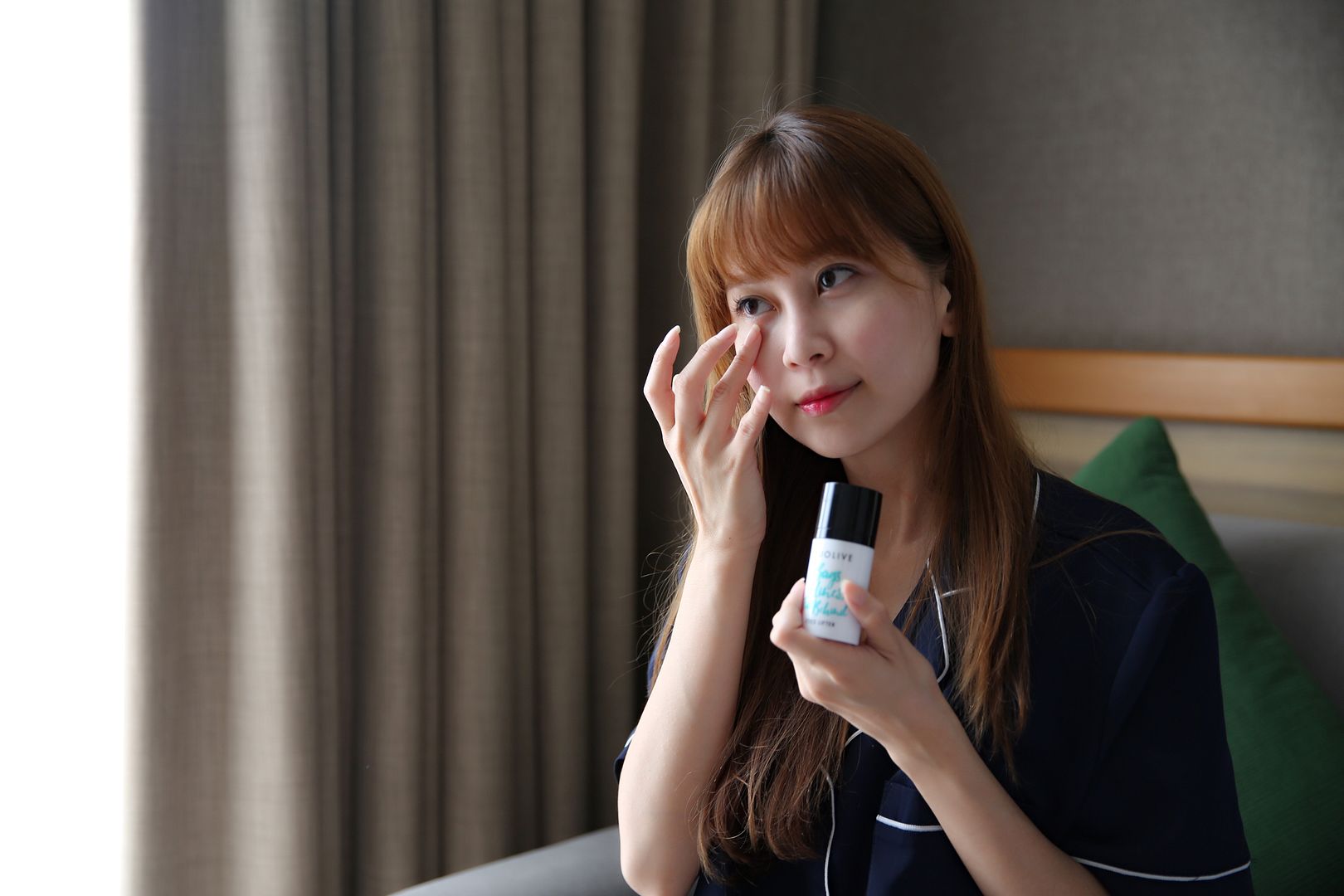 I am prone to dark eye circles due to my constant late nights. Most eye creams give me milia seeds and do nothing for my dark circles. Auolive's Eyes Lifter is such a lifesaver.  Yet another multi-tasking product, this invigorating eye serum effectively targets wrinkles, fine lines, puffiness, eye puffiness, eye bags and dark circles.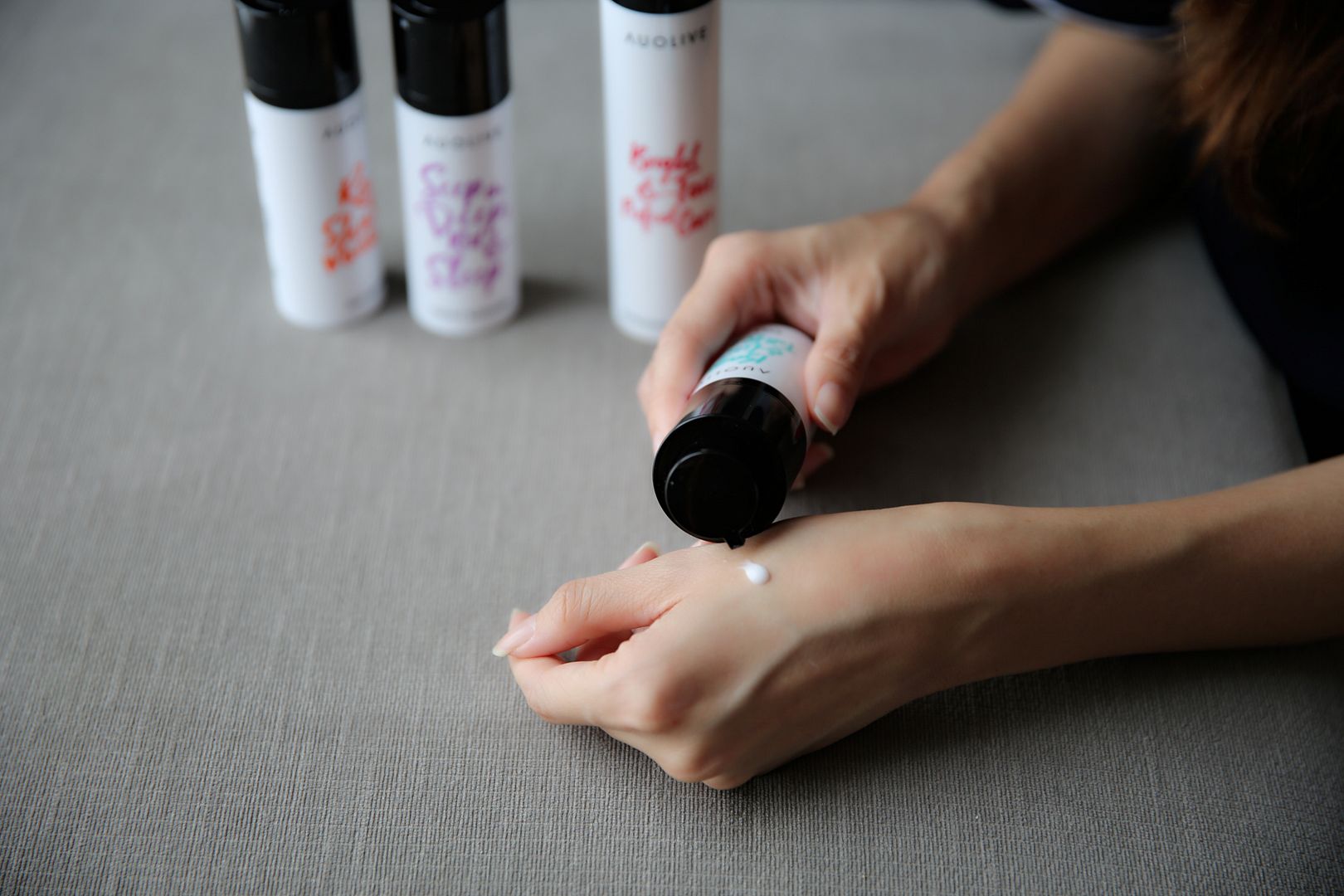 It is formulated with three power-packed active compounds:
Hydro-Lupine Complex – This promotes lymphatic drainage to reduce eye bags.
CellActivator – This increases cell renewal and reduces skin ageing. Clinical studies have shown that 95% noticed an improvement in the appearance of wrinkles and that their skin looked more toned and smooth. 85% experienced brighter complexion and their eyes looked more rested too.
Palmitoyl-O-T7 Peptide – This prevents the formation of pigmentation and targets the root cause of dark circles. Clinical studies have shown that it reduces dark circles by 19%.
Here's how you should apply Eyes Lifter for optimal results: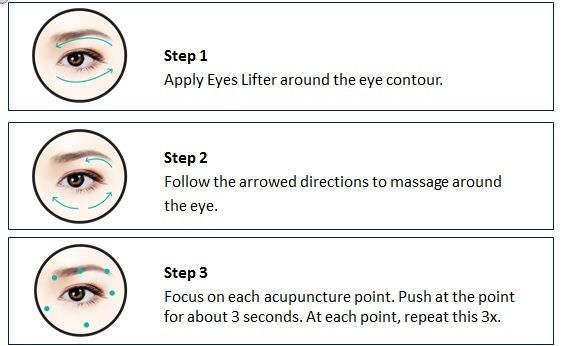 A little goes a long way. Always use your fourth finger as it exerts the least pressure on your delicate eye area. Remember to avoid applying too near your eyes as eye cream generally travels upwards, resulting in eye irritation. While dark circles are an issue that can't be resolved overnight, I did notice that the skin around my eyes looks brighter and feel smoother. My concealer goes on more effortlessly and doesn't cake as easily too.
Radiance Revealer (SGD58)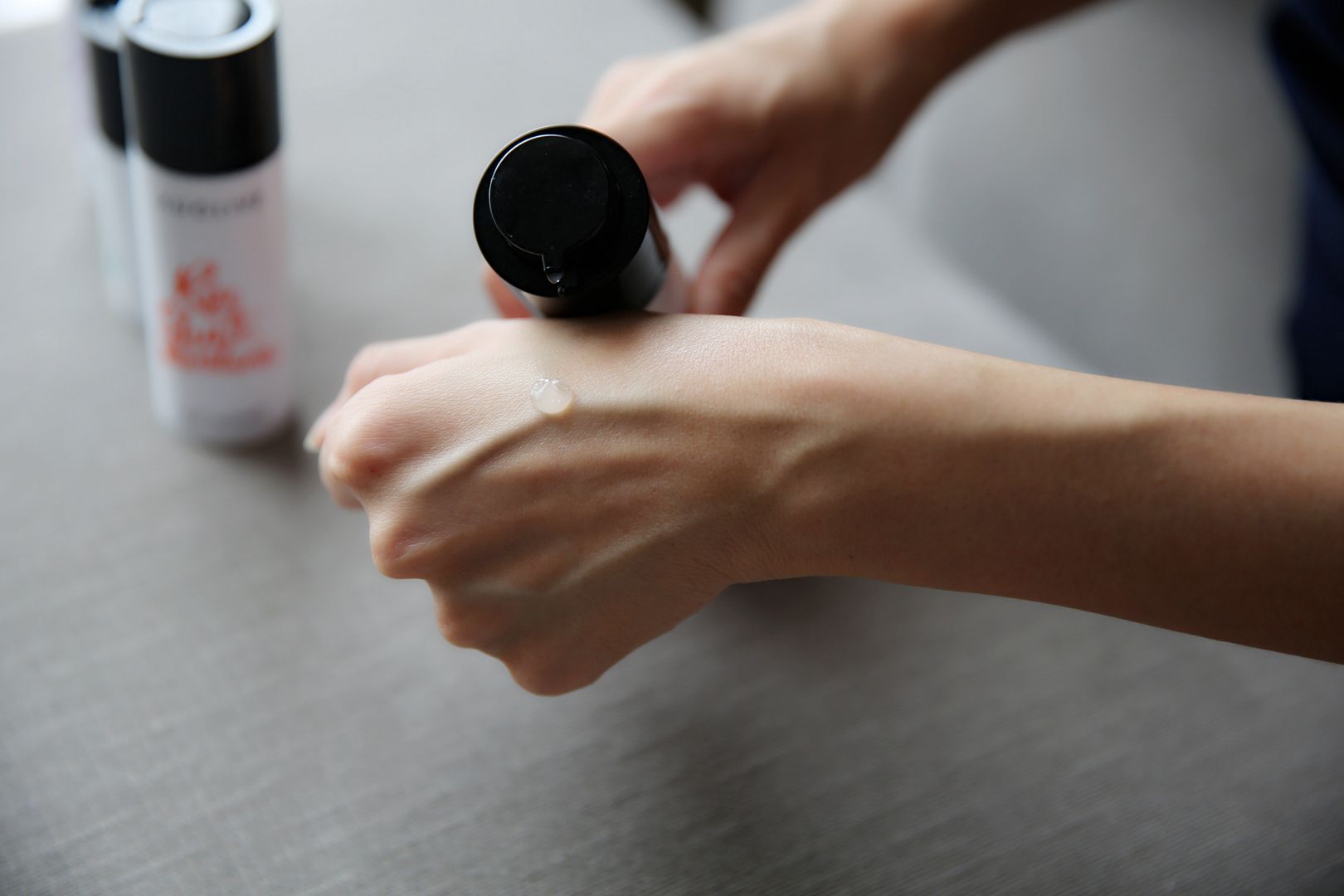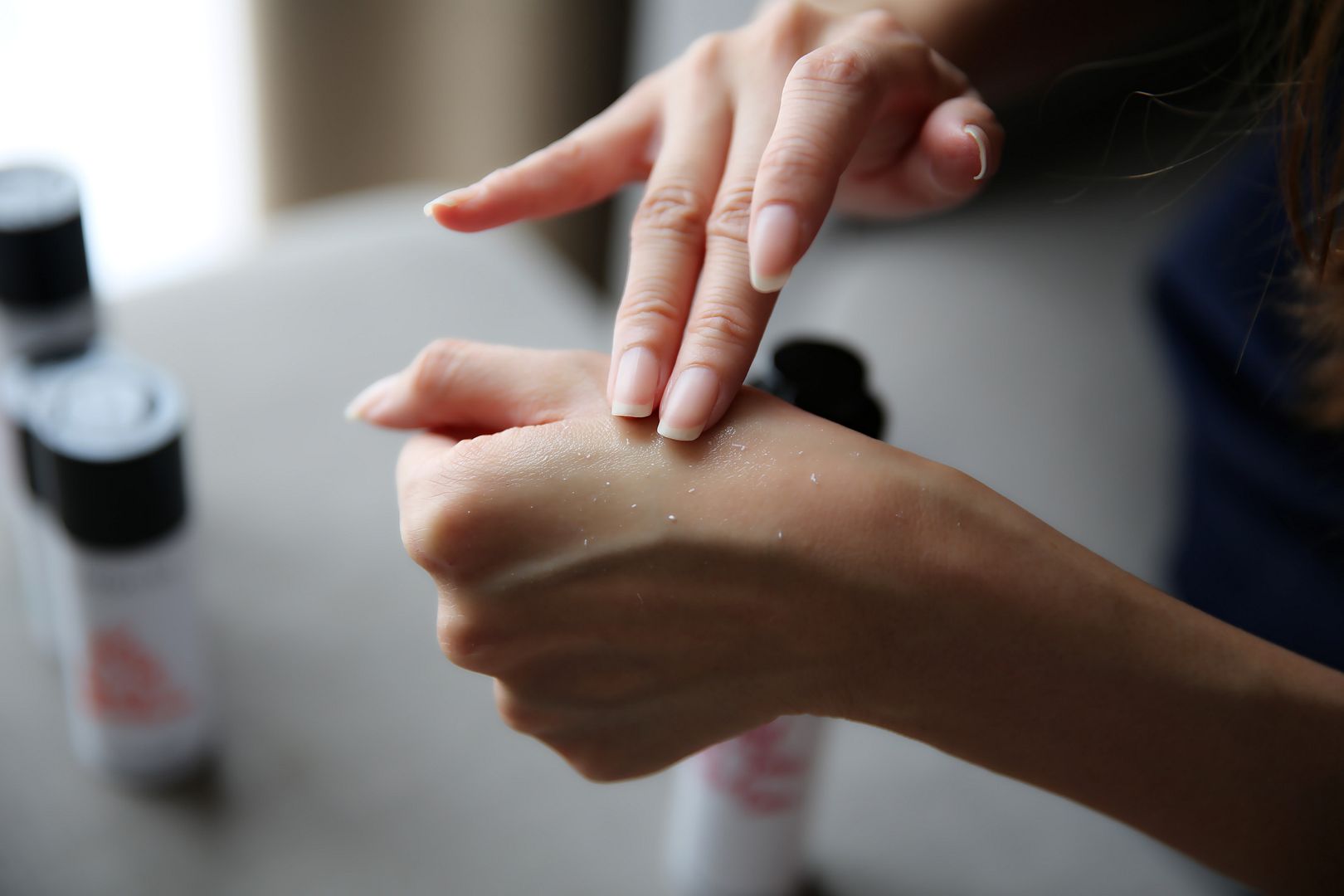 Exfoliation is an important step that many of us miss out on. If your skin looks dull, it's probably because you haven't been exfoliating. Try Auolive's Radiance Revealer, a Superfruit exfoliating gel formulated with pomegranate that lifts dead skin cells and support the skin's renewal process in a gentle yet effective manner. Apply a thin layer onto your skin, wait for it to turn slightly whitish and gently rub, rub, rub away! It is so gratifying to rub the scum off your face. I use this once or twice a week and I personally feel that it helps to brighten up my skin and unclog my pores.
What do I think?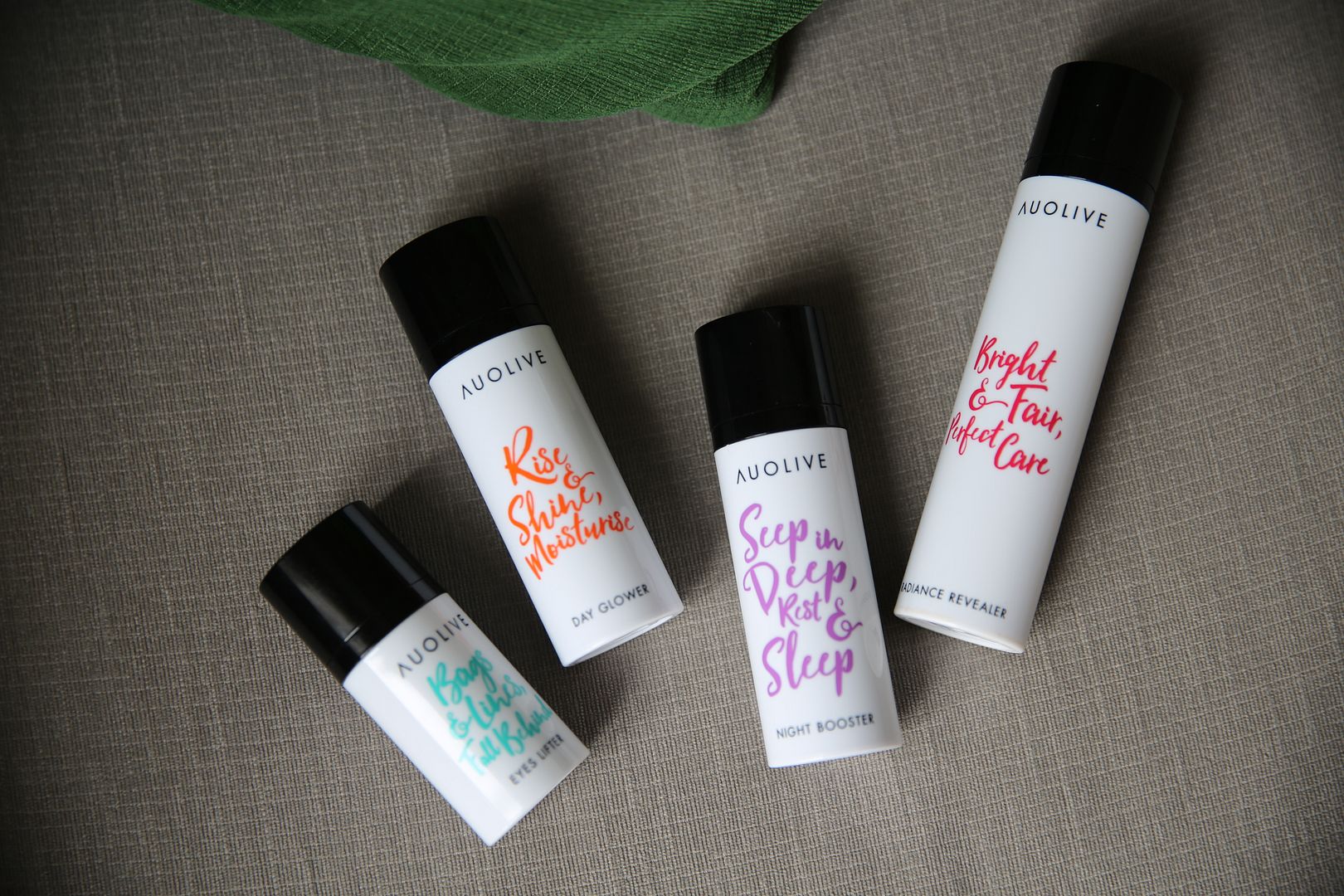 Auolive simplifies your skincare routine, helping you to save time and all that hassle. I am a huge fan of the minimalism trend and in this case, it extends beyond my wardrobe to my beauty regimen too. I love how it helps me to declutter and yet attain the skin of my dreams at the same time. Now when I travel, I only need to pack the 3 -4 essential items instead of 6-8 items in the past.
May I add that the entire range does not contain harmful parabens, artificial colouring, sulphates and mineral oils. The range is also water-based, which is perfect for the humid tropical weather.
Also, the fact that the products are dermatologically and clinically tested by an independent lab, gives me the confidence needed in new brands.
Auolive ticks so many boxes on my skincare wishlist, which is why I think you should try it too!
*****
Exclusive Discount Code for My Readers & Gift With Purchase!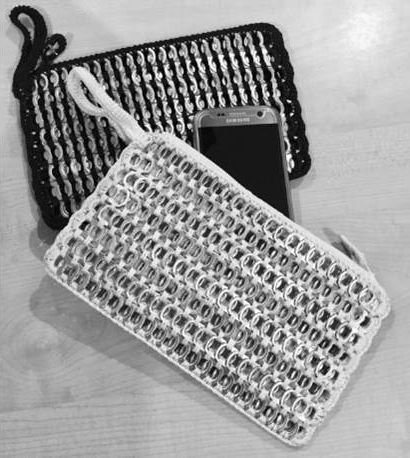 Auolive has kindly extended a discount exclusively for my readers! Key in the code AUOLIVE18RC when you check out at http://www.auolive.com for a whooping S$18 off your purchase!
Auolive also supports CSR related projects particularly for marginalised women in Singapore and around the region.  Hence they adopted Project Livelihood a social enterprise dedicated to helping marginalized women in Cambodia. They have purchased these beautiful wristlet pouches made by these women and are giving them away to their customers as gifts!
From now till 31st Jan 2017, simply spend a minimum of S$150 at http://www.auolive.com to receive this exclusive wristlet pouch.