There's beauty in simplicity. Time and time again, skincare brand Simple (how aptly named) has proven that there is truth in this statement. Simple has been an expert in sensitive skincare since they launched the first perfume and colour-free soap in 1960. What's even more amazing is that their brand philosophy of using only the purest skin-loving ingredients without colouring and perfume has remained consistent throughout the years.
It goes without saying that their latest micellar cleansing water and micellar cleansing wipes are a true reflection of that too. Simple has just found a new fan in me and you'll know why as you read on.
Simple Micellar Water (200ml, $16.90)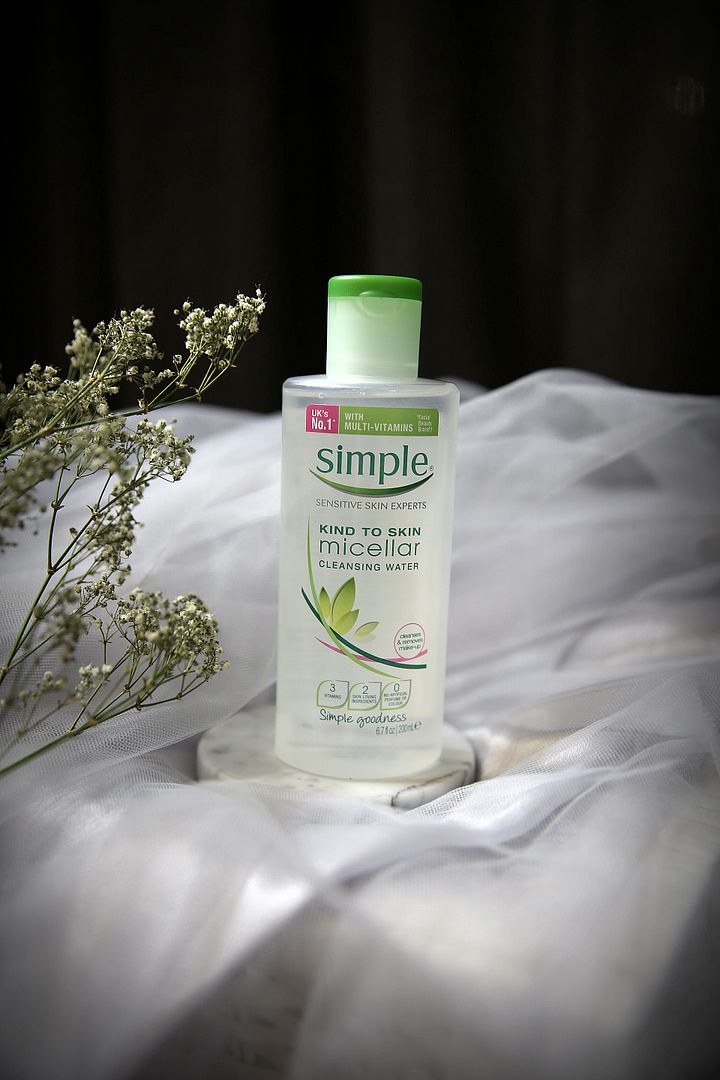 Micellar water (which essentially functions as a make-up remover) may not be new to the market, but Simple's Micellar Water certainly upped the game with its formula and affordability.
How is it different?
No artificial perfumes, colours or harsh chemicals are used.
Triple purified water, the purest possible water, is used to minimize potential irritations and ensure that it is safe for sensitive skin. It is also chock full of nourishing ingredients such as Vitamin B3 to soften your skin, perfect for those of you who have dry skin like me, and  Vitamin C which serves as an anti-oxidant. Hexylene Glycol is the active ingredient used here to dissolve make-up, unclog pores and gently condition your skin.
This formula ensures that your skin stays hydrated even after all the impurities are lifted. In fact, it instantly boosts skin hydration by 90%.
Even though no rinse is required, my skin feels effortlessly clean, refreshed and hydrated without any tight or sticky after-feel. Pretty amazing, isn't it?
How do you use it?
It's so easy to use. Just remember these 3 simple steps.
Step 1: Pour a generous amount on a cotton pad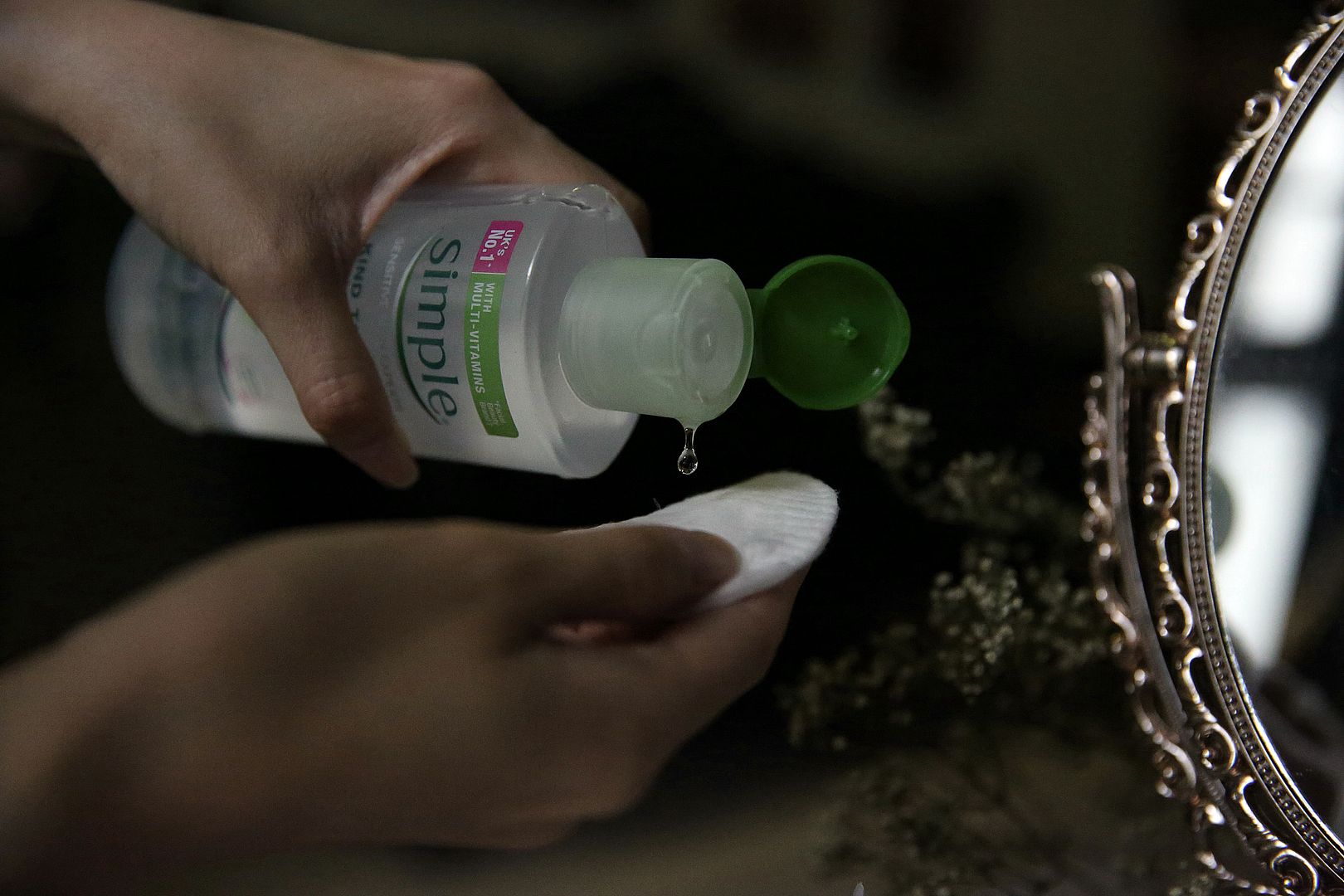 Step 2:  Swipe the soaked cotton pad across your entire face to remove make-up
Step 3: Gently wipe your eye area with your eyes closed.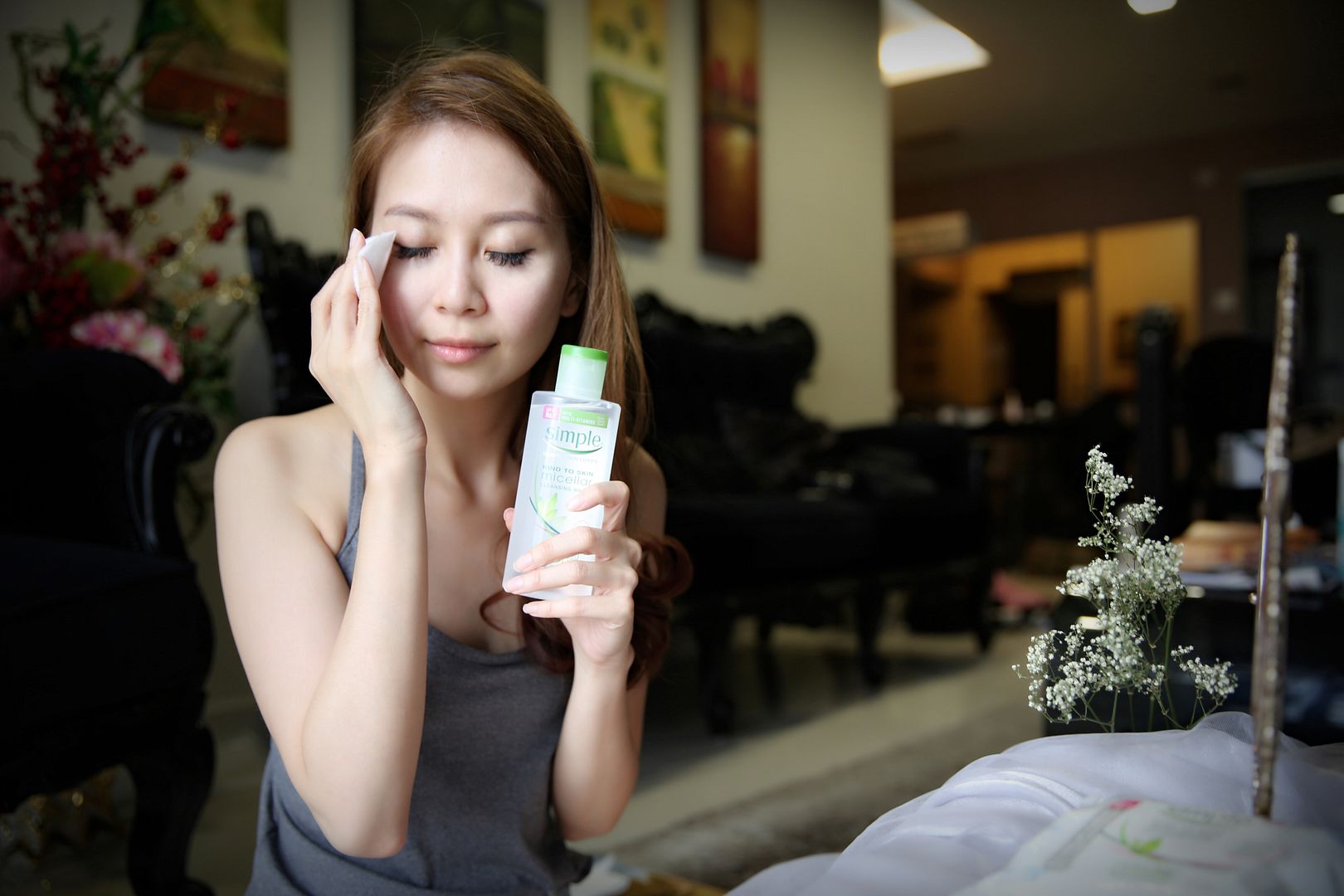 And you're done!
Does it really remove all traces of make-up?
This is one of the most common questions about micellar cleansing water. That's understandable because most are way too gentle to remove heavy duty make-up or even eye-makeup.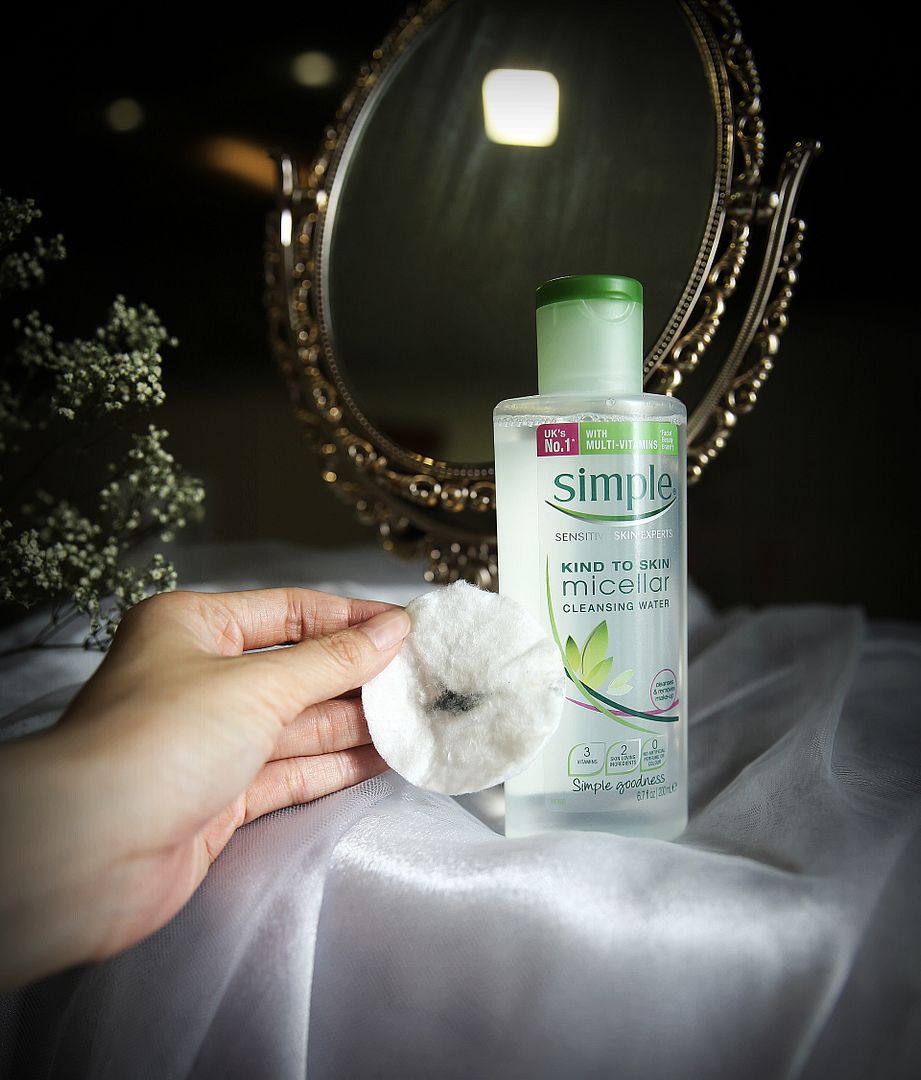 I put this to the test with my smudge-proof eyeliner and I'm happy to report that it works really well! Soak a cotton pad with Simple Micellar Water, place it on your eye area for about 2-3 seconds and gently wipe off your eye make-up. They come off easily without tugging on the delicate skin around your eyes.
2. Micellar Cleansing Wipes (25 pcs, S$15.90)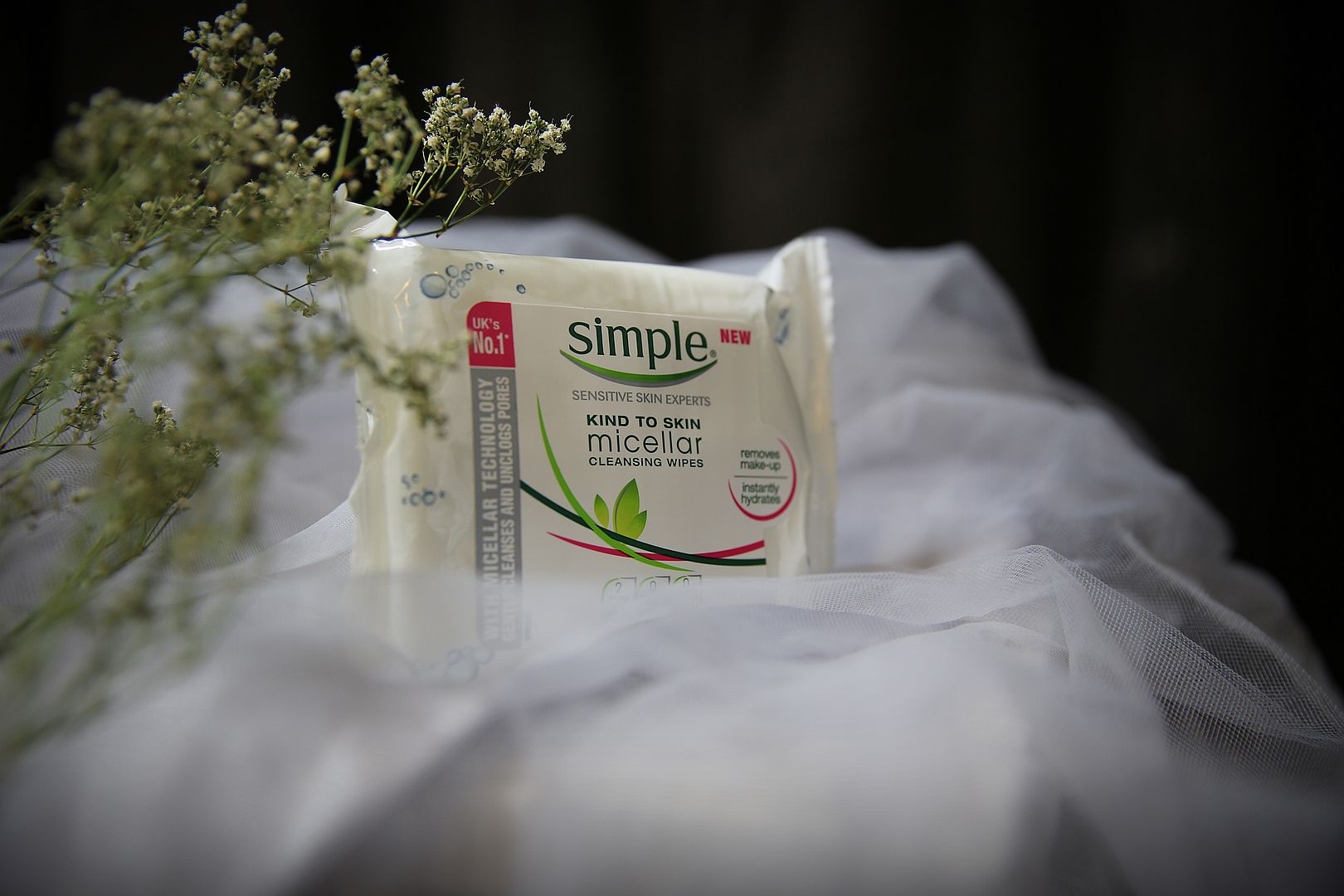 Prefer something handy that you can pop into your gym bag or hand luggage when you travel? Simple Micellar Cleansing Wipes gives you convenience in a pack.
Currently the only micellar wipes in the market, it is formulated with the same ingredients as Simple Micellar Water, so you can keep your skin clean and nourish it with all the goodness of these amazing nutrients while you're on the go!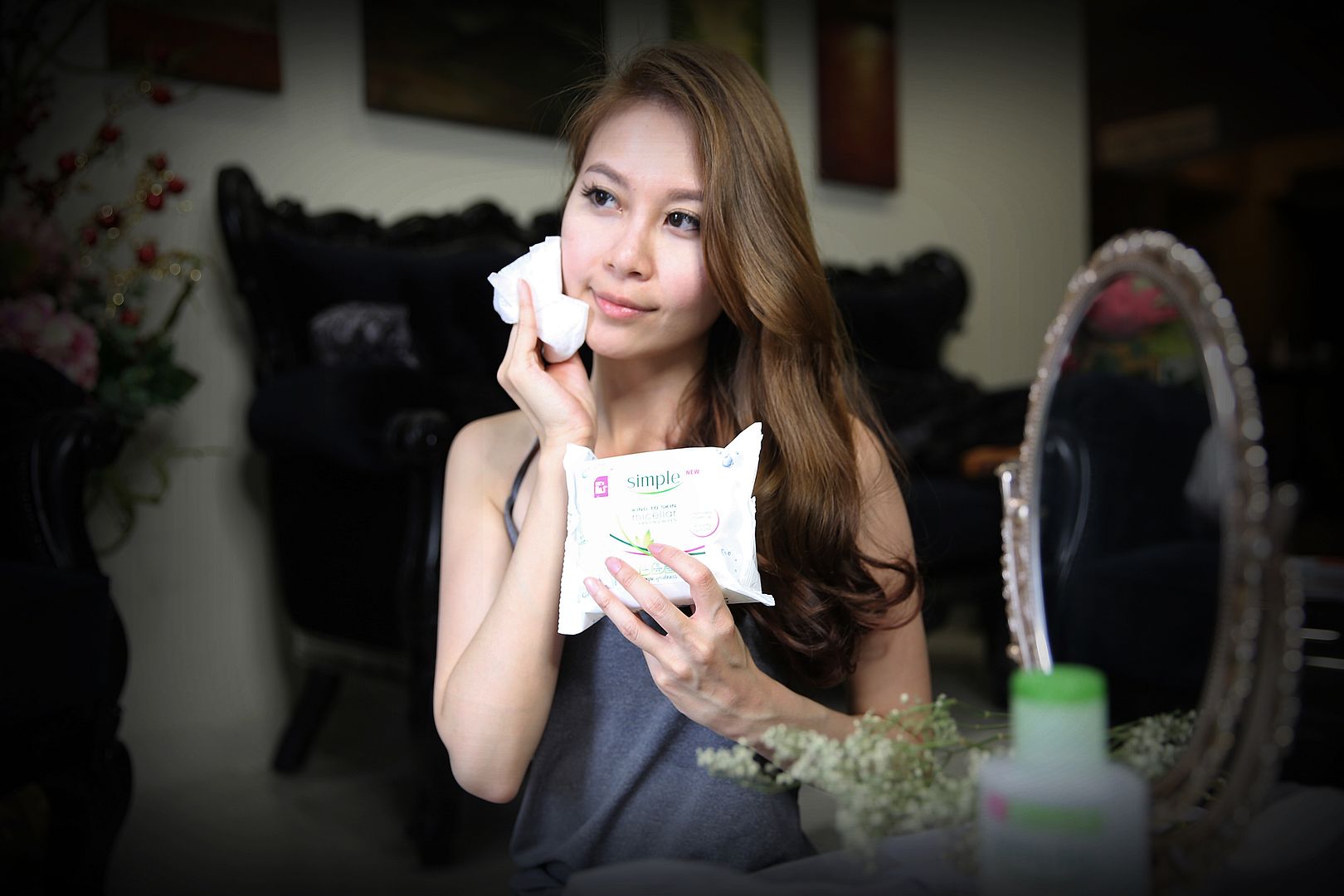 I like that these wipes are thoroughly soaked but not dripping wet and one piece is all you need to remove every trace of make-up. I'll be sure to carry a pack with me when I next head out of the country!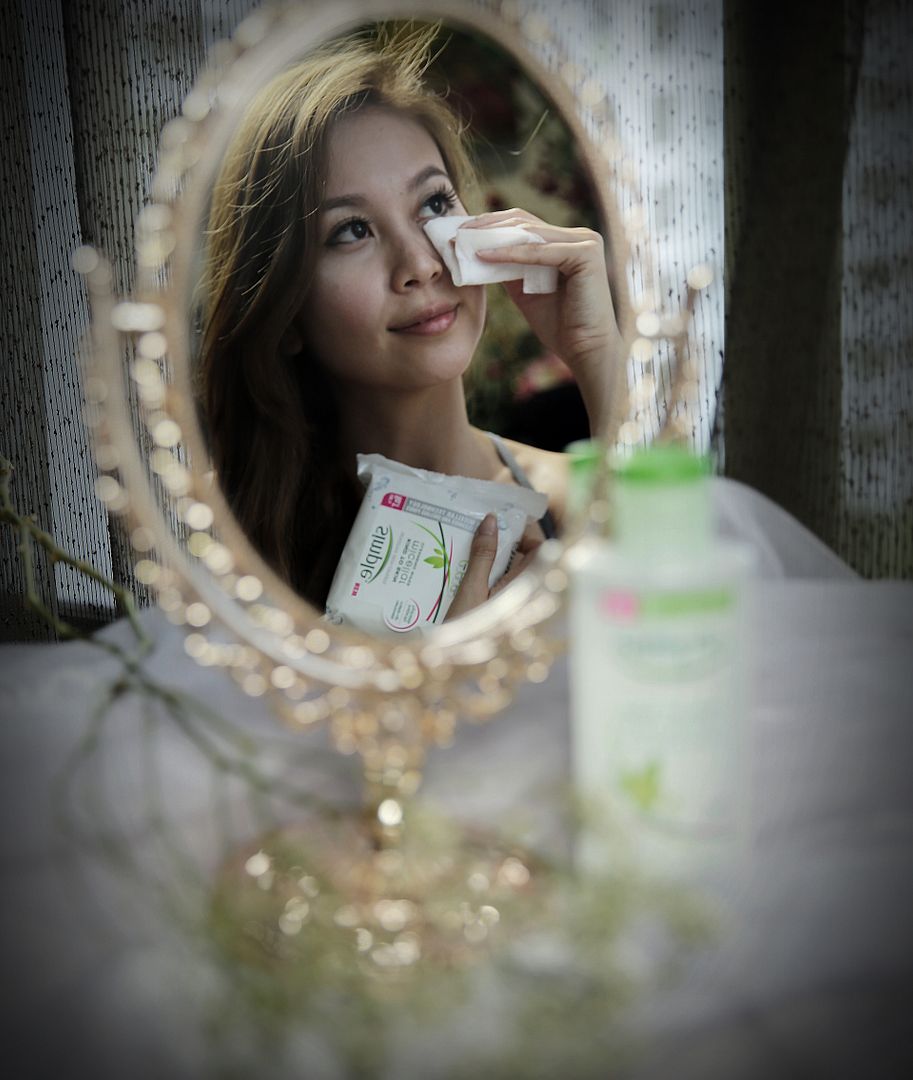 If you are on the lookout for no frills, fuss-free yet absolutely effective micellar cleansers, I would highly recommend these products from Simple.
Simple Micellar Cleansing Water (SGD16.90 for 200ml) is available at all Watsons stores island-wide while Simple Micellar Wipes (SGD15.90 for 25 sheets) are available at all major pharmacies including Guardian, Unity, Fairprice and Redmart.
You can also redeem a FREE sample of Simple Micellar Cleansing Wipes on Samplestore.com!