The new Dyson Supersonic Hairdryer has taken social media by storm. Touted to be a game-changer with its revolutionary technology and a jaw-dropping price tag of S$599, all the stylists at Toni & Guy couldn't stop raving about it when I popped by to style my hair recently for a photo shoot with Kerastase and Dyson. Is it truly worth the hype and the price?
I decided to put it to the test, not just for a day, but for an entire week, just to monitor if there are any significant changes to my hair texture.
Before I give you my verdict, let's check out some of its features.
Intelligent Heat Control

I was told that thanks to its intelligent heat control (which measures air temperature 20 times every second!), the hair dryer doesn't go beyond 100°C even at the highest heat setting, unlike conventional hairdryers which end up overheating and damaging your hair follicles. It keeps your hair healthy and shiny, even if you dry and style it every single day.
Faster drying time
And you know what's even more amazing? Despite the relatively lower heat setting, your hair takes less time to dry as compared to a regular hairdryer. Ladies with long and thick hair like me, this is your holy grail! I usually take at least 15 minutes to dry my hair completely, but with this baby, my hair dries under 10 minutes.
Credit goes to the Air Multiplier technology which creates a high-velocity, high-pressure jet of air that exits the amplifier, tripling airflow. Negative ions are also included to reduce static.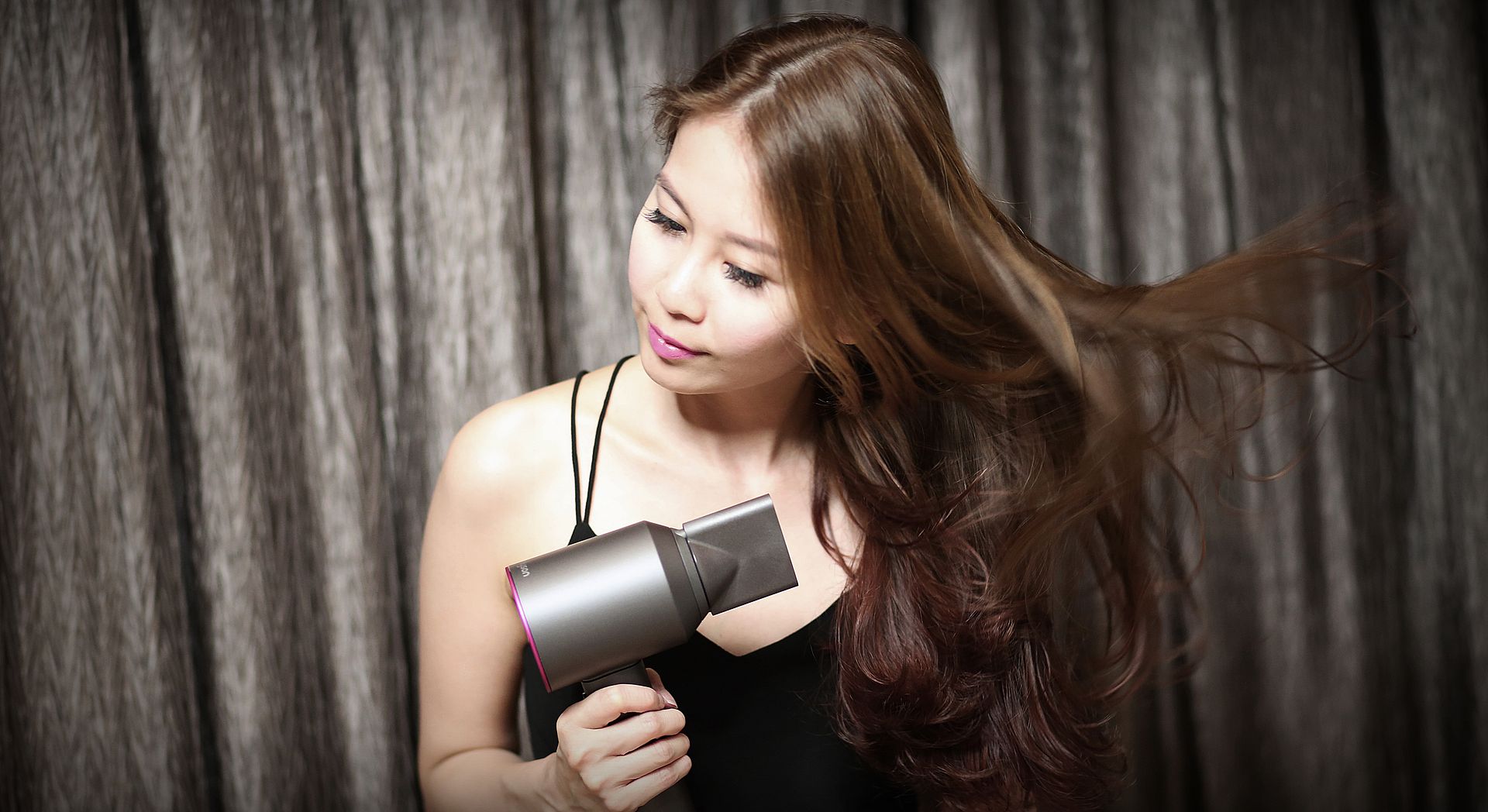 Engineered for balance
I have to admit that it was the beautiful design that first caught my eye.  Do you know the secret behind its sleek, minimalist design? To achieve this, Dyson went against the grain and put the motor in the handle instead of the head which rebalanced the weight and shape of the dryer.
Styling simplied with magnetic attachments that stay cool throughout
It also comes with 3 magnetic attachments  – a smoothing nozzle, styling concentrator and diffuser (yes, all magnetic!), making styling an absolute breeze. These attachments stay cool throughout, so you'll never ever have to worry about hurting yourself while you blow your hair!
Lower noise level
Unlike its counterparts which can be as loud as vacuum cleaners, Dyson sounds more like a high speed hand dryer. It is possible to carry on a conversation when it is being used, but you might want to avoid using it when light sleepers are around.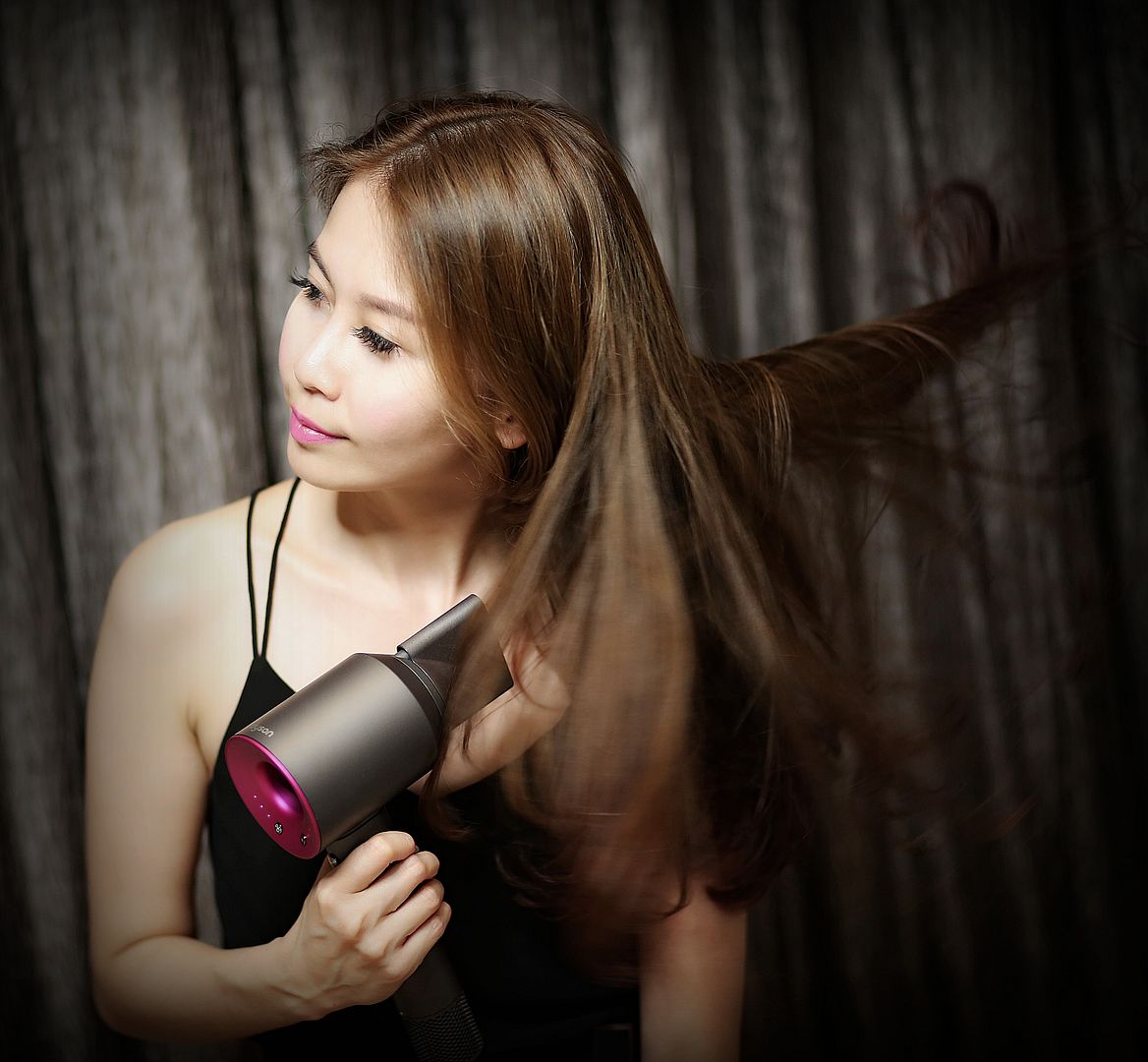 My thoughts
 After using this continuously for a week, I realized that it brought my curls back to life. I had a perm done many months back and my curls were fast fading into oblivion (thanks to traveling) until I started using Dyson Supersonic Hairdryer.
I usually have to set my hair with sponge curlers before I sleep to achieve bouncy curls, but with this hairdryer, my hair looks effortlessly styled without any styling required. My frequently coloured hair also looks shinier and feels smoother. How miraculous.
Honestly, it's going to be tough for me to go back to my conventional hairdryer.  If you need to blow dry your hair on a daily basis to ensure that it dries completely (like me because my hair is relatively thick) or if you style your hair regularly, I would say it is a worthy long-term investment to protect your tresses from heat damage. After all, a hairdryer usually lasts for years.
Dyson Supersonic Hairdryer is definitely in a league of its own. You have to try it to believe it.