Planned a relaxing Monday for J since he took leave to accompany me for the entire day as he was clearing his leave.
We went down to Halley again for another NO-DOWNTIME Chemical Peel and a 60 minutes full body massage at Masego Spa in the evening after the shopping in-between both appointments. Heh.
As usual, the ladies and Doctor at Halley never fail to leave me impressed and satisfied with their services! This guy actually "check-in" to places in Facebook for the first time too. LOL. Cute boy is cute.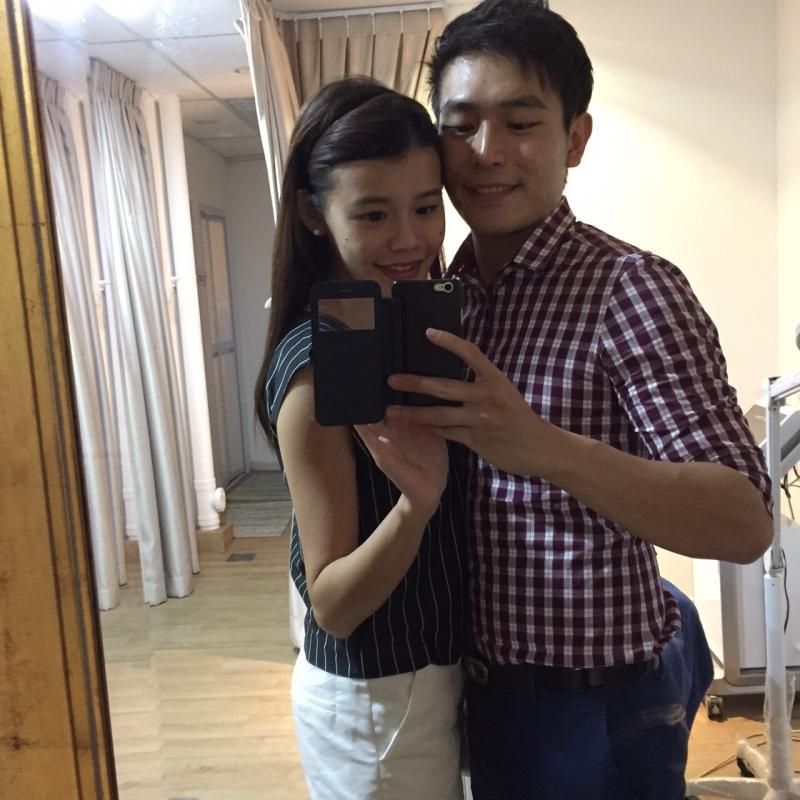 I also realized that we are gaining weight because our faces got rounder and rounder ~.~ Other than the tea detox mentioned previously, I asked Dr. Tan for more tips on staying slim (the healthy way).
I asked a few questions which I thought might be suitable for you people as well, so here you go (thank me for sharing! Heh):
– Why do people still put on weight when they don't eat much?
Weight gain or weight loss is purely a function of the amount of energy consumed versus the amount of energy used.
There are therefore 4 reasons why people put on weight although they say they do not eat much:
1st: Related to the type of food that they consume. Weight for weight, fat (which has 9 calories per gram) has more than twice the calories as protein and carbohydrate (which has 4 calories per gram). Therefore, we should choose foods that have high lean protein content with a moderate amount of carbohydrate.
2nd: Some people are more active than others. They will therefore utilise more energy
3rd: some people just have lower metabolic rates. This is especially so for people who had recent weight loss. The body goes into "starvation mode", thinking that famine is coming. The body tries to conserve energy by reducing the metabolic rate, leading to weight gain. Luckily, a genetically low metabolic rate is not that common. This is good as it means we can lose weight if we try hard enough.
Lastly, some people just say they don't eat much…. (I CAN'T HELP BUT TO AGREE WITH THIS. THIS IS SO TRUE – I have friends who kept going yada yada about how much they don't eat and still gain weight so damn easily. In my heart, I was like, "WHAT?! You eat macaroons at 12mn, eat 3 portions of my dinner and you still complain that you don't eat much and can still gain weight. You're just not fat by nature!!!")
– What time should we stop eating everyday? Why? How will it affect our
body if we eat after that timing?
Energy consumed is the same irrespective of the time we eat. However, late night snacking is generally unhealthy because late night foods tend to be high in fat and sugar content. We also tend to eat at night for reasons other than hunger, like catching up with friends and munching during movies. Lastly, we tend to be less distracted and have more free time at night, giving us more time to think of indulging ourselves with food.
I think most of us are guilty of eating at night while catching up with friends, especially with all the cafes in Singapore :/
– Tips to eat healthily and maintaining a good figure
Never skip meals. Eat slowly and in moderation. Have adequate exercise and most importantly, find time to go for cryotherapy.
I am considering cryotherapy for my love handles. I think J has love handles too. Maybe I can put some ice cubes on them, hoping that the fats can be freeze that way. Hahahaha.
Found an article on Halley and their diet related programme. Read if you're interested! 🙂 http://www.aestheticshub.com/articles/articles/sculpt-your-body-the-way-you
-want-with-total-sculpt-programme-at-halley-medical-aesthetics