Thai horror movies are at my top hatred list because they are very scary and never fail to make me scream. But I never fail to resist the urge to watch them because they can be quite gooooood! Although I do get nightmare sometimes….
The latest Thai horror movie is The Eyes Diary which is already showing in the cinema right now.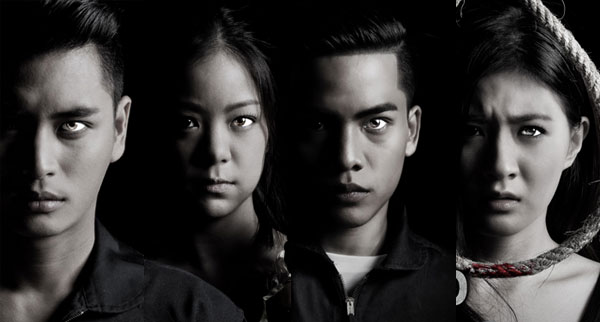 It all started from a love story between PLA and NOTT. PLA (the girlfriend) died in an accident 3 months ago and NOTT was devastated and tried all means to see PLA again so he sets out to find ways to help him open his eyes to the realm of the dead by collecting items from the dead people.
He joined a body-collecting unit and secretly collects the personal belongings of the dead. Creepy stuffs began happening around him and his friends, scaring them off. Only MODTA (a female friend) stood by him as she too, had once lost her loved ones…..
I shall not spoil the movie further..
What I love about the movie is that it has a lot of comedy despite being a horror movie. The fat guy in the movie was hilarious!!!!! There were some frightening scenes but at the same time, too funny and we just couldn't help but burst out laughing in the theatre.
There were also some parts where I had to put on the earpiece and blast my music so that the sound effects wouldn't scare me.
Overall, this movie is seriously worth-watching! It can cheer you up for sure.
But….. do take note of the twist at the ending……..