Yes! J am back again! Maybeline's partner in crime especially when it come to gourmet food tasting experiences. Likewise for this time around, we went back to MEDZS. However, this time it is not just for their usual authetic Mediterranean dishes but also their long-awaited Christmas menu since the 'jingling' festive is around the corner! Cant help but share the main highlight for this dinner first: the Log Cake! After seeing it, i think it truly deserves the award for the Prettiest log cake of the year: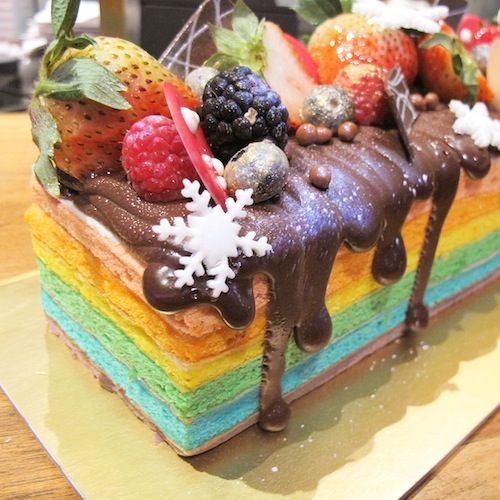 MEDZS Rainbow Log Cake (1.2kg) @ an affordable price of $46.90. It doesn't just look good, it tasted good as well . Imagine the fushion of various flavaoured cream (eg cream cheese, orange cream etc) between the layer of different coloured sponges. It's no wonder it's voted the BEST Rainbow cake by 8 days!
Not to put all the limelight on therainbow cake, there are other wonderful dishes in the christmas menu as well. The award for most inovative dish has to go to this one: the Oven Roasted Roulade with Provencal herbs and confit garlic.
Thoroughly enjoyed the taste of their Medzs recipe nuts filling at the centre of the meat layer. So much so M & I called for one more serving of it despite our filled-to-the-brim stomach end of this dinner.
Another pork dish worth mentioning: the tender and juicy Oven roasted Crispy pork knuckle in gourmet marinade with Bratwurst
Enough of the pork. How can christmas ever go without the most highly raved Turkey! Indeed, Medz also came up with their very own special turkey dish: the Mediterranean Spice infused Whole turkey with Foie Gras and chestnut stuffing! i think this is the MUST TRY out of the whole christmas menu or rather the epitome of christmas dish due to its very unique taste. This is espeically so when you have the inovative combination between the flavourful foie gras, crunchy sweet chestnut and moist turkey meat!
We had some wonderful desserts to end off our pre-christmas food tasting at MEDZ. Though less striking as compared to the rainbow cake, they do have their own array of visual and palatable pleasure.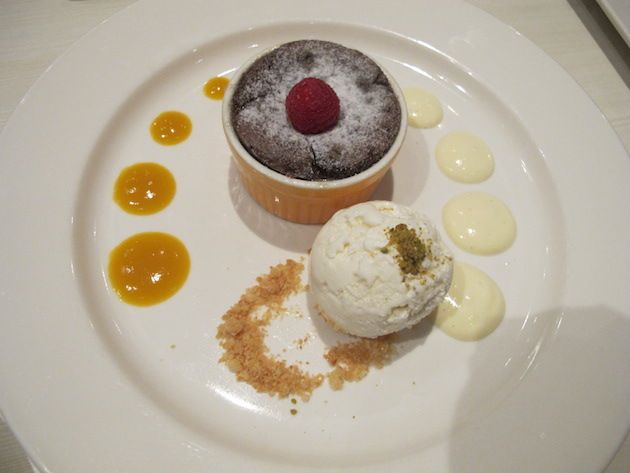 One noteworthy dessert is The Black Beauty of MEDZ logcake.
Belgian Dark Callebaut Log Cake. Made with 100% Belgium dark chocolate for those dark choc fans like me! Comes in 1.2kg at afforable price of $43.90! Definitely more than enough and good for office sharing or christmas gathering!
Not forgetting their Chocolate Pralines which comes in boxes of 5. Perfect gifts for anyone who matters greatly to you just like M to me! Well, unfortunately she isnt a great fan of pralines. Therefore, i shall just save them for myself! >< while saving the holidays for her *literally* speaking of which we just came back from our first trip tog to Melaka!
Last but not least, we both agree that we could not just end the whole food tasting experience without our favourite snack at MEDZ which is their Truffle fries. It came in such a generous portion we had to share it with our other blogger friends who sat with us at the same table!
Its my first food tasting for MEDZ chrstimas menu but definitely not the last especially after the wonderful experience i had this time around. Look forward to be back for more soon! 🙂
MEDZS @ Orchard Central
Address: 181 Orchard Road, #B2-01 to 03 / #B2-30 to 43, Orchard Central, Singapore 238896
Opening Hrs: Monday to Sunday 11am – 11pm
Telephone: 6238 9028
MEDZS @ Millenia Walk
Address: 9 Raffles Boulevard, #01-46/47/55/56, Millenia Walk, Singapore 039596
Opening Hrs :Fri-Sat: 11.30am – 1.00am Sun-Thur: 11.30am – 12am
Telephone: 6337 7507