Sponsored
Recently, James and I went to Pomo for some food tasting. Of course, we were very curious about the Famous Nookie Yogurt. This has been trending in Instagram among the bloggers for quite sometime already. I had wanted to try it long ago but I was too busy, hence the delay.
It was gooooood! James hate fruits so this is really one good way to make him eat his fruits. Some people complained the yogurt for being too sour but seriously, I am the sort who can't even take the sourness from strawberries but I can take this. If I were to rate the sourness, it would be 1 out of 5.
A lot of people prefers Apple Berry Pie (that's James's favourite as well) but I personally liked Strawberry Watermelon Rose more because the crunchiness of the watermelon blends in with the yogurt well. Something special about the yogurt is that some of the flavors come with gastronomy spheres! Just chew them and it will burst in your mouth!! I am truly amazed!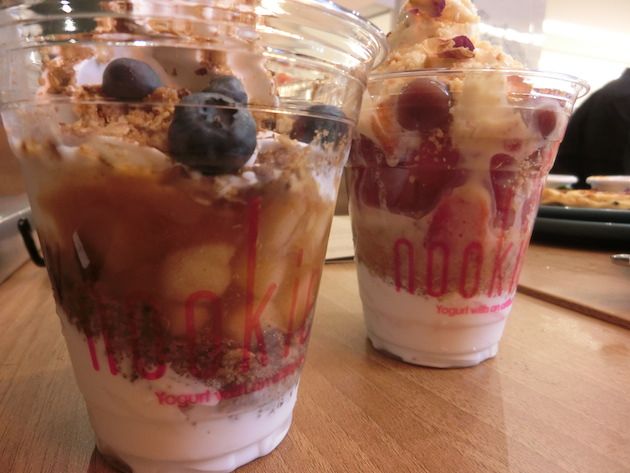 Can you see the sphere, fruits, and goodness?
I also love their new flavors like Mango Sticky Rice and Matcha Black Sesame Crumble. Find little mochi inside, they act like the rice from Sticky Mango Rice!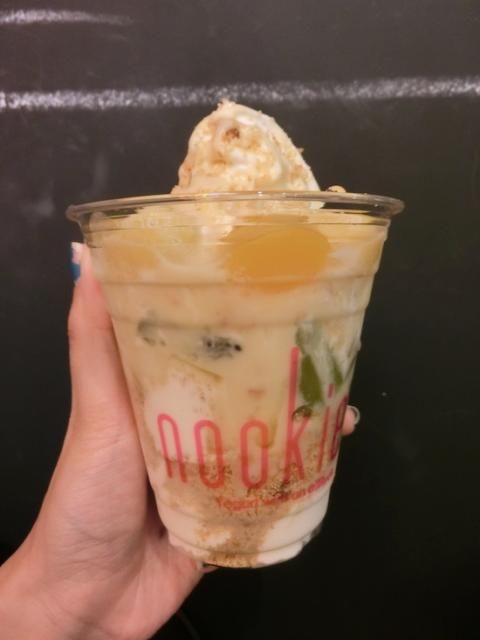 Each cup cost about $6.90. I would say it is worth every penny!
They are located at 1 Selegie Road #01-04. Right outside Pomo.
For the inside…..
We were treated to Montana Brew Bar. They have very nice waffles. Of course, you don't only find waffles there but also burgers, sandwiches, salads and good coffee. It was already dinner time so we had our fruit juices instead of coffee or tea.
We tried Southern Fried Chicken Waffle Sandwich with wasabi slaw ($9.50). Yup, pocket friendly prices there. Even though it is pocket friendly, but look at the amount of meat they gave. It is not compromised! The chicken literally melted in my mouth or was I too hungry I don't know.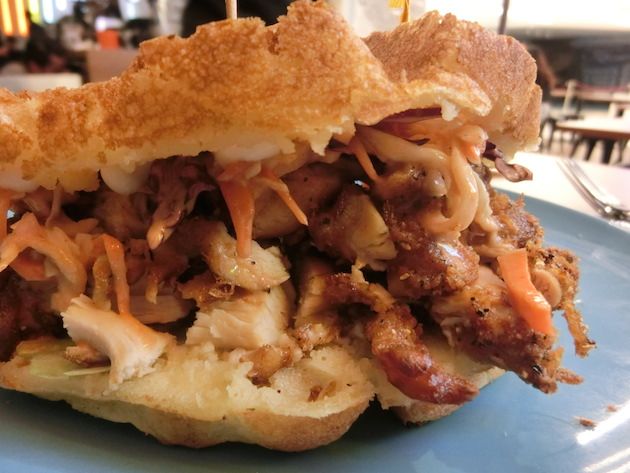 My favourite was the Truffle Mac & Cheese with Bacon Power ($9.50). Initially I thought that I would be expecting mac & cheese in the middle of the waffle (LOL) but when the waffles came, I couldn't even  see the mac & cheese. I forgot to take a picture of the waffles because it went straight down into my stomach.  The mac & cheese were found INSIDE the waffle itself so at some bites of it, you would be able to see cheese.
Now.. take a look at the spheres on my waffle!! The mango passionfruit spheres made this Green Tea Waffles ($9.50) less bitter (although I quite like the bitterness of the matcha). For desserts, I would suggest you to go for the fluffy soufflé waffles because it would go well with the sinful vanilla ice-cream. The taste of matcha "bread" and ice cream…. How do you even….?
Thank you for having us Nookie Yogurt & Montana Brew Bar! We hope to be back to try out the different flavors that we missed out during the tasting!