Author: James
M and I have been exploring the Arab Street region this week! Why this area? Because we both firmly believe that there are many hidden gems there!
Good news if you are huge fan of Italian cuisine because one of that not to be missed is the Oliva Italian Restaurant lining the Arab street !
This is truly a hidden jem. You may have walked past it a lot of times but not step foot in. That was what happened for us as well until the food tasting.
It has a very cosy exterior. We sat outside because we wanted to chill, eat and chat while doing some people watching at the same time. Who knows! We sat there from 6pm to 10pm. Gosh. It was such a relaxing day.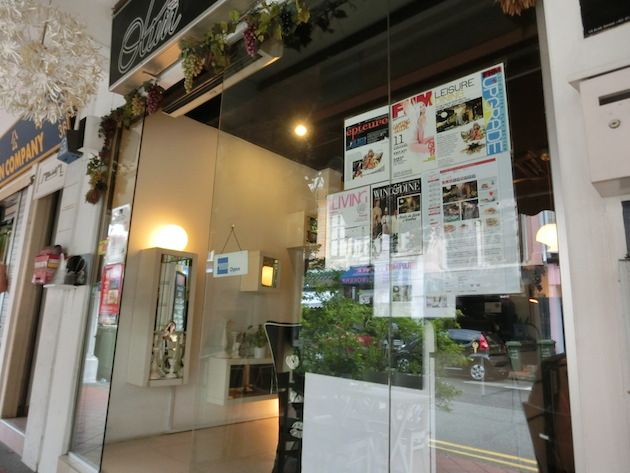 So much for the exterior! What about the interior you might ask. We felt the interior is even more amazing! (unfortunately we were too eager to try the delicacy that we forgot to take a pic of the interior. Ops! ><).
But a shoutout to the Dudes out there for a nice Valentine Day venue! For the ladies, hint your guys! The restaurant interior ambience is surprisingly nice, with candles and warm lighting, absolutely PERFECT for a romantic dinner. Shall save it for you lovebirds to explore the mystery!
Anw, M was down with eye infection so she had to go lenses-free. But no lessen my affection for her cos we are already in the Vday mood! Lol!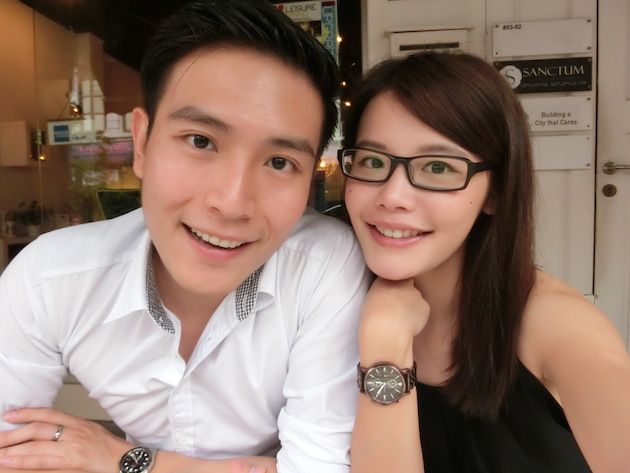 The lady boss, Diane is a very dedicated person and sat with us throughout our dinner to share the highlights of her menu.
One of her pride and joy is their Brushette (below): $7.50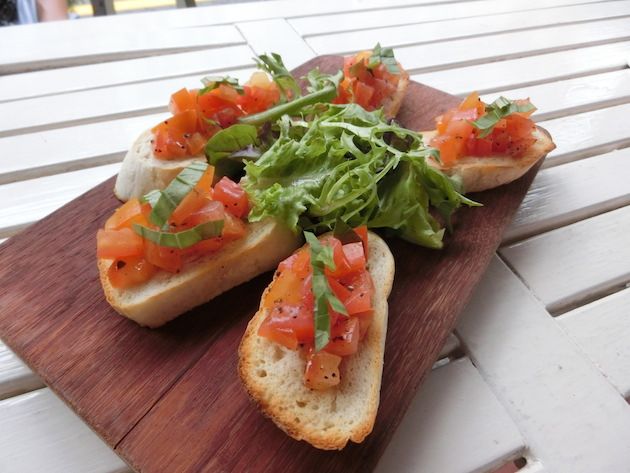 I would say this is definitely one of the MUST TRY if you visit the restaurant. Even for a not-so-bread-eater like me, i find the texture of the bread very palatable as it wasn't too hard but yet able to maintain its crunchy feel.
Next came the mains! *stomach growls*
I was pretty happy with the mains even at the first sight of it!
Why? Cos personally i have seen too much of restaurants trying to cut their operating cost at the expense of their customer's growling appetite. Worst, they charge a premium for it! Booooo!  But here, it was totally different story! The restaurant was very generous with their serving, enough to satisfy BIG eaters like me! So first tick checked!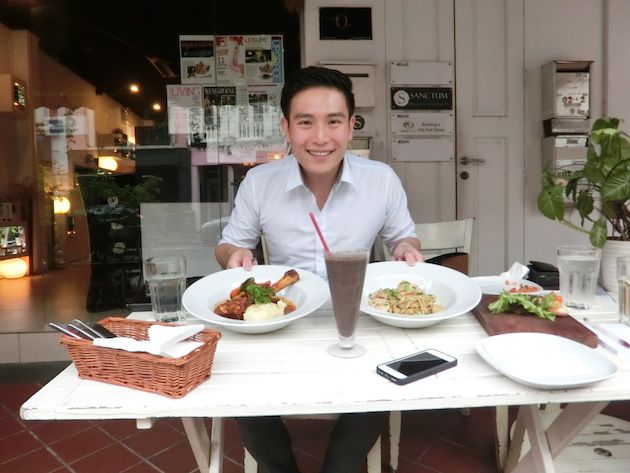 M, being an avid carbo lover kickstarted her meal with her usual pasta choice!
Ocean Lovers $24.90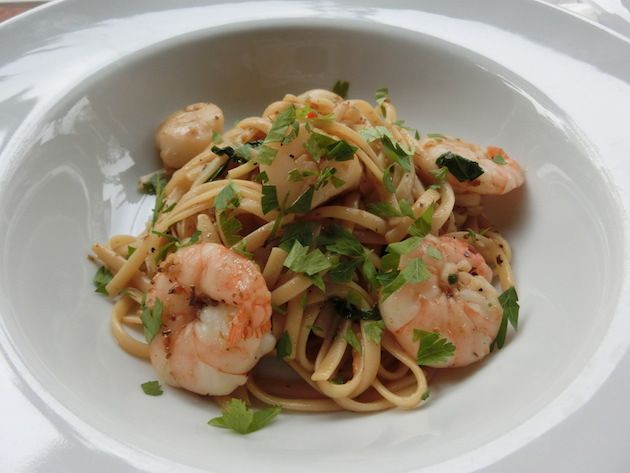 Don't be deceived by the pale complexion of the noodle (in this pic)! The savoury & peppery taste is gonna set you going for the glass of water if you cant take even a bit of spice!
But for M, who doesn't really take much spices enjoyed it nonetheless!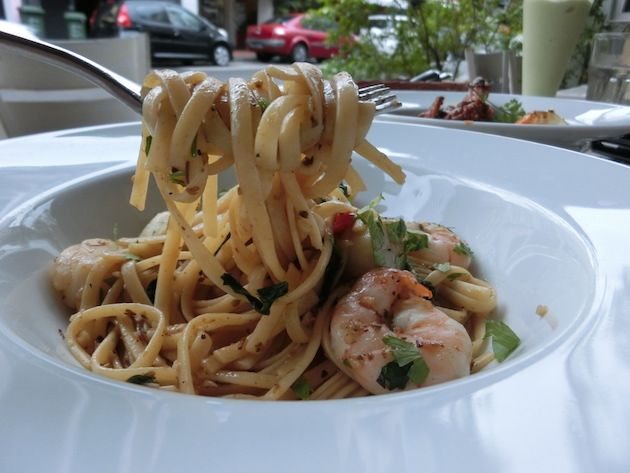 What about me, the avid Protein-eater!
Lamb shank $25
I fell in love with this tomato-based dish with the generous portion of Lamb shanks (Definitely enough for a normal guy! Ladies, be ready to share!) that is served with a more herb-ish version of bolognaise sauce.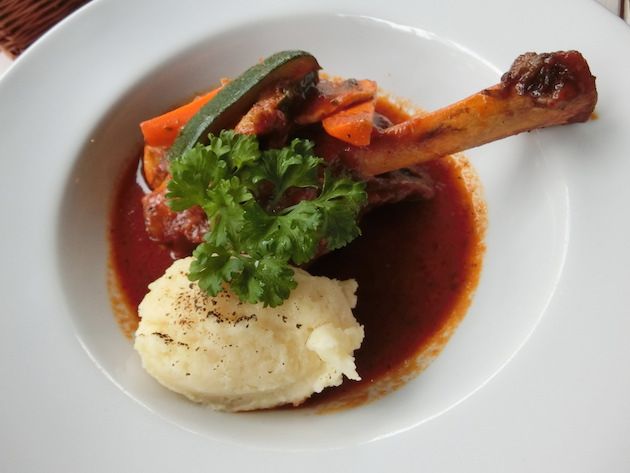 There you have it! Our meal for the evening..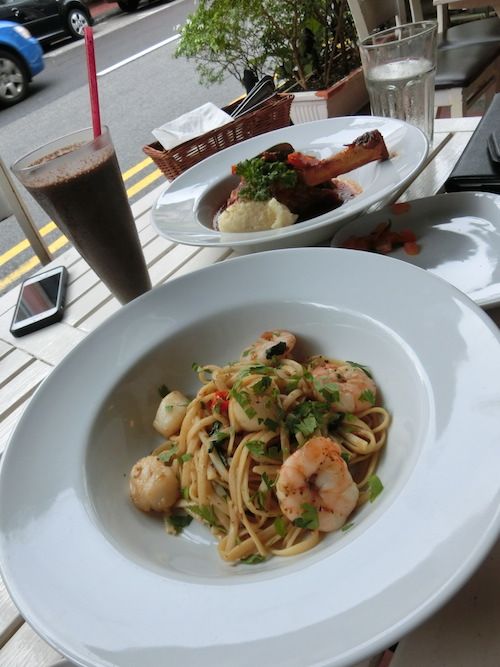 'You mean that's all & you dare call yourself a big eater, J?!' So Yes, that cant be all if J is in the house!
The pasta was the restaurant's specialty. So how can i let go of such good opporunity to try more right? Next, we ordered another portion of their Crabmeat pasta. *with real crabmeat (not those crabstick kind!)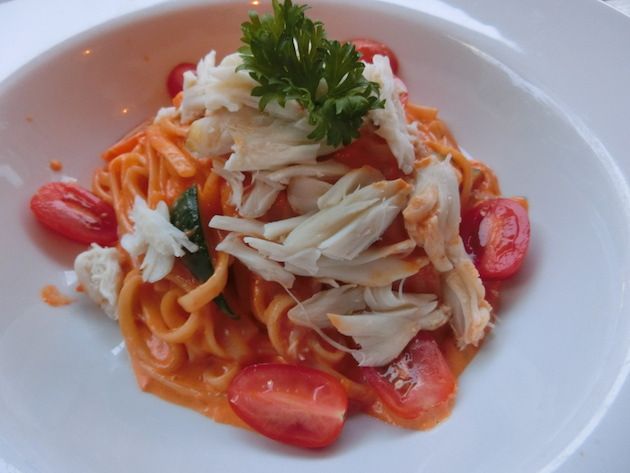 So much for savoury. What about some sweet? Especially that kind of Sugar Sweet in Adam Levine latest song: Sugar. Here we have it!
Oreo Cookie smoothie $5.90
Upclose with the thick and creamy Avocado Smoothie. Good for the skin, ladies!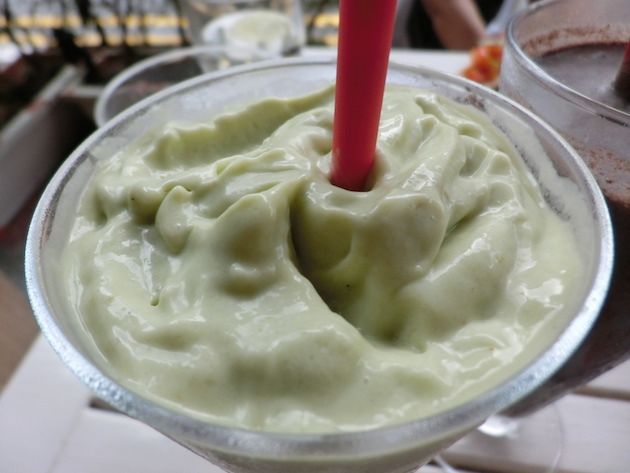 By the time we reached the dessert, M's stomach was already putting up the white flag! But upon hearing her favourite Panna cotta, the white flag become green flag! For me with the sweet tooth, it's a no-brainer! Bring it on, sugar!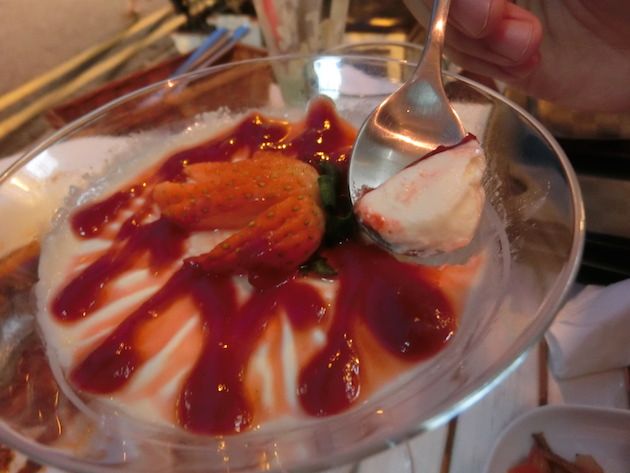 Overall, this restaurant is my new favorite in Arab Street. Unfortunately, they have a few wine selection and desserts which I have not tried as we were busy having an equally  hearty conversation with the nice and humble boss of the restaurant. Will definitely return to try it.
Tips for readers:
*Try to go down during the evening to experience the nice and zen ambience within the restaurant as i have mentioned. You can make reservations as well.
**For us Singaporeans, we love promotions right?
Oliva Italian restaurant offers promotions for dinner!
Set Dinner – Only $12.90 (Sunday – Thursday)
Lastly,
Find them at: 34 Arab Street, Singapore 199733
Ring them at: 6291 2297