We were very excited about dining in NOX – Dine in the dark because we have heard about this awesome place for the longesttttt time! In fact, M wanted to plan my surprise Birthday dinner here.
The anticipation is not just because of the novelty of it being the only dine in the dark restaurant in Singapore, but also because its for a good cause. This is because we heard that they work with the visually-impaired. Furthermore, you get to experience the feeling of dining in the position of a blind. So guess what! Picky eaters like M don't get to pick this time around! Whatever is served, you just have to eat!
Enjoying our final bit of sunlight before heading into the ultimate darkness (you can't see your hands even if it is 1cm in front of your face!).
That dark? YES, that dark!
M all dressed up to camoflauge with the darkness! ><
So here we are at NOX – Dine in the dark!
For those who are wondering why they call it NOX – Dine in the dark, it is partially due to it's relevance to the Goddess of the Night!
Here is the first floor to the two-leveled restaurant! A simple, dimly-litted bar which already give preview of the mysterious feel..
By the side of the bar, there are some lockers which you are expected to keep your belongings e.g. phone, watches, bags. Basically, you just get ready to go really light to the second floor where the dinner is being hosted!
Below are some of the snapshots we took at the bar before surrendering our camera & phones.
Firstly, we are given a nice appetizer called "amuse bouche" to assure us of the quality of the 3-course meal which we will enjoy in darkness in a moments time. After trying this visually-appealing appetizer, all i can say is we were more than happy to be ambush by it and it got us more anticipative of the dinner ahead!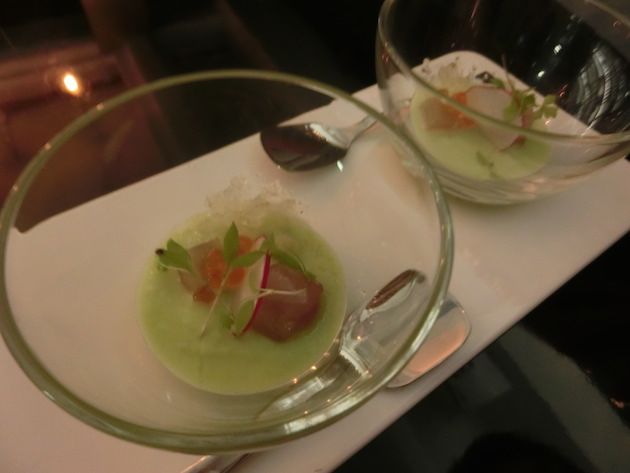 Attention to ALL Cocktail lovers! You all will be thrilled to know that NOX has a hugh array of cocktails!
Here is our pick to pair with the amuse bouche! We were surprised to see how exquisite the drinks looked.
The cool dude just gotta choose the cool blue one!
Don't want to get too drunk for the scumptious meal ahead? Don't worry! You are allowed to bring your drinks along for the meal! Just try not to make a mess when you are feeling for your drink in the dark!
Red for the hottie apparently!
A quick question to you all readers: So who is prettier? M or the drink?
Well, for me the option was pretty straight-forward. Of course, its my girl since I am also blinded… Blinded in love! <3
After sharing so much on the first level, guess you guys can't wait to hear what's installed for us at the second level right?
Here goes NOTHING! The interior of level two…….
.
.
.
.
.
.
Like i said above, it was NOTHING! ><
Anw, just be ready to rely on the rest of your other 4 senses for the delicacies ahead! In summary for the 3 course meal, it consists of 12 different dishes crafted from the finest ingredients by the head chef and his team. And by finest, i also mean to say they are pretty expensive ingredients in there!
That's all folks!
We shall keep you all in the DARK for the rest of the details! *No point revealing the dishes we had as well because we were told that they switches their menus every 2 months. In fact, the next switch will be after Valentine Day!*
After the meal we returned back to lounge to find out what amazing dishes we enjoyed in the dining room.
Exterior of NOX: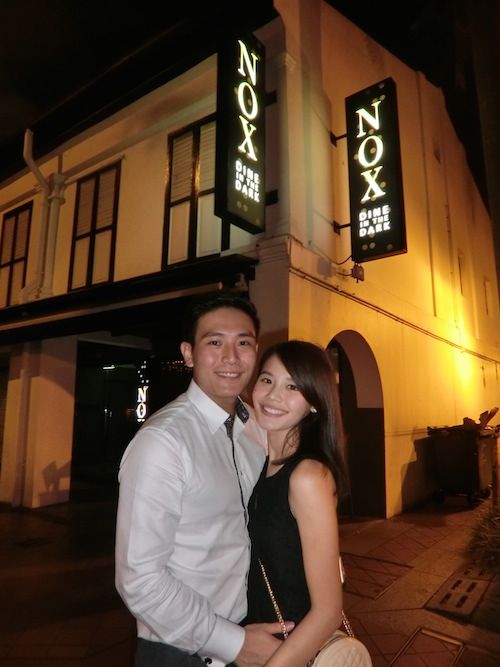 Don't you agree that the exterior look kinda mysterious and cold as well? Ironically, we left the place feeling warmer than ever internally.
Why so?
Thank to one of the blind waiter, Halimi who served us during the 2 hour meal! His warm hospitality and his touching story of how he lost his sight make us empathise the visually-impaired like him. Despite his current plight, he is one of the most inspiring and optimistic figure i have ever met.  In fact, his enthusiastic sharing at the end of our meal passed off as the best dessert for our evening!
That pretty much sums up our mysteriously memorable date with the goddess of the night!
Address: 269, Beach RoadSingapore199546
Opening Hours: Monday – Friday: 6PM to late
Saturday: 5PM to late
Sunday: 5PM to 11PM (last reservation 9PM)
LUNCH: Open for group bookings.
Contact number: +65 6298 0708
Email:  enquiries@noxdineinthedark.com
For this special night they only accept reservations at 5-5.30pm, 7-7.30pm or after 9.30pm.
Personally, I would like to say it is a once in a lifetime experience not to be missed. If the dark doesn't frighten you, then take a bold step into the shoe of a visually-impaired for that two hours of food tasting!