Collagen drinks… There are a lot in the market. However, my first encounter with collagen drink was when I was 17-18 when I tried FANCL because they were one of the first few players then. My sister was extremely vain. She would spend most of her part time salary on FANCL Tense Up because of the many great reviews she had heard. Of course, I was very much influenced by her so I joined her in the journey as well.

We bought FANCL Tense Up for quite a long period of time before they exited Singapore. We drank it daily because we were told that it could help achieve and maintain the best possible results. True enough, we could feel the difference. Especially at the stage where we were still undergoing puberty where acne seems to be a common thing, our facial complexion felt a lot better and we were looking very radiant.

When FANCL left Singapore and I could no longer buy Tense Up and their other products regularly, I experienced minor breakouts on days when the time of the month was near. And needless to mention, my face was not as radiant as before. I started relying on other skincare brands then. It was effective but it doesn't give me the same confidence I felt when I used Tense Up.






So imagine how happy I was when I heard that FANCL is back in Singapore! Finally, I can get my hands on Tense Up without flying overseas!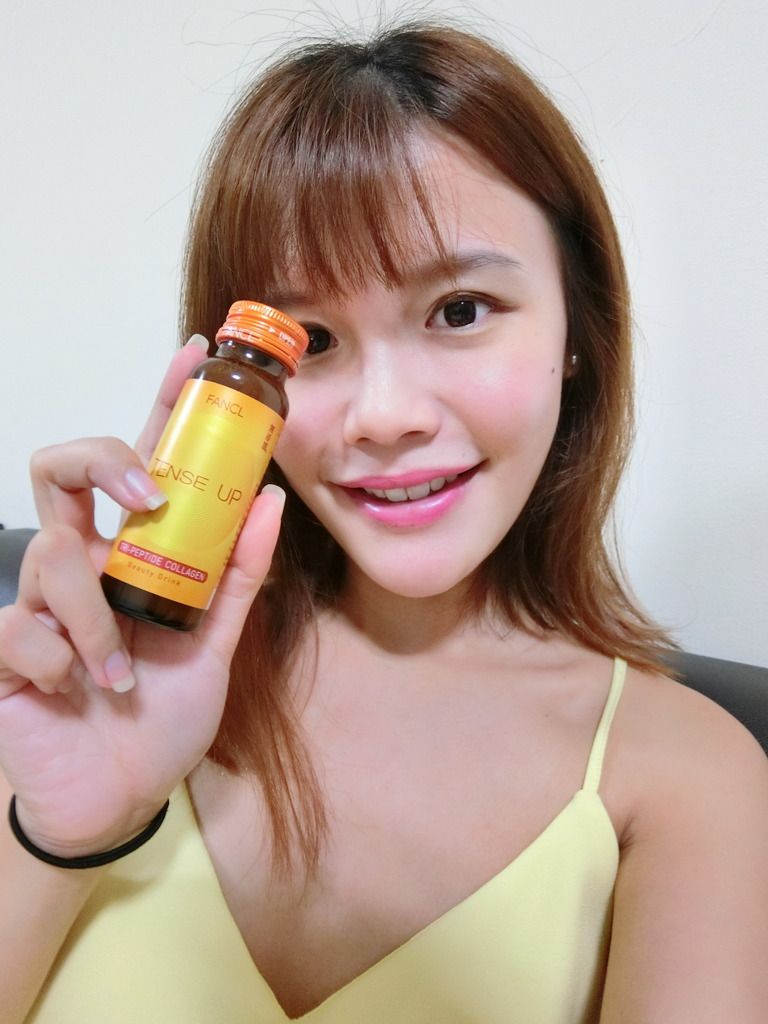 What makes FANCL Tense Up different from others?

You know why I love Tense Up? Unlike other collagen drinks in the market, Tense Up is made up of tri-peptide collagen strings of molecules. The molecules are so small that they are able to pass through your digestive system and gets absorbed by your skin. When your skin is able to absorb the collagen, it will only get better and better.

What do I mean by better? Firmer, younger and brighter skin of course! As you age, your body loses more collagen… and even the amount of collagen produced by the body is also lesser as compared to younger days. This is why we age and wrinkles start to appear.

By the way, not only can it help the skin with HTC collagen of 2,600mg, Tense Up also contains Vitamin C, E, Coenzyme Q10, Hyaluronic Acid and a lot of other goodness that is not only good for your skin but your body as well! You can take it as a supplement for your wellbeing!

If you are wondering why 2,600mg and not more, that is because FANCL R&D experts have done extensive research and conclude that 2,600mg is the optimum amount of collagen that our skin need and can absorb!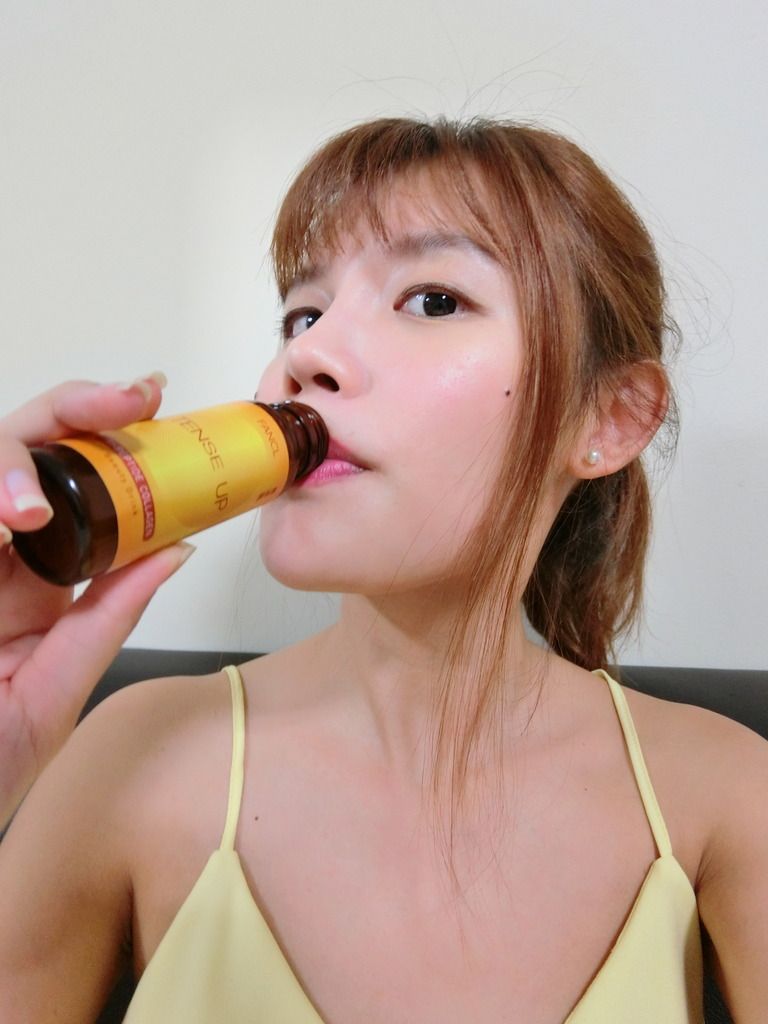 When do you drink FANCL Tense Up?

The best time to drink it is before your bedtime because skin rejuvenation its on its peak at night. However for me, I don't have a specific time to drink it. I find myself drinking it after lunch most of the time because I left my supply in my office 🙂

What did I experience after drinking FANCL Tense Up?

Need I say more? People usually do not get my age right because I look a lot younger than my actual age. Other than that, my skin now looks firmer and brighter! I am so glad they are back now!

If you are expecting brighter and clearer skin like me, YES! For sure! And you will be able to experience these benefits after your first month of supply. I must say that the effects appear quite fast if you are hardworking (don't forget to drink it everyday!).

If you think that you are too young to be needing these, I would say better to start early than late as it is never too early to start prevention. FANCL Tense Up Collagen Drink is suitable for people in their 20s, 30s and even 40s! When you are in your 20s, you need to prevent wrinkles, once you hit 30s, you will need it for maintenance. And lastly, when you hit 40s, it can turn back the clock! It is never too early or too late to start your Tense Up journey.

Evidence: Below is a very recent #selfie of me with no edits done. Good skin yay! Thank you FANCL!






For more information about FANCL Tense Up, please visit their stores located at Isetan Scotts, Robinsons Raffles City and Suntec City. And here's the big news: FANCL's first ever flagship store will open at 313@somerset on the 23rd December!

Be sure to also follow FANCL SG Facebook page at https://www.facebook.com/FANCLSG.

Here's a treat: get a $10 voucher after downloading the iFANCL App! You can download the app from App Store or Google Play. Thanks for reading and I hope you enjoy Tense Up as much as I do.