You should be glad… No… rather, I should be glad.
I can wake up late on weekends and still make it for brunch because MEDZS is introducing their new brunch menu.
MEDZS is a restaurant that offers a cashless, casual dining concept and a home to an eclectic range of Mediterranean cuisines. They have a mixture of French, Spanish, Moroccan, Italian, Greek and Turkish brunch for you to pick.
——————————————————————————–
Now, what is brunch without eggs?
I was literally jumping for joy when I knew that I was going to taste all the different kind of breakfast set with EGGS.
Here comes Bouncy Benedict ($14.90) served with rosti.
Everyone was going for the egg when this set was served.
Look at that yolk, it's oozing out!
Stacked Brunch Torte ($14.90), was a generously served brunch. I find this set value for money because it is able to feed two. The insides are filled with egg, bell peppers, cheese, spinach and ham. A unique twist of combination.
My personal favourite is Le Jolly Monsieur ($13.90).
Having tried all the eggs of the different sets, the scramble eggs tasted the best. I like having eggs, cheese and ham for breakfast and Le Jolly Monsieur has all three of them inside on top of the bacon and bratwurst.
Slurrpppppps!
Toasty Tortilla ($14.90), with eggs, served in another way. Still served with scramble eggs, but also with the Spanish omelette. There are a lot of onions in the omelette, so sweet onions lover, you would probably love this.
Poseidon's Wrap ($14.90), served with prawn, fish, squid, tomato, lettuce, scramble egg, tzatziki and Greek salad.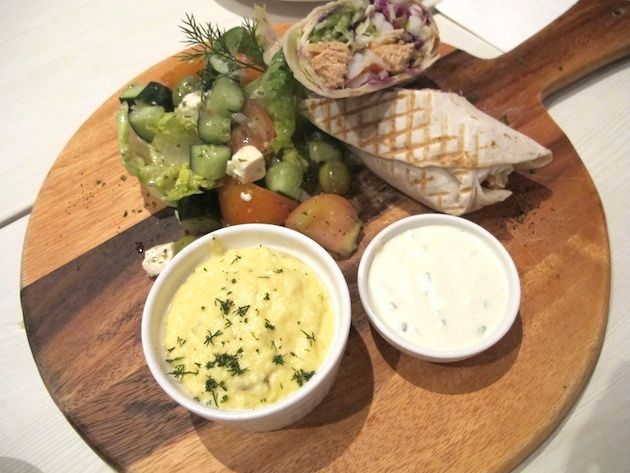 Egg-crowned Shashouka ($14.90), served with lamb kefta, tomatoes, eggs tagine and garlic toast.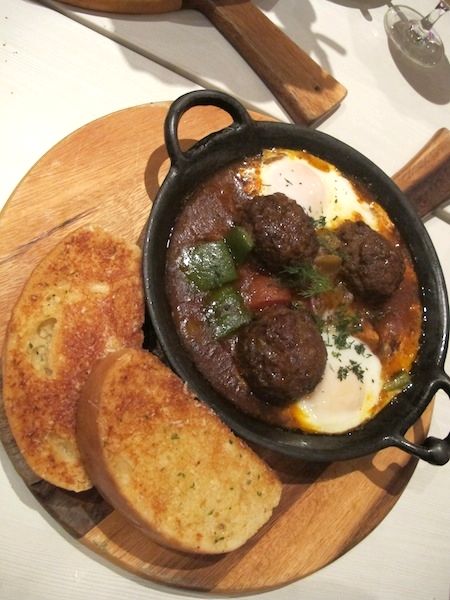 Round off your delightful meal with a colourful dessert.
A Berry Pancake Gala (S$12.90) features fluffy pancakes crowned with fresh berries as well as summer berries! You can also choose to sweeten the enjoyment with a choice of maple, mango, vanilla or strawberry sauce.
There are other sets that are waiting for you at the restaurant. Experience one of the largest range of brunch items, with prices from just $12.90 to $14.90.
MEDZS has set out to whip up dishes that are hearty and affordable. The dishes are priced affordably so that you do not have to worry about burning a hole in your pocket even if you decide to pamper yourself every weekend.
The restaurants' cozy and friendly settings also make them an ideal place for to enjoy tete-a-tete conversations. Visit Orchard Central for the underground buzz, and Millenia Walk to enjoy the spacious and alfresco setting.
MEDZS @ Orchard Central
Address: 181 Orchard Road, #B2-01 to 03 / #B2-30 to 43, Orchard Central, Singapore 238896
Opening Hrs: Monday to Sunday 11am – 11pm
Telephone: 6238 9028
MEDZS @ Millenia Walk
Address: 9 Raffles Boulevard, #01-46/47/55/56, Millenia Walk, Singapore 039596
Opening Hrs :Fri-Sat: 11.30am – 1.00am Sun-Thur: 11.30am – 12am
Telephone: 6337 7507