Sponsored
As our bali trip is drawing to an end, there isn't any better way to complete it apart from having a FANTASTIC closing dinner, right?! So here we are, at (I would say) easily the best Louisiana-inspired seafood restaurant, The Holy Crab.
Ask me if I think this restaurant need to do any form of sponsors to create any more form of awareness? I would say ABSOLUTELY not! This seafood restaurant is already a little celebrity of its own in Bali if you read up reviews online. Nonetheless, we were very priviledged and thankful to be invited for a food tasting with them.
So here we are at the doorsteps leading up to the restaurant after a short drive from our hotel in Kuta. I must say the restauant exterior does stand out admidst its relatively rural vicinity. Apart from its nicely-decorated & well-litted exterior, I appreciated the fact that there is always someone to receive you outside the restaurant. The waiters/waiteresses will take the initiative to welcome you warmly into the restaurant.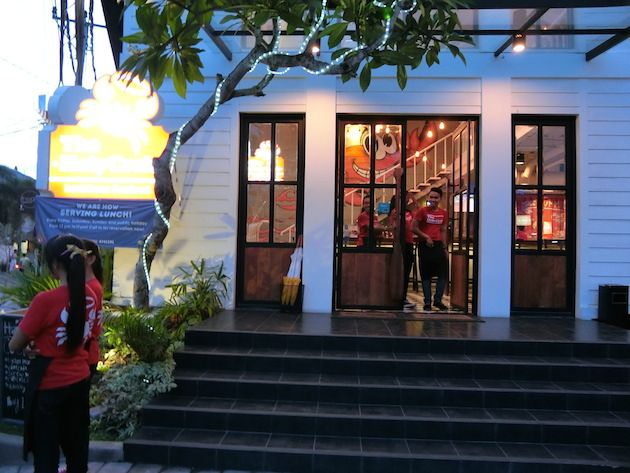 The humourous Lousiana air filling even its carpark area. So for those who drives, rest assured your car will be well taken care of while you enjoy the seafood delicacies ><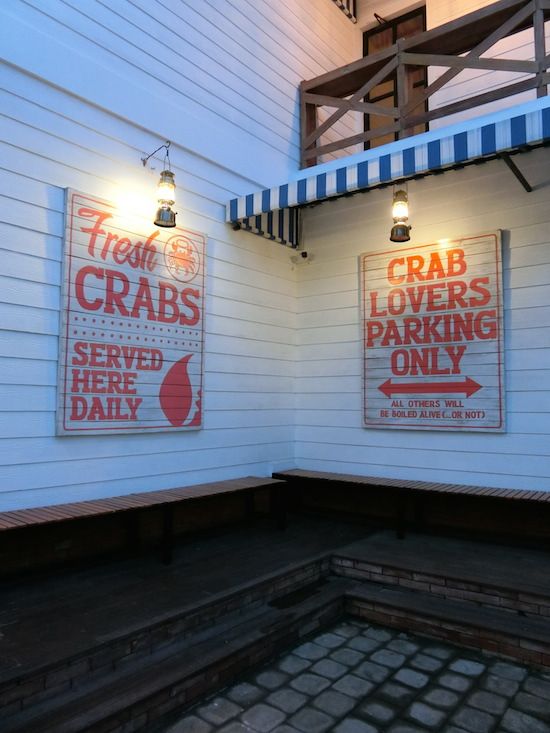 Here we are with our FEEDBACK on the restaurant's exterior! What you see is what you get! Two thumbs up! ><
Next question then is: What about the interior?
*LAGI CANTEK!* (which means EVEN PRETTIER in Bahasa Indonesia which thankfully i picked up during one of my Uni years 🙂 )
The most outstanding part of the interior would be this cheeky-looking Crab (potentially the Holy Crab itself maybe?) spreading all over the slab of wall next to the staircase that leads to the second storey. Being two-storeyed, I don't have to say much as to how spacious the interior was.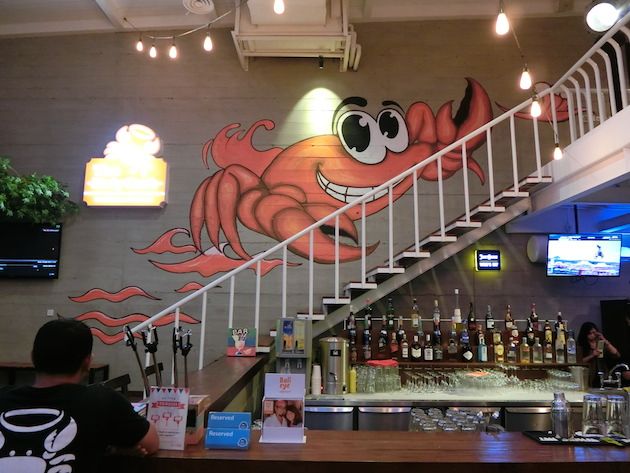 Nice contemporary checkered flooring & a well-equipped bar for those who seeks to fill their stomach with flavourful cocktails and mocktails instead of seafood!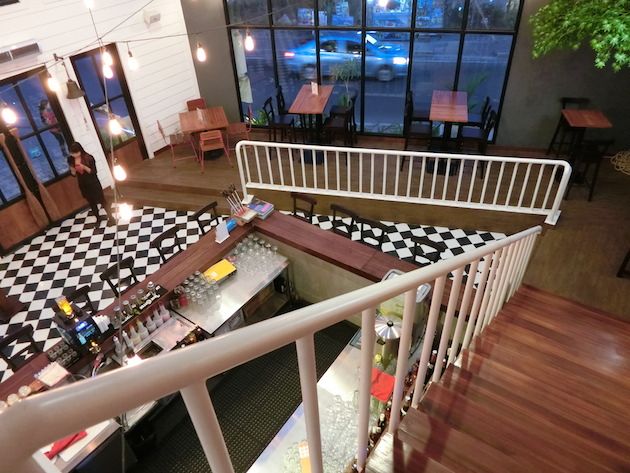 As we stroll to our table, the constant thought that lingered around my mind was… the dinner price tag!
Well, I know I shouldn't think of that since it was nicely sponsored for us. But who wouldn't think of that judging from whatever we have seen thus far!
Guess what! To our pleasant surprise, they offered bundle packages for 2-4 pax at very reasonable rates! (For oversea travellers eg. Singaporean like us, this price tag is considered very reasonable using a currency rate of SDG1 to 9k IDR. That is almost just $20 plus for the shrimp bag for TWO pax!).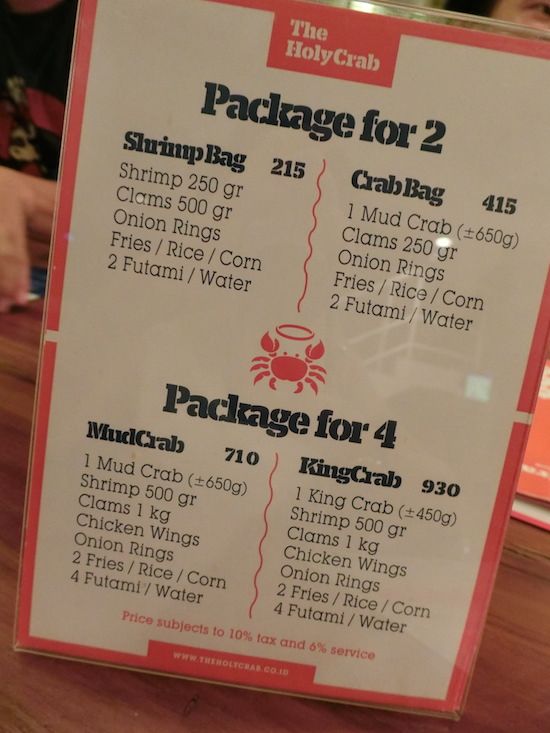 If that don't fancy you, then go for the Ala Carte in the menu.. There is a wide array of mains & sides to choose from the menu seeking to satisfy even the most picky seafood eaters!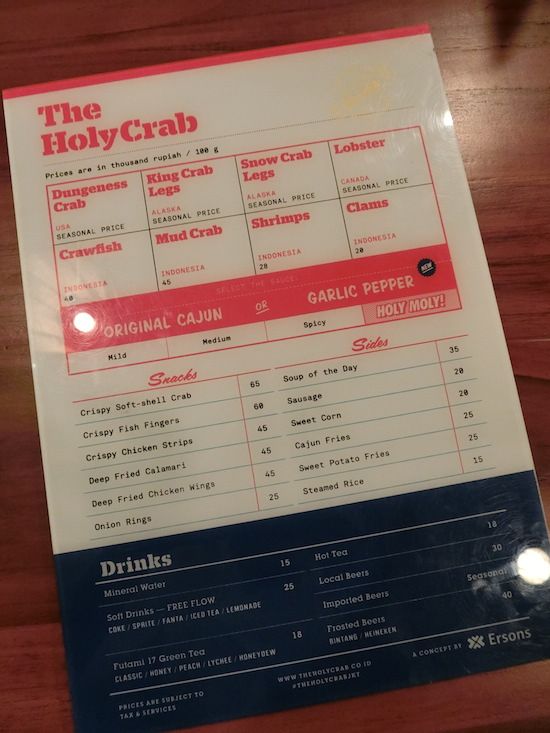 The Stars for the Night! Here, we have the Lobster, King Crab craw, Mudcrab, Crawfish and Snow Crab craw nicely laid out by one of the kind and patient waiter.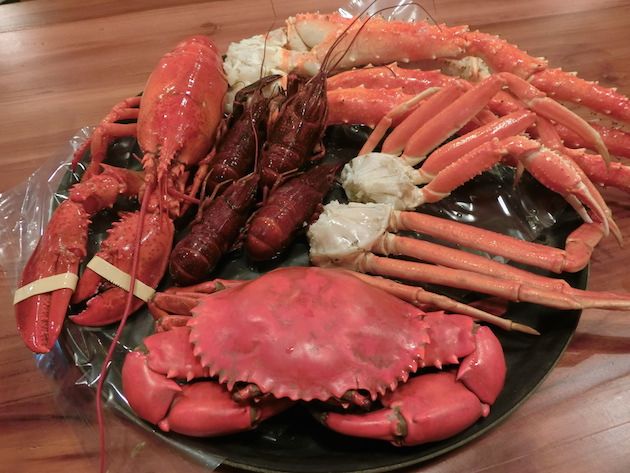 #FOTD time! *Snap Snap*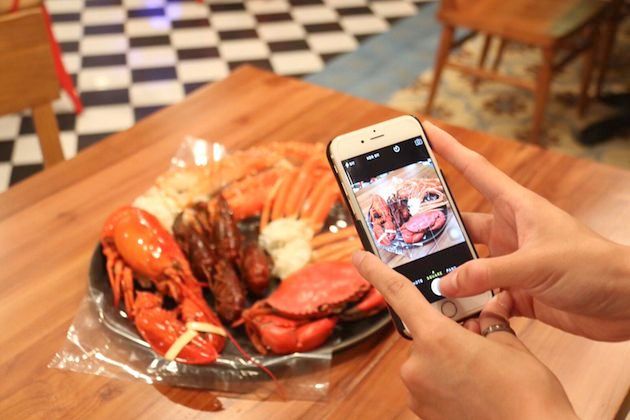 For me, I am particularly excited and facinated by the King Crab Craw at the top of this picture! Cos I have heard and seen so much locally but yet to try it ! In fact, I would think that is one of the more pricey ones of the lot (*if based on local Singapore pricing).
Finally, to our Grand Feast of the Night! Much THANKS to Rain, our pretty & professional host whom kindly prepared the menu for that night!
Notice also something REALLY interesting on our table?!
Why are all the food slapped on top of the table & where are our cutleries, waiter!?
This brings me to the SPECIAL eating concept of Holy Crab: They want you to TOTALLY forget about table manners, forget about your fork and spoons. In Holy Crab, it's all about the FUN & ENJOYABLE eating experience! In there, your bare hands and mallet are the tools of choice. *Period*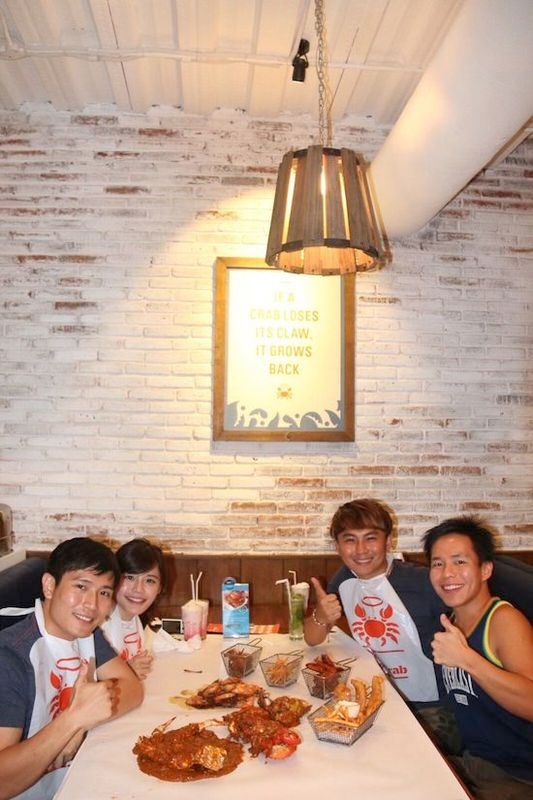 Some of the delicious sides that accompanied our mains.. Deep Fried Chicken Wings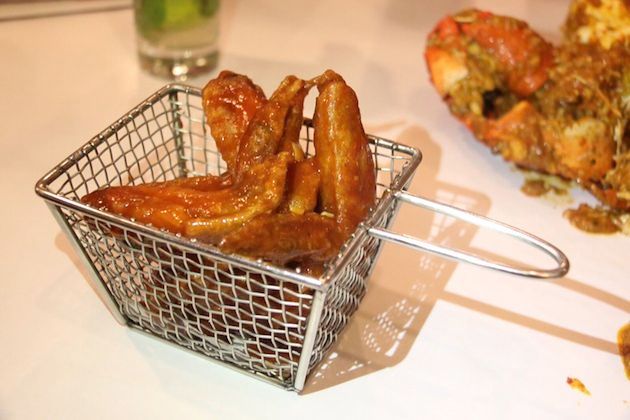 Shrimps in their own special sauces. We were told the sauces were invented by the Chef (who is also the owner himself after his stay in Lousiana)
M's Favourite! She kept harping that the Fish strip was the best she tried so far (Not just in Bali context! Including Singapore hor!)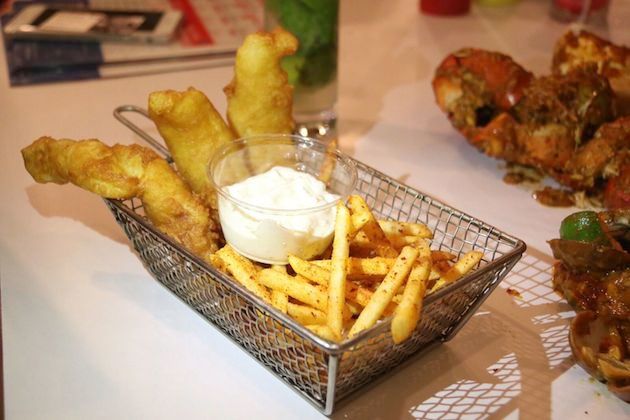 While she was busy getting smitten in the Fish Strips, I took my plunge into the long-awaited seafood! All mouth-watering seafood were served in their very own special spicy Cajun sauces! Here, we have…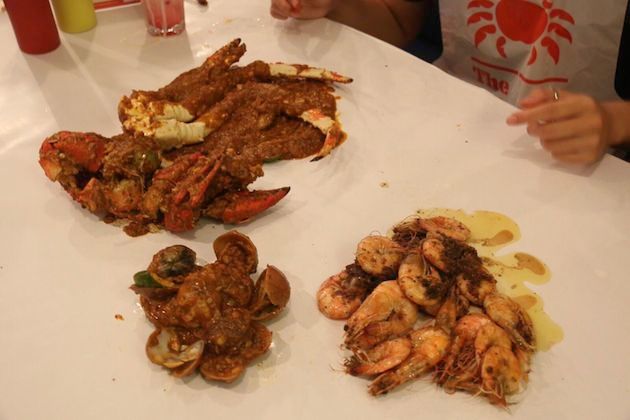 ..Clams..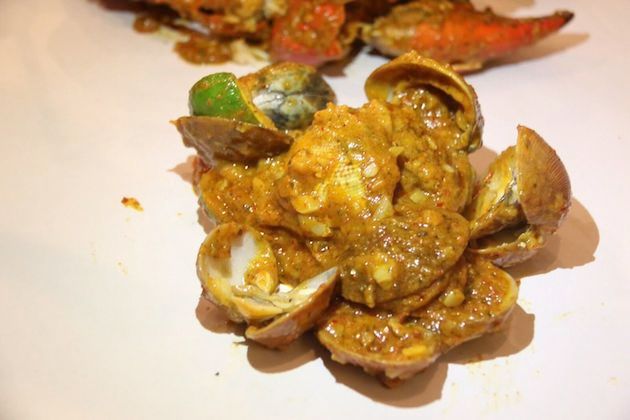 ..& my own personal favourite of the night : the King Crab Craw!  I must say the marriage between the fresh craw meat and the in-house sauces was almost flawless! Unfortunately, I do not have the mouth of a hamster, else I will store at least a table full of them in my mouth! Lol!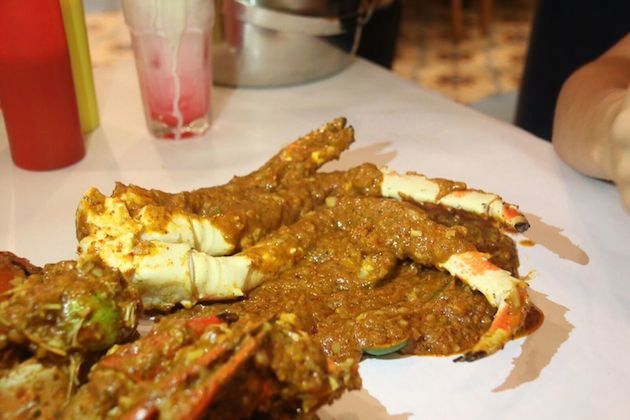 Also, Rain has kindly ordered their seafood in toasted bread for us! Comes in a variety of prawn or crab meat. Don't force me to choose between them, I would have no answer to that question cos both are equally as SEDAP SEKALI!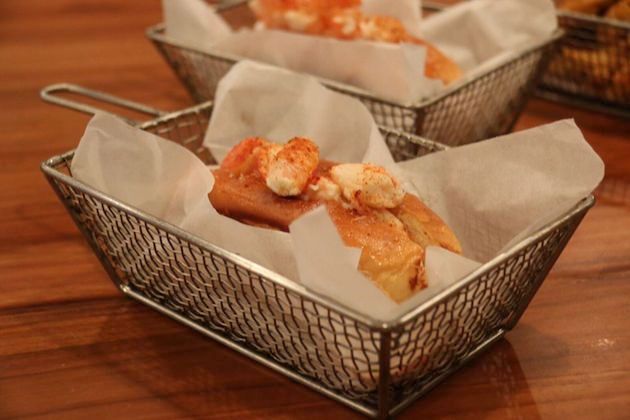 Another of my Favourite would be this palatable Crab Cake served with Fries.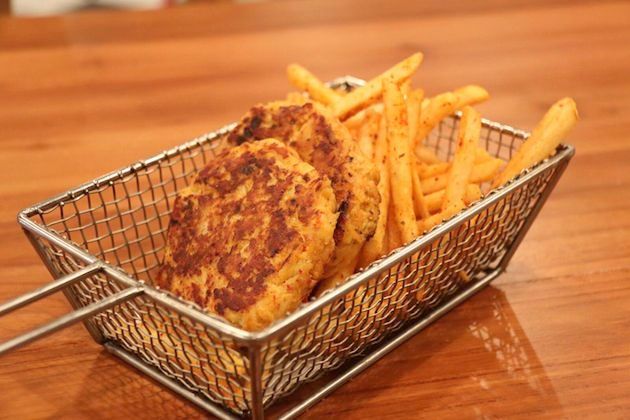 So much for the seafood! What about the drinks then?
Remember this is Bali! How can we miss out on their very own local Bintang Beer… & the best part served ICE COLD Chilled! Even their beer mugs were chilled in the freezer!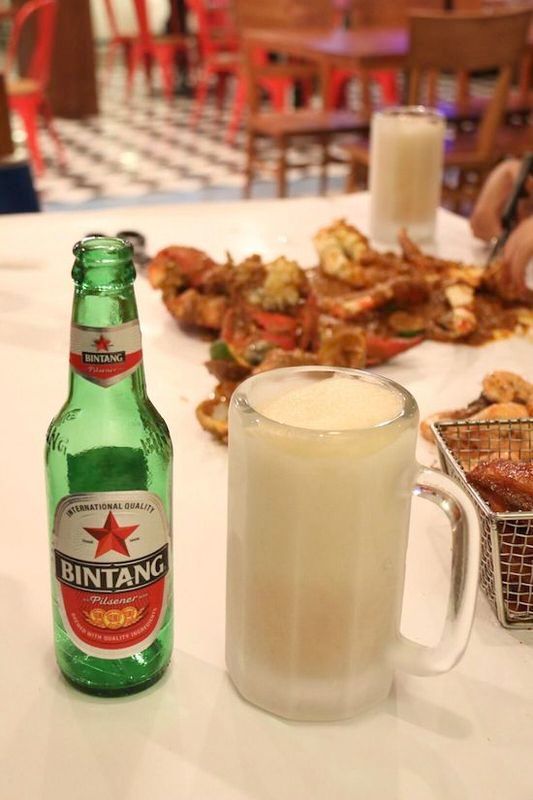 In summary, my first trip to Bali was an exceptionally fantastic one and largely it is because of the food they offered take for instances, what we had in Holy Crab. In fact, what Holy Crab offered was easily a notch above the other local food fare. I couldn't have asked for more in terms of the quality of seafood offered in there!
In Holy Crab, thre isn't any pretentiousness, you can just throw that facade of table manners away and be yourself to enjoy the best of seafood in the most flavourful & addictive sauces!
Location:
The Holy Crab – BALI
Jl. Petitenget no. 50
Kuta Utara, Badung
Bali 80361
+62 819 0122 2722
+62 819 0122-CRAB
+62 361 4741391
I will definitely be back when I visit Bali again!