How many of you use the appropriate wash for your body's most sensitive area? It is VERY important to use the right wash because you will never know how you would really smell down there. Your usual body soap isn't sufficient! They may not be able to maintain the usual pH level and this may in turn, cause infections.

Very often, girls do not see the importance of the wash until they are faced with the horrible experiences from infections, with yeast infection being the most common.
Infection can happen at any point in your life. And it is said that once you have an episode, you will have it again in the later part of your life. Your sensitive area is always enclosed by different layers of cloth and I bet you don't notice this, your vagina area sweats too! When it sweats, coupled with the heat and friction, it can lead to bad odour and itchiness.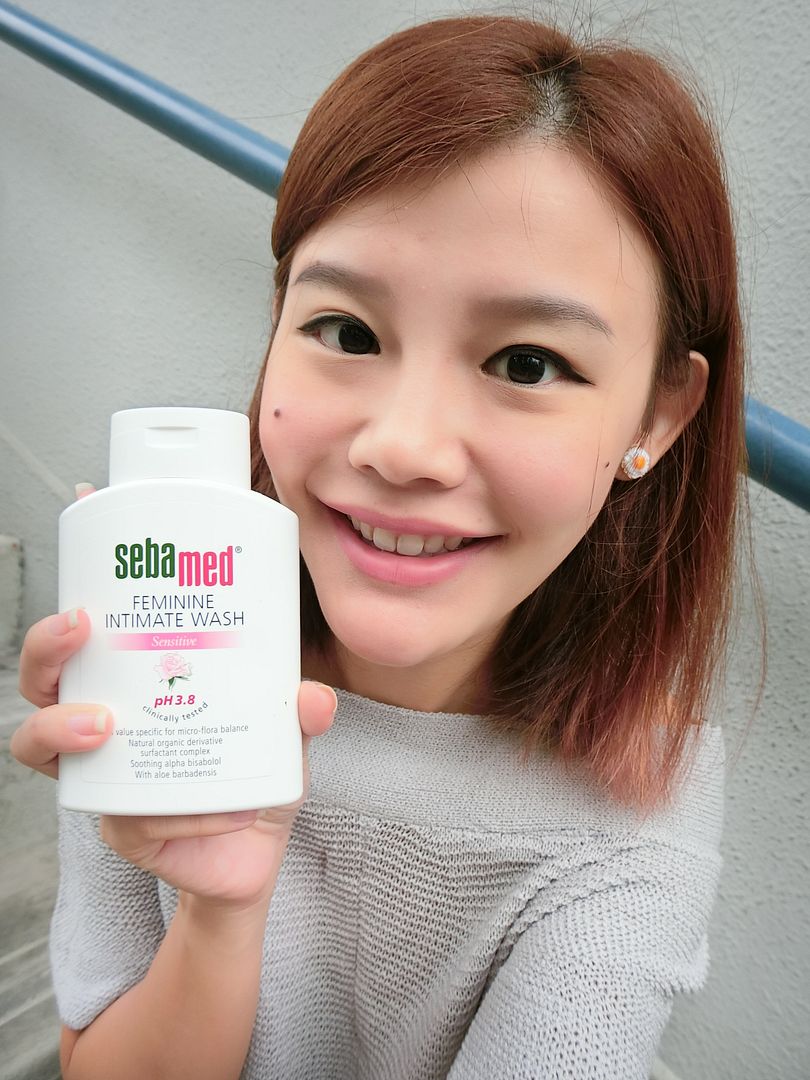 I tried Sebamed Intimate Feminine Wash during my period last month to experience the differences in the cleanliness, freshness and smell. We should be using it daily to maintain our feminine hygiene, even when you are not on your period. It's just that if you test it out during the time of the month, you will be able to see a drastic difference if you don't have the habit of using a feminine wash.

I was previously using feminine wash from another brand but I am more comfortable and attracted to Sebamed now because of its pleasant scent on top of the freshness it gives! Some wash smells medicated sooo… I definitely will opt for this pleasant scent anytime! What's more, it is clinically tested so rest assured that you are well taken care of.
If you think adding another step in your usual bath routine can be a hassle, it is not! In fact, this additional step will take you less than a minute … just a couple of seconds daily, you are well protected from infection, as well as freshness all day and most important of all you are completely confident that you are free from odour!

It is very easy to use a feminine wash. Just reach out for the bottle, squeeze out a small amount (about the size of a 10 cent coin), lather with water and start cleansing your sensitive area and rinse!






Sebamed Intimate Feminine Wash comes in two different pH levels – 3.8 and 6.8 and I am currently using pH 3.8.

For us at our age, it is recommended to use pH 3.8 while matured ladies approaching menopause or onset menopause can reach out to pH 6.8. This is because your body's hormonal changes as you age, and so does the pH level of the area.

Sebamed Feminine Intimate Wash Sensitive pH3.8 contains chamomile and aloe vera extract, providing moisturizing and anti-inflammatory properties. While the pH6.8 Menopause, besides adjusted to the appropriate pH 6.8, it also provides moisturizing and anti-fungus properties.






If you are interested in trying out the wash, here's an exclusive promotions for my readers on Qoo10:

Get a free Sebamed Shower Gel Grape Fruit (worth $19.80) when you buy a bottle of Sebamed Feminine Wash (200ml) at $17.45.

What is this right?!?! The free gift is cheaper than the wash itself!!

It is for REAL! Privilege for being my followers!

But don't forget to quote "Reader of Maybeline Sim" when you make this purchase if not, you will not be able to enjoy this promotion!!

For pH 3.8: http://list.qoo10.sg/item/SEBAMED-SEBAMED-FEMININE-INTIMATE-WASH-200ML-PH3-8-SOAP-FREE-SENSITIVE/420456004

For pH 6.8: http://list.qoo10.sg/item/SEBAMED-SEBAMED-FEMININE-INTIMATE-WASH-200ML-PH6-8-MENOPAUSE-MENOPAUSE/420456022?sid=141000

Follow them on Instagram (@sebamed_sg) or Facebook for more information! You can find them at facebook.com/sebamedsingapore ☺

Remember to take good care of your sensitive area!