Oasia Hotel Downtown has a interesting concept that we really love. Even though we are right smack in the middle of the city, it felt as though we were in a resort.

There are two check-in lobbies with one for the normal rooms and the other for Club rooms. We stayed at their Club rooms for the weekend. If you need a getaway from the buzzing Singapore life, I suggest you to do a staycation at Oasia Hotel Downtown because it can really make you feel like you are on a holiday.

"Set against an urban landscape of concrete, steel and glass, Oasia Hotel Downtown stands out with a unique silhouette covered by a lush green façade that is a massive vertical garden. This greenery is enhanced by alternating 30-metre tall sky gardens and sleek architectural details to form a tropical skyscraper in the Central Business District.

The 27-storey iconic business hotel is located in the downtown Tanjong Pagar area which is set to be transformed into Singapore's next waterfront city with a hive of business, commercial and residential activities. With Tanjong Pagar MRT Station right at the hotel's doorstep, guests are minutes away from Raffles Place, Clarke Quay, Sentosa, Orchard Road and Marina Bay." – http://www.stayfareast.com/en/hotels/oasia-hotel-downtown-singapore

Let us start on the surrounding, if you look at the two pictures below, you will be able to feel what I meant by resort. There is also a lawn right in the middle of the lobby where guests can practice Yoga in the morning. The hotel believes in Refresh, Recharge and Refuel.

Creepers are also seen everywhere on the external structure of the building. In another few years, the creepers will grow all over the outside to give off an even more resort feel!






I love the huts especially. I am not too sure if I have seen it at other hotels yet but this idea is simply amazing! I can spend hours and hours there.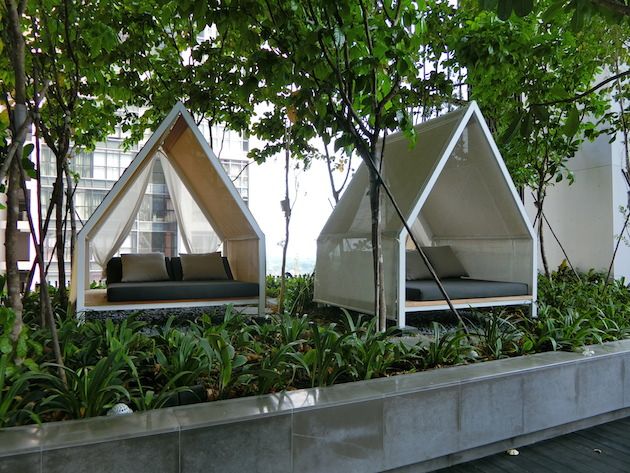 For the Pools & Gym – There are 3 pools in total with 2 mirrored pools located right at the highest level (Level 27) and one at Club Room level (Level 21).

The infinity swimming pool on Level 21 is only exclusively open for guest who are staying in Club Room. Our favourite spot is right at the end of the infinite pool where we can rest and relax while watching the urbanized city from far. We even got some nuts from the Club Lounge while enjoying the serenity at the pool.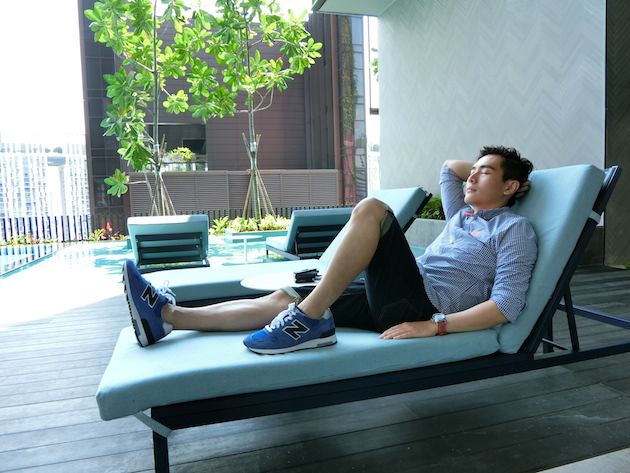 Here's a full view of the infinity pool taken during sunset (image taken from Far East website).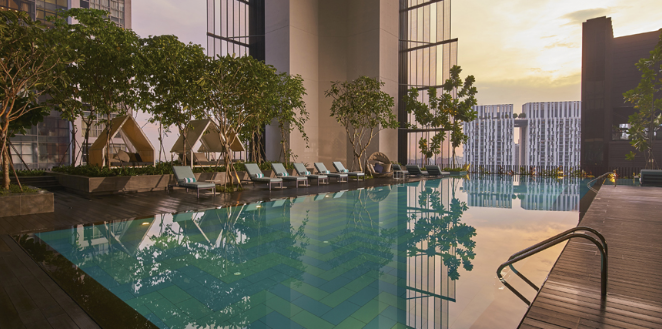 The swimming pools located on Level 27 are extremely pretty as well. We couldn't help but swim at both pools. They are called mirrored pools because there are two exact looking pool at both ends – one with sunlight and one without.

Isn't this smart? Me, of course, will only be seen at the pool without sunlight.

The swings made the hotel look less urbanized. It felt like me going back in time too. Back to my younger days where stress was nothing.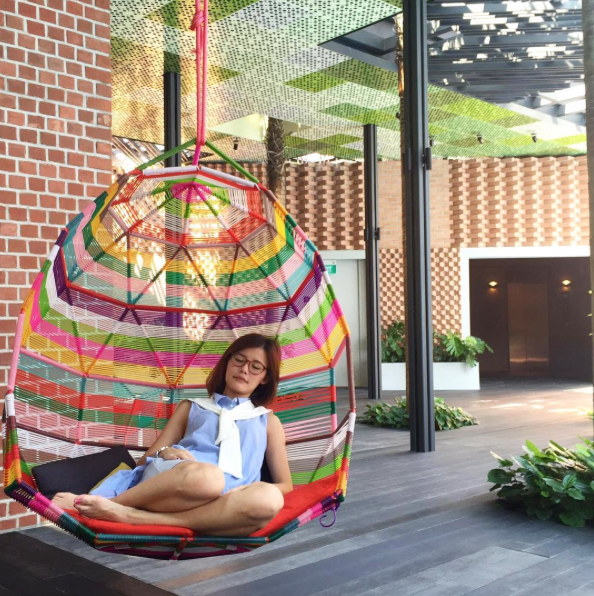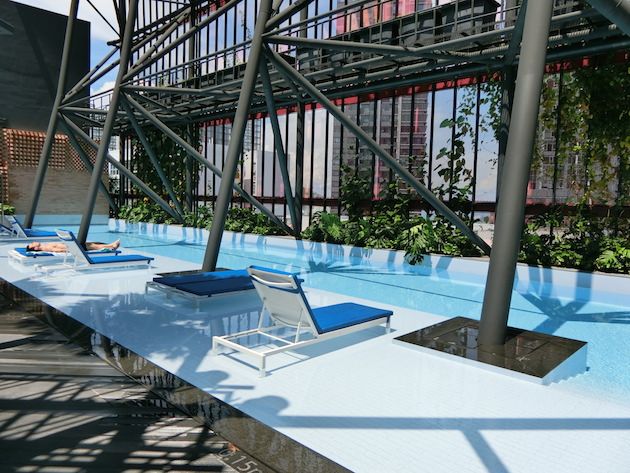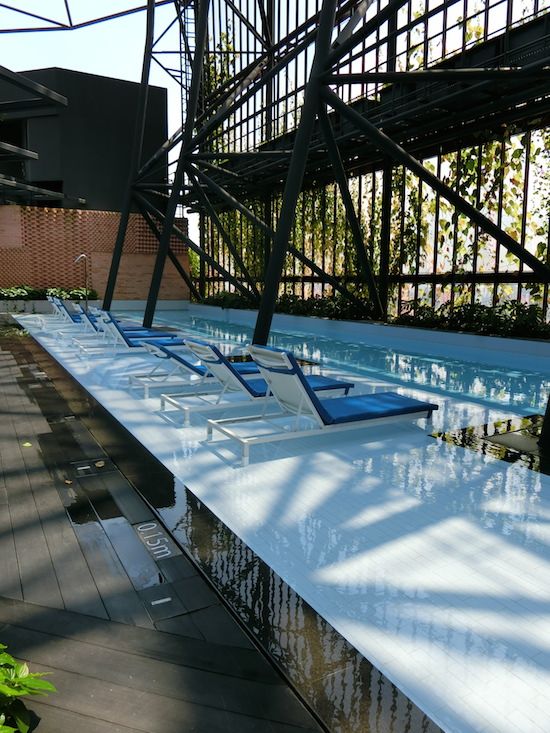 James even brought his laptop down to work by the pool.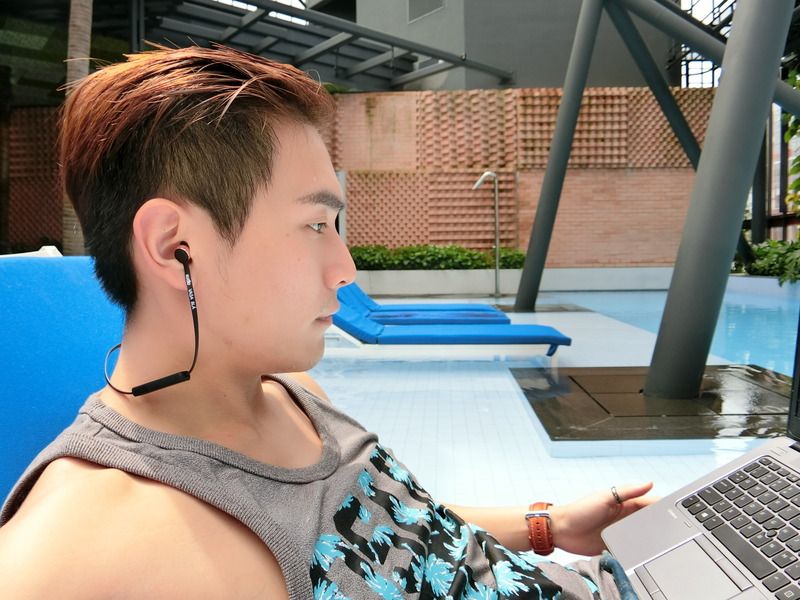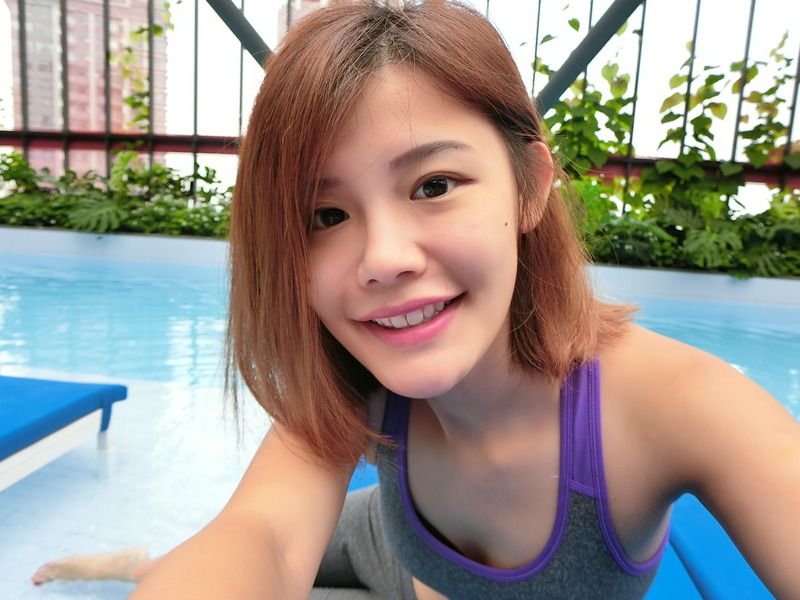 The Gym is open 24 hours a day. So at any point of time where you can't sleep or need to work out after a feast, head over for some exercise!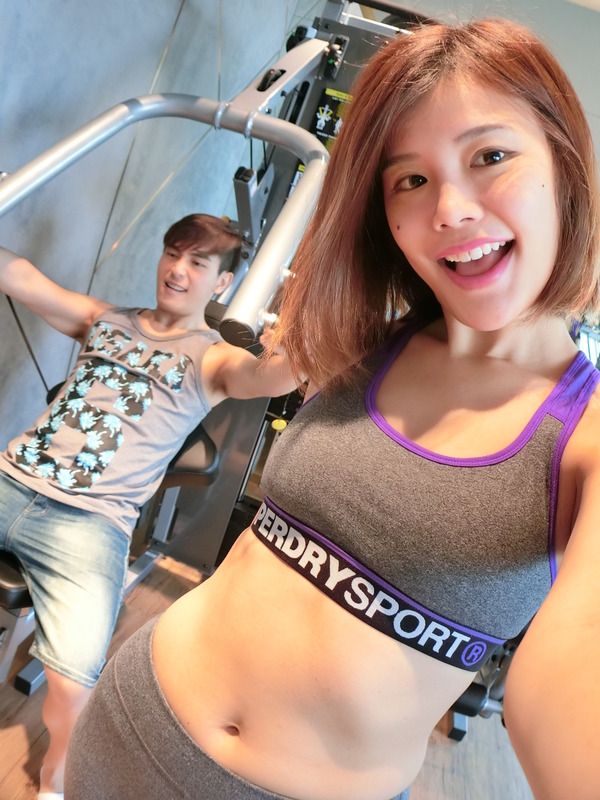 For the room wise, the room is as spacious as expected. Club Room comes with a pool view. Not only that, there is also a small bottle of complimentary pillow mist for the guest. This is to ensure that you will be able to completely relax your mind and have a good night sleep.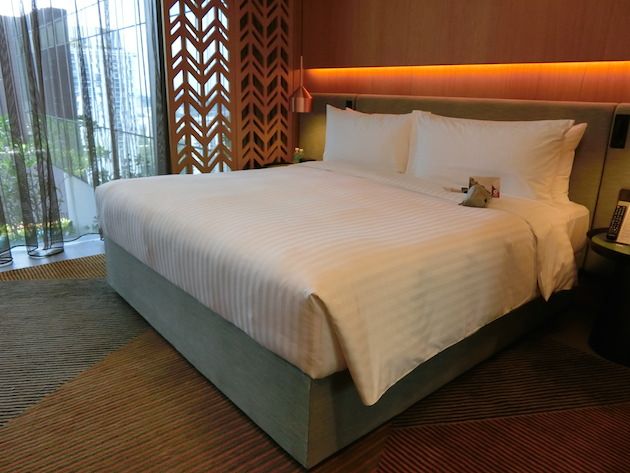 Premium Biology amenities from Australia were also provided so you can keep your usual shampoo at home. Oasia Hotel Downtown only give you all the good stuffs. Iron, ironing board, bathrobes and hair dryer are all provided as well.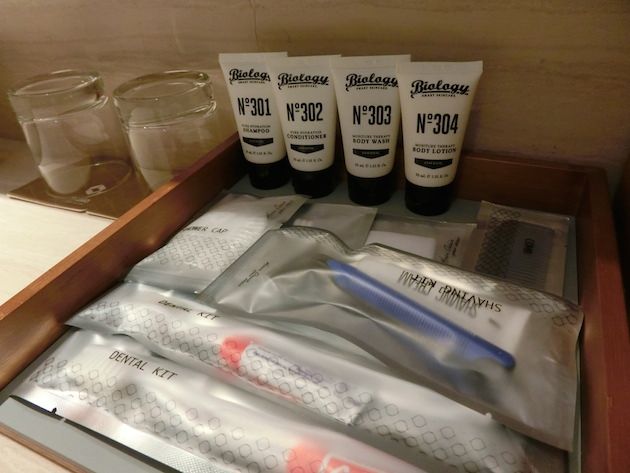 The wellness drinks in the fridge are also complimentary. James was delighted when he saw Perrier Water and Coconut Water.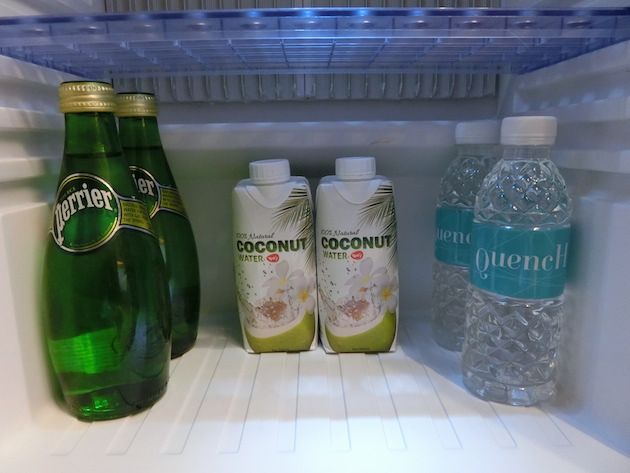 All Club Room comes with bathtub. You can choose to close or open the door while soaking. Leave it open and you can enjoy your movie while you soak yourself after a long tiring day. I absolutely love the wood decor because it gives off a very homely yet resort feel.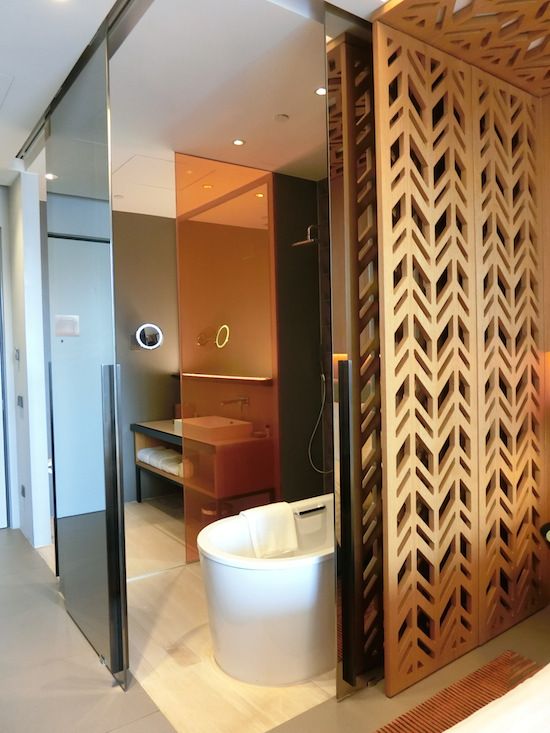 Breakfast starts from 7am to 10.30am everyday. We chose to have our breakfast at Club Level instead of heading down. I like how we can order our eggs – scrambled, omlette, sunny side up – on the spot. Served hot and fresh!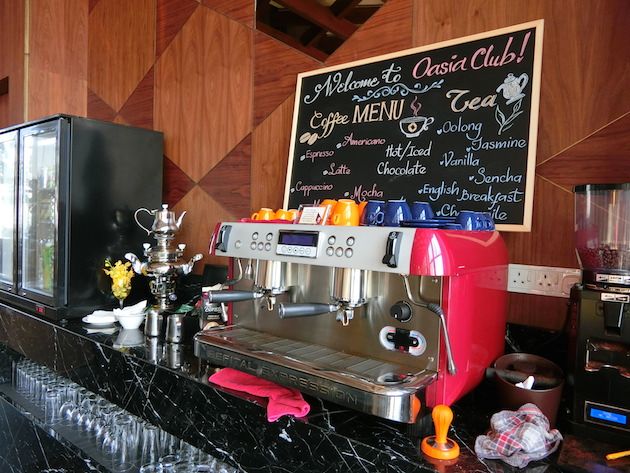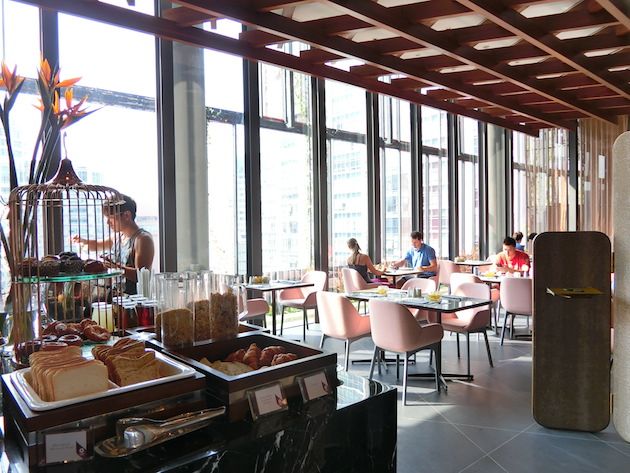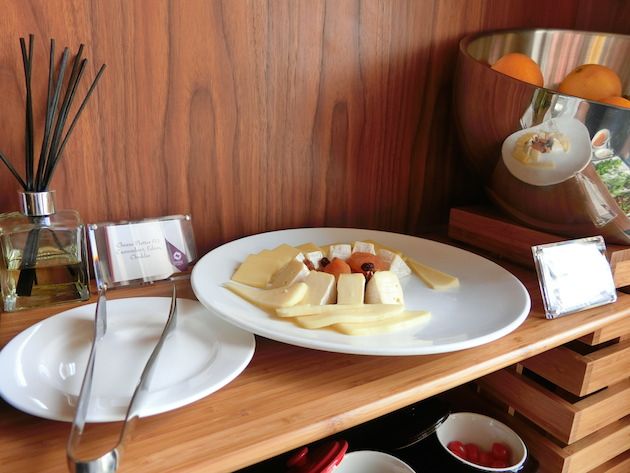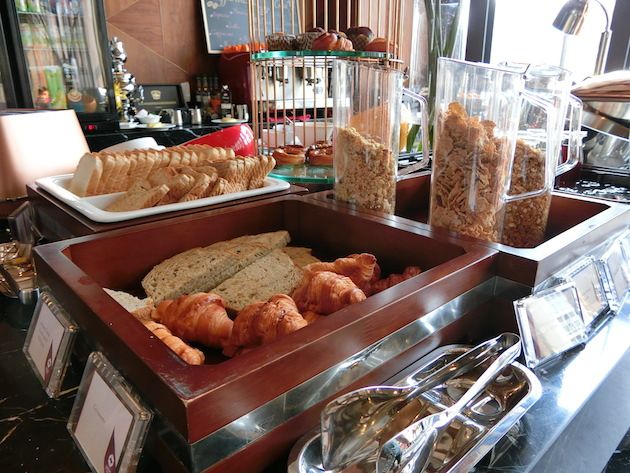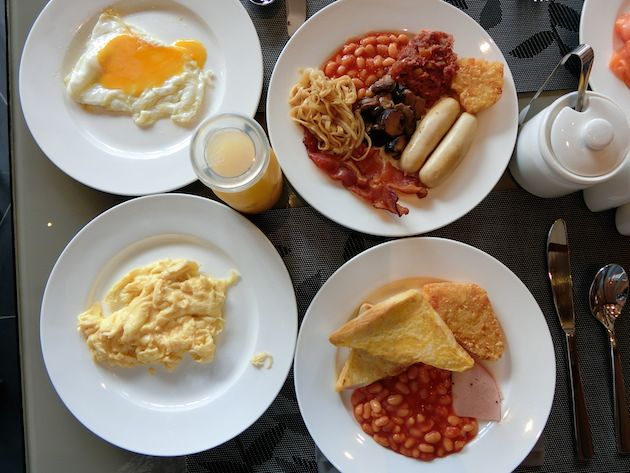 Cin Cin is located at Level 1, just right underneath the hotel rooms. Pop over anytime you need a quick drink.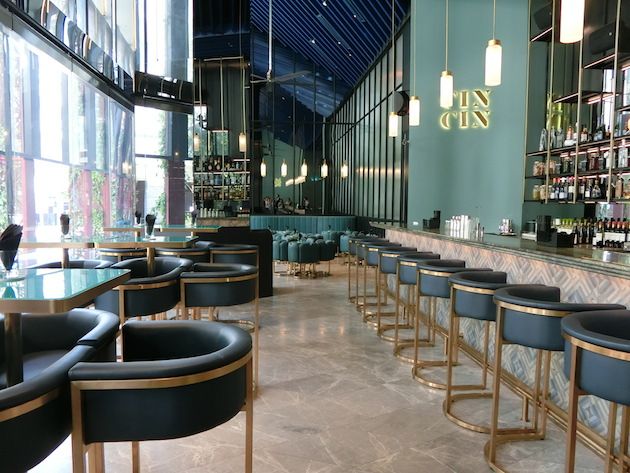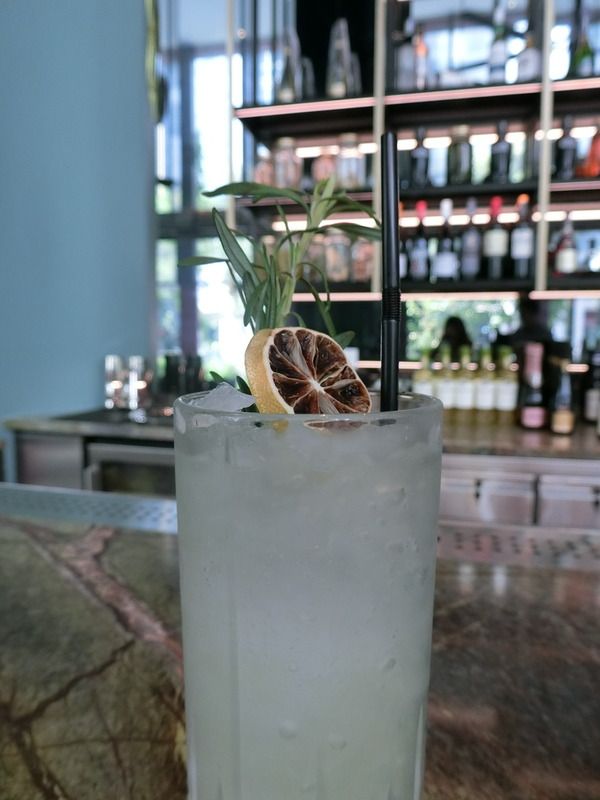 Other services that comes with a stay in the Club:
Complimentary evening cocktails and healthy canapés from 6pm to 8pm
Nespresso Coffee Machine with Tripod Coffee capsules and TWG Tea
Complimentary 13-seater shuttle from 8am to 9.40pm to 77 Robinson Road, Marina Bay Financial Centre and Battery Road (available on Weekdays only, reservation required)
Complimentary hop-on hop-off city tour to discover Singapore
Two hours of airport lounge access at any Changi Airport Terminal
You can also find The Mamalade Pantry at Level 1. I missed dinner because we were out with some friends.

As for the services, the staffs were very efficient and detailed and so was the complimentary WIFI. You know I get very irritated when the WIFI is laggy because it can affect people who are on work trips.

FYI, there is also an on-going promotion where some rooms are at 50% off! Hop over to http://www.stayfareast.com/en/hotels/oasia-hotel-downtown-singapore for more details!

Oasia Hotel Downtown, Singapore is located at 100 Peck Seah Street Singapore 079333.

Contact: +65 68126900

Nearest MRT: Tanjong Pagar.

Places to eat near the hotel: Famous Ramen Keisuke at 1 Tras Link.