Leaving Singapore with a Heavy Heart? You will be spared of this agony from the 29th April 2016 till 9th June 2016. This is very much owing to the first ever collaboration between Changi Airport Group, Shilla Duty Free & most importantly, HUGO BOSS!

This is part of the fourth iteration of BOSS Parfums' ubiquitous Soccer Campaign: 'SUCCESS ISN'T BORN, IT IS MADE'. Simply love this humble yet impactful tagline! Personally, I think it should seat in as the epitome of every Mens' success!

With this campaign, came the birth of the 'BOSS #SUCCESSISMADE STADIUM' situated at the departure transit area at Changi Airport Terminal 1! In fact, you will spot it easily once you crossed the passport check point! Here, you get to immerse yourself in a wonderful combination of retail & entertainment experiences!






Still feeling the rush of excitement upon recalling some of the entertainment at the 'Stadium'!

One of which is the 'DIGITAL PENALTY SIMULATION' which even M who does not play soccer, couldn't resist giving it a shot! I must say she does have some talent in this, scoring a good 2 out of 3 goals on her first tryout!

With that said, it really isn't an easy feat! Try it if you don't believe! If you do as well as M did, you might just get lucky with some attractive prizes autographed by international soccer superstar, James Rodriguez !






M & I saved our friendly couple competition for the second station which is the 'BOSS FOOSBALL GAME'.

Time just slipped by unknowingly as we unleash our soccer prowess through our nimble hands & fast reaction! Just don't get distracted like we did and totally forget about your boarding gate timing!






Enough of the entertainment for the time being. Let's go on to the Retail aromatherapy !

You cannot mention about HUGO BOSS without conjuring that top of the mind recall of its fragrance especially their BOSS BOTTLED range!

If you ask me about my personal favorite perfume, it just had to be their 'BOSS BOTTLED UNLIMITED' in its beautiful porcelain white bottle! I like how fresh & invigorating the scent is from its top notes right down to its base notes.

Shedding some lights on how its notes evolve. The top notes which you inhale immediately upon application is slightly minty as delivered by the Iced Violet Leaves.  With that, you will be lured into a smooth transition to the heart of this fragrance which is a relatively uncommon zesty Pineapple tone. Dwelling a little longer through the day would be the all-time favourite Sandalwood & Musk base notes!

Undeniably, the combination of these three level of notes exactly hit the right note for a perfectly masculine scent all gentlemen desire!






James Rodriguez of Real Madrid F.C takes the centre stage for being the Latin America and Asia ambassador for HUGO BOSS Bottled Unlimited!

Accompanying him are other big boys in the Soccer world such as Yohan Cabaye and Robin van Persie who will represent campaigns in France and the Netherlands respectively, whilst Daniel Sturridge, Mats Hummels and Isco will front the global campaign.






Back to the Final entertainment: 'THE ULTIMATE BOSS PHOTO OPPORTUNITY'.

In short, the 'Stadium' is constructed in such an interesting fashion that you can get to capture yourself in some of the most intense moments of a soccer players as he prepares for success on the pitch at the Entrance tunnel (in this case shaped like the BOSS BOTTLED) and….






…even the locker room setting!

To be a Soccer Star or Perfume Star, you pick!!

For me, I like the best of both worlds that explains the two ultimate goodies in my hands, the BOSS BOTTLED UNLIMITED in one while a soccer ball personally autographed by James Rodriguez in the other!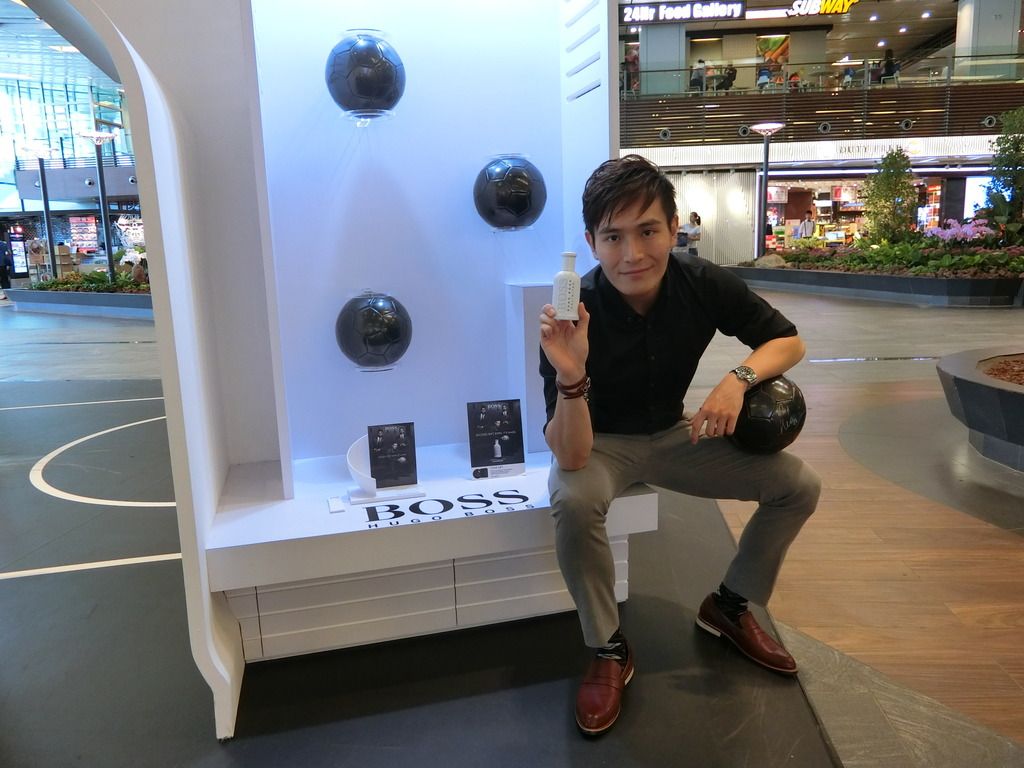 The Eau de Toilette 100ml is retailing at $128 while the 50ml one retails for $102.

Ironically, BOSS BOTTLED UNLIMITED is only limited for a time period. While it last, it might just be the perfect gift for the men in your family especially your father for the nearing Father's Day! So don't miss it!