Does any of these words resonate with you when it comes to the dining table: "Spicy", "Si Chuan", "Cantonese", Bean Curd" & "Dim Sum"? If any of these do, then this chapter on Nostalgic Dim Sum Buffet @ Shi Chuan Dou Hua, PARKROYAL on Kitchener Road is probably the right one for you!

Background of the Restaurant & Si Chuan Cuisine

The Si Chuan Dou Hua comprised of a group of restaurants and is well-known for not just the authenticity but also quality of its Cantonese & Si Chuan cuisines. This one which we had our food tasting at is nestled in the heart of Little India & a mere 3 minutes walk from Farrer Park MRT Station. To be more exact, it is directly opposite City Square Mall.

The restaurant most noticeable with its award-winning interior design accented with shiny gold oriental lattice & beautiful Asian artefacts.

But what is more impressive is its extensive menu which includes a wide array of exquisite handcrafted dim sum delicacies & Si Chuan dishes, making it the ideal dining experience for family & friends. By wide array, I mean they have as many as 50 dishes for you to choose from for this Buffet menu!

Before I start introducing the food proper, let me share an interesting fact which allow you to have a better appreication for the Si Chuan Cuisines. I think most would know that Si Chuan food are challengingly spicy.

But ever wondered why they are made this way?

It is because Si Chuan is part of a mountainous region where there isn't much sun. Thus, the only way the natives there could keep themselves warm is via infusing spicy chilli and pepper into their delicacies!






With that, let the "heaty" introduction begin with the exterior of the restaurant: Simple & easily noticeable with a friendly attendant always ready to receive you!

One of the key highlights of dining at Si Chuan Dou Hua is the popular Tea performance born from Sichuan and Zhe Jiang, China. While waiting for the main dishes, a skilled Tea Master will first serve the patrons tea through this long-nosed bronze kettles. He was able to deliver it with such grace & precision, I could hardly imagine him missing!






Then came the food…

Double-boiled Cartilage soup. One of the restaurant's signature dish. A highly-nutritious soup that seeks to awaken your taste buds! Even though the ingredients are simple, but they all combined so perfectly to give rise to this thick,  flavourful yet not overpowering broth! I would say this is one of the MUST TRYs.

Unfortunately, it is so good & treasured that it is one of the two items in the menu that is served ONCE per pax.

*Suggestion: Make every mouthful count for this one!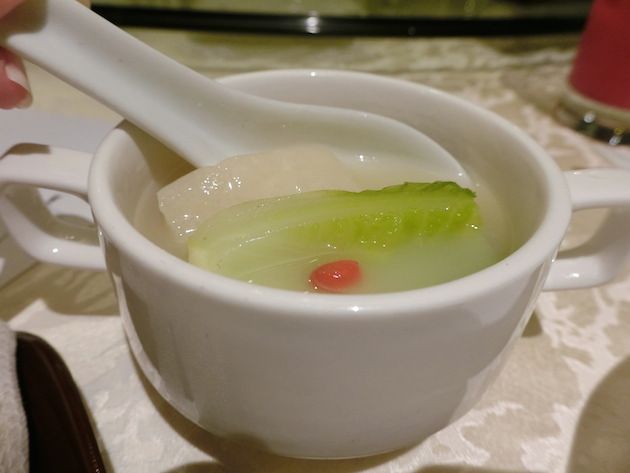 Warm up time over! Here are some to excite your taste buds & palattes!

Sliced Pork in Garlic & Chilli Sauce – To cater to the rising local demands for healthier food, lean pork is used. As a meat lover, I could not help having quite a few slices of these fragrant & tender meat.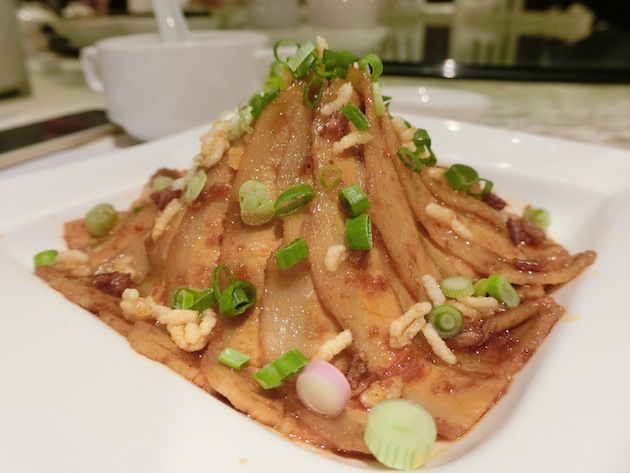 Sea weed with Shredded Carrot & Radish in Chilli Oil






The other MUST TRYs in the house would be this Signature Pork Belly Roll with Yam. In Chinese they called it 那些年烧腩卷 ! What a catchy name!

But what's even more catchy is the taste of this dish! I would say they made the pork belly so well-infused with the Yam & Mantou that it just melts upon the first bite! As such, the texture is good! And definitely very palatable!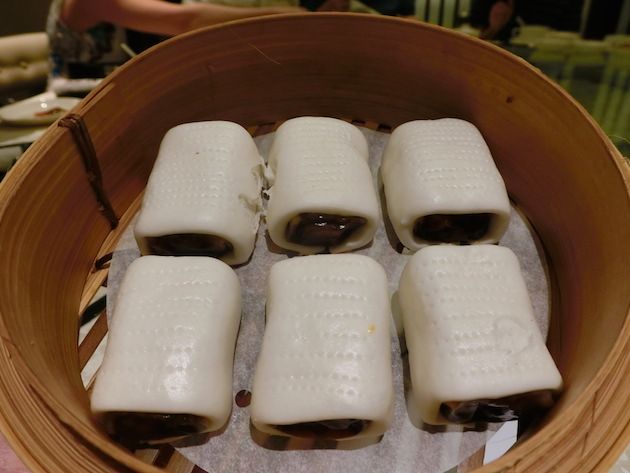 Combination of Soya Chicken, Teow Chew Stewed Duck & BBQ Pork Rib – The other dish which will only be served once! So treasure this one as well!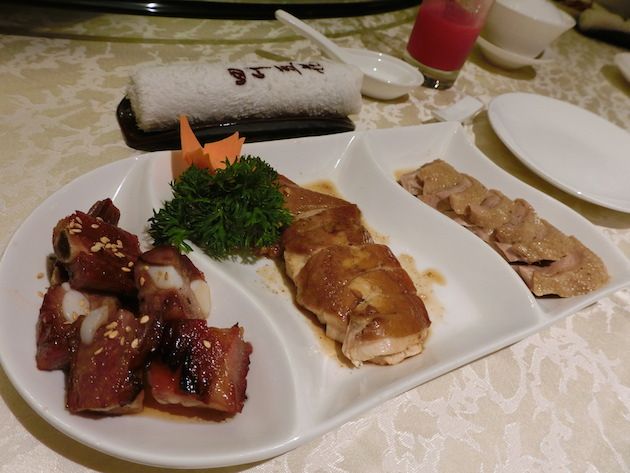 Pan-fried Beancurd Skin Roll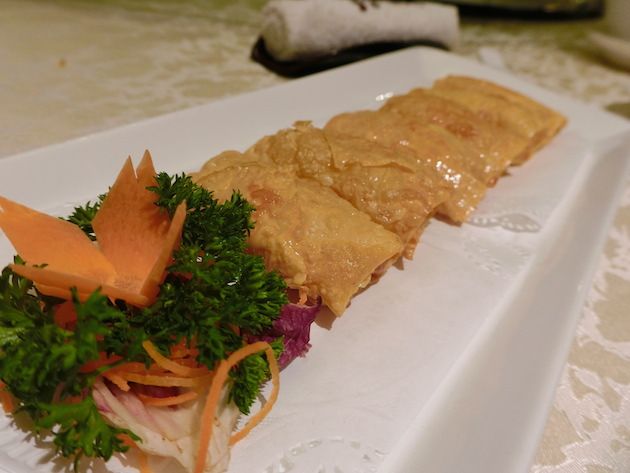 Fragrant Yam Cake with Waxed meat –  Speaking of Innovative, this dish definitely is on that list! It might look like roasted pork. But the taste is far more unique than that! If you like Yam, this is one not to be missed!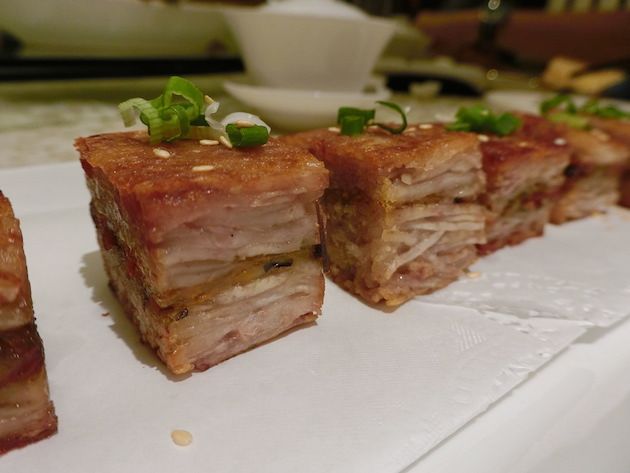 "Siew Mai" with Diced Abalone –  The Siew Mai doesn't get more exquisite than the one offered here! A Diced Abalone on it!

Wonder if it spoils the taste or probably a weird mix? Not at all! The marriage of abalone to Siew Mai further enhances its crunchiness! Good move, Chef!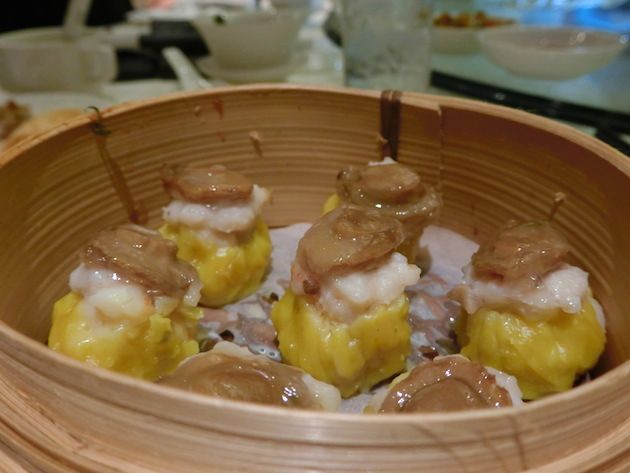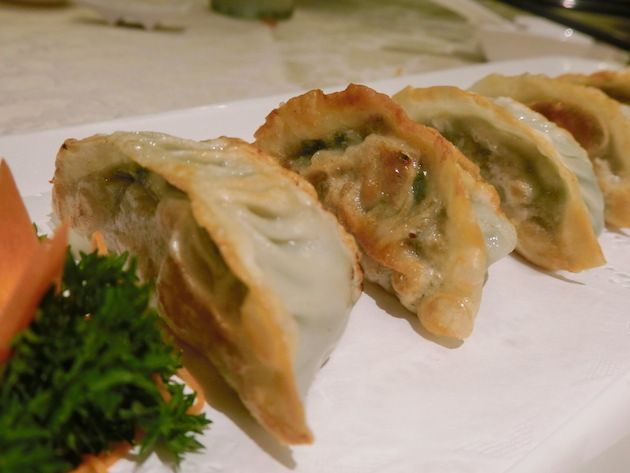 Bean Curd in Spicy Minced Meat sauce – How can you have Si Chuan food without ordering its most signature dish! I like the version offered here as it has a heavier soy taste in the bean curd. Also, there is a subtle yet not overpowering tinge of spiciness to this dish! I would think they have made it "friendlier" so as to cater to local taste buds! Would definitely advised to be paired with rice to elicit a more balanced flavour!

*One quick note: All the tofu used in Si Chuan Dou Hua is formulated with a special recipe to give that unique soy taste.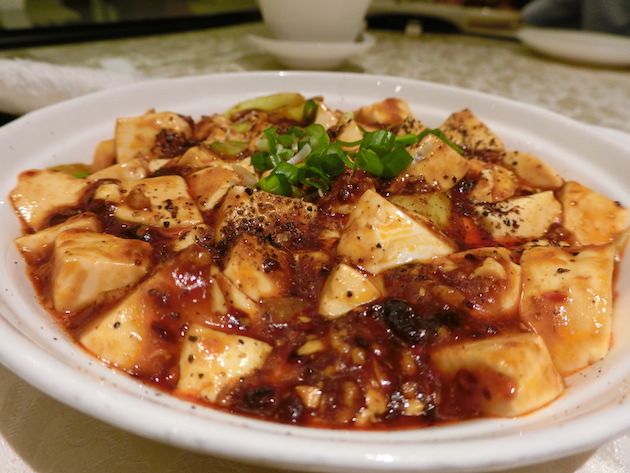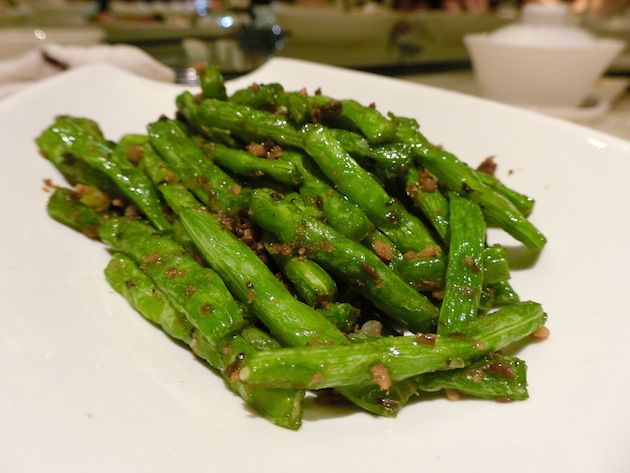 Steamed Yam Paste Bun with Salted Egg Yolk. This is the Dim Sum Maybel loves the most. So much so, she wouldn't mind thickening her skin to request for an extra serving! Very beautifully made with twirls of purplish Yam!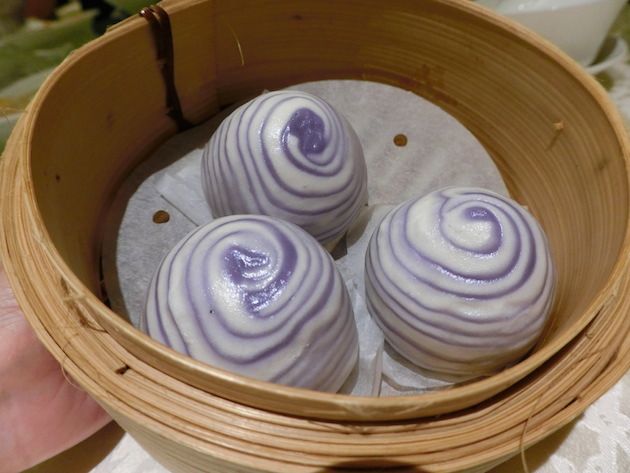 Concerns for our SG-50 patrons of it being too sweet?

Rest assured! You have more to worry about the cholestrol in that egg yolk than the mild sweetness for this one. In fact, this could just be the best dish to impress your elderly at home! 😉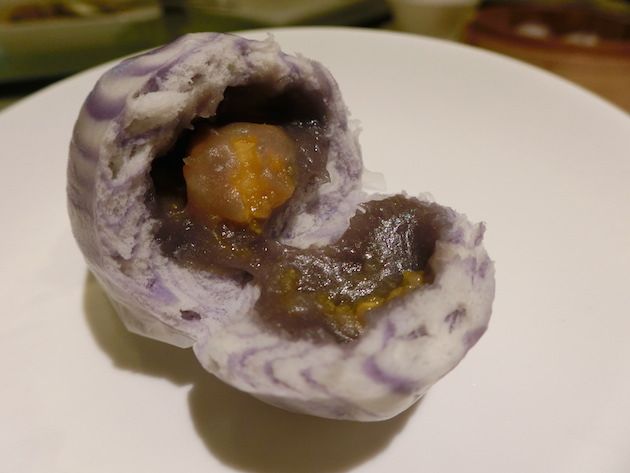 Braised Pig Shank in Vinegar & Ginger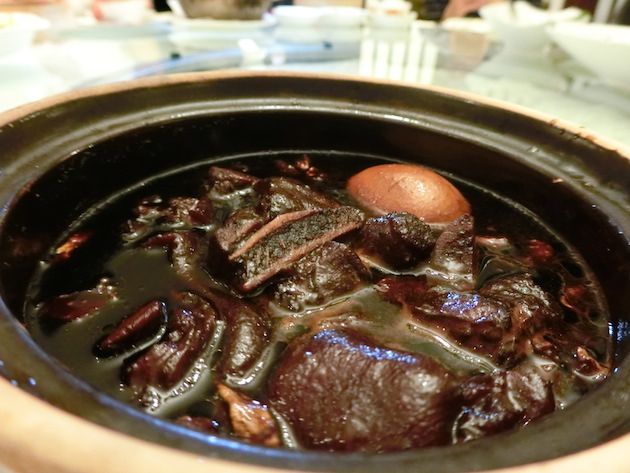 Pan-fried Carrot cake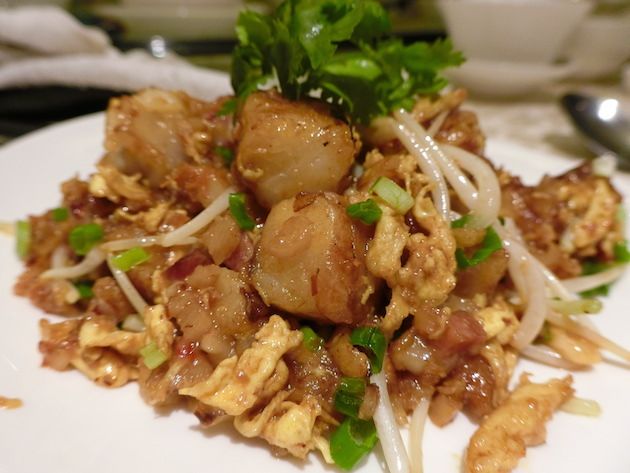 The list just runs on and on… We had SOOOoo Much! It is the first time my stomach ever held up a white flag! But I still couldn't help fueling my stomach further simply because their food is so tasty!

Nonetheless, we still have a draw a full stop to this fantastic(Till Far) dinner

Can't say till I tried the desserts right?!

Our stomach could take only 2 more at best! So here are the two recommendations from us:

Homemade Bean Curd with Wolfberry. Their Signature dessert. One mouth & you will see for yourself why it is deserving to be called the Signature.

The Beancurd is specially made with their In-house recipe & it is so smoooooooth & soft, it could hardly hold itself within your mouth! The wolfberry added a much-required tinge of sweetness! Moreoever, the dessert is so 'light', you almost do not feel the calories pressure from ingesting this one!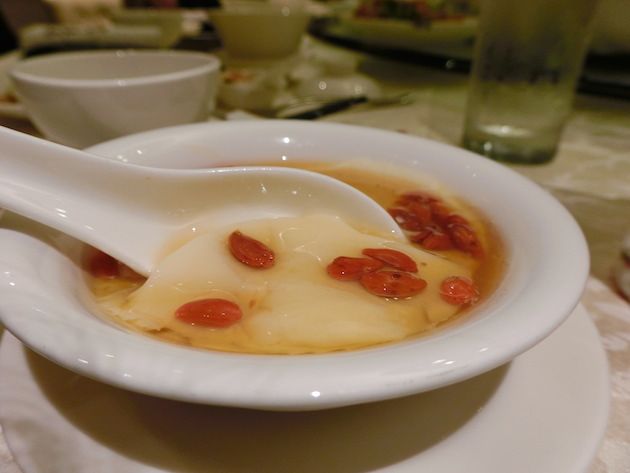 Homemade Bean Curd with Sesame Ice-cream. Sesame lover, you will love this one! The milk from the ice-cream smoothen the bean curd further, it creates a whole new level of smoothness!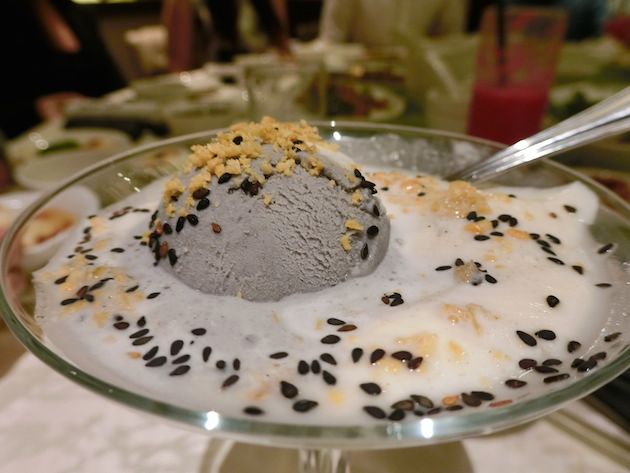 I could not express enough appreciation to the man behind the scene: Executive Chef- Leung Wing Chung for his dedication to create such wonderful dishes! A very humble person and he is ever so willing to share on his passion on Si Chuan & Cantonese food!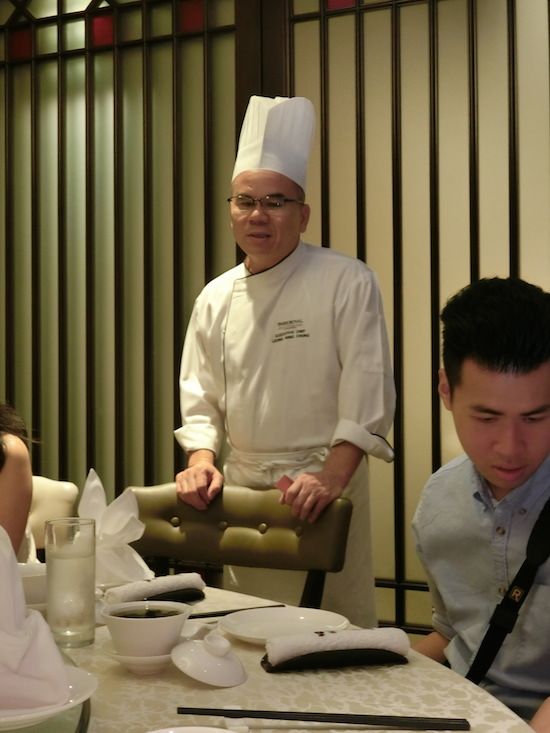 If you like a true blue & authentic Si Chuan & Cantonese experience, I would think Si Chuan Dou Hua is easily one of the best in that field in our local context. Simiarly, if you have a craving for mala dishes that is well fine-tuned to Singaporean taste buds, this is the first & probably only place you should go too!

Current promotion until 31 Dec 2015:

UOB and HSBC Credit Cardholder dines FREE with every 3 accompanying diners.

Monday – Thursday; 1120am to 2pm: Adult $32++, Child $20.80++

Friday – Sunday and Public Holidays: 11.30am to 10pm and 1.30pm to 3pm: Adult $38++, Child $22.80++

Promotion is valid at Si Chuan Dou Hua, PARKROYAL on Kitchener Road.

Contact: 6428 3170