Speaking of Bangkok now would strike fear and sadness in everyone's mind because of the explosion that happened  in Bangkok last month. As much as the fear might deter you from entering Bangkok this period, it does nothing to reduce the beauty of this touristy location & so here's 5 reasons why you should still consider visiting Bangkok:

1) Hotels at affordable rates, great hospitality & convenient location & comes with healthy & tasty breakfast to kickstart your day right!

I was there for 4 nights and stayed in 2 hotels for review – Holiday Inn Express Bangkok Sukhumvit 11 & Holiday Inn Express Bangkok Sathorn

Thank you Holiday Inn Express for their generous hospitality during my stay there! One of the things I like most about them is their staff! Apart from being extremely patient & helpful to our enquiries of the places of interest, they have a very good command of english which makes communication easy to follow.

Some hotels do not offer breakfast there but people don't usually mind because food is relatively cheap in Bangkok if you compare it to Singapore.

I still prefer to wake up to a table-ful of healthy food because it starts my day right!

So on to the topic of breakfast! They serve quite similar spread and they tasted consistently good for the whole duration we were there! To be frank, I hardly get impressed by hotel breakfast easily but trust me, they are good! Furthermore, they observed the health level of the food by ensuring that the food served was not oily nor salty.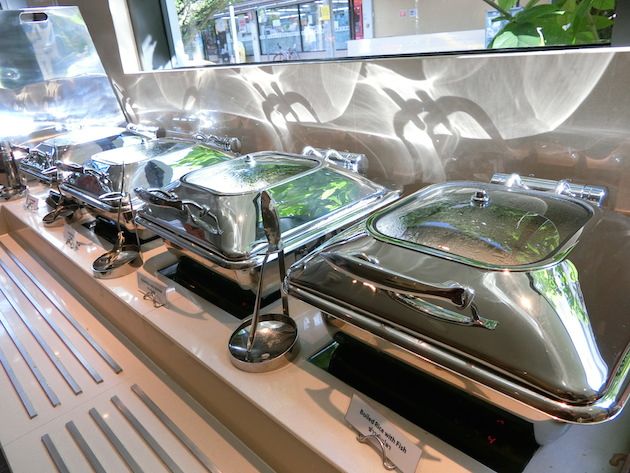 James's favourite was their fried rice. Pretty rare for a non-carbo lover! The rice was not overly oily and they were pretty generous with the ingredients eg prawns used.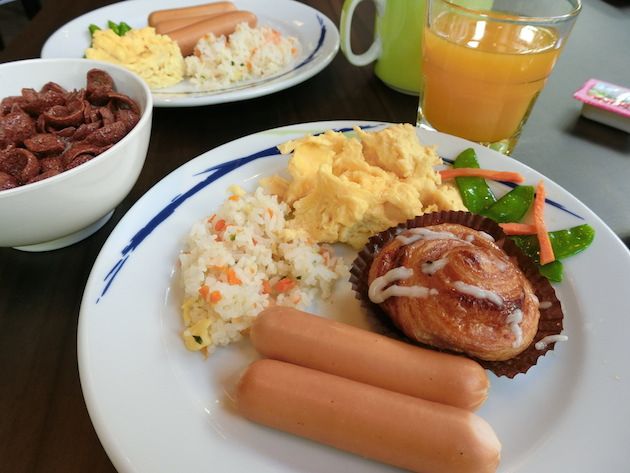 For me, I love the Congee the most! I had pork congee on the first day, followed by prawn congee. Don't be deceived by the plain outlook of the congee here, it was actually more flavorful than it seemed. I had two bowls for breakfast everyday!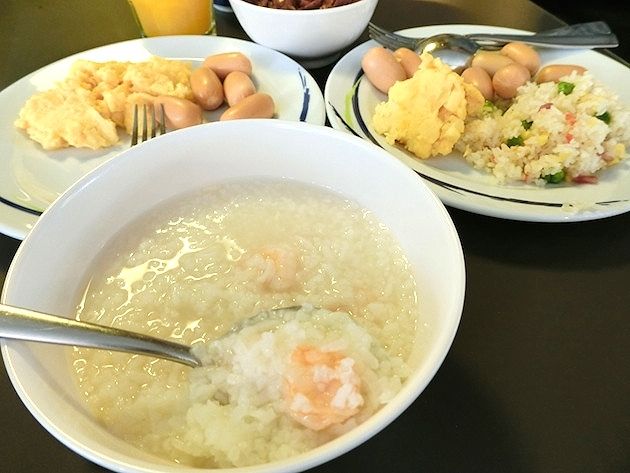 If you are busy, they have cups for you to take your drink away so that you can have a muffin and a cup of hot coffee on the go. That is what Holiday Inn Express is all about.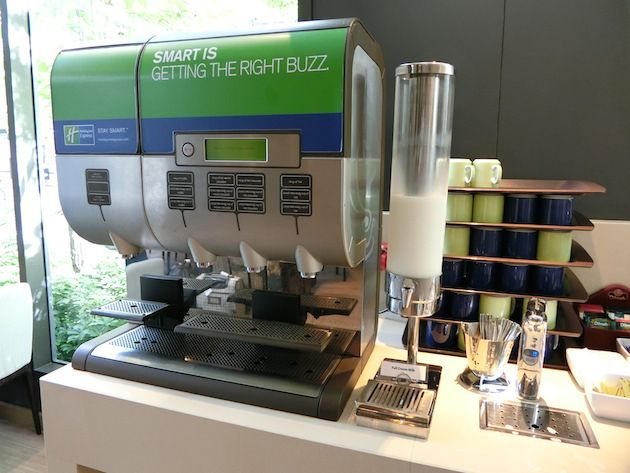 People always say cheap room comes with lousy bed!

Well, think again if you come here! Despite the affordable rates, the beds are one of the comfiest I have tried. ALMOST had trouble climbing out of those cushy beds every morning! I could just spend one day just to laze and cuddle together with J.

Neat rooms, soft pillows (you get to choose soft or hard), cosy ambience, and clean toilets. What more can you ask for at such affordable pricing!

We walk & shop a lot in Bangkok so much so we were almost burnt out by the end of everyday. But their rooms never fails to give me that good night sleep/rest such that I can endure another full day of shopping and exploring!

Holiday Inn Express Bangkok Sathorn –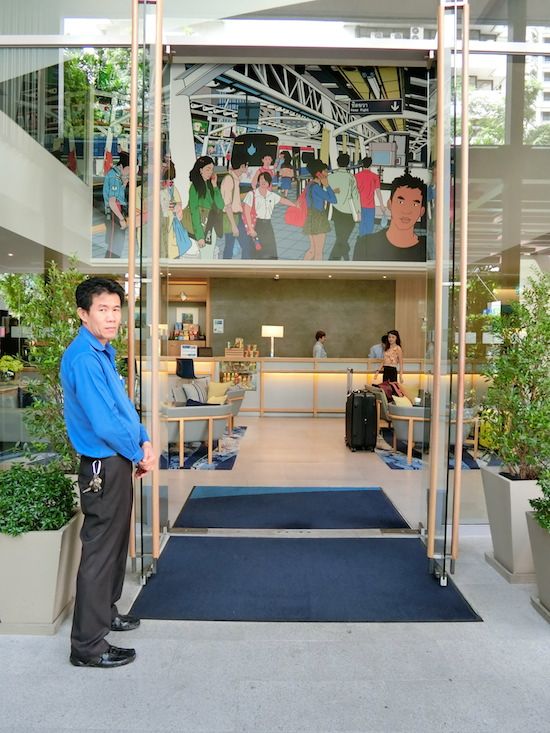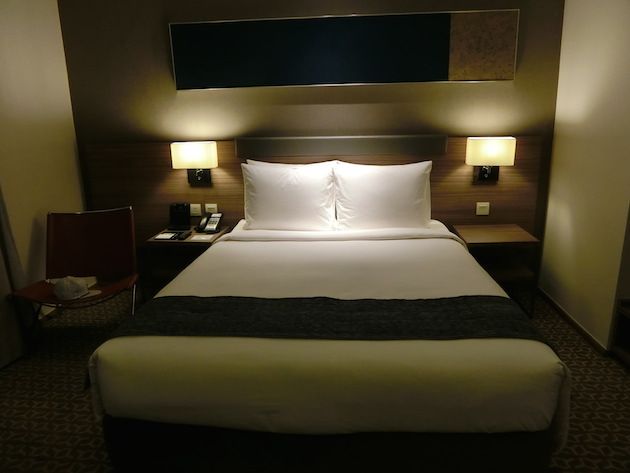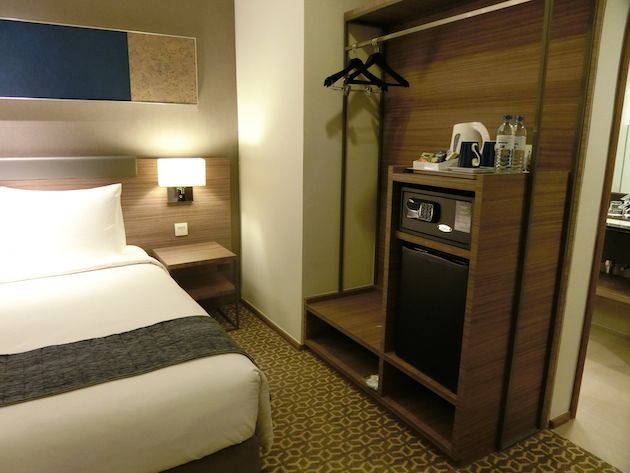 Holiday Inn Express Bangkok Sukhumvit 11 –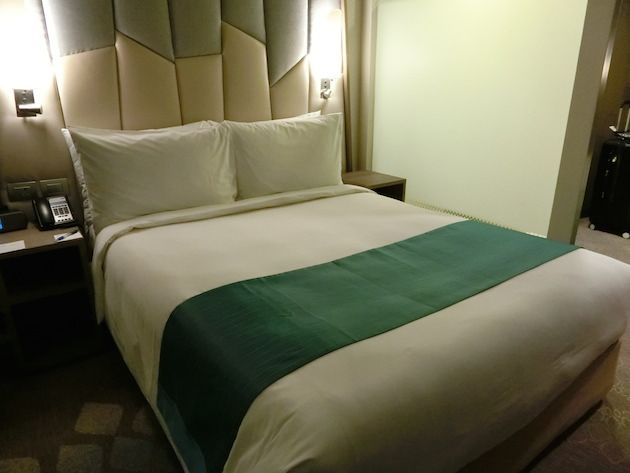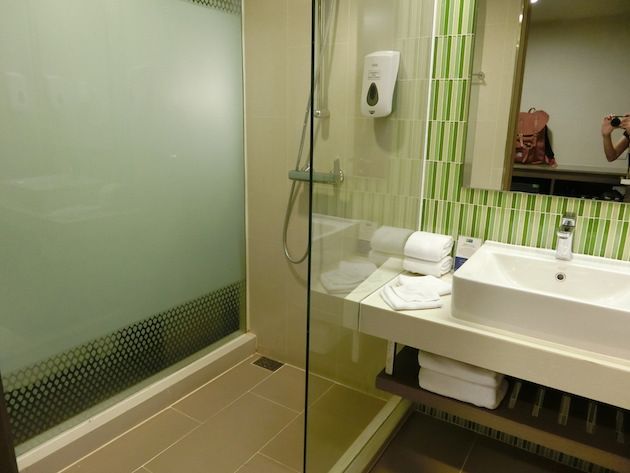 Also enjoy facilities like Gym and meeting rooms!

I will be frank, don't expect it to be as large as compared to a 5 star hotel. But this is the whole point of the trip! They wants you to explore the beauty of Bangkok more than the hotel itself!

Come on! You are on a trip so why do these which you can do in Singapore right!

So do a good workout and head for a warm bath after. But keep it short & don't let the beauty of Bangkok wait for you for too long!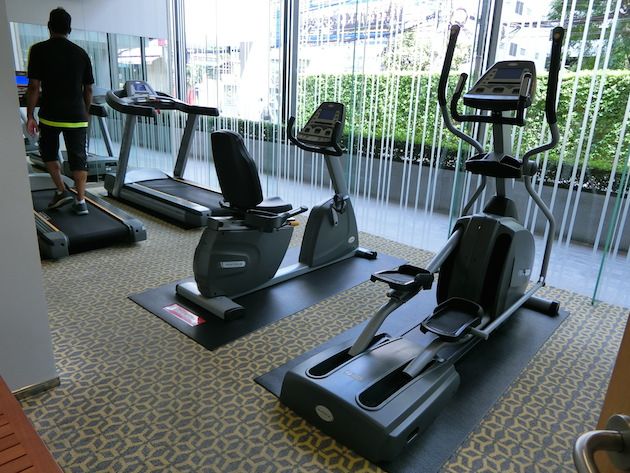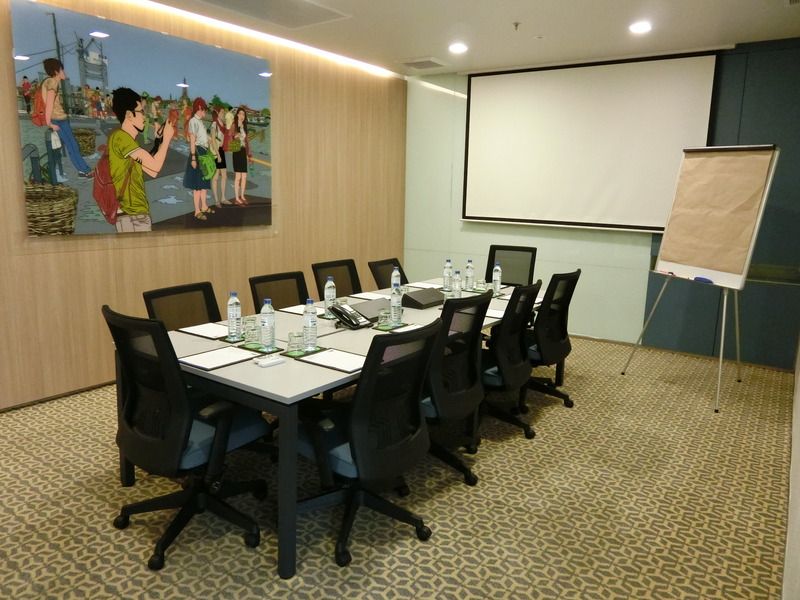 Last by not least, I really like the location of these hotels!

Holiday Inn Express Bangkok Sukhumvit 11 is located near Terminal 21. We walked to the station and back to the hotel after exploring the place. Oh, Nana Night Market is also around the corner as well. Lining the streets around this vicinity are bars and restaurants that bustles into life once the night approaches! So if you are into the night life of Bangkok, this hotel will be best suited for you and your friends!

For Holiday Inn Express Bangkok Sathorn, it is a stone's thrown away from a SKY Train Station so it is very very easy for you to travel around.

The hotel is two blocks away from Patpong night market, all you need is just a 3-5 minutes slow walk and another few minutes to walk to Silom Street Market.

Saphan Taksin station is only 2 BTS stations away and tourist can take the FREE boat shuttle to the most famous Asiatque night market (We had a lot of fun there!!).

If you hate to even walk a single step to the nearest SKY Train station, fret not! Cabs and Tuk Tuk are easily seen outside the hotel waiting for people!

Moreoever, both hotels have 7-eleven downstairs so it makes it easier for you to buy some midnight snacks and necessities.

This two hotels are one of my biggest reasons why I will visit Bangkok anytime and everytime!

Good news for you because you can find early bird packages for the hotels!

Check out their promotions:
Holiday Inn Express Bangkok Sukhumvit 11: Click here

Holiday Inn Express Bangkok Sathorn: Click here

2) Cheap transportation fare

The hotel staffs even helped us save some money by telling us that it would be cheaper to take the cab instead of MRT to travel because the cost of 2x for MRT would already be equivalent the cost of a carfare. But we went once for the feel anyway.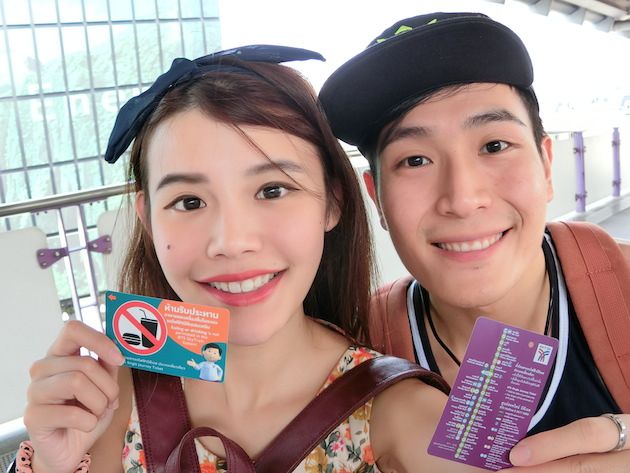 NEVER take the tuk tuk in my opinion. I thought it was fun and fast but it was unhealthy because you will be inhaling all the exhaust smoke. And they can be such a rip-off!!

For example, an MRT/cab fare to destination A will cost you 70 Baht but tuk tuk drivers will quote you at least 3x more and the lowest you can haggle till would be 100-150 Baht.

Just cab, cab around everywhere. The price is probably only half of what it cost here.

3) Cheap Shopping if you know where to visit

We saw a lot of clothes there which we can also find in Singapore but at a way higher price.

No pictures because I will be doing a separate post on Top 5 places to shop in Bangkok later this month.

For now, we got these singlets really cheap.

On James, 100 Baht (SGD4) and me, 50 Baht (SGD2). My hair band only cost me 10 Baht (40 cents).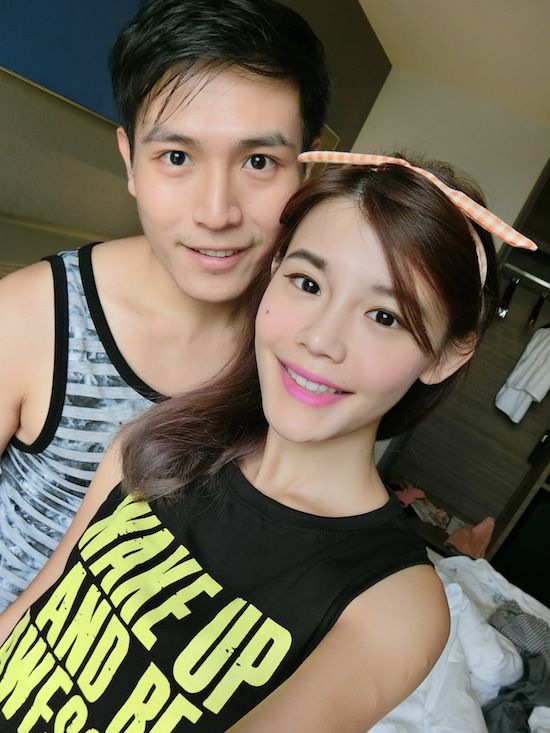 A whole bouquet of roses at 40 Baht (SGD1.60)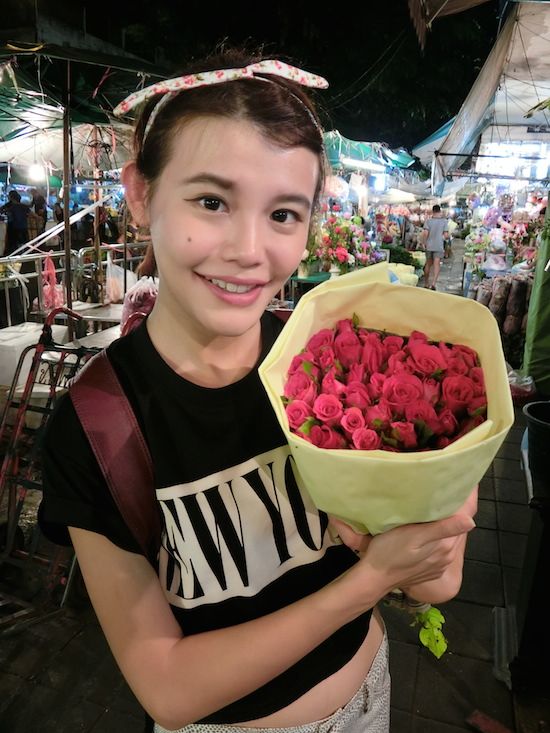 4) Cheap food everywhere

Not only does the night market have cheap food, the food in restaurants are also reasonable. I enjoy green curry and Tom Yum even in Singapore so Thai food in Thailand is even better!

Oh, I found Coco Ichibanya in Terminal 21 and it was 40% cheaper there.

The ice-cream place I visited cost 3x lesser in Bangkok than at home! Yay!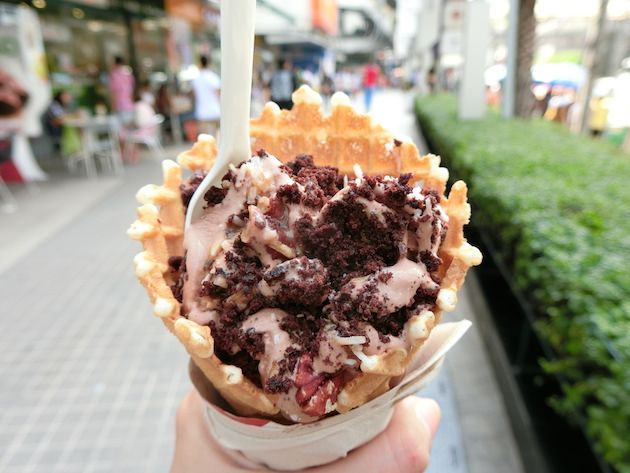 Mango Sticky Rice at half the price!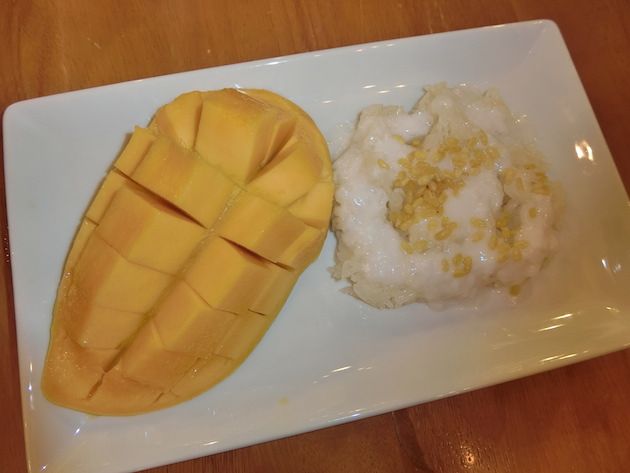 80 Baht Curry FishBall BeeHoon. SGD3.20, not exactly cheap, but it was delish!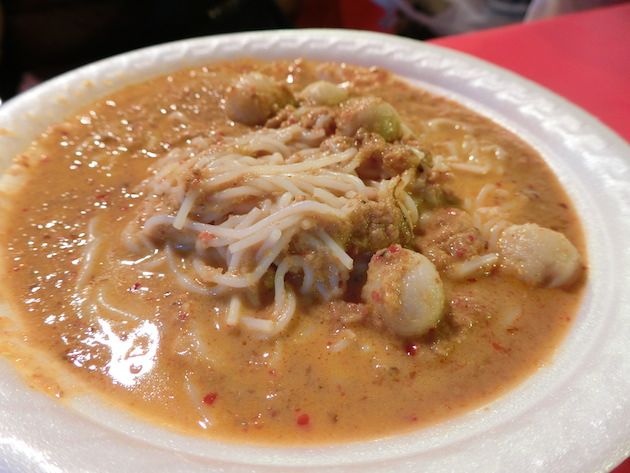 My cute Jello drink at 10 Baht (40 cents).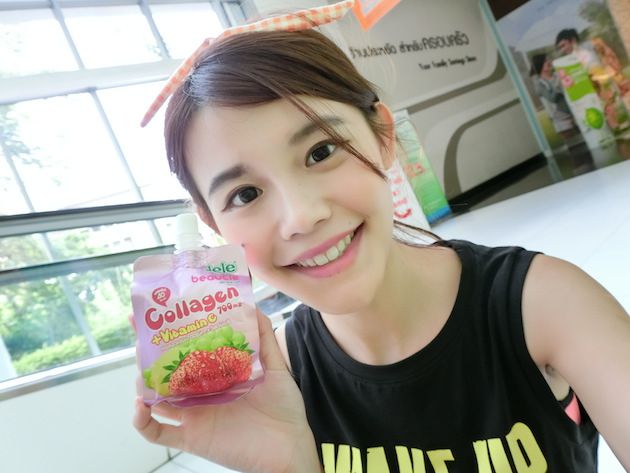 5) Fun games we don't have in Singapore


Now… This gotta wait too. Wait for my Top 5 places to visit in Bangkok.