Sponsored

People who knows me well would know I am a watch addict. This 'addiction' started since 2 years ago when I was exposed by a close friend to watches of all kind especially the luxury ones of which mostly are either automatic or hand-wound. Nonetheless, electronic watch has been a genre which was in my blind spot till the day I set eyes upon the latest addition to the world-renowned "unbreakable watch", G-Shock's range: The GPW-1000 !

The GPW-1000 prides itself to be the World's First GPS Atomic Solar Hybrid Time Calibration System that can receive both Global Positioning System (GPS) signal & Radio wave time-calibation signals transmitted from six stations worldwide (two in Japan and one each in North America, UK, Germany, and China).

To put it simply in layman, regardless where you are on this surface of the Earth be it from the driest desert dunes to the wettest marine environment, as long as you are reachable by GPS signal OR radio wave, this amazing watch will definitely be able to calibrate the time in your immediate timezone! All it takes is just a simple click & a mere seven seconds to a minute for the watch to get accurate time from GPS signal time information !






"The first G-SHOCK was born out of an engineer's dream of creating an unbreakable watch. Since 1983, our designs have continued to evolve to capture new trends and challenge the limits with advanced technology so that we always surpass the imagination of our customers. With the debut of Casio's new hybrid timekeeping system, the Gravitymaster GPW-1000 is probably one of the most spectacular series in our premium range of G-SHOCK timepieces" said Mr.Koyu Kotani, Assistant General Manager, Timepiece Division, Casio Singapore.

No better place for me to showcase its ultimte sturdy exterior apart from the top of this rocky, harsh-looking background! Even the hardness of the background is secondary if you hear what goes into this attractive-looking watch:

It has an Advanced Triple G Resist construction which allows it to easily withstand shocks, centrifugal force, and even vibrations. Sounds like something indestructible? Needs of pilots and aviation enthusiasts are also met. CHECKED!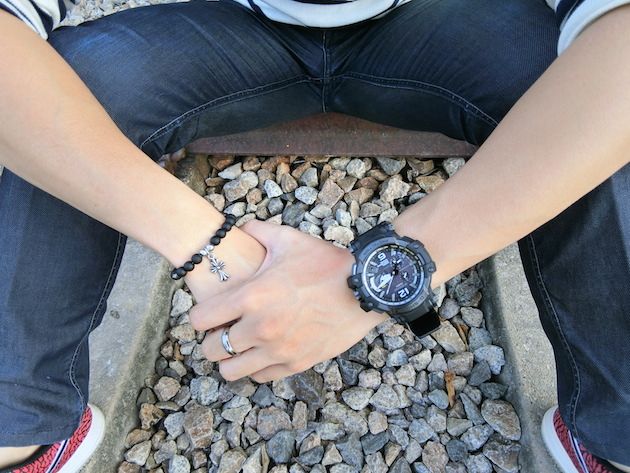 Scratch-resistant DLC coating on the bezel featuring a hard diamond-like carbon (DLC) coating that is both scratch resistant and sophisticated looking. Furthermore, it came with a 27-city world time guide printed on the bezel. Don't you like the double hook there? I am totally digging this.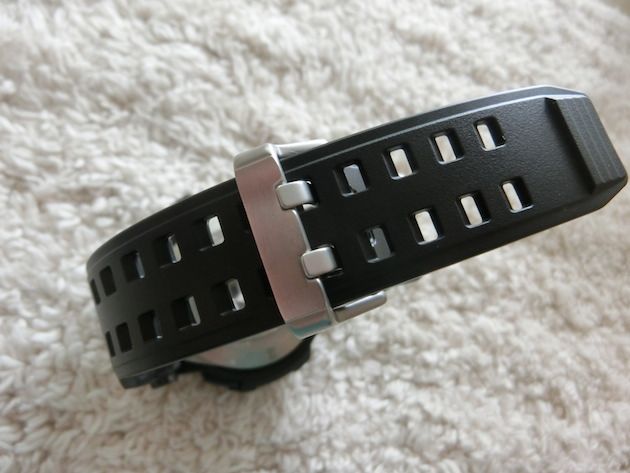 I have a thing for carbon fiber and I was really glad to find out that GPW-1000 has durable carbon fiber insert wristband. The subtly-embedded strip of carbon fiber on its underside serves to reinforce the band so as to offer the strength & durability to last. Pretty sure this watch is a good investment because of the materials used.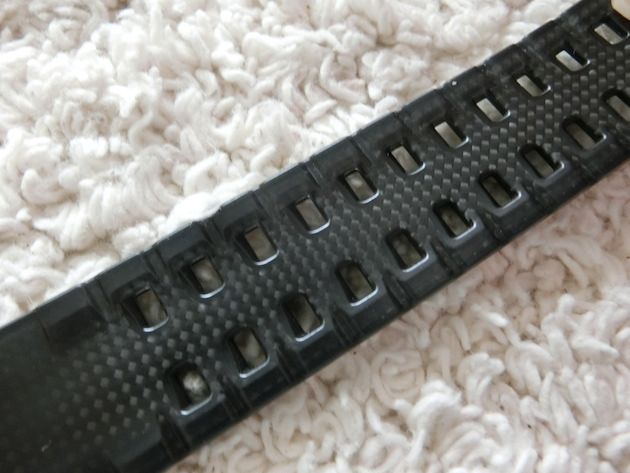 Other features within the watch comprise of a photoluminescent hour markers, water resistance of up to 200 metres, LED illumination to increase visibility in the dark (activated with a click to the top right hand corner button), approximate latitude, seconds, stopwatch, countdown timer, alarm (of which the various modes can be selected by clicking the botton left hand button), and a calendar.

IF you are the kind that would frown upon the hassle of having to change battery for your watch, you would be pleased to know the GPW-1000 uses solar-charged battery. So as long as you get it exposed under the sun, it will be well charged to keep running! Furthermore, to make it even more power efficient, the GPW-1000 uses a low-power GPS LSI to receive GPS signal thus saving you the worry of battery drain.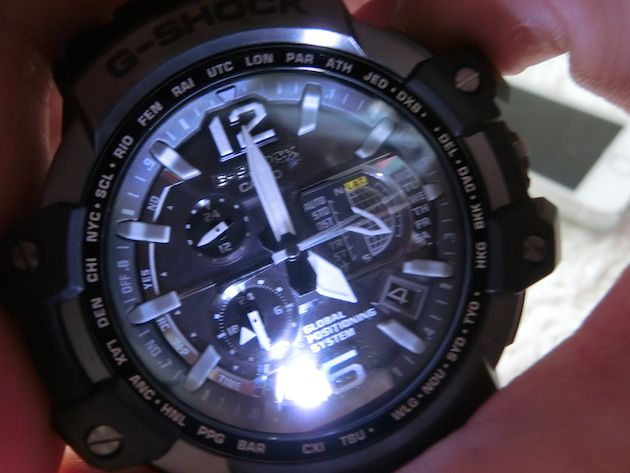 For my upcoming trips abroad, this timepeice is definitely the way to go~ Simply because of the Dual time display function which can simultaneously displays the time in two separate cities.

Notice the small 24-hr clock (at the bottom left hand corner of the watch interior)? This allows you to store a secondary timezone such that you could view the local time with the primary clock while set your home timezone in this secondary 24-hr clock or vice versa.

In case your mind starts to wonder how complicated the process must be to set these two time zone on the GPW-1000, all I can say is you can have a peace of mind with regards to this aspect. All these can be settled in a easy peasy manner with a slight adjustment to the crown at the side of the watch.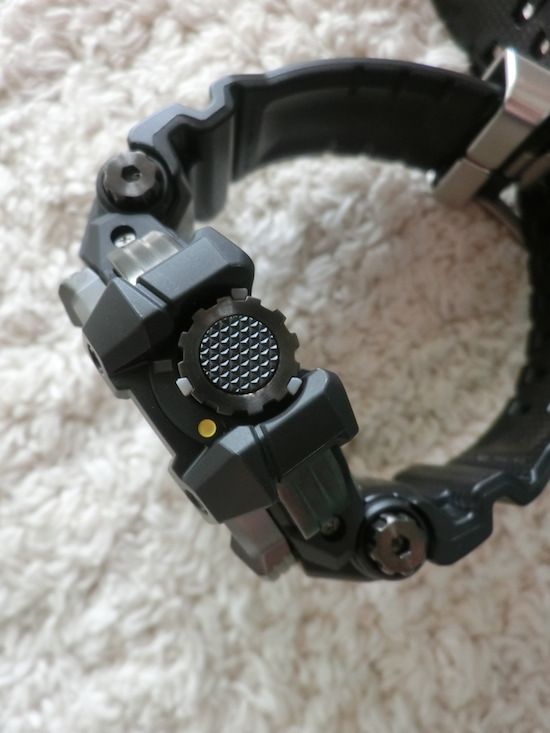 This crown adjustment can be performed to achieve accurate real-time even when indoors or surrounded by buildings as the watch receives radio wave time-calibration signals. As such, you do not have to purposely head out into the open area just to set the two time zones. (Note: Receiving time information is prioritized by radio wave signals in radio wave coverage areas, and GPS signals in non-coverage areas).






Whoever says G-Shock looks too physically beefy to make a fashion statement, here my takes to prove you guys utterly wrong..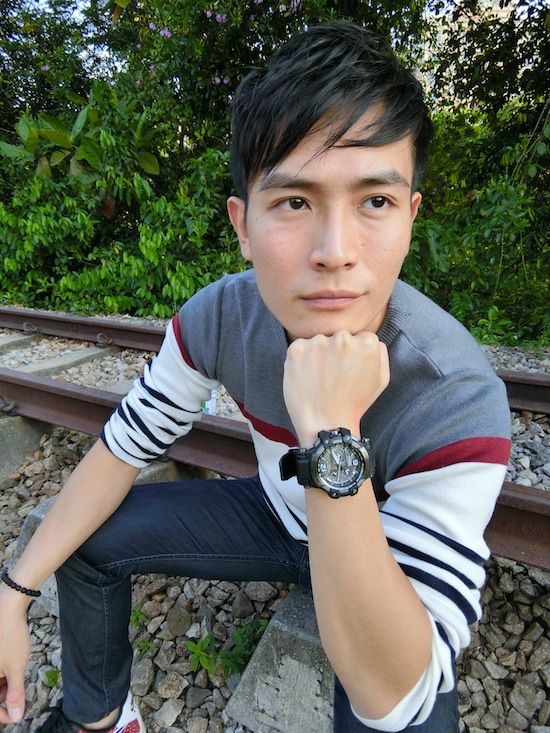 In fact, I feel the GPW-1000 has such a 'manly' yet versatile character to it, I could pull it off in any outfits not just restricted to the typical sporty outlook. You can also look preppy, smart or even boy-next-door with it!

Look at how beautiful the scratch-resistant sapphire glass of this lightweight 126g timepiece glistens under sunlight! Notice the tinge of blue on the glass too. I heard a lot about sapphire glass. You can take a penknife and scratch it and trust me, no lines will be seen. Suitable for any outdoor activities too.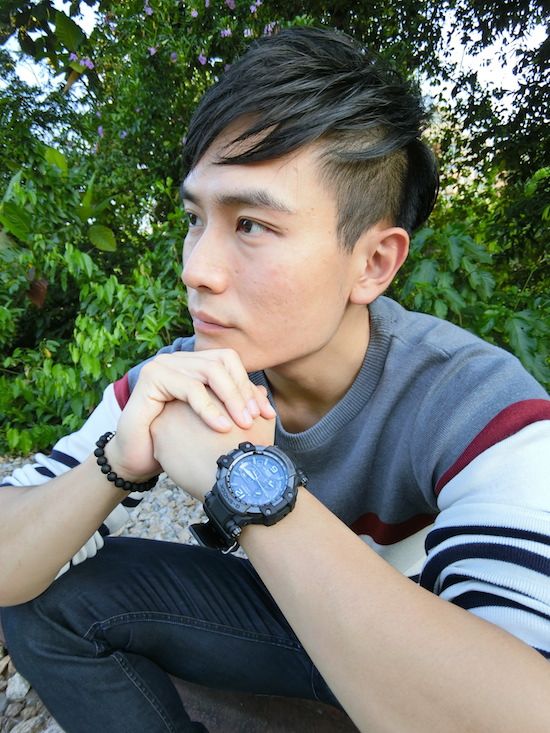 If you already like what you are seeing on my wrist, I am telling that that GPW-1000 is also available in 2 other different colors.

It comes in Blue (GPW-1000-1A) and Orange (GPW-1000-4A) as well and is made available now at all G-FACTORY stores in Singapore for $999. G-FACTORY have really friendly staffs. I went in to the outlet at Ion Orchard and asked the guy on some of the watch functions. I must say that they are really patient with me and they are knowledgable in what they are selling.






G-Shock has proven once again its worthiness to own the people's wrist space with the introduction of the GPW-1000. A Beauty with Sheer Toughness & Functionality to meet the wirst needs of the new age man!