Sponsored
Let's drop fifty shades of grey and move on to fifty shades of pink.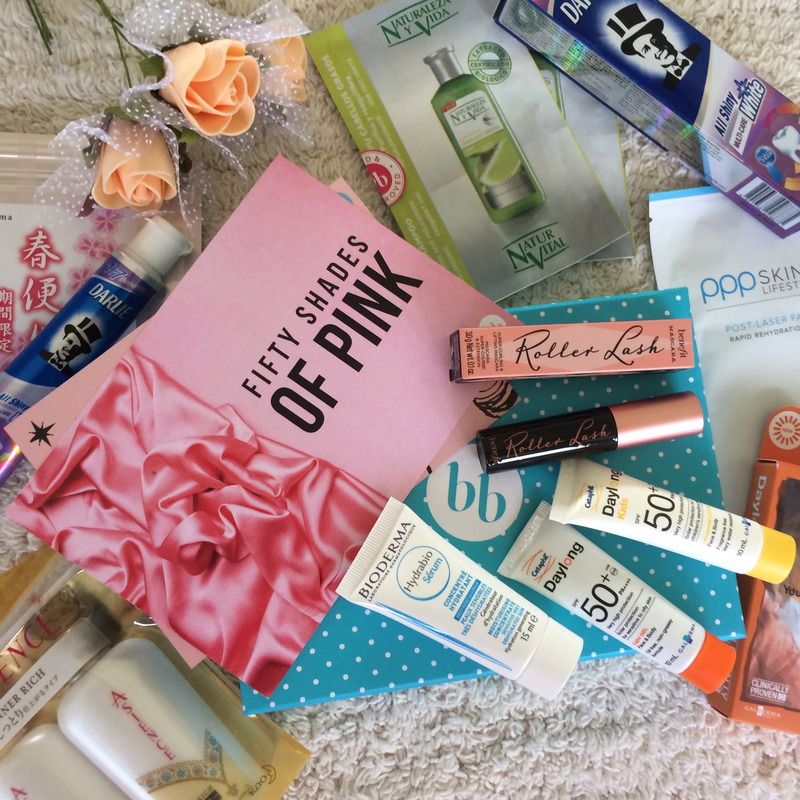 Yet another lovely box sent by Team BellaBox! As usual, their box always contain stuffs that delights me a lot. My favourite from this month is the travel sized ASIENCE Inner Rich Shampoo (480ml, $14.90) and Conditioner (480ml, $14.90) which I will be bringing along for my Bali Trip next month.
If you realized, most of the items in this box are newly launched items like Benefit Cosmetic Roller Lash, Daylong SPF 50+ Sunscreen and more. Inside also includes a piece of PPP Post-Laser Facial (6 sheets, $72) Mask which is something new to me as I haven't heard of PPP Skincare before. Naturvital Sensitive Oily Hair Shampoo (300ml, $23) are suitable for sensitive and oily hair types (I just give James this!).
Bonus items for this month:
– Tealy Spring Green Tea (10 Tea Bags, $17)
– Darlie All Shiny White Multi-Care Toothpaste (140g, $3.45)
I think most of you might be excited to try out Roller Lash (8.5g, $37) as it is said to have instant curving effect with it's exclusive Hook 'n' Roll Brush. Instead of buying the actual thing first, why not sample it yourself for only $19.95 along with other goodies? 🙂
http://bellabox.sg/box-membership.html/