Our first Lou Hei started off with a BANG at Xin Cuisine housed within the newly-renovated Holiday Inn Atrium Hotel! *Make sure you don't make your way to the wrong one !*
Look at that BIG Bang on the table as the Goat has found its way right up to our table!
This amazing Lou Hei was delicately designed by the head chef himself! Can you see the Goat infused with the year 2015 within the Lou Hei? Really innovative & magnificent, isn't it?
The second amazing thing is the extravagant ingredients they splashed within the Lou Hei! Some of you guys probably go "chey no big deal having salmon and abalone what!". How about some Bird's Nest then? ><
Ralph, the restaurant manager personally served us! I thoroughly enjoyed his enthusiastic hospitality during the entire dinner!
After making a HUGH mess at the table with our rowdy Lou Hei, we made our way back to our original table to enjoy some nice Chinese delicacies.
Starting off with the Chinese New Year Dim Sum Combination:
Pan-fried Yam and Pumpkin Cake with XO Sauce – For this one, i like the infusion of the XO sauce with the crispy Yam. The two tastes did not seek to overpower each other but instead infused to give a rather savory and flavorful taste.
Steamed Prawn Dumpling with Truffle in Egg White Sauce – Look at how real the dish mimics a goldfish in the pond. I almost couldn't bring myself to eat this one down. The most memorable part of this dish was how fresh the prawns were within the goldfish's "Belly"
Poached Whole Mable Goby with Hairy Gourd and Dried Shrimp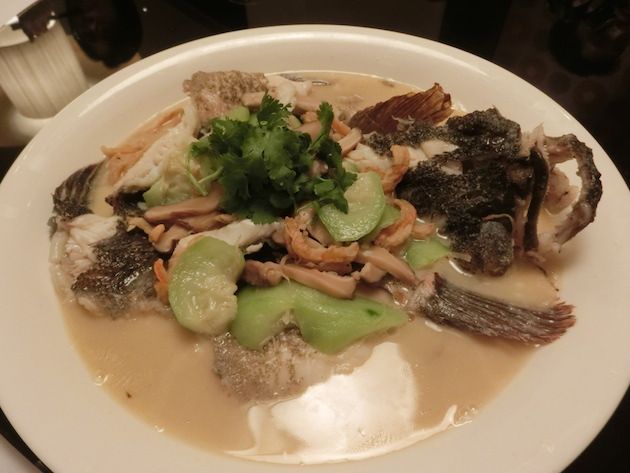 "Home Style" Roast Duck with Tea Leaves – My 2nd Favourite Dish of the Night! It was easily the MOST tender and juicy duck meat that i have tasted ! For tea lover, this is a definite MUST TRY cos you will be able to taste a mild tea flavor within the meat.
Xin's Traditional Pen Cai – My personal favourite! I had 2 bowls because the entire pot was filled with goodness. Goodness beyond description! As you can see, there were abalones, scallops, mushrooms, fish maws, dried oysters, prawns etc. The portion was also very generous as portrayed below.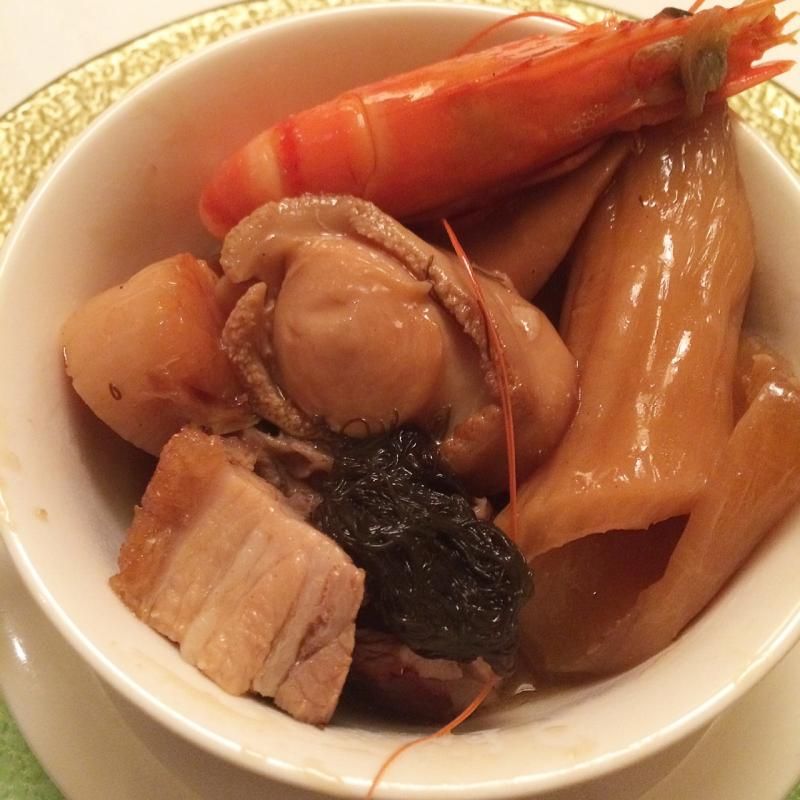 And the desserts…… Double-boiled Milk Pudding with Bird's Nest!! Seems like Xin Cuisine is serving Bird Nest feast for CNY this year! Yum yum.
All in all, I thoroughly enjoyed the whole CNY menu food tasting experience @ Xin's Cuisine because of its flavorful traditional chinese dishes & the delicacy in details they have placed into every dish to make them look as appealing as they tasted.
Xin Cuisine Chinese Restaurant is located at:
Outram Road, Holiday Inn Atrium, Singapore 169075
🙂