Last year, I was featured in Juice Magazine (July) for L'Oreal Paris EverStrong.
And this year, they have come up with EveryStrong Thickening range as well as the new Extraordinary Oil + UV Protect!
We all know that hair ends are often drier and dull looking as compared to the upper part of the hair. However, do you know that our scalp also requires the same attention that you give to your hair ends?
—
I've been using the thickening range for the second week now.
I was quite skeptical of the word thickening because there are a lot of shampoo which you can find in the market, but priced at a higher selling price when you see the word thickening. But after using this for weeks, I can feel cleaner and healthier scalp. Healthier scalp also leads to hair growth and healthier looking hair.
Just like what you see on the bottles, they are 100% sulphate-free, silicon-free and paraben-free.  The EverStrong range consists of shampoo ($14.90), condition ($14.90), as well as the hair tonic ($29.90).
The thickening tonic is to be sprayed onto your scalp, directly to the roots, after you towel dry your hair. You can massage the sprayed area with fingers and no rinsing is needed after the spray. It leaves a cooling sensation after each spray as it contains Rosemary and Mint. Mint is well known for it's follicle stimulant properties.
—
Read about my review for Extraordinary oil when it was launched last April: http://blog.myfatpocket.com/maybelinesim/2013/04/22/loreal-paris-extraordinary-oil/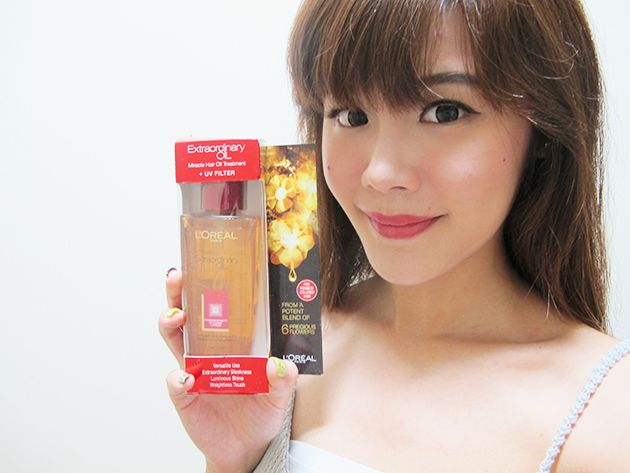 The difference is that it has added colour protection now! It instantly makes your hair soft and shiny.
Walk out onto the street, 8 out of 10 people have coloured hair, so this would definitely come in handy for most of us!
Anyway, anyone can indulge in the extraordinary oil whether you have dry, frizzy, curly, straight or thin hair.
Remember to click on the link above for full review of the hair oil to say goodbye to frizzy hair!
For more information, visit: https://www.facebook.com/lorealparissingapore