Attended a pampering session by The Body Shop just before Chinese New Year and you would definitely be happy to hear this.
They have quite a number of new products that you would like to try on your hair, face, or hands!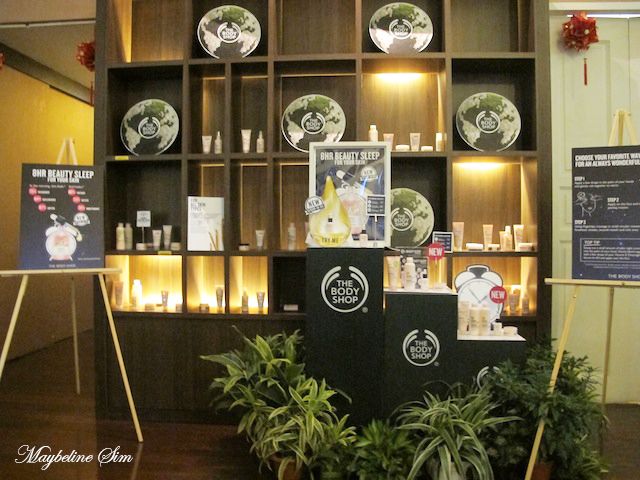 Vitamin E is one of the hot selling categories in The Body Shop. And in addition to the Vitamin E family is the Vitamin E Overnight Serum-In-Oil with their highest concentration of wheatgerm oil.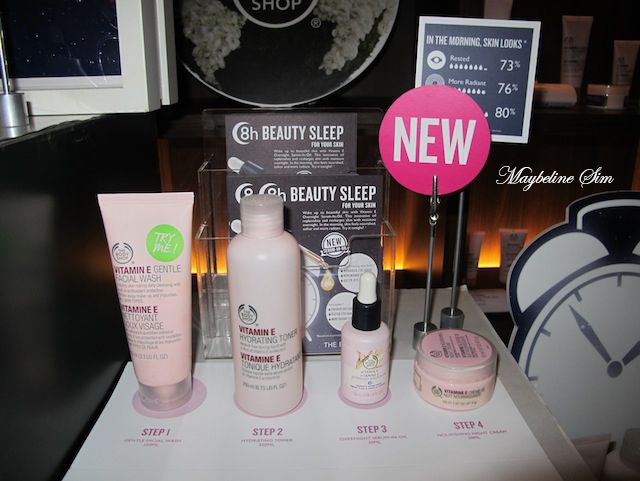 With a unique texture, this non-greasy, fast-absorbing formula delivers fuss-free, instant skin comfort!
I know oil means greasy and oily and trust me, I hate apply oily stuffs onto my face. My initial question to the lady who dropped a drop onto my skin was "Why does it still feel a little oily?". She confidently told me to continue rubbing it and it will leave me nothing but smooth skin. Indeed. That was it. Smooth and soft, no tinge of greasiness could be felt.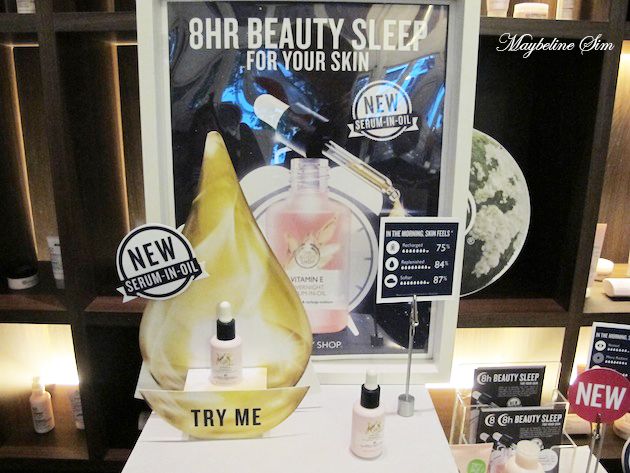 You can either apply it directly to your face or input 1 – 2 drops of it into your moisturiser.
You can now sleep and moisture the skin at the same time!
84% of the women in a study felt that their skin get replenished and 87% of them agreed that their skin felt softer the next day. Talk about radiancy, 76% experienced a more radiant look.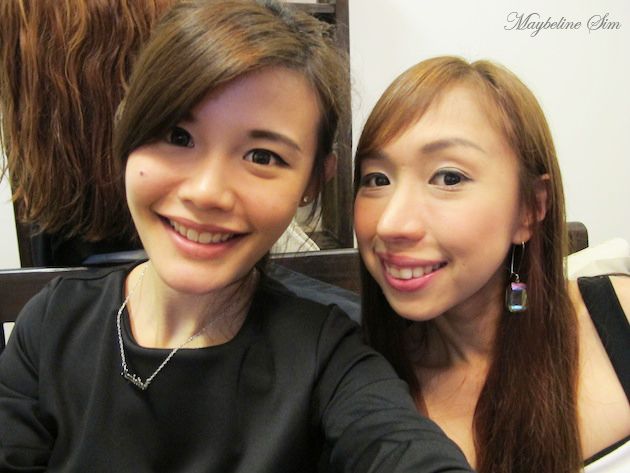 The next talk is their Spring Trend Collection.
In this collection, you will be able to find Shimmer Cube Palette in either Pink or Bronze, Lip Gloss in Vanilla or Rose and Hair Chalk in Pink or Blue.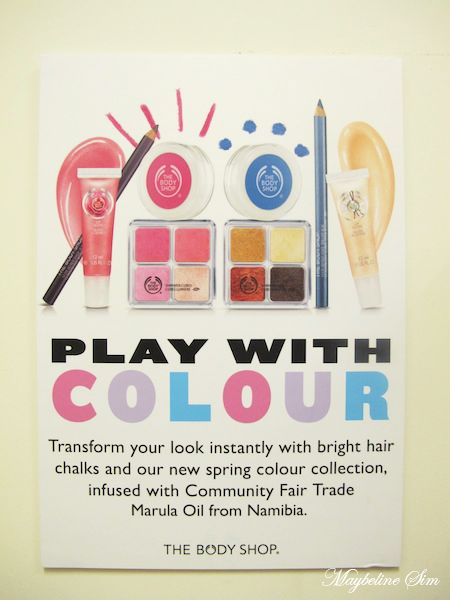 Priced at $9.90 each, The Body Shop® Hair Chalks are an affordable way to get gorgeously colourful hair. The shimmer cubes are available for $36.90 and the 12ml lip glosses $16.90.
Let's play with colours!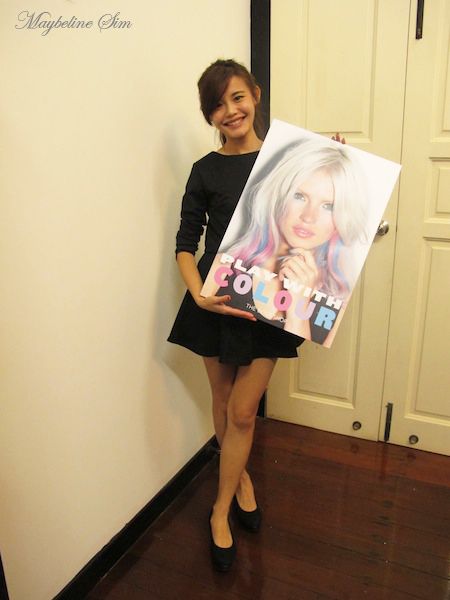 Hair Chalk had been around for quite some time already and they can be quite damaging to the hair or messy to apply.
The Body Shop has now come up with 2 bold colours – Tickle Me Pink and Falling For Blue.
Unlike other hair chalks you see in the market, it does not come in the form of a chalk but more like an eyeshadow, making it neater and easier to apply in just 3 steps.
1. Place a towel below the intended area.
2. Gather a section of hair and place it on the colour pad and glide down.
3. Seal the colour with any hairspray.
Get the colour on your hair for some fun and wash off the colour with any shampoo once you are done with the day!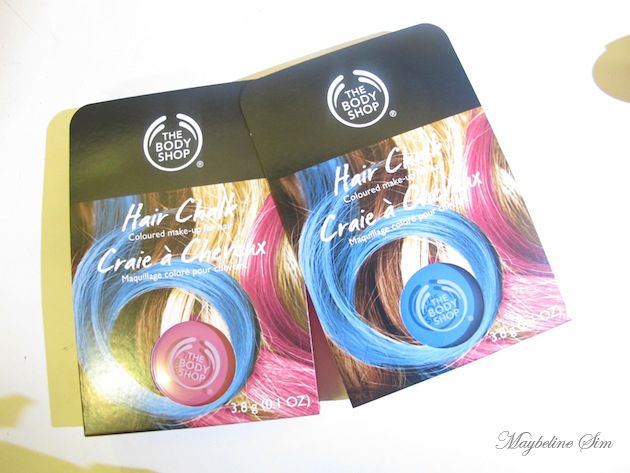 Here is Miwitch, happily trying out Tickle Me Pink.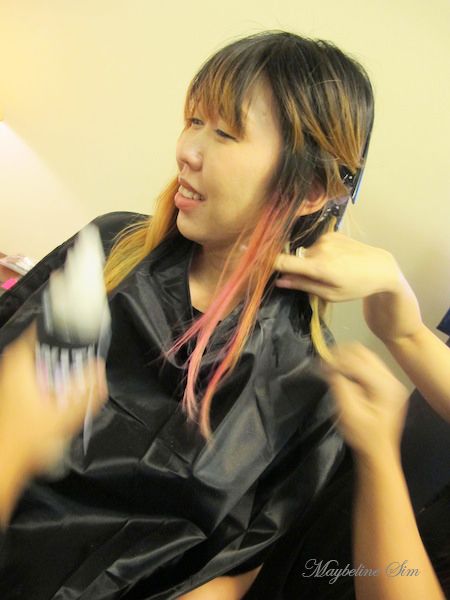 The Shimmer Cube Palettes are really cute because you can detach each of the cute from the box.
Each palette contains four subtle iridescent shades to mix and match. Crease-resistant and suitable for contact-lens wearers. They are dematologically and ophtalmologically tested.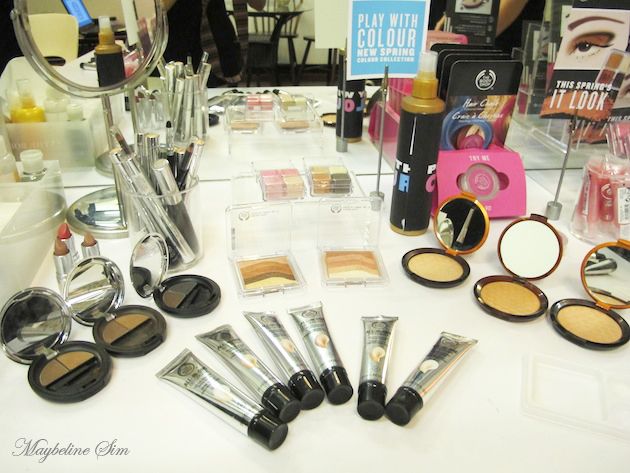 Swatches of the two palettes.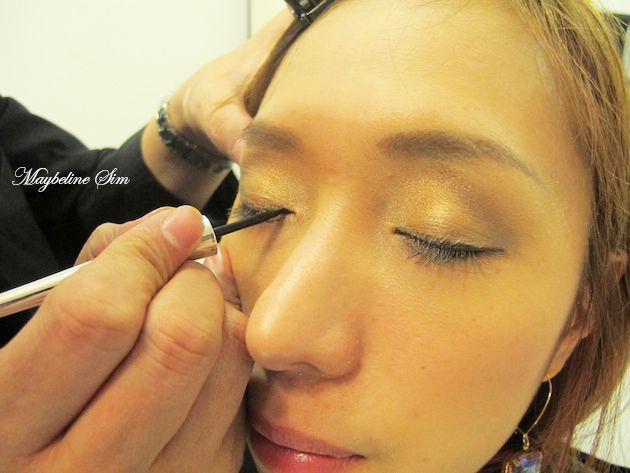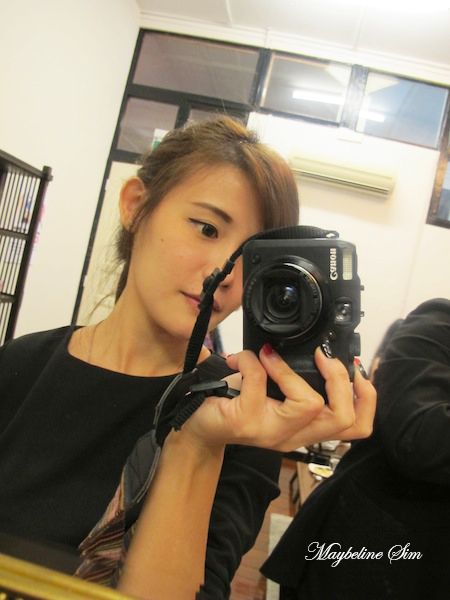 Verlyn and me while waiting for Nadia to be done with her make up.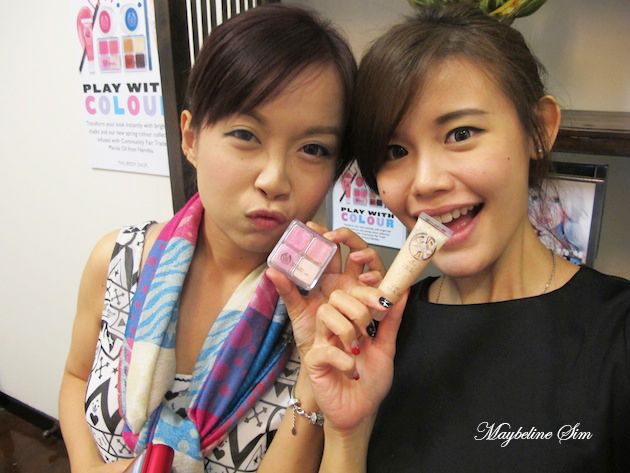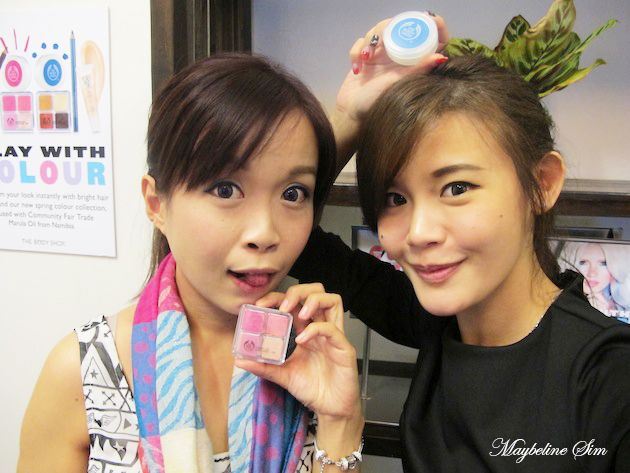 Nextttttt, the original and iconic body butter is now available in uplifting blueberry!!! They are available in stores from 10 Feb onwards.
You will never forget your first body butter experience! The Body Shop introducted their first body butter in 1992 and now, they offers over 20 varieties of Body Butter in fruity, nutty and floral scents.
Also available in Shower gel, Body lotion, Body Scrub and Lip butter.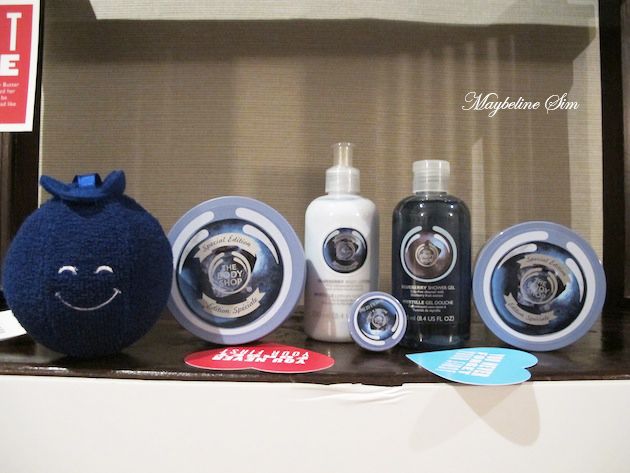 One tub is sold every 2 seconds. The blueberry series comes with a blue berry bath sponge. So cute!!
Just so you know, the body butter offers up to 24 hours of skin hydration, and the skin-soothing butters are full of unique ingredients, scents and textures to suit all preferences.
Good for your skin and good for the world, each Body Butter is made with the finest ethically-sourced ingredients from the four corners of the globe for the ultimate skin nourishing experience.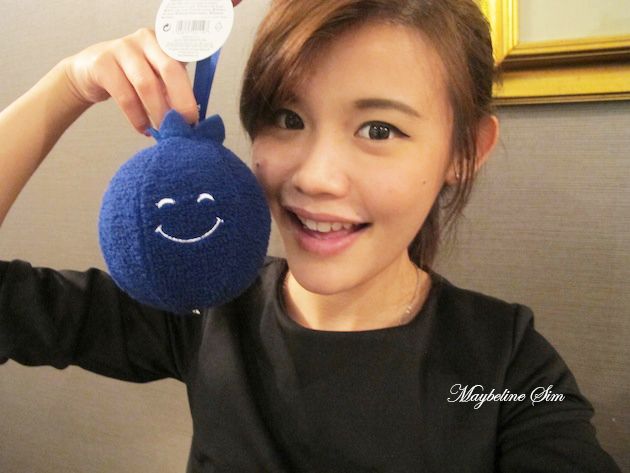 Also available in Body Scrub which is priced at $30.90 for 200ml. Both the look and smell taste/smell like blueberry. And I like berries.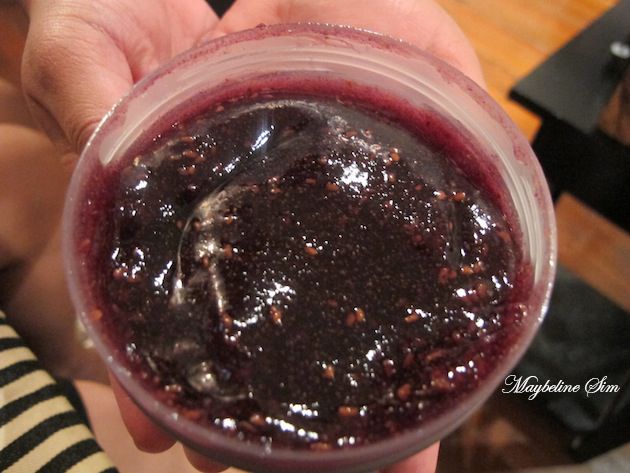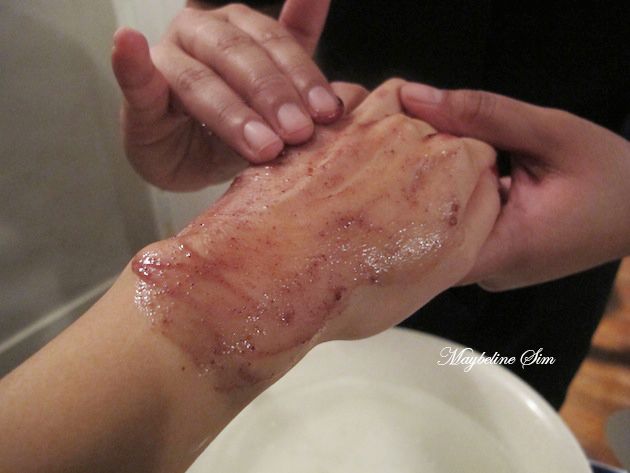 Scrub before you butter!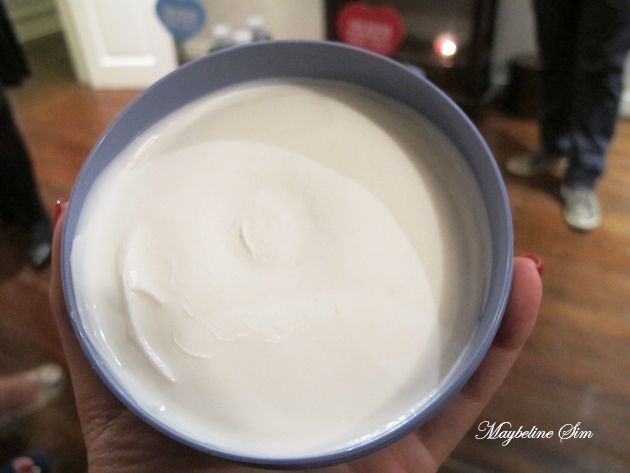 Each Body Butter from The Body Shop contains at least one ingredient sourced through its socially minded Community Fair Trade (CFT) programme. Through this programme, the beauty retailer buys the highest quality ingredients directly from small producer communities around the world, paying a fair price that enables families and communities to invest in their future.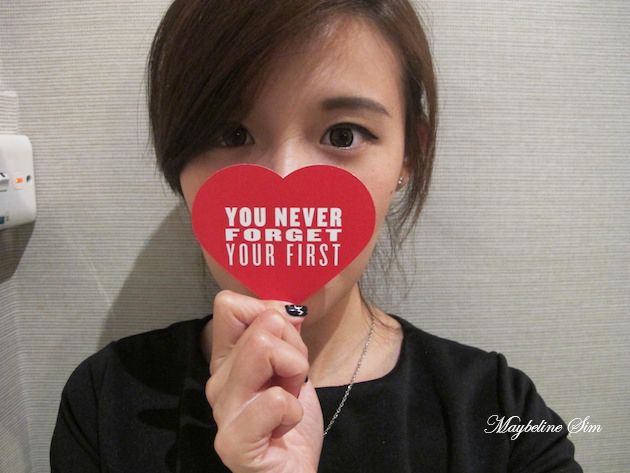 Hair, skincare and make up, all in a post. Hurry up, go and test them out yourselves at The Body Shop stores now! 🙂