FAU Shiny Pumkin Peel Therapy
Pumpkin peel therapy is an advance exfoliating treatment to combat aging and acne. This amazing hypoallegenic peeling combines 100% natural enzymes from pumpkin which brings nutrients and vitamins to the skin, AHA and BHA ingredients that are effective for exfoliating and simultaneously breaks rough and fine dead skin cells. Pumpkin is rich in vitamin A, B, C, E, K photochemicals, minerals and omega fatty acids for ultimate skin rejuvenation.
Pumpkin has the highest concentration of Vitamin A of any vegetables! Pumpkin peels have been known to stimulate circulation and promote healing of the skin due to the beta carotene and vitamin A. Those with sensitive skin will be able to tolerate a pumpkin peel because it is not too intrusive. larity and skin smoothness will be seen immediately following a pumpkin peel.
This 100% much safer than chemical peels that can potentially burnt your skin causing over peel.
Benefits?
* Increase cells turnover
* Reduce Pores
* Regenerating of cell against dryness, aging and acne
* Decrease fine lines and wrinkles
* Lighting pigmentation
*Collagen production stimulation
* Smooth and balance skin texture
* Diminish acne breakouts
* Reduced likelihood of acne breakouts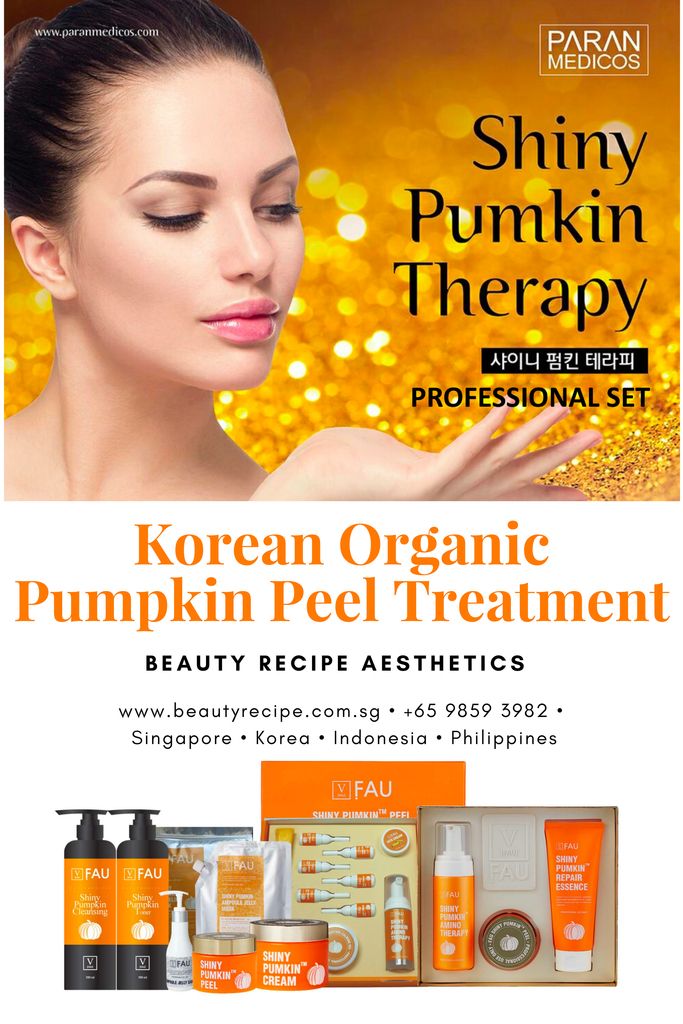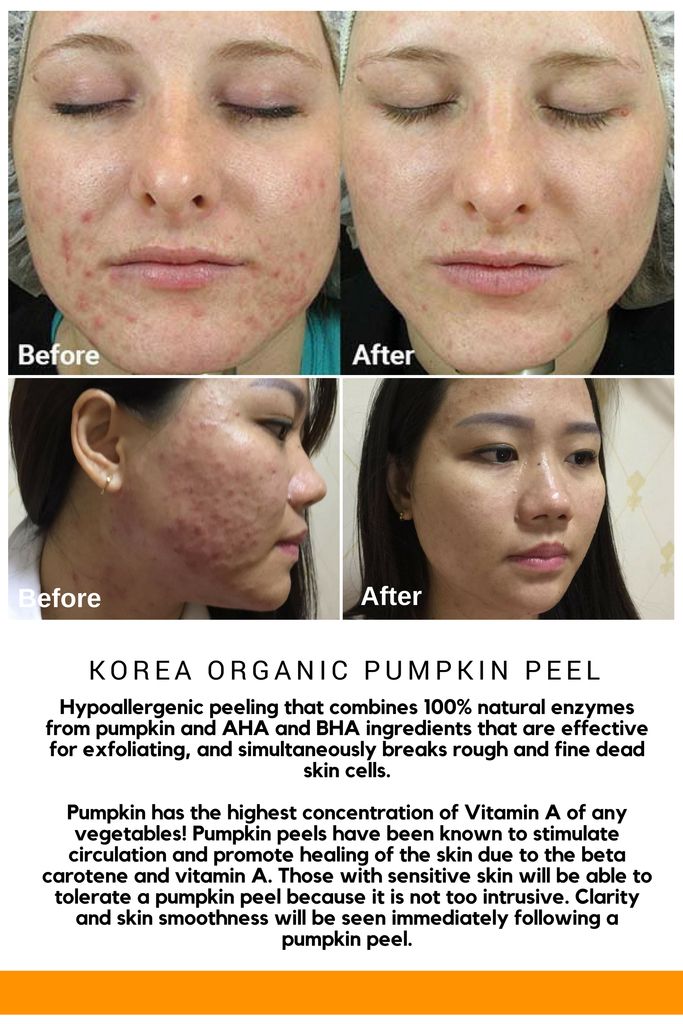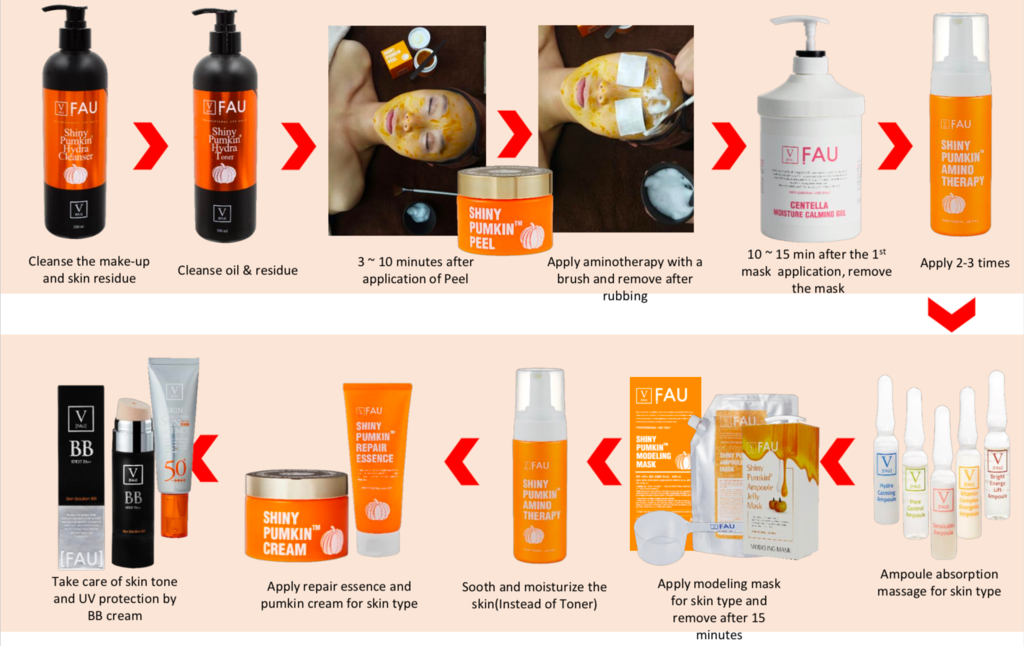 Frequency? 
It is recommended to have 4 to 6 peels done, one to two weeks apart.
Any Downtime? 
There is no down time with a pumpkin peel and the treatment is not as harsh on sensitive skin as chemical peels.
Why is pumpkin peel better than chemical peels?
Pumpkin peel is 100% safe. People with sensitive skin and acne benefit from the pumpkin peel because it is less intrusive than a chemical peel. It is full of beta carotene and vitamin A, which help to stimulate circulation and promote healing. Pumpkin peels are more successful at surface retexturing.
How does it rejuvenate the skin? 
Vitamin A (beta carotene) is a highly active antioxidant; it targets the parts of skin cells responsible for kicking off cell turnover and, by extension, growth of the base layer of the epidermis. This helps to boost the structural integrity of all layers of the skin.
Proteolytic enzymes are another useful component of pumpkin pulp, helping to break down the bonds between dead cells. This means that a pumpkin peel can help slough away the dead outer skin cells without damaging the rest of them. Pumpkins also contain vitamin C, which is another antioxidant that helps to ward off free radicals.
Alpha hydroxy acids (AHAs) and beta hydroxy acids (BHAs) penetrate the layers of the skin to help the turnover of the cells in both the epidermis and the follicles. This helps younger cells come to the surface of the skin – enhancing a smooth appearance and taut feeling – as well as cleansing the follicles of debris and dead cells.
This particular combination of ingredients will strengthen your skin's defences against free radicals, which, in turn, helps to combat the signs of ageing. Your skin will look and feel rejuvenated, courtesy of the AHAs stimulating collagen and elastin renewal.
How is the treatment process? 
Pumpkin peel treatments are fairly comfortable and last for around 1.5 hour with the full facial, massage and extraction. The mask will be warm – some patients describe it as 'warm and prickly' – when it's first applied to your face, and the sensation will last for a few minutes. Soon, it will change to a pleasant tightening feeling.
 🙂
Email: enquirybeautyrecipe@gmail.com
Call or WhatsApp for enquires or wholesale of products @ +65 9859 3982
Website: www.beautyrecipe.com.sg
 🙂
Beauty Recipe Aesthetics
Outlets at:
Orchardgateway
Jurong East
Marine Parade
Comments
comments