If you have been watching TV, you would have come across a Estee Lauder commercial featuring the gorgeous Constance Jablonski introducing the NEW Even Skintone Illuminator.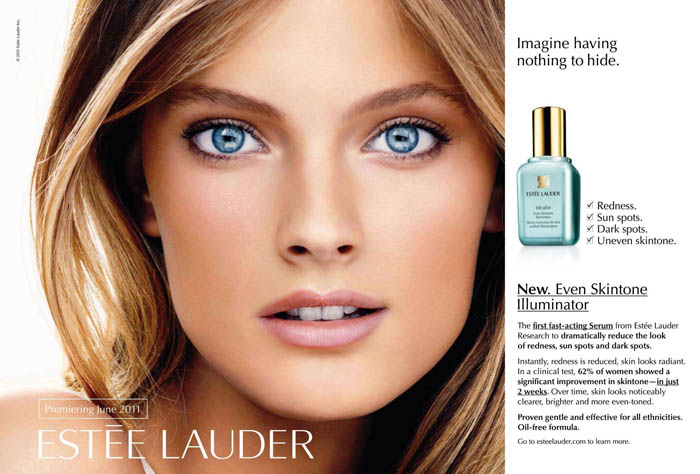 If you ever wanted a glowing complexion like a beach goddess, then you should try out this product. It's benefits includes reducing the appearence of uneven skin tone, redness, sun spots and pigmentation.
This is a gentle, fast-acting serum which research has proven that within just 2 weeks, 62% of women showed a significant improvement in skin tone in a clinical test.  Over time after regular usage, you can look forward to brighter, clearer skin with an overall more even appearence.
There are not one but two powerful technologies packed in this little bottle –
Triple-Optic Technology which provides skin with a brighter, more luminous look from the very first application.
CorrectTone Technology which visibly reduces uneven skin tone in 2 weeks, while anti-oxidants help prevent its re-appearence.
How to use it?
Apply on clean skin. Follow with your SPF moisturizer.
For maximum even skin tone results, use AM and PM for the first 12 weeks, then continue with your regular Estee Lauder regimen, using Even Skintone Illuminator every AM.
What I thought of it?
Firstly, the texture was smooth and creamy, allowing it to go on the skin with ease. It's non-oil so there is no greasy or sticky after feel. The serum solution resembles a drop of sunshine with its golden, shimmering finish.
After rubbing it onto the skin, there is a glowing sheen that illuminates.
This can double up as a great makeup product for highlighting purposes.
Looks like a promising product worth a try! 😉
The Estee Lauder Idealist Even Skintone Illuminator is retailing at S$100 for 30ml and S$150 for 50ml.
You can also check out Estee Lauder at their Facebook Page and take part in the Illuminator Challenge to win a bottle of Idealist Even Skintone Illuminator yourself!