I wonder if a Chanel ice-cream cone tastes better since you know, its branded. Hah!
So you have seen the fashion house's creative director, Karl Lagerfeld's collaboration with Melissa Shoes. Ice cream heels, yay or nay?
I personally find them really cute & fun to wear. Like I would seriously not mind wearing them to work.
And so anyway, this got me checking out other ice-cream inspired fashion pieces/trends. Little did I know that designer Rhonda Voo already had done a series of ice-cream shoes before Karl. Just check these out…
Perhaps they would go well with these Etude House's Ice Cream Nails… Don't they look delectable?
Next, check out these playful-looking necklaces. They are pretty kitschy, eh?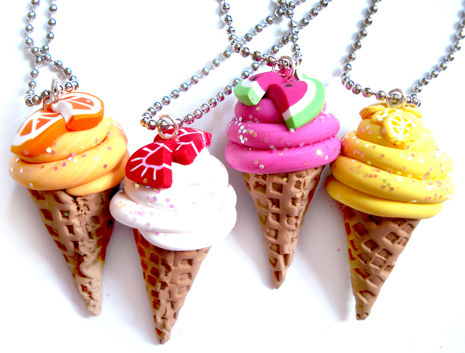 Last but not least, I guess Katy Perry's Sundae dress is worth featuring in this Ice-cream theme blog post.
Now, would you excuse me while I go grab some Ben & Jerry's?