As a Mother's day treat for myself, I made an appointment with Niks Maple Laser Clinic at Orchard Central for a Clear + Brilliant laser treatment (for the face) and Liposonix treatment (for my tummy).
Photo taken 3 weeks after treatment
Read on for my experience and see photos of me *gasp* without makeup…
I had a consultation with Dr Loo where he explained to me the procedures of both treatments. He also checked my tummy to see which areas were suitable to perform the Liposonix on. Afterwards, I was ushered into the treatment room to prepare for the Clear + Brilliant Laser treatment.
I had to remove my makeup before the nurse applied numbing cream all over my face. The cling wrap was to aid it in taking effect quickly.
Numbing cream + cling wrap over my face
Being my first time having a laser treatment, I was rather nervous.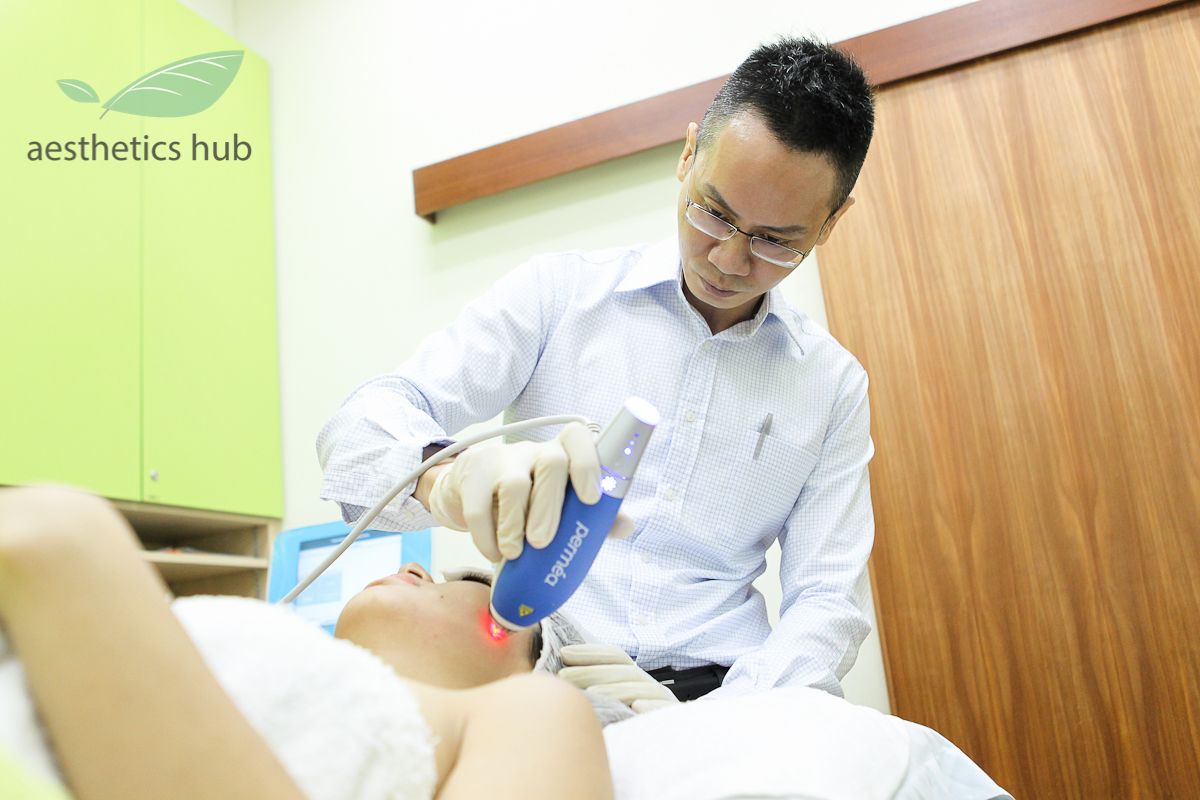 But thanks to the numbing cream, I didn't experience much discomfort. And even if I did feel anything, it was a slight prickly feeling that lasted only a few seconds.
The redness went off after 5-6 hours
The treatment was quick, lasting approximately 10-15 minutes. Once done, I looked and felt like I just had a sunburnt. Dr Loo mentioned that the redness would fade off in a few hours. I would have to apply the serum, barrier cream and a sunscreen of at least SPF50 for a week.
The serum and intensive barrier cream given by the Niks Maple Clinic
Here's my BEFORE & AFTER photos. The AFTER photo was taken a week after the Clear + Brilliant laser treatment was done. If you can't see a significant difference, that is because Dr Loo commented that my skin was already in excellent condition. However, this treatment could help in toning and correcting uneven skin tone. I think my skin now appears brighter and clearer.
Gosh, I can't believe I am showing my bare face online for all to see. This was taken approximately 1 week plus after treatment.
I love how this treatment has no downtime, is quick and gives you results within days.
So just now, while waiting for the numbing cream to take effect, the nurses marked the areas on my tummy in preparation for the Liposonix treatment. My body measurements were also taken for comparison.
The Liposonix treatment utilizes ultrasound energy which can be used to penetrate through the skin layers and into the targeted fat tissue without harming the skin or surrounding tissues. It then destroys the targeted subcutaneous fat to deliver uniform, predictable results after a single one-hour treatment.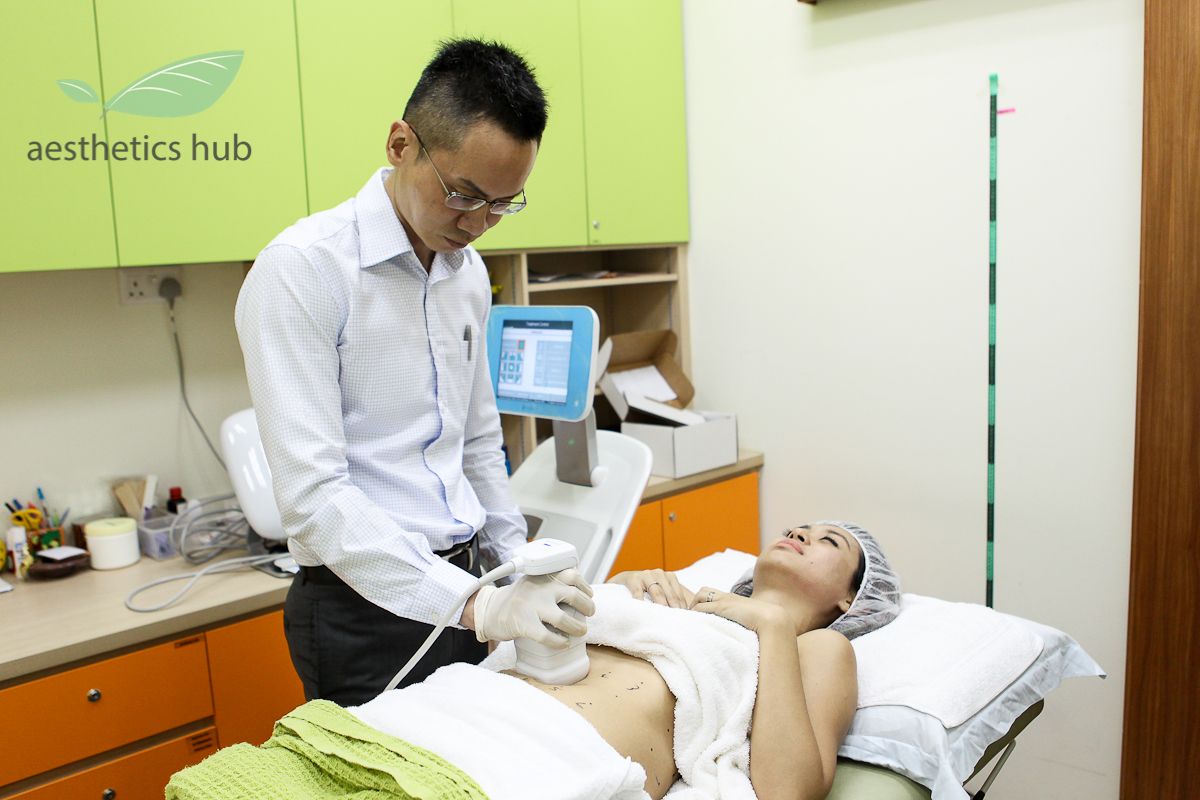 A cooling liquid was sprayed onto areas prior to treatment as the pad may get quite heated up. I did not really feel anything until towards the end, where I felt a slight jolt when they were working on my sides. Overall, it was just mild discomfort felt and if you can endure waxing and/or eyebrow plucking sessions, then this is considered nothing. Just be prepared for some muscle ache soreness after the session but no worries, it would go off in 1 or 2 days' time.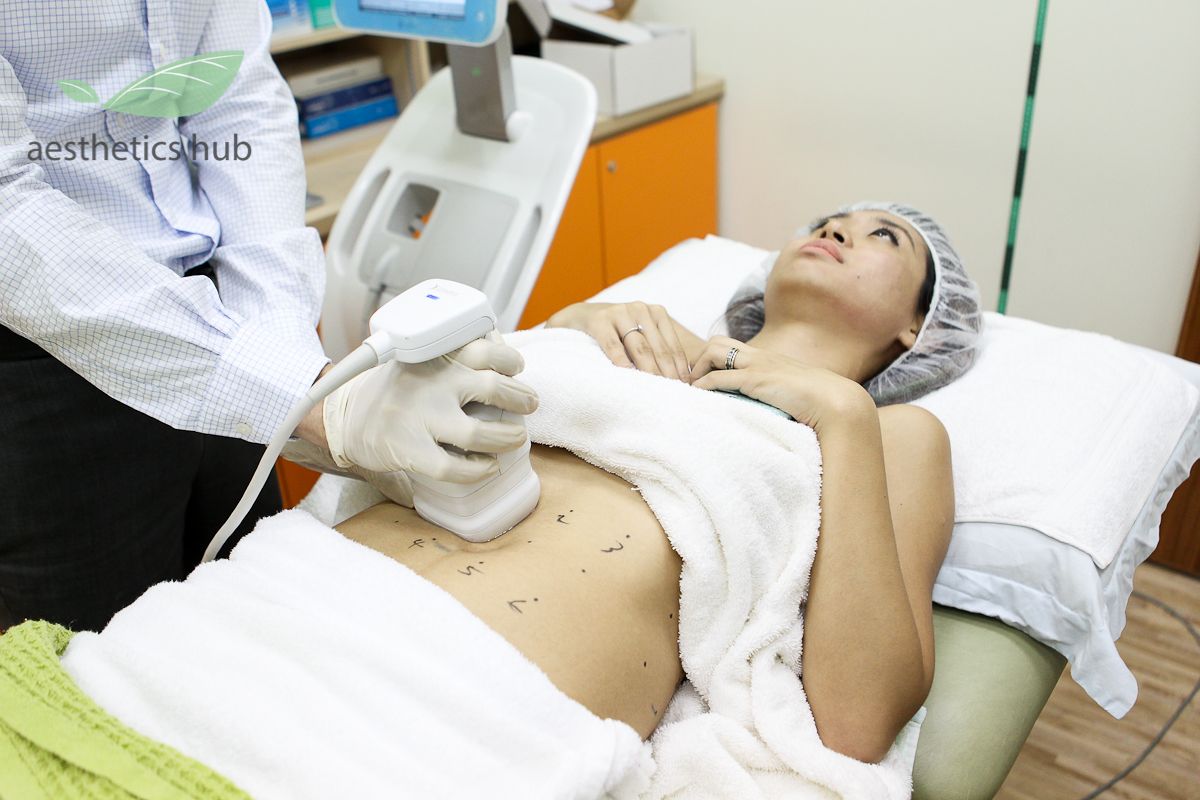 Dr Loo told me that I could see results in approximately 3 months time where I would need to return for a review. After the session, we did a measurement again to see if I had any immediate results and found that I have lost around 0.3cm. So far so good, so yes, I can't wait till 3 months later!
If you have any questions on the treatments I had tried, please feel free to email me!
Niks Maple Clinics are located at:
[1] Niks Maple Clinic – Block 825 Tampines Street 81, #01-64 Tel: 67839038
[2] Niks Maple West Clinic – Block 134 Jurong Gateway Road #01-311 Tel: 67767863
[3] Niks Maple North Clinic – Block 925 Yishun Central 1, #01-221 Tel: 67577656
[4] Niks Maple Laser Clinic – Orchard Central #05-34 Tel: 62359428
You can check out their website for more information : http://www.nikspro.com