If you have been visiting the MFP Portal, you would have come across these interesting articles. Here's my top 10 picks from the GOSSIP Section
#1 – Eat Angry Birds Mooncakes Now
I thought it was an ingenious idea to come up with angry bird mooncakes but honestly, the ones shown in the photo above ain't appealing at all. Would I purchase them? No. Because they look like poorly made mooncakes. I rather get some yummy champagne truffle mooncakes from Fairmont Hotel or whatsoever.
MORE UNDER THE CUT!
#2 – Japanese Clone Factory Makes Creepy Dolls
Ever wanted a doll that looked just like yourself? Well, truth be told, I won't want. These clone dolls look so similar to the actual people that they kinda creep the crap out of me. I don't know about you but I won't want something like that staring down at me in my bedroom or work desk.
#3 – Nude Statue of Justin Bieber and Selena Gomez
Like seriously? Why Justin & Selena. Besides, they are just kids. Honestly, not sure if anyone would know how to appreciate this 'art piece' except for those die hard JB fans I guess. The thirteen year old adolescents that would die to marry him or tear his clothes apart should they ever get a chance. But geez, creepy!
#4 – Meat From Human Faeces in Japan
Fancy a Poop burger? Well, no thank you. But if you are looking to try one, you can head down to Japan. These are created from sewage mud and artificially coloured to look like meat. I think I rather starve then to try these burgers. Talk about crap.
#5 – Beckham's Family Welcome First Daughter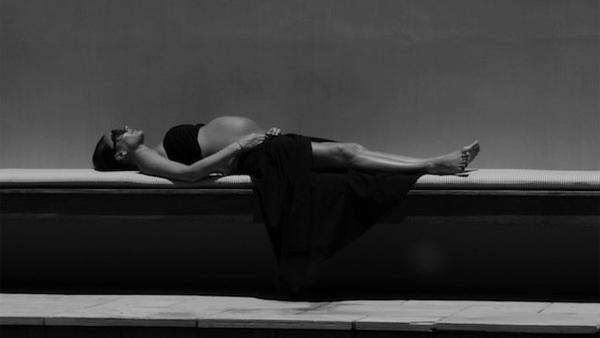 After 3 boys, they finally have a baby girl. I've been a fan of Victoria Beckham since her Spice Girl days. The new addition of their family is lovely Harper Seven Beckham.
#6 – Angelina Jolie And Brad Pitt Are Getting Married
FINALLY! My fav tinseltown couple are saying I DO after 6 years and 6 kids. I could not be more than truly happy for them
#7 – Emma Watson at "Harry Potter" Premiere
Emma Watson is growing up into a gorgeous young lady. And she's totally rocking that Oscar de la Renta ball gown. We'll miss the ginger-haired Hermonie Granger but oh well, I'm looking forward to seeing her in other movies.
#8 – Chinese celebs who went under the knife
So not every star was blessed with good looks since birth, check out what renowned Taiwanese makeup artist Ray Chen says about these celebrities who had undergone the knife. He had nothing but praises for Jolin Tsai's nips and tucks. And I do agree, she looks amazingly good.
#9 – Fashion Disaster In The Making?
I'm not sure what Fan Bing Bing is up to but I think she could be trying to do a Lady Gaga. Oh no…and this is the disastrous result. Dear lady, there can and will only be ONE Lady Gaga. So please do not attempt to emulate her. Just be comfortable in your skin. Don't try to be another Bai Ling. One is enough.
#10 – Twilight Saga World's Most Troubled Fan
Cathy Ward, a 49-year old supermarket worker from England is obsessed with Edward Cullen & Twilight. So much so that she got the characters tattooed on her back and she intends to get Edward on her torso; that's after she has toned up the area. I seriously do not know what to say about this. I mean, she's 49 years old, shouldn't she have better things to do than to get soaked up in this sappy teenage drama?! I wonder what Robert Pattison has to say about this. About his face on her torso…