What? Mandom Cleansing Express Moist
Where to buy? Watsons
How much? $18.90
This is a makeup remover which I've been dying to try.
It's water-based so no greasy residue on your face after cleansing

I've seen the adverts and read the reviews but remained a skeptic till
I got to try out the sample thanks to Cozycot & Mandom
OMG this is good stuff man!
It removes makeup even better than my favorite ZA foaming cleansing gel!
I'm sorry ZA but move aside for the Mandom Cleansing Express Moist.
This photo below shows me with eyeliner on after removing my false lashes.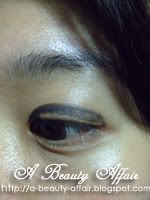 After leaving on a cotton wool piece with the cleansing lotion on it on my eyelid area for 3-5 seconds and a quick swipe, the makeup is gone!
I did not even need to rub it off or whatever.
And I usually have trouble getting the false lashes glue residue off but with
this, it comes off without much effort.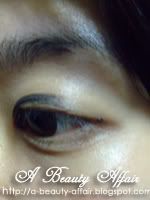 I'm a convert!
Removing makeup is a breeze with this cleansing lotion.
It's up next on my shopping list after I run out of the Bioderma toner and when my shopping ban ends.
Rated: